The Ultimate Beach Packing List in 2022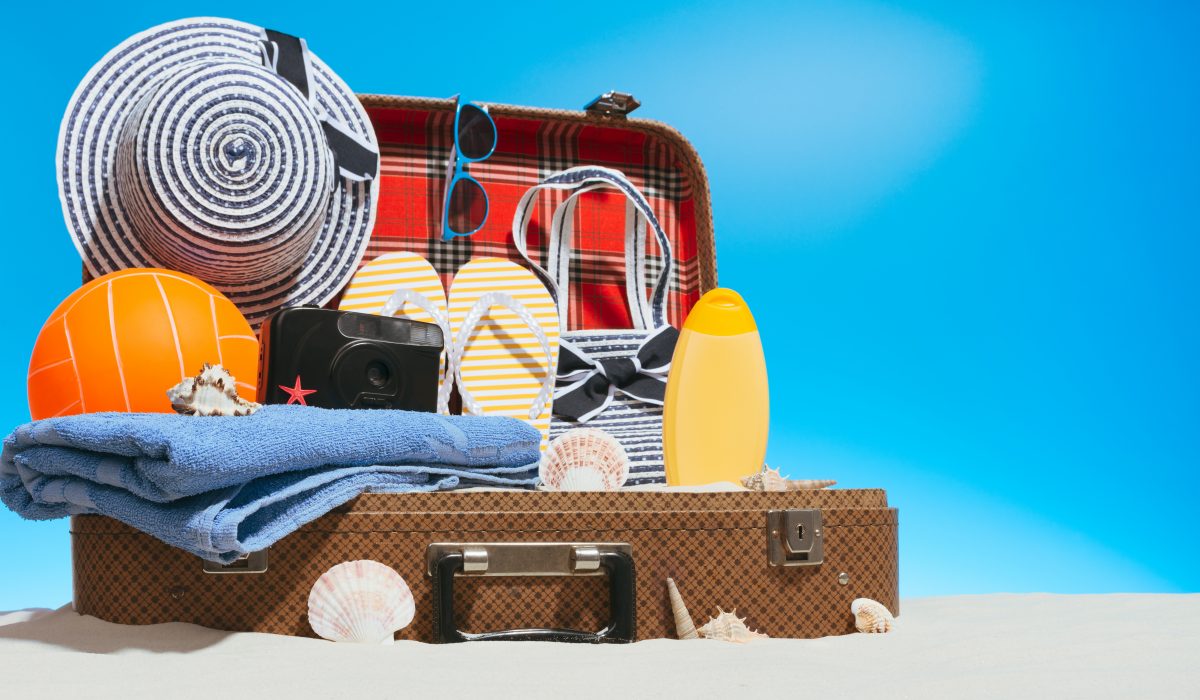 What do you need to pack for the beach? Whether you're on a 3-day beach trip or a 7-day beach vacation, there are just some must-have items that you should never forget on your beach packing list. This includes essentials such as beachwear, sunscreen, and a beach blanket. In addition to these beach necessities, there are a few other things to take to the beach that may not seem as obvious. Don't fret, though, because we've got you covered!
We have curated the ultimate packing list for beach vacation trips. Regardless, if you're traveling as a family or going on a romantic Caribbean vacation for couples, you won't forget anything if you follow this beach checklist!
The Ultimate Beach Packing List
Here's a free beach packing list printable for your next beach vacation!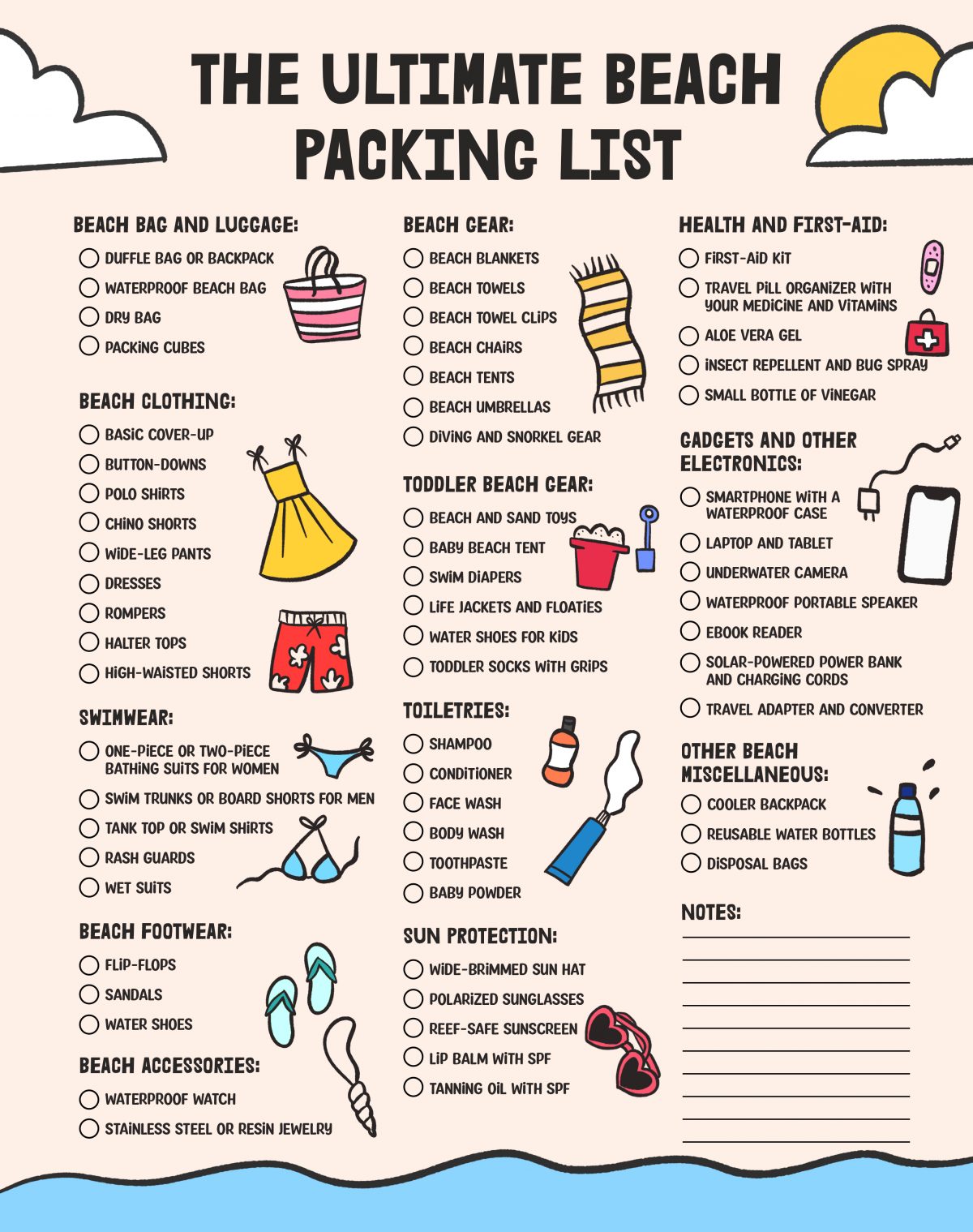 Beach Bag and Luggage

Before heading to the sandy shores, consider the bag and luggage to bring with you. The size and shape of your bag depend on how long your trip is and where. If it's a simple beach day or weekend trip, you can probably get away with using only a small duffle bag for all your items. Longer trips to a different state or country, on the other hand, will require a larger backpack or suitcase in addition to your carry-on luggage.
Now, for the actual bag, you'll want something sturdy and roomy enough to fit your beach essentials. Opt for a beach bag made from either mesh or nylon, as these materials are known to be lightweight and durable. Moreover, they are also resistant to sand, dirt, and water. And thus are easy to clean. Besides a waterproof bag, you'll need a separate dry bag or sack to protect valuables and electronics. Alternatively, you can use them to separate your wet clothes from the other contents of your beach bag.
Bonus Tip: Packing cubes are genius packing items every traveler must have to keep your beach and swimwear organized inside your luggage.
Product Recommendations:
A

duffle bag

with ample space is great for quick weekend beach trips, while a

large backpack with wheels

is best for extended vacations.

A

roomy waterproof beach bag

with plenty of storage space for your sunscreen, water bottles, towels, and other beach accessories.

Keep your valuables and electronics separate from any wet clothes or towels with a

dry sack

.
Beach Clothing To Pack
No beach getaway is complete without sporting the appropriate beach vacation outfits. While some may say that a swimsuit and basic cover-up are all you need, there are still a few clothing items you want to bring with you. This is especially true if you plan on venturing away from the sand and hit up local attractions and restaurants. Casual button-downs, polo shirts, and chino shorts or wide-leg pants are some items to include in a gentleman's beach packing list. Meanwhile, women certainly can't go wrong by wearing chic, flowy dresses, rompers, and halter tops with high-waisted shorts.
Take note, if you're staying at one of the beach resorts in the USA, make sure to check the establishment's dress code requirements. Each resort has its own set of dress codes when roaming around the premises. This can range from resort casual to formal resort attire.
Product Recommendations:
Swimwear
The swimwear you include on your beach packing list depends on your preference. Ladies may choose between one-piece bathing suits or a two-piece bikini depending on what they are comfortable with. Meanwhile, gents can opt for swim trunks or board shorts with a tank top or swim shirt. For more daring lads vacationing in less crowded beaches, you may even want to wear square-cut shorts, swim briefs, or thongs.
Regardless of your chosen beach wear, you will want to pack at least one rash guard for additional sun protection while in the water. For those looking for couple swimwear ideas, matching rash guards certainly looks good in your vacation photos! If you're headed to a beach with colder waters, take a wetsuit since they are specifically designed to keep the wearer warm.
Product Recommendations:
Beach Footwear
Flip-flops and sandals are the most common beach footwear out there. They will protect your feet from hot sand and rocky shorelines. For additional protection, pack a pair of water shoes, which are not just great for walking along the beach but also for traditional hiking trails. Choose a pair that is waterproof and sand proof. After all, you wouldn't want to be tracking dirt and sand with you back to your car or hotel room. Furthermore, they should also be lightweight, easy to put on and remove, and comfortable.
Product Recommendations:
Flip-flops

and

sandals

are beachwear staples for many, but don't forget to bring

water shoes

to protect your feet against any sharp rocks on the beach.
Beach Accessories To Pack

When crafting your beach packing list you may want to include accessories such as waterproof watches and beach appropriate jewelry. A water-resistance timepiece comes in handy when snorkeling in Florida or surfing the waves of Maui. Make sure the timepiece you bring is impervious to scratches and can withstand exposure to seawater.
For ladies planning on bringing jewelry, stainless steel and plated or filled pieces are your best bet if you wish to look stylish but still be practical. Resin is another untarnishable material to consider, plus a more inexpensive option.
Product Recommendations:
Swim and Beach Gear To Pack
Depending on the hotel, resort or vacation rental you're staying at, you may not need to pack much beach gear with you. Some lodging options already provide beach chairs, beach tents, or beach umbrellas for its guests. Skip the beach towels too since they are typically provided by accommodations. Although, if hygiene and cleanliness are your main concerns, feel free to pack one. Alternatively, you can bring a beach blanket that can double as one to save space in your bag. You'll want sturdy beach towel clips, as well, to keep your towel or blanket in place and prevent it from being blown away by the wind while you're in the water.
Planning to add water sports or activities to your itinerary? If that's the case, you may want to include your own personal diving and snorkel gear to your beach trip packing list. While you can typically find facilities that offer gear rentals, it won't hurt to bring your own, especially if you're particularly worried about the cleanliness of the gear you rent.
Product Recommendations:
Toiletries To Pack
When it comes to toiletries, many hotels and resorts provide standard items. This includes the likes of shampoo, conditioner, face and body wash, and toothpaste. Thus, you may not need to bring any with you. If you do plan on bringing your own, make sure to purchase travel-sized versions of them. Or at the very least, transfer them into refillable travel bottles.
Bonus Tip: Pack some baby powder with you. Talcum powder, the main component for many baby powder brands, is a great way to get rid of sand from your body. Talcum powder's hydrophilic properties absorb excess moisture from the skin, thus making it easier to brush off sand from hands and feet.
Product Recommendations:
Sun Protection
No beach vacation packing list is complete without sun protection. When relaxing on the shores of the best California beaches you'll need to keep yourself protected against harmful sun rays. Choose a sunscreen with an SPF of at least 15. Note that some sunscreens can contain ingredients that are harmful to the marine ecosystem. Go for a reef-safe sunscreen that not only protects you from both UVA and UVB rays, but likewise keeps corals and other aquatic life safe.
Your lips will need some sun protection, too. As such, don't forget to invest in a good SPF lip balm, as well. Want a summer glow while still protecting your skin against sun damage? The best tanning oils with SPF will achieve a healthy bronzy glow! On top of sunscreen, a sun hat and sunglasses are beach accessories that will provide you with added sun protection.
Product Recommendations:
Health and First Aid
Regardless if you're traveling as a family with kids or a group of friends, you should always have a first aid kit in your arsenal. Even minor cuts and scrapes can cause major problems if not treated right away. Band-aids, gauze, hand sanitizer, and disinfecting wipes are just some of the important supplies your kit should have. Medicine such as antiseptic, aspirin, and antihistamine can likewise help effectively control common injuries and emergencies.
Add soothing aloe vera gel to your list of beach items in case you do get too much sun. Meanwhile, if you're planning on an early morning swim or watch the sunset, bring some insect repellent and bug spray. Beach bugs and sandflies are particularly common around dawn and dusk. What's more, a travel pill organizer is a must for anyone taking prescription medication or at least daily vitamins and supplements.
Bonus Tip: Bring a small container with vinegar to treat jellyfish stings. Studies show that the acid in vinegar stops the release of venom and helps soothe the burning sensation.
Product Recommendations:
Toddler Beach Packing List
Traveling with kids? Family beach vacations are fun, but not without the right gear and accessories. Besides from the items mentioned above, you'll also need to bring along beach and sand toys to keep your little ones entertained. Planning on introducing your baby to swimming in the sea? Be sure to pack swim diapers on top of regular ones, if they have yet to be potty trained. A life jacket and floaties are also beach essentials for babies and toddlers, so they can safely run around in or near the water. Moreover, you'll want a pair of water shoes for kids to protect their little feet against hot sand and pebbly shores. And while you may not think to include socks in your beach packing list, a pair of toddler socks with grips allows little ones to walk or run around hotel rooms without the threat of slipping.
Besides sunscreen for babies, you'll also want to pack a baby beach tent for added sun protection. After all, toddlers' skins are more sensitive than adults. Look for one that's easy to assemble, lightweight, and UV protection. Other features to look out for include stakes or sand pockets to hold it in place, even during a windy day. You'll also want proper ventilation to prevent your child from overheating, so look for one with at least one mesh panel.
Product Recommendations:
Gadgets and Other Electronics
Many dream of beach escapades to unplug and relax. Although, there's a myriad of gadgets that can make your vacation at the best pink beaches in the world even more enjoyable!
On top of the electronics on your beach packing list should be, of course, your smartphone. However, to ensure its safety and protection against accidental splashes of water, you will need a waterproof phone case. A waterproof pouch with a detachable lanyard ensures that you could keep your mobile phone with you even when you're swimming 100 feet underwater. The best part? You can still use your phone's touch screen while inside the pouch! That means you'd be able to take beautiful underwater photographs and videos. Not sold on the idea of taking your smartphone in the water? Go for a dedicated underwater camera instead!
Meanwhile, enhance your time on the shores by playing some of the best tunes out there on a portable speaker. Admittedly, it's not what most people consider an essential thing to take to the beach. Nevertheless, we can't deny a holiday vacation is certainly more fun when it's accompanied by your favorite songs. For those who are planning on sneaking a little work while on vacation, your laptop and tablet should definitely be part of your beach packing list. Bookworms out there may want to consider bringing an ebook reader with them. Don't forget to bring all your charging cables and a solar-powered power bank to recharge our phone and other gadgets. A travel adapter and converter will likewise come in handy if you're traveling to a different country.
Product Recommendations:
Other Beach Miscellaneous
Snacks and drinks are beach must-haves for many beach-goers. Plenty of people turn to traditional coolers to keep food and refreshments cold. However, they can be too bulky for a beach vacation. Instead, opt for a cooler backpack for a hands-free way to transport ice, beer, and sandwiches. When choosing the best cooler backpack for any outdoor adventure, look for one with thick and even insulation to keep all contents cool. It should have enough room for all your food and drinks, but still lightweight and comfortable to carry on your back. Padding on the back panel is also an important factor since you wouldn't want to get poked by whatever contents are inside.
Meanwhile, stay hydrated by packing a reusable water bottle. Don't want to take up any unnecessary space inside your cooler? Then, go for an insulated water bottle, so your water stays cold all throughout the day. Although, if you're traveling light, collapsible water bottles may be more suitable for you. Furthermore, bring disposal bags to collect any trash.
Product Recommendations:
What Not to Bring to the Beach
Now that we've discussed what to bring to the beach, let's take a quick look at the things you should definitely leave at home.
Skip tight clothing items in dark colors made from heavyweight fabric, like denim.

Avoid wearing sneakers and boots to the beach.

Leave expensive or priceless pieces at home. After all, you wouldn't want to lose your engagement ring or favorite pair of earrings.
The Only Beach Checklist You'll Need for Your Next Beach Vacation
Packing for any vacation can be daunting, especially when traveling with toddlers or teenage girls and boys. Refer to this beach packing list, so you don't have to worry about what you shouldn't forget when packing for the beach. All you need to focus on now is basking in the sun and sand of the best beaches, whether it's for a quick, cheap weekend getaway or a week-long holiday vacation.