15 Most Walkable Cities in the U.S.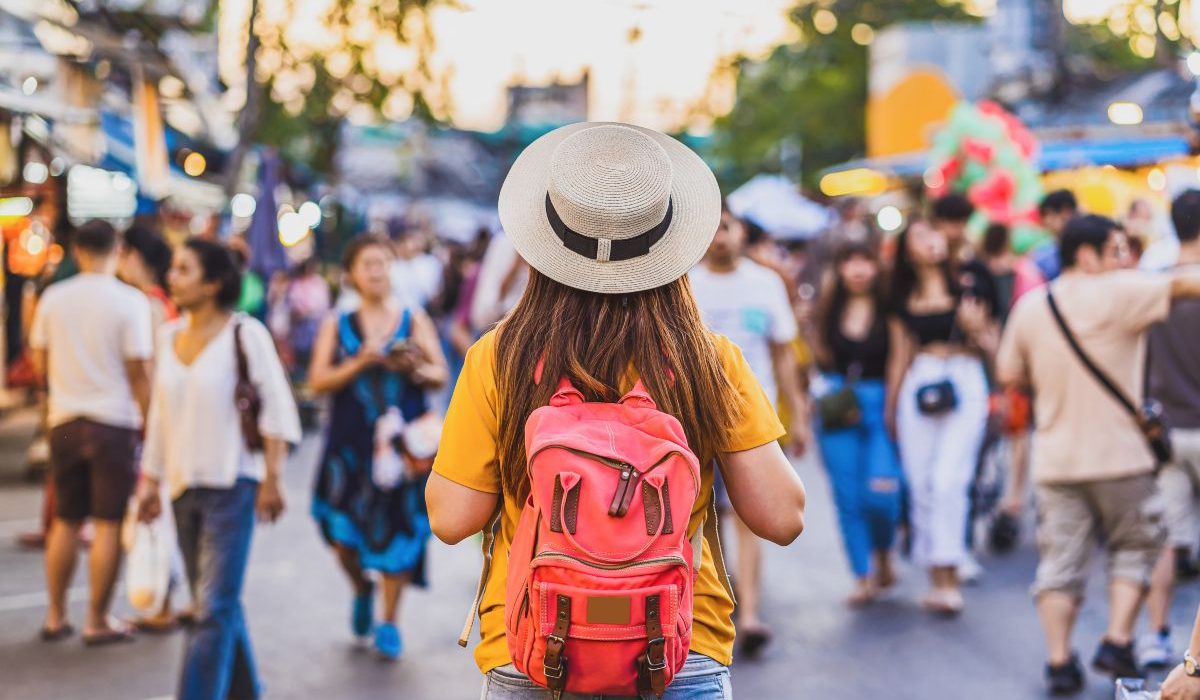 Does the US have walkable cities? Definitely! You'd be surprised by some of the most walkable cities in the US where you can easily reach different amenities on foot. From the East Coast which the Appalachian Mountains dominate to the sandy shores of the West Coast, walkable neighborhoods are sprinkled across different areas in the country.
In this article, we break down not only the top 10 places to visit in the US but the top 15! Our list is based on the cities with high walkability scores. These scores factor in the city's population density, overall distance to amenities and public spaces, and pedestrian-friendly infrastructure. So these walkability ratings are not just subjective.

Read on and find out the 15 best American cities to visit for pedestrians and backpackers.
List of the Most Walkable Cities in the U.S. 2022
Here are the most walkable cities in the country, ranked according to their respective city ratings in Walk Score.
1. San Francisco, California
Walk Score: 88.7
Most Walkable Neighborhoods: Chinatown, Tenderloin, Downtown-Union Square
What is the most pedestrian-friendly city in the US? San Francisco! With a top score of 88.7, San Francisco inches out New York City as the most walkable city in the US. That means you can do most daily errands on foot in the Golden City.
Spend your mornings in the colorful streets of Chinatown, take an afternoon stroll along the Bay Area's beachside, or walk along the Golden Gate Bridge at sunset. There's plenty to see in San Francisco that your legs can most certainly bring you. Coupled with diverse and thriving cultural spaces, San Francisco is positively among the top cities in the US to visit this year or the next.
2. New York City
Walk Score: 88
Most Walkable Neighborhoods: Little Italy, NoLita, Boerum Hill
Coming in close in second place is New York City, a.k.a. the "Big Apple". It is intriguing that the most densely populated city in the U.S is one of the most walkable cities in the world, and one of the best cities to travel to in the US as well. So, why is NYC so walkable?

For one, most amenities and establishments in the city are within walking distance from one another. Don't worry about breaking your back to find basic necessities. But for the "city that never sleeps", its greatest flex is its one-of-a-kind pub/bar crawling culture. Hop from one bar to another – all within shouting distance. NYC also has the biggest 24-hour rapid transit system in the USA that can get you anywhere with ease. From bustling places like the central business district or art galleries in the metropolitan area to more touristy spots like Central Park, take the subway, bike, or simply walk to these places at any given hour.
3. Jersey City, New Jersey
Walk Score: 86.6
Most Walkable Neighborhoods: Historic Downtown, Journal Square, McGinley Square

If you're drawn to walkable communities on the East Coast, Jersey City is definitely a destination to consider. This city is best explored on foot to get the best experience of its hip city center and scenic neighborhoods. Stroll relaxingly along the Hudson River Waterfront, learn about history from the sidewalks, and shop leisurely at the farmers' markets. These are all accessible by foot from the city. What's more, you won't have to worry about breaking the bank in Jersey City because it's among the more affordable walkable cities on this list.
4. Boston, Massachusetts
Walk Score: 82.8
Most Walkable Neighborhoods: Bay Village, Beacon Hill, North End
Up next on our list is none other than the city of Boston, Massachusetts. It turns out that one of the oldest cities in the United States is coincidentally among the most walkable too. Like most walkable cities in the US, going around downtown Boston is a breeze. The compact and close-knit arrangement of the buildings in areas like Beacon Hill means getting around easily, even during bad weather.
This university town is one of the historically abundant cities with several colonial parks like the Esplanade and the Boston Common. Go on free walking tours at the Freedom Trail to explore these historic parts of Boston on foot. There are also public food trucks all over Boston's neighborhoods. So pick up some food and enjoy them in the generous green spaces accessible to all.
5. Chicago, Illinois
Walk Score: 77.2
Most Walkable Neighborhoods: West Loop, Lincoln Park, Ukrainian Village
The Windy City has much to offer for anyone who loves to walk or take evening strolls. In Illinois, there are more than city 500 parks of which many are within walking distance of major tourist sites like sports stadiums, museums, food festivals, and the Michigan beaches.
Besides the Instagram-worthy scenery at Lake Michigan, there are other walkable eclectic neighborhoods that offer the same aesthetics. Walk through North Michigan Avenue, where an array of shops make a picturesque backdrop or Ukrainian Village where the vibrant scene of a dog-friendly farmers' market is sure to brighten up your day.
6. Washington DC
Walk Score: 76.7
Most Walkable Neighborhoods: Dupont Circle, Mount Vernon Square, Adams Morgan
Washington DC, the country's capital, is among the most walkable cities in the US. Abounding in historical architecture, a stroll along the city center offers several historical landmarks like the US Capitol Building and National Mall. But other neighborhoods worth a marvel are the boutique galleries and bistros in Dupont Circle, and seasonal cherry blossoms and rustic cobblestone walkways in Georgetown.

Do expect big street blocks and long walks in Washington DC, though you do have the option of riding one of the trains or buses of the Washington Metro Area Transit (WMATA), especially if you want to explore areas outside of the metropolitan area.
7. Miami, Florida
Walk Score: 76.6
Most Walkable Neighborhoods: Miami Beach, Downtown Miami, Little Havana
The sunny weather in Miami, Florida, as well as its diverse population, makes it one of the most walkable cities in the US. Dip your toes into the warm waters of one of its many beaches, like South Beach located at the city's southernmost tip. Inspired by Art Deco Architecture, the buildings here are sleek yet evocative of nostalgia or the longing for the past. Make sure to take plenty of pictures of the city's uniquely preserved skyline, and at night, hop around these buildings to take part in the city's booming bar scene.
8. Oakland, California
Walk Score: 75.3
Most Walkable Neighborhoods: Chinatown, Civic Center, Downtown
Oakland, California, the city across the bay from San Francisco, is another walkable city worth exploring. Some of the most walkable neighborhoods here include the Civic Center and Oakland Chinatown District which are both commuter and bike-friendly. And with the recent implementation of "Slow Streets" also increases accessibility to other noteworthy attractions such as Koreatown, Waverly, and San Pablo Gateway.

This walkable city also boasts a sizable area of green scapes – from the wildlife refuge that is Lake Merritt to the enthralling Morcom Rose Garden. Its bustling waterfront and marina area of Jack London Square, historic Grand Lake Theatre, and family-friendly Oakland Zoo are all a stone's throw away for you to experience the city all at once.
9. Philadelphia, Pennsylvania
Walk Score: 74.8
Most Walkable Neighborhoods: Avenue of the Arts, Rittenhouse Square, Washington Square West
Did you know that Philadelphia or "The City of Brotherly Love" is almost entirely walkable? Their 10,000 acres of public parks and quaint cobblestone streets make exploring the entire city by foot possible. Apart from being a walkable community, there is also a plethora of things to do in Philadelphia. You can tour American revolutionary sites like the Liberty Bell and Independence Hall. Munch on highly raved hoagies and Philly cheesesteaks that proliferate the city, take pictures at the city's green public squares, and just immerse yourself in this UNESCO World Heritage City.
10. Seattle, Washington
Walk Score: 74.4
Most Walkable Neighborhoods: Belltown, Downtown Seattle, International District
One might describe a stroll around the country's Emerald City as fragrant since its thriving coffee culture fills its air with the whiff of aromatic coffee beans. But its access points to places of interest are what cements its spot in this list of the most walkable cities in the US. It's quite convenient because there are plenty of places to explore and things to do in Seattle
You can start your journey from the Museum of Pop Culture before hopping over to the Pacific Science Center and then the Space Needle, conveniently located in Seattle Center. Its busiest streets are rife with amenities, business establishments, and opportunities for different folks. And although it is highly walkable, tourists can also commute to and from different neighborhoods within the city.
11. Long Beach, California
Walk Score: 73.3
Most Walkable Neighborhoods: Franklin School, Saint Mary, Downtown
Long Beach, California, one of the most walkable cities in the US, is known for its jovial art and music festivals, as well as its inviting waterfront attractions. The Rainbow Harbor and Marina located at the heart of the city is where you can find beloved attractions in Long Beach, like the Aquarium of the Pacific, a modern aquarium that celebrates the world's largest ocean. Tasteful eats are easy to spot near the seaside, too, from laid-back pubs like the Shenanigans Irish Pub & Grille to prestigious restaurants like the Sky Room.
12. Minneapolis, Minnesota
Walk Score: 71.4
Most Walkable Neighborhoods: Lyn Lake, Downtown West, Lowry Hill East
From its burgeoning art and cultural spaces to its pedestrian-friendly urban planning, Minneapolis is truly one of the best cities to vacation in the USA. Nothing compares to an afternoon frolicking at one of the parks in the city, connected by walk paths and bike lanes that anyone can access. These walkways also adjoin some of the 22 lakes in the city! You can access Kingfield and The North Loop for some coffee, shopping at boutiques and breweries, or a quick yoga session in one of their many studios, all at once.
13. Portland, Oregon
Walk Score: 67.3
Most Walkable Neighborhoods: Pearl, Old Town Chinatown, Downtown
Portland, Oregon is another incredibly diverse, walkable city with neighborhoods that range from craftsman homes to new condos. Downtown is adorned with historical establishments that are open to tourists. Some examples are the Portland Art Museum and the Oregon Historical Society. Near the Willamette River, Portland is also lined with sandy shores that make perfect picnic spots. Just walk, take a bus or light rail transit, or ride the aerial tram to explore tourist hotspots across the city.
14. Honolulu, Hawaii
Walk Score: 65.7
Most Walkable Neighborhoods: Downtown, Ala Moana – Kakaako, Mccully – Moiliili

Most people would agree that Honolulu, Hawaii is one of the best US cities to visit, especially during summer. Tanning on its pristine beaches, surfing through the waves, and feasting at festive luaus are some of the best things to do in Honolulu. The city's vibrant district also makes it worthwhile in the fall season too. Historical monuments and preserved sites like Iolani Palace and Pearl Harbor are easily accessible by foot or public transit making it a charming utopia for strolling in the cooling weather.
15. St. Louis, Missouri
Walk Score: 65.7
Most Walkable Neighborhoods: Benton Park West, Downtown, Tower Grove East
Rounding up our list of the most walkable US cities is St. Louis, Missouri's central entertainment and business district. The past meets the present in downtown St. Louis, as it is thronged with buildings that represent a fusion of classic and modern architecture. Heading east toward the Mississippi River will lead you to Jefferson National Expansion Memorial Park where the colossal Gateway Arch stands. Meanwhile, on the other side of the city lies abounding green spaces, from Forest Park to St. Louis Zoo, one of the best zoos in the world this year!
Time to Visit the Most Walkable Cities in the Country
The best cities to visit in the US are arguably the most pedestrian-friendly, too! If you agree, then it's high time to start packing and planning a trip to the most walkable cities in the US. From more laid-back places like Honolulu to the bustling metropolis that is New York City, there is a walkable destination for people of all stripes.