BEST Nude Cruises In The World & Things To Take Note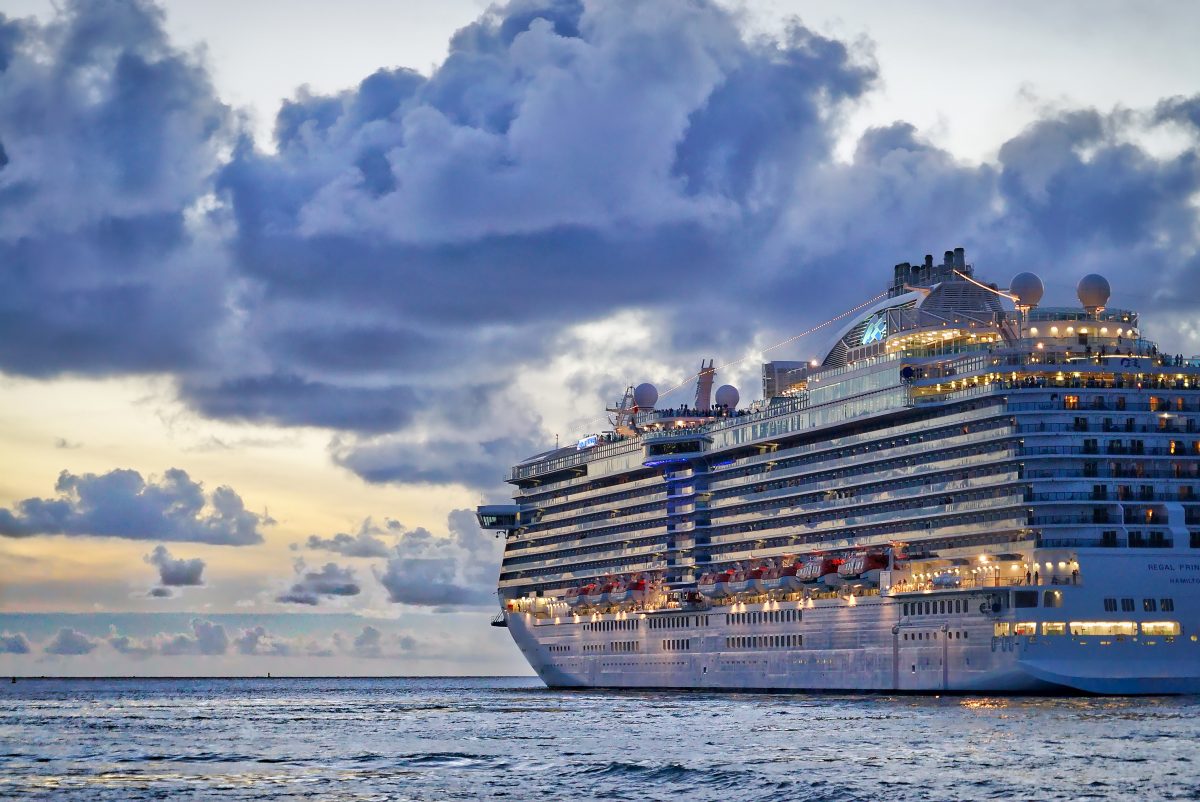 Imagine sitting by the pool, drink in hand and the smell of the ocean lingering in the air. You walk past people playing shuffleboard and getting massages. As you walk back to your cabin, you realize the ship has docked. You've arrived in a new city waiting to be explored. Now, imagine doing all that but in the nude. There's a social stigma attached to public nudity.
However, the truth is, there's absolutely nothing wrong with it when done in the appropriate location. Though some people prefer to being nude on dry land, while others opt to sail the open sea au naturel. If you belong to the latter, here are the best nude cruises you must try.
First setting sail in 1991, Bare Necessities has carved a name for itself among nude vacationers. In fact, it's one of the leading clothing-optional cruises in the world — and for good reason. Bare Necessities nude cruises have remained committed to providing an enjoyable and safe experience for all its guests. Moreover, the company continually works to end the stigma around social nudity.
All of the Bare Necessities' cruise ships come equipped with excellent amenities. The itineraries are also varied, with stops in parts of North America, Europe, and Asia. If you're on the lookout for a good place to start, Bare Necessities is the right choice.
Big Nude Boat 2020
Carrying 3,000 passengers aboard, the first Big Nude Boat cruise set sail in 2013. Fast forward seven years, and it's still one of the most popular nude cruises around. Here, passengers board the Carnival Legend bound for three destinations. The ship departs from Tampa, Florida, and makes its first stop in Key West. Passengers then get to spend an entire day on the Carnival Legend before docking the next day in Costa Maya, Mexico.
After that, it's off to Mahogany Bay on the Island of Roatan just off the coast of Honduras. The bay is exclusive to passengers of the Big Nude Boat, which means nude beaching is definitely on the docket. The penultimate stop will be in Cozumel, Mexico before finally returning to Tampa.
If you can't make it to Big Nude Boat 2020, there's another one the following year. This time around, the cruise spans two weeks and consists of more destinations. Big Nude Boat 2021 also starts out in Tampa, but its first stop is Mahogany Bay. After a day at sea, the cruise makes its second stop in gorgeous Colon, Panama. As if that's not enough, the next day, you'll be in Cartagena, Colombia, exploring the streets of Old Town and tanning under the bright sun. Then, it's straight to Bonaire in the Caribbean Netherlands. After that, prepare for the uncrowded beaches of Curacao and the historic city of San Juan in Puerto Rico. Following a stop in Nassau, Bahamas, the cruise finally comes to an end back in Tampa.
Big Nude Boat 2020 runs from February 23 to March 1, while Big Nude Boat 2021 runs from February 14 to 28. With so much to look forward to, this is certainly one of the carnival cruises nude vacationers wait in line for.
Bali To Fiji 2020
If you're looking for something more exotic, Bare Necessities' cruise from Bali to Fiji can't be beaten. The cruise spans a whopping 17 nights, beginning in Bali, Indonesia. The ship then sails to Indonesia's Komodo Island, where wild Komodo dragons await. Passengers aboard the Paul Gauguin ship can then look forward to Dili in Timor-Leste and Thursday Island in Australia. The fourth and fifth stops, Port Moresby and Samarai, are both in Papua New Guinea. After that, it's off to Guadalcanal, the largest of the Solomon Islands. Stops to Espiritu Santo and Tanna Island (both in Vanuatu) follow before making its final dock in Lautoka, Fiji.
Bali to Fiji 2020 runs from May 20 to June 6.
Adriatic Odyssey 2020
The Adriatic Odyssey is perfect for those who want to try nude sailing cruises. Climb aboard the Royal Clipper, which owns the distinction of being a five-masted, full-rigged sailing ship. This cruise departs from Venice, Italy, and makes its way to Croatia. There are seven stops in total in Croatia alone: Pula, Krk Island, Zadar, Split (overnight), Hvar, Korcula, and Dubrovnik. After that, the Royal Clipper sails to Kotor, Montenegro. Then, passengers get to spend one night in Rimini, Italy. A penultimate stop to Ravenna, Italy, follows before making its final dock in Venice. If you'd like to experience sailing nude, book the Adriatic Odyssey cruise.
Adriatic Odyssey 2020 runs from August 1 to August 15.
Bliss Cruise boasts luxury cruising for couples looking to travel the world in total freedom. It's one of the best adult nude cruises you can find today. The company's cruises are exclusive to adults and couples, so you won't find any singles or underaged passengers onboard. Bliss has two upcoming cruises in 2020, with another two in 2021 and one in 2022. Slots sell out fast, so you'd best jump on it if you want the chance to go naked boating. However, before you buy a ticket, let's first break down what Bliss Cruise has to offer.
Celebrity Infinity
For its 2020 Celebrity Infinity cruise, Bliss has decided to include two stops on its itinerary: Nassau, Bahamas, and Labadee, Haiti. On the other hand, its 2021 outing includes stops to Ochos Rios, Jamaica, and Georgetown, Grand Cayman. Both clothing optional cruises depart from and end at the Port of Miami in Florida. They also have two days scheduled at sea.
Spending two whole days at sea may seem boring at first glance. However, passengers will find that days on the ship are just as enjoyable as days off it. The Celebrity Infinity ship offers a multitude of activities onboard. There are live music shows, poolside and rooftop events, and even lifestyle nightly themes. Come 2021, the newly renovated ship will also have new staterooms, a private sun deck, an upscale lounge, and a new casino.
Celebrity Infinity 2020 runs from April 20 to 25, while its 2021 iteration runs from April 19 to 24.
RCI Mariner Of The Seas
The Royal Caribbean Mariner of the Seas offers seven nights of unadulterated pleasure. The ship itself boasts a plethora of dining and drinking options, as well as amenities that could rival any five-star resort. You can spend cruising days lounging by the pool or racing down the waterslides. Alternatively, you can try their new surf simulator or virtual bungee trampoline.
This nude cruise begins at Port Canaveral, Florida. It spends two days at sea en route to its first stop, Antigua. Here, you'll find literally hundreds of white-sand beaches and a vibrant capital city. You can also take an island safari or get your blood pumping on a hiking adventure. The next day, RCI Mariner of the Seas makes its second stop in St. Maarten, a territory shared by Netherlands and France. Beaches with soft sands and turquoise waters litter this beautiful country. If you're more of a shopper, St. Maarten boasts about 500 duty-free shops that'll save you as much as 50% of U.S. retail prices. After that, it's a two-day cruise back to Port Canaveral.
RCI Mariner of the Seas runs from November 6 to 13, 2020.
RCI Oasis Of The Seas
For RCI Oasis of the Seas, Bliss Cruise adds a little quirk to your naked boating experience. The ship features seven distinctly themed "neighborhoods" for guests to enjoy, including Central Park and Boardwalk. This cruise can hold an impressive 5,400 passengers. With so many other couples aboard, it's almost impossible not to meet new people.
The cruise departs from the Port of Miami, Florida. After two days of cruising at sea, the ship docks in Basseterre in Saint Kitts & Nevis, an island country located in the West Indies. Here, you can relax on golden shores or take part in water activities. Explore the lush gardens at Romney Manor, an estate dating back 350 years. Next, the cruise heads to Charlotte Amalie in Saint Thomas. The beaches here are equally beautiful, but it's the duty-free shopping that really brings people in. Before returning to Miami, the ship makes a stop in CocoDay, a private island where Bliss Cruise's passengers are the only guests.
RCI Oasis of the Seas runs from November 14 to 21, 2021.
Bliss Spain/Morocco Voyage
Despite not setting sail until 2022, Bliss Cruise's Spain/Morocco Voyage is getting a lot of hype. It's the perfect nude cruise for travelers who wish to see more of Spain, with the added bonus of a stop in Morocco. The ship departs from Barcelona before spending a day at sea and docking in Malaga. After that, it's off to Cadiz, where cobblestone streets and Moorish architecture enchant visitors. Then, passengers will get the chance to explore the wonders of Casablanca, Morocco. After a stop in Valencia, the cruise will finally return to Barcelona, completing the roundtrip.
Bliss Cruise's Spain/Morocco Voyage runs from June 4 to 11, 2022.
Desire — the name speaks volumes. This company is well-known in the adult vacation industry. In fact, in the Riviera Maya alone, Desire has two nude-friendly resorts. Since its establishment, the company has also expanded its offerings to include nude cruises, which boast an erotic and romantic atmosphere. However, just like their resorts, their nude cruises are couples-only and adults-only. Over the next two years, Desire has four nude cruises in store for you and your partner.
Red Carpet
One of Desire's nude cruises in 2020, the Red Carpet cruise puts the film industry at the forefront. The aptly named cruise begins its journey from Nice, France, making its first stop in Cannes. The stop coincides with the Cannes Film Festival, where filmmakers from around the globe showcase their works of art. Don't worry about cramming so many activities into one day, though. Cannes is a two-day stop.
After that, the Red Carpet cruise sets sail for Florence, Italy. Here, you'll find a city rooted in history, as echoes of the past color the present. Some of the greatest artists of all time spent time here, including Sandro Botticelli and Dante Alighieri. Next, the cruise takes you to the French Riviera — Villefranche, France. Aside from its dazzling beachfront, Villefranche is known for its Old Town. For two days, allow yourself to get lost along Old Town's winding cobblestone streets and colorful buildings. After one final day at sea, the cruise ends in Barcelona, Spain.
The Red Carpet cruise runs from May 19 to 26, 2020.
Greek Islands
Desire's Greek Islands cruise is focused entirely on Greece and Turkey. The ship departs from Athens on the first day before docking in Mykonos on the second. The third day is spent mainly at sea, but the wide range of activities and amenities onboard is sure to keep you occupied for hours on end. After that, it's off to Kusadasi, Turkey. Here, passengers can explore Ephesus and its rich history as an ancient city of the Roman Empire.
Day 5 takes you to Marmaris, Turkey, which is also known as the Turkish Riviera. Following a day spent walking, the Greek Islands cruise takes you back to Greece. It's a penultimate stop in Santorini before making the last dock in Athens.
The Greek Islands cruise runs from September 26 to October 3, 2020.
Lisbon
Five destinations spread out across nine days await you with Desire's first nude cruise in 2021. The cruise departs from Lisbon, Portugal and spends one full day at sea heading to its first stop: Madeira, Portugal. After that, it's colorful costumes and vibrant tropical life in Tenerife, Canary Islands. The third stop takes you to the adjacent island of Lanzarote. Following another fun-filled day spent nude at sea, the ship then docks in Gibraltar, United Kingdom. Closing out the loop, the cruise ultimately ends back in Lisbon.
The Lisbon cruise runs from June 5 to 13, 2021.
Rome – Athens
Desire's Rome – Athens cruise is just like their 2020's Greek Islands cruise, except with a few added stopovers. Beginning in Rome, Italy, the cruise makes its way to Sorrento and then Siracuse in the same country. After that, passengers get to explore the ship and enjoy its many amenities for one full day at sea. The next stop on the list is Santorini, Greece, and then Kusadasi, Turkey. Desire's Rome – Athens cruise then docks in Mykonos, Greece, before finally ending in Athens, Greece.
The Rome – Athens cruise runs from October 9 to 16, 2021.
GaySail offers one of the best gay nude cruises in the world. Their cruises operate a little differently, using yachts and catamarans instead of larger ships. Due to this, most of GaySail's nude sailing cruises don't feature more than a single country. However, they do offer a more immersive tour of the best tourist attractions. Furthermore, a smaller boat equates to a more intimate atmosphere that singles and couples alike can enjoy.
Depending on the type of cruise you choose, GaySail's trips typically come with a skipper and a cook. In some cases, both companions join the passengers in full nudity throughout the day. Guests can also help sail if they wish. Each yacht can accommodate up to 11 passengers. Singles and couples aged 18 and over are welcome.
For their Greece route, GaySail offers 8-day and 15-day options in August and September 2020. They also have a Caribbean cruise, with stops in Saint Martin, Saint Barth's, and Anguilla. Alternatively, their Tahiti cruise gives you a chance to go sailing nude around one of the most beautiful islands in French Polynesia. If you want to see towering granite rocks over the turquoise waters of the Indian Ocean, choose the Seychelles cruise.
On the other hand, for stunning cobblestone streets and white-sand beaches, Croatia is your best bet. GaySail's Thailand cruise provides a taste of Asia. Known for its many pristine beaches, Thailand also has an active gay scene. Other sailing options include the British Virgin Islands, the Bahamas, and Puerto Rico.
Another adults-only cruise on the list, the Temptation Caribbean cruise is perfect for party lovers. It's also one of the only single nude cruises around, which means you don't have to be with a partner to book a room. Expect to sail the open sea by day and let completely loose by night. Plus, with their clothing-optional policy, Temptation is sure to be one of the nude cruises you won't soon forget.
Temptation Caribbean has two upcoming cruises — one in 2020 and one in 2021. For their 2020 itinerary, the cruise departs from Tampa, Florida. It spends a full day at sea, which you can spend lounging in the nude by the pool or familiarizing yourself with the ship's amenities. The first stop is Georgetown, Grand Cayman. Here, time seems to go by slower. After that, it's a fun-filled day in Cozumel, Mexico. The ship spends another day in the ocean before finally returning to Tampa.
For their 2021 cruise, Temptation Caribbean plans to explore Key West, Florida, and Costa Maya, Mexico. The final itinerary has yet to be set, though it'll likely begin and end in Tampa as well.
The Temptation Caribbean 2020 cruise runs from February 13 to 18, while the 2021 cruise runs from February 11 to 16.
Frequently Asked Questions
What Are The Age Requirements For Nude Cruises?
Generally, nude cruises are adults-only. This means no one under the age of 21 can join. Cruises typically require you to submit copies of your ID/s to verify your age. Most nude cruises are aimed at grown-ups, so family-friendly ones are hard to come by.
Who Goes On Nude Cruises?
If you've never gone on a nude cruise (or been to any clothing-optional places), you may wonder why anyone would want to go on them. However, once you try it, you'll definitely understand the appeal. According to the American Association for Nude Recreation (AANR), about 70% of passengers on nude cruises are on their second or third time. In terms of demographics, a majority of passengers are college graduates between the ages of 35 and 65. And while nudists and naturists consider it a lifestyle, practically anyone can enjoy a good cruise in their birthday suit.
What Actually Happens On Nude Cruises?
There's a common misconception about what happens on nude cruises. Just because people are naked doesn't mean it's pure debauchery. While most cruises do have parties (some wilder than others), they don't all go to the extreme. The truth is, nude cruises offer much of the same things as regular cruises. The only real difference is you can do it all stark naked and gain some added self-confidence along the way.
Why Are Nude And Swinger Cruises Popular?
The nudist community grows larger with each passing year. More and more people are discovering the world of naturism and committing to it. While you can walk around nude in your own home, dropping trou' isn't considered socially acceptable virtually anywhere else. That's why nude cruises and resorts are so popular. These places allow you to express yourself in the freest of ways without fear of judgment. Nude cruises are basically a multi-day (and multi-city) vacation that enables you to let loose in every sense of the word.
The Takeaway
Cruising is a great way to travel the world. It lets you visit multiple countries in the span of a few days while still enjoying everything a five-star hotel can offer. However, if you ever feel self-conscious in your swimsuit at the pool, it may be time to consider going on a nude vacation. As you'll quickly find out, nude cruises get rid of the stigma surrounding social nudity. Sure, you'll feel self-conscious at first, but it'll pass after an hour or two of getting used to it. When everyone is naked, your insecurities go away. And, as you can see, nude cruises feature the same amenities and destinations as most regular cruises do. So, aside from your clothes, you've really got nothing to lose.