Guide To Buying The Best Beach Tent For A Cool Camping Experience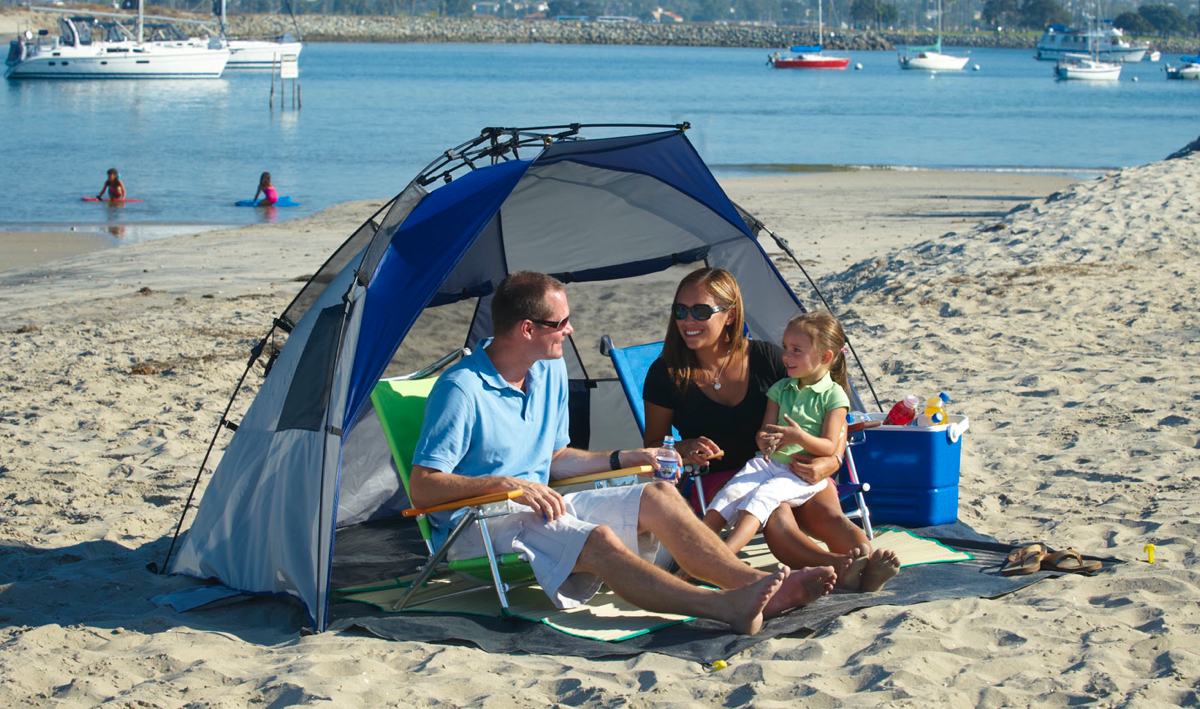 If you love summer, we're betting you and your family can't wait to head out for a fun day in the sun. If you're hitting the beach, sunscreen, hats and towels are likely on your packing list—but don't forget a beach tent.
Setting up a tent on the beach not only gives you a place to keep your stuff in but also protects the sensitive skin from the scorching heat of the sun. After all, nothing makes a hot sunny day more enjoyable than having a cool canopy over the head.
Talking of sunburns, most people don't give much thought to how important it is to protect their skins from the UV lights while hanging out at the beach. This is shocking because prolonged exposure to the UV lights may leave dangerous and unpleasant marks on your body.
To say the least, nothing would protect you from the rays better than a beach tent. However, with so many beach shades out there on the market today, it's important that you make an informed decision while buying one.
To help you decide on which beach tent is best suited for you, we have handpicked the best beach tents, based on customer reviews. Before jumping directly to the buying guides and product reviews, let's understand the usefulness of a beach tent. It will also help you know what to look for in a beach tent while buying one.


Here's Why You Need A Beach Tent
Protection From The Sun
Staying for a while in the sun for vitamin D is healthy, but exposing your skin for too long in the sun is dangerous. You need a beach shade to protect you from the harmful ultraviolet (UV) rays of the sun which would cause not only sunburns but also skin cancer. And, always be sure to check if the tent is approved and certified.
Burglar Proofing
Did you know that most beach tents can be zipped up and locked? To keep your belongings safe, all you've got to do is zip and lock it up, and a burglar will have a difficult time accessing your stuff. Besides, it'll also shield off water and dirt keeping your food and drinks clean and fresh.
Privacy
Most beaches around the world are public places with lots of people having fun. So, it's often difficult to find a haven of privacy. With a beach tent, you can enjoy full privacy even on a crowded beach. You can change into your swimming costumes for the swim and into your dry clothes after the swim. Do you just love sitting by yourself reading a book or sipping coconut water while everyone else is out there having fun at the sea? That is also possible, provided you have a nice beach tent with you.
Easy To Assemble
Camping in beaches requires a convenient beach tent that is easy to set up and fold. It should also be portable so that you can carry it wherever you go. A good beach tent is one that you can conveniently assemble and disassemble in a moment.
Good For Children
When your children get tired after spending hours on the beach, they will need a nice and safe place to relax. In fact for adults also, a nap will rejuvenate and replenish the lost energy before all of you go out to the beach again. A beach tent will provide you and your family with a nice spot for relaxing or sleeping.


Types of Beach Tents
A beach tent is designed to keep your body out of the sun. However, there are different types of beach tents. The four main types of Beach Tents include:
A Pop Up Beach Tent assembles in one swift movement. Besides being easy to assemble and disassemble, they are generally easy to operate so they'll save you valuable time and effort.
How to fold a Pop Up Beach Tent
First step: Fold it to form an oval shape—it's designed to guide you.

Second step: Apply pressure steadily to the middle section to form a figure eight.

Third step: Grab one of the sides of figure eight and tack gently it to form a circle, and that's it.
These are beach tents that are fitted with a zipping door for advanced security. Cabana beach tent is also opened on one side for maximum aeration. If you want a beach tent that lets in air and keeps your stuff safe, then you should consider the cabana beach tent.
This type of Beach Tent is precisely designed to accommodate a large group of people. If you are planning on a trip to the beach with a large team or a large family, then the beach canopy tent will serve you best. Canopy Tents are also fitted with multiple openings on the sides. They offer sun shelter and are easy to set up.

A Baby beach Tent is tailored to serve kids and babies. Baby beach tents are worthwhile investments if you have babies or kids who would love some privacy or shade to rest in while at the beach. They are colourful, lightweight and easy to carry along. Besides, they are easy to set up tents and requires little effort to operate.
Five Best Beach Tents—Reviews (Buying Guides)
Here are the five best beach tents according to our travel editors.
1.
Pacific Breeze Easy Set-Up Beach Tent

Size: 87" by 49" by 47".
Price: $59.99
Weight: 4.45lb
UPF rating: 50
Description
Pacific Breeze Easy Setup tent will take your beach experience to a whole new level. While it has limited privacy, there are many bright sides to it; it shields you from the sun while giving you're a wide field of view of the whole beach.
The Pacific Breeze is an easy set up tent and requires little effort to erect. It is fitted with mesh pockets for additional storage spaces. The Breeze Beach Tent has openings that help in shaking out the sands during cleaning.
Pros
1. Easy to set up.
2. Comes with a year's warranty.
3. Comes with a carrying case.
4. Great for children and babies.
5. Durable beach tent.
Cons
1. Limited privacy
2. Cannot withstand strong winds.
2.
Coleman Beach Shade Tent

Size: 90 in length by 53 widths by 57 height
Weight: 6.3 lbs
UPF rating: 50
Price: $54.99
Description
The Coleman Beach Shade is a colourful mid-sized beach tent that's designed to host one or two people. If you are looking for a versatile and durable beach tent, this one will give you everything you'd want in a beach tent.
It has only three poles and is easy to set up. This tent has a floor that can be improvised to form a front door for enhanced privacy.
Pros
1. Spacious
2. Fitted with a clothing line.
3. Durable
Cons
1. Take time to assemble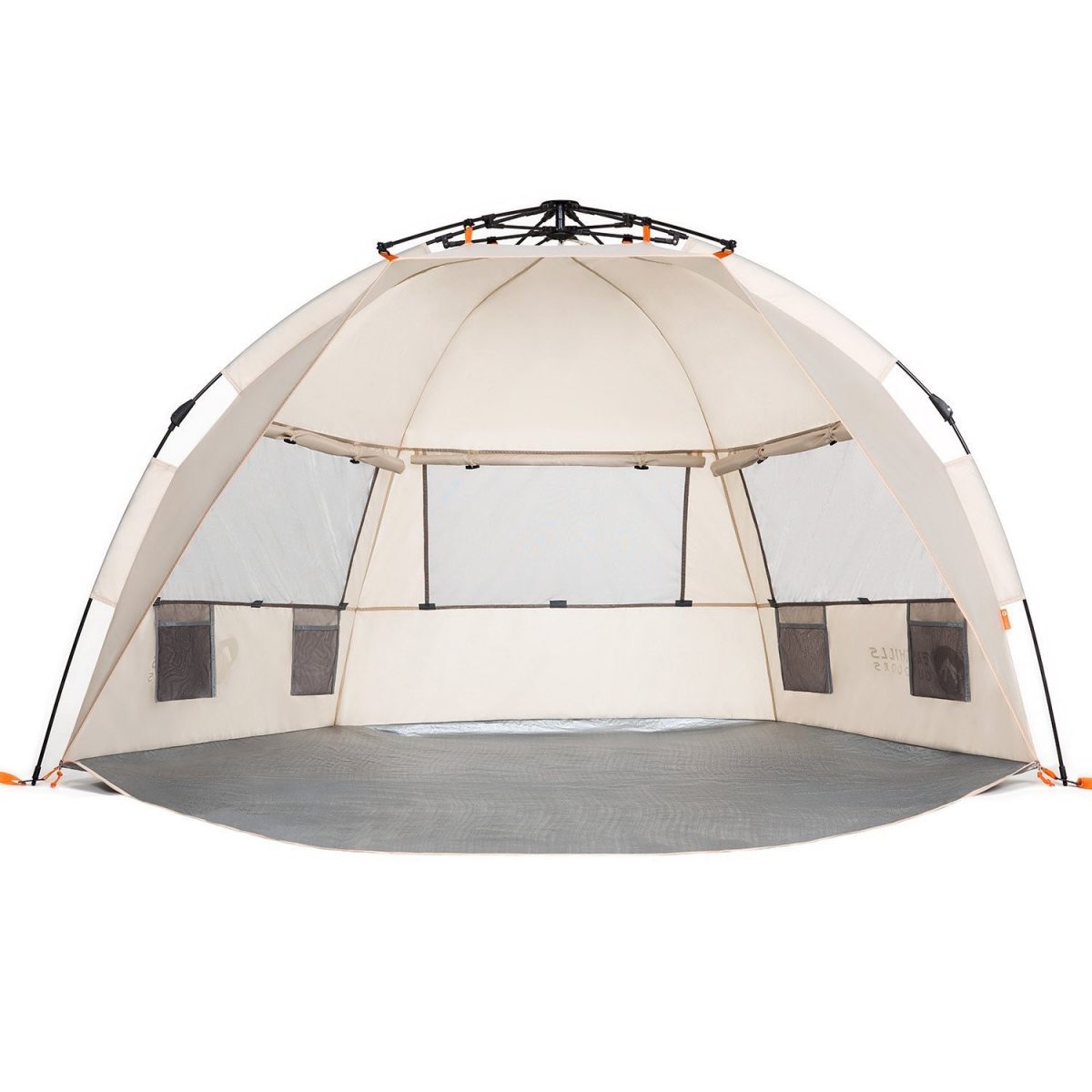 Photo©ezshopex.com/sports-leisure

Size: 82" by 47" by 50"
Weight: 5 lbs
UPF rating: 50
Description
I fell in love with this beach tent for three reasons; portability, space and space. The Easthills requires little effort to set up and what's more? It comes with a guide to make the folding even easier. Unlike others, it has a built-in door for uttermost privacy and has so much room. Besides, it has open-up sand pockets that facilitate cleaning.
Pros
1. Easy to erect and fold.
2. Has privacy doors.
3. Has a carry bag with shoulder straps.
4. The UV light and water resistant
5. It is spacious
Cons
1. Not the most durable pick.
4.
Wolf Wise Pop Up Beach Tent
Size: 86" by 57" by 47"
Weight: 4.5 lbs
UPF rating: 50
Price: $36.98
Description
What I love most about this beach tent is its sturdy construction; the winds won't whisk it away as easily as other tents. Also, unlike most tents, it doesn't shut you off the beach experience because it has an opening on all sides. So, if you happen to be the type that just wants to sit back and watch others enjoy their beach experience, then this the beach tent for you.

Pros
1. Spacious beach tent.
2. Durable construction.
3. Easy to erect and dismantle.
4. 3600 ventilation.
5. Water repellant.
6. Pop-up design.
7. Pocket-friendly price.
Cons

1. Limited Privacy.
5.
Shade Shack Beach Tent
Size: 91" by 51" by 53"
Weight: 4 lbs
UPF rating: 50
Price: $49.99
Description
Love feeling your toes in the sand while inside a tent? Go for Shade Shack beach tent. It is primarily designed for people who like playing and feeling their toes under the sand, and still under the shade. If you want something simple and authentic, this will do.
Pros
1. Easy handling
2. Spacious
3. Instant set up.
4. Complete protection from sunlight.
Cons
1. A little pricey
How to Choose the Best Beach Tent – Buying Guide
Here are a few considerations to keep in mind when shopping for a beach shade.
• Size
The size of the tent should be proportional to the number of people you are planning to go camping with. People aside, In case you have many belongings that would take up large storage space, go for a big-sized beach tent.
• Colour
Beach Tents are designed in different colours; usually bright colours. The thing with colours is that bright colours reflect heat away while dull colours absorb heat. You sure don't want to be sweating inside a beach tent so I'd recommend a bright colour.
• Ease of use (packing, setting-up and dissembling)
Consider beach tents that would give you an easy time to carry along and operate.
• Material
Most tents are made of nylon or polyester; they are light, water & heat repellants. Some beach tents are coated to provide maximum protection from strong UV radiation. The more advanced protection the material offers the better for you.
• Style
This refers to the form of the beach tent when it is erected. People have different tastes when it comes to styles and beach tents have a variety of styles to choose from; go for a form that steals your heart.
To Sum Up!
The effects of UV lights on your delicate skin are far-reaching—way beyond the ugly marks they may leave on you. They may actually cause malignant growth of cells which could lead to the development of fatal diseases in your body. With that in mind, you need to invest in a good beach tent to protect your skin. While it's healthy to busk in the sun, too much exposure to sunlight is harmful. The buying guide and the reviews on this post will help you get the best beach ten to keep you safe while at the beach. I hope you found it insightful.

Feel free to get in touch with us for more information and happy buying.