15 Of The Best 2022 Christmas Vacation Ideas for You and Your Family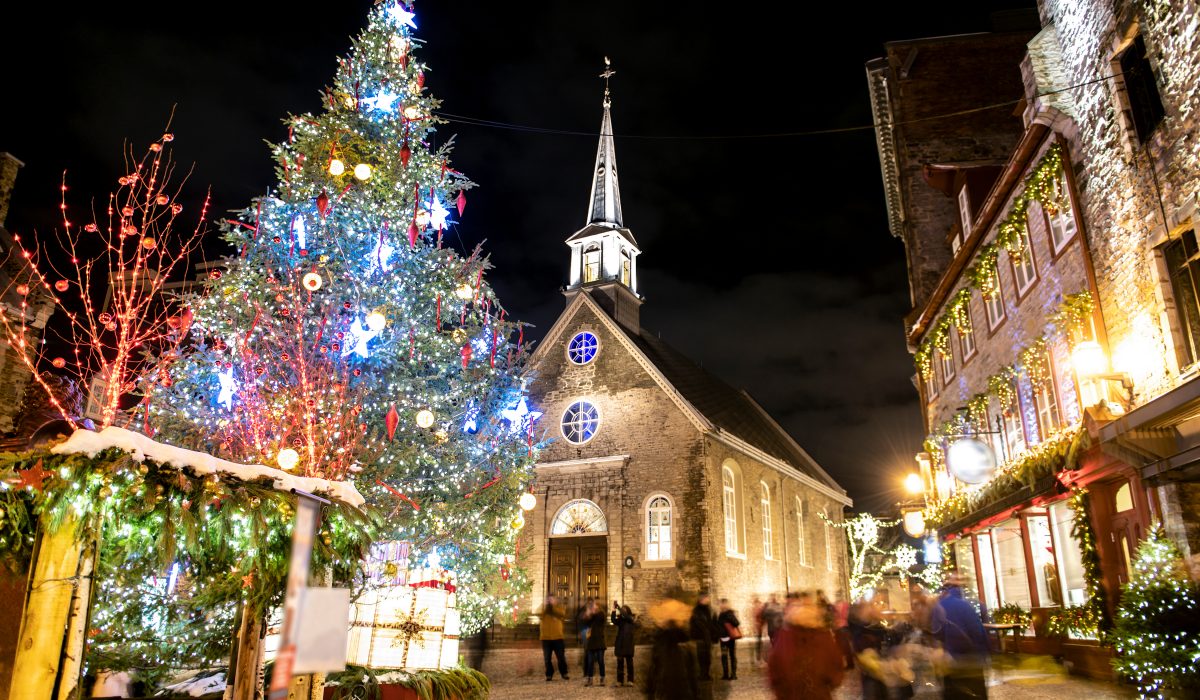 Alas, it's the festive holidays again and there's no other time like Christmas to sneak in a getaway. But where to go this Christmas? If you're looking for affordable Christmas vacation ideas for you and your family, you have quite the selection. Granted, there are so many fun places to go within the United States and overseas. So, let us be your guide! Whether you're looking for the best places to spend Christmas in Europe, Asia, or somewhere closer to home, we have put together some of the best places to go with friends and family. Let the merry holidays begin!
Christmas Vacation Ideas in the USA
1. NEW YORK CITY
Best Things to Do in New York City:
Enjoy a skate at the Rockefeller Centre

Catch

The Nutcracker

ballet

Witness the stunning light show at Saks Fifth Avenue
Where to go for Christmas this 2022? Bring the whole family to New York City! With its multitude of light shows and Christmas displays, you're sure to find the best spot to take beautiful Christmas pictures with your loved ones.
Some of the things you can do include visiting the Rockefeller center, where you can enjoy a few rounds of ice skating at the outdoor ice skating rink with your family and friends. In addition to their heated igloos, there are now heated huts right on site that you can hang out in for free. Once you've got that workout in, catch The Nutcracker by The New York City Ballet, a New York tradition that will leave you spellbound. Lastly, at Saks Fifth Avenue, their public light show guarantees a warm and fuzzy ending to your night.
Where to Stay: Ace Hotel Brooklyn, Hotel 50 Bowery, and Lowell Hotel Upper Eastside
2. LOS ANGELES
Best Things to Do in Los Angeles:
Participate in the Christmas Fantasy Parade at Disneyland

Walk through the Enchanted Forest of Light at The Descanso Gardens

Join in the

Las Posadas at Olvera Street
When it comes to Christmas vacation ideas that the entire family will enjoy, head over to Los Angeles. From the best theme parks in California to cultural events, here are some of the ways you can get into the holiday spirit in LA.
Christmas at Disneyland is a whole other world, it truly is where the magic comes alive. Experience the Christmas spirit firsthand at their Christmas Fantasy parade, where you can meet the entire cast, which will make your family holiday extra memorable. Thereafter stop by the Enchanted Forest of Light at Descanso Gardens where a mile-long walk through this jaw-dropping illuminated trail will leave you speechless. Cap off your Christmas break by joining Las Posadas on Olvera Street. As one of LA's oldest holiday events, this Mexican tradition is a must–experience.
Where to Stay: The Hollywood Roosevelt, Great Wolf Lodge, Chateau Marmont
3. SAN FRANCISCO
Best Things to Do In San Francisco:
Step back in time at

the Great Dickens Christmas Fair

Watch "A Christmas Carol" at The American Conservatory Theater

Take amazing photos at San Francisco City Hall's light display
San Francisco is one of the best places to go for Christmas. From the wonderful Christmas lights to delectable treats and the pleasant carols that fill your ears, stop by San Francisco this Christmas and bask in the Christmas spirit with your loved ones.
The Great Dickens Christmas Fair is a must-visit, especially if you're looking for unique Christmas vacation ideas. This 1960's Victorian English Christmas bazaar is where you'll find souvenirs, treats, parades, and live music all in one to make this Christmas much merrier. To complete your Charles Dickens' Christmas, we recommend watching A Christmas Carol at the American Conservatory Theater before heading to the San Francisco City Hall for their light display. This is open to the public and there's no limit to the number of photos you can take since every part of this light display is simply dazzling.
Where to Stay: The Battery, Four Seasons Hotel San Francisco, The St. Regis San Francisco
4. LAS VEGAS
Best Things to Do in Las Vegas:
Get lost in the magic of Enchant Christmas Village

Catch the LED spectacle at Bellagio Conservatory and Botanical Gardens

Watch jousting knights at Tournament of Kings at Excalibur Hotel
Whether it's the holidays or not, Las Vegas is a prime destination for many people. If you're looking for Christmas vacation ideas for couples, Las Vegas has plenty to offer. Plus, Las Vegas is one of the cheapest places to visit during Christmas.
One of the best places to go with friends in Las Vegas during the holidays is the Enchant Christmas Village where you'll find the world's largest Christmas Light Maze. The Bellagio's Conservatory and Botanical Garden also transforms during the holidays with over 7,000 LED lights and a 42-foot-tall Christmas tree. Lastly, experience a medieval feast of food, jousting knights, and live-action performances adapted from the tales of King Arthur in this 900-seat arena at Excalibur. Las Vegas is one of the best holiday destinations in the US this Christmas.
Where to Stay: The Bellagio Hotel and Casino, The Venetian Las Vegas, Park MGM Las Vegas
5. GEORGIA
Best Things to Do in Georgia:
Join Holiday in the Park at Six Flags Over Georgia

Drop by the Atlantic Station for ATL Holiday Lights

Take lots of photos with the city's largest Gingerbread house at St. Regis Atlanta
Where is the best place in the US to spend Christmas? Look no further than Georgia. It has plenty to offer guests and locals alike when it comes to kid-friendly Christmas vacation ideas. For example, Holiday in the Park is back for its seventh run this year, so your family can enjoy beautiful Christmas décor, park rides, and over a million lights that will surely mesmerize you. You can also stop by the Atlantic Station for their festive light displays that you can choose to either walk or drive through. End your visit with a trip to see the largest Gingerbread house in the city, which is located in St. Regis Atlanta. It makes for a lovely Christmas picture with the entire family.
Where to Stay in Atlanta, Georgia: St. Regis Atlanta, The Hilton Atlanta, The Candler Hotel Atlanta
6. CALIFORNIA
Best Things to Do in San Diego:
See the giant LEGO Christmas tree at LEGOLAND, California Resort

Join the Jungle Bells at the San Diego Zoo

Go ice-skating on the beach at the Hotel Del Coronado
Who said Christmas can't be warm and sunny? In San Diego, you can! There are many things to do in San Diego, US, but you'll be surprised at the multitude of Christmas vacation ideas available here.
Start your trip with a visit to LEGOLAND, California where you'll find the world's largest LEGO Christmas tree. Made up of 245,000 Duplo bricks, it really is quite a marvel. Next, San Diego Zoo hosts an annual Jungle Bells Fest that features live animal performances and feeding events that will surely keep your young ones entertained. Lastly, for any couple who desires a romantic White Christmas by the beach, Hotel Del Coronado welcomes you. You can go ice skating right by the sea and relax by the fire afterward. Whether with family, friends or loved ones, San Diego fulfills your every Christmas wish.
Where to Stay: Hotel Del Coronado, Fairmont Grand Del Mar, Hotel La Jolla
7. COLORADO
Best Things to Do in Colorado:
Ski down the powdery slopes of Aspen, Colorado

Enjoy a Victorian Christmas in Georgetown, Colorado

Ride the Polar Express at Durango, Colorado
For Christmas vacation ideas that are all about coziness and spending quality time with loved ones, Colorado is the place to be. Aside from enjoying the snowscape of Aspen, you can spend time in town and join ornament workshops, film showings, and fireworks displays. For a Victorian take on the season, head to Georgetown to experience an old-fashioned European Christmas market. You'll find many treats such as chestnuts roasting on an open fire and horse-drawn wagon rides. Make sure you stop by Durango, where you'll find the Polar Express Train operated by the Durango & Silverton Narrow Gauge Railroad.
Where to Stay: The St. Regis Aspen Resort, The Oxford Hotel, The Broadmoor
8. UTAH
Best Things to Do in Utah:
Take in the magical light displays at Temple Square in

Salt Lake City

Enjoy the food and activities at Park City's Historic

Main Street

Visit the traditional

Christmas Village

in Ogden
You may know Utah for its iconic "Mighty Five" national parks, or for hosting the Sundance Film Festival annually but Utah has plenty more to offer when it comes to holiday activities. You can start your holiday trips by enjoying the Christmas light displays at Temple Square, which is a popular spot for both locals and tourists alike. Follow this with a jaunt to Park City's Main Street for seasonal delicacies, festive entertainment, and plenty of holiday spirit. Finish your adventure with a trip to Ogden's traditional Christmas Village, which has been delighting guests since 1962.
Where to Stay: Sorrel River Ranch Resort and Spa, Waldorf Astoria Park City, The Grand America Hotel
9. ALASKA
Best Things to Do In Alaska:
Hop on a dog sled at North Anchorage

Catch the famous Northern Lights at Alaska's the North Pole

Visit Santa Claus and his reindeer at Nome
For the perfect combination of the winter snow and Christmas cheer, add Alaska to your list of Christmas vacation ideas this holiday. This year, why not give Alaskan Christmas vacation ideas a try? In Alaska, white Christmas activities abound. You'll find many dog sledding tours in its ski resorts, including ones close to the city of Anchorage. We're sure the whole family will love this thrilling activity and who can say no to those adorable huskies? The Northern Lights in Anchorage are also not to be missed, though you can get the best view at the North Pole in Alaska. The best bit? They celebrate Christmas all year in this city! And while there's no real Santa, you can still see him and his reindeer at Nome. With a bit of luck, you might even get a chance to ride in his sleigh.
Where to Stay: Winterlake Lodge, The Grande Denali Lodge, The Lakefront Anchorage
10. ORLANDO, FLORIDA
Best Things to Do in Orlando, Florida:
Spent Christmas at Hogwarts at Universal Orlando

Join Mickey's Very Merry Christmas Party at Walt Disney World Resort

Tour Night of a Million Lights at Give Kids the World Village
Another sunny Christmas vacation idea for you is Orlando, Florida. Orlando has some of the best theme parks in the Sunshine State, especially Universal Orlando. Fans of the Harry Potter films can spend Christmas in the wizarding world as Hogwarts transforms for the festive season. The streets of Hogsmeade and Diagon Alley also brighten up with Christmas lights, and guests can enjoy a warm butterbeer. But the party's not over until you join Mickey's Very Merry Christmas Party and visit the Disney Christmas Village at Walt Disney World. Finally, end your trip with a spectacular sparkle at Night of a Million Lights, which has been moved to the Island H20 Park for 2022.
Where to Stay: Four Seasons Orlando at Walt Disney World Resort, Loews Sapphire Falls Resort at Universal Orlando, Disney's Animal Kingdom Lodge
Christmas Vacation Ideas Overseas
Where to go for Christmas 2022? If you have already visited the different attractions near you, why not look at what other countries can offer? Here are some great Christmas vacation ideas from around the world.
11. HARBIN, CHINA
Best Things to Do in Harbin, China:
See the towering ice sculptures in Harbin

Go on a sleigh ride in China Snow Town

Visit the reindeer in Inner Mongolia
Beginning in late December, Harbin transforms into a winter wonderland with some of the world's biggest ice sculptures. Participate in ice mazes and snow fights, or catch the Harbin Show, dance, and acrobatics performances by artists all over the world. Located some five hours away from Harbin is the dreamy China Snow Town. Here, you can take a one-horse open sleigh through its snowy forest. Lastly, get to know the last remaining families in one of China's coldest villages and enjoy an authentic Mongolian experience with them. This is a once-in-a-lifetime experience you can do during Christmas break.
Where to Stay in China: Holiday Inn Express Harbin, Shangri-La Harbin, JW Marriott Hotel Harbin
12. PARIS, FRANCE
Best Things to Do in Paris:
Visit the Parisian Christmas Markets

Go ice-skating at Le Grand Palais des Glaces

See the Christmas light displays at Champs Elysées
Paris is one of the most beautiful places in the world during Christmas time. It isn't just the décor you can enjoy in the City of Lights, however. First off, they have many Christmas markets such as Champ-de-Mars Christmas Village, La Magie de Noël Tuileries Garden Christmas Market, and the Saint Germain des Prés Christmas Market. After shopping, join revelers at The Grand Palais. This venue turns into the world's biggest skating rink during the holiday season. Lastly, the Champs Elysées boasts beautiful light displays during the holidays. Since the area is car-free for the event, you'll be able to stroll under its glimmering lights without worry.
Where to Stay in Paris: Le Meurice, Hôtel Plaza Athénée, Sofitel Paris Le Faubourg
13. AMSTERDAM, NETHERLANDS
Best Things to Do In Amsterdam:
Amsterdam Light Festival

Revel in the merriment of the WinterParade

Watch performances by the Dutch National Ballet
Amsterdam has plenty to offer when it comes to Christmas vacation ideas. If you're looking for a real-life fairytale, this is one of the best family vacation spots to visit. After checking out holiday markets during the day, hop on the Amsterdam Light Festival cruise at night to see all the light installations surrounding the city's landmark canals. Next, join the WinterParade where you can expect a three-course meal, acrobats, live music, dancers, and an amped-up holiday spirit! If you're looking for the best Christmas vacations for couples in Amsterdam, performances by the Dutch National Ballet are a must-see. They even have a guided tour that will take you behind the scenes!
Where to Stay in Amsterdam: Waldorf Astoria Amsterdam, De L'Europe Amsterdam, Conservatorium Hotel
14. QUEBEC, CANADA
Best Things to Do in Quebec City:
Le Marché de Noël allemand de Québec (Christmas Market)

Stroll through Rue du Petit-Champlain and Place-Royale

Take photos at Fairmont Le Château Frontenac
For the charm of European cities without having to go too far from the United States, Quebec City is a prime holiday destination, especially for couples. Here are some romantic Christmas vacation ideas for you.
Known as the biggest Christmas market in the city, Le Marché de Noël Allemand de Québec has over 90 different exhibitors for you to check out. There are free activities, Christmas choirs, and plenty of choices when it comes to German food and drink. Next, head over to Rue du Petit-Champlain and Place-Royale for some postcard-worthy photos. Some have even compared them to the Rue de l'Université in Paris! There are also plenty of charming little shops here so you can purchase a souvenir or two. Finally, couples can enjoy a romantic Christmas dinner at Fairmont Le Château Frontenac's Champlain restaurant. The Fairmont isn't just symbolic of the city, it also has a cozy and intimate atmosphere. It is a must-visit, even for anniversaries and honeymoons.
Where to Stay in Quebec City: Fairmont Le Château Frontenac, Auberge Saint-Antoine Relais & Châteaux, Le Germain Hotel Québec
15. VATICAN CITY, VATICAN
Best Things to Do In The Vatican:
Visit St. Peter's Square

Make a wish at the Trevi fountain

Attend midnight mass at the Vatican
It may be the smallest nation in the world, but the Vatican takes a central role during Christmas. Many visit the Vatican to receive the Pope's blessings during Midnight Mass at St. Peter's Basilica. This is one of the most revered events in the country, which is attended by thousands and watched by millions around the world. If you stay past Christmas time, you'll find more to marvel at in the Vatican. For example, a visit to St. Peter's Square and the Trevi Fountain will allow you to appreciate the "divine work" of Bernini. End your trip with the New Year's Eve mass, which is officiated by the pope and followed by more celebrations across the city. It truly is one of the most memorable places to visit in December.
Where to Stay in the Vatican: Relais Vatican View, Hotel Alimandi Vaticano, Starhotels Michelangelo
Plan a Memorable Trip With Our List of The Best Christmas Vacation Ideas
Whether you're going for a fun family holiday or spending time with friends, there are many great Christmas vacation ideas to choose from. From different parts of the US, Asia, and Europe we hope our list helps you find the perfect holiday getaway this season!

Do you love shopping at holiday markets? Here are the best German Christmas markets you can visit!