10 Best Beach Resorts In USA For The Perfect Vacation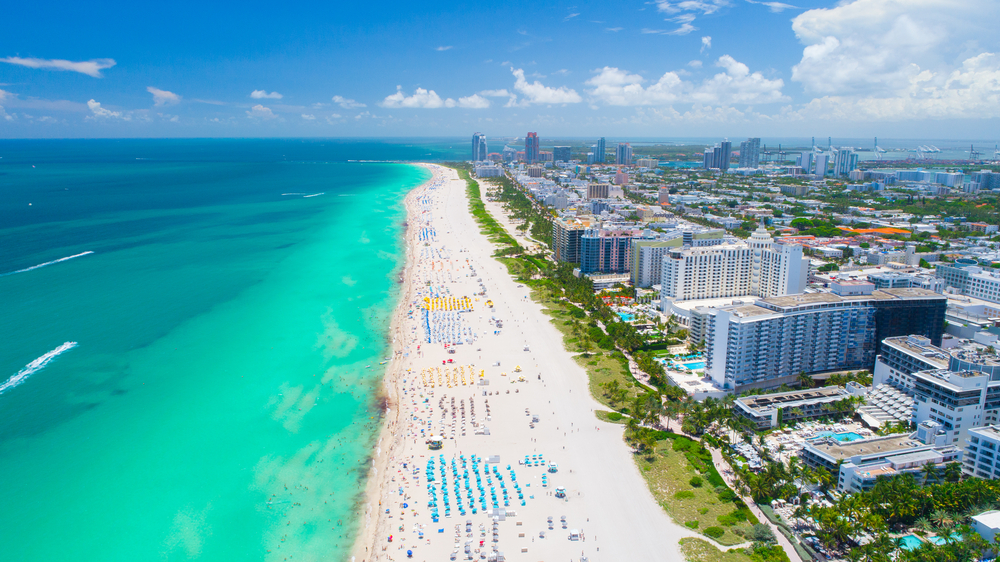 There's nothing like a tropical vacation filled with sea, sun and sand to completely relax and rejuvenate you. Beach resorts are the ultimate gateway to a great holiday, especially one that doesn't require much planning. With everything catered for you all in one place, you'll feel like absolute kings and queens.
Why You Should Stay At A Beach Resort
As we mentioned, there's barely any heavy lifting from you if you choose to stay at a beach resort. Here are more reasons to stay at a beach resort for your upcoming holiday:
A feast for every meal
There's no room for diets on a holiday, let alone a beach resort. Typically buffet style, beach resorts have restaurants that cater to their guests' every meal (and snack!). If you're celebrating a special occasion or just want something a little different for your last night, many resorts even have restaurants that serve full-course dinners. The great thing is that all these are all-inclusive, except for premium or additional items and requests!
You'll never be bored
Kayaking? Paddleboarding? Volleyball? Tennis? With a plethora of activities to do in the beach resort, you don't even have to leave the property to have fun! Stay in shape by working out at the gym after all that indulgence at the buffet lines, or snorkel and dive in open waters to swim amongst tropical marine life.
Endless views
Would anyone disagree that sunsets and sunrises are better watched from the beach, as it rises and sets from the horizon? Staying at a beach resort is a treat for your eyes 24/7, wherever you look there's bound to be the beauty of nature.
Now that we've convinced you to have a vacation at a beach resort, here are the top 10 best beach resorts in the USA! Read on to find the one that's perfect for you.
Sirata Beach Resort
Located in the heart of Tampa Bay, Florida, also known as the "Sunshine state", this beach resort gets plenty of sun, perfect for a beach holiday. It is also situated on the beautiful island of St. Pete Beach.
There is no shortage of amenities and activities to do at Sirata Beach Resort. The resort has a total of five pools, a private beach, as well as cabanas with a TV and concierge service should you want to treat yourself.
A weekly event schedule also shares with guests what activities are going to be carried out daily. There's yoga, frisbee, snorkelling, kayaking and a bunch of other fun planned activities (even belly flop competitions at the pool!).
Click here to read our complete guide to Sirata Beach Resort!
Monarch Beach Resort
For those looking for the ultimate getaway, Monarch Beach Resort in Southern California is the place to be. Noted for its AAA and Five Diamonds certifications, this resort offers luxury to families and honeymooners on vacation.
The beach resort offers a variety of dining options. Enjoy casual dining while enjoying the sea breeze at the Monarch Bay Beach Club, or choose from more upscale or fine dining choices such as Bourbon Steak, voted the #1 restaurant in Orange County.
After indulging, enjoy a few games of tennis or golf followed by lounging by the oceanside pools, while your children have fun at the Monarch Beach Kids Club.
Click here to read our complete guide to Monarch Beach Resort!
Myrtle Beach Resort
This family-friendly beach resort is set on 60 miles of beach on the East Coast, known as the Grand Strand. While there are a load of activities like volleyball, bocce ball, and fishing, the highlight of this resort has got to be its very own waterpark!
The largest oceanfront pool on the Grand Strand, their waterpark comes with a lazy river, countless hot tubs, and access to the pristine sands of Myrtle Beach itself. Have a day of fun before enjoying a full-body massage at the resort's spa to relax and rejuvenate.
Click here to read our complete guide to Myrtle Beach Resort!
Perdido Beach Resort
In Alabama overlooking the Gulf of Mexico, is the four-star Perdido Beach Resort. Avid golfers will love the Lost Key Golf Club, with plenty of premium playing surfaces and facilities for golfers of all levels. The resort's spa is known for its expansive and indulgent treatments; pick one and let your therapist melt all your stress away.
Orange Beach which is on the front steps of the resort, provides clear blue waters – perfect for all sorts of water sports. Those who would rather laze around can do so on lounge chairs with a cocktail in hand.
Click here to read our complete guide to Perdido Beach Resort!
Kauai Beach Resort
Located on the idyllic island of Kauai, Hawaii, this beach resort is all about the aloha experience. The resort focuses on tranquillity and relaxation, with its facilities and activities reflecting that.
You'll get to enjoy yoga on the beach, water fitness sessions, as well as Hawaiian cultural activities like traditional sunrise chants and hula dances! Dining in the resort's restaurants is a dream with fresh and locally sourced ingredients used in its dishes.
Click here to read our complete guide to Kauai Beach Resort!
Lido Beach Resort
At the Lido Beach Resort in Sarasota, Florida, there's nothing but white sandy beaches and clear turquoise waters. This city's tropical climate and Latin influences will make you feel like you're holidaying in Latin America.
Tired of screaming children interrupting your peace at the pool? Fret not, this resort has a dedicated pool for guests over 18 years and above, while families with children can enjoy themselves in another. The resort is also a few yards away from the site of the Sarasota Power Boat Grand Prix, a 10-day event that offers guests a glimpse of the action up-close and even fireworks from their rooms.
Click here to read our complete guide to Lido Beach Resort!
Naples Grande Beach Resort
With enviable waterfront, lush fairways, mangroves and gardens on its property, this beach resort is a haven for nature lovers. A three-mile beach dotted with sun loungers and beach umbrellas is just a 15-minute walk through mangroves or a five-minute tram ride away.
There are loads of interesting and fun activities for guests to enjoy such as watermelon eating competitions, swamp buggy rides and airboat tours. Golfing, watersports and three pools also await you at the resort.
Click here to read our complete guide to Naples Grande Beach Resort!
Southernmost Beach Resort
Away from the overcrowded beaches in Florida, this charming beach resort in the Key West offers guests the best of coastal living. This is an increasingly popular destination so come and enjoy before everyone else!
Working on your tan? The resort has its own dedicated private tanning pier, giving you unobstructed sunshine. Afterwards, seek refuge at one of their many poolside bars for a drink to cool down. The resort's concierge is also able to arrange private tours, fishing excursions, sunset cruises and other activities you can think of!
Click here to read our complete guide to Southernmost Beach Resort!
Coral Beach Resort
Located on the Grand Strand with Myrtle Beach Resort, this holiday resort is enjoyed by many who come to soak in the warm tropical weather, without even having to leave the States. For guests who like to enjoy the Myrtle Beach area, Coral Beach Resort is conveniently located near all of the major Myrtle Beach attractions, dining, unparalleled shopping, and of course, the fun and exciting Myrtle Beach nightlife.
There are plenty of indoor and outdoor pools and jacuzzis for guests to enjoy, so you don't have to worry about crowds while soaking up the sun! The resort also has a newly renovated Entertainment Zone, that's home to bowling lanes, an arcade (Pac-man anyone?), and a snack bar for guests of all ages to enjoy.
Click here to read our complete guide to Coral Beach Resort!
Jupiter Beach Resort
Who said you had to break the bank to enjoy a beach vacation? This affordable resort has gorgeous beachfront views in Jupiter, Florida and is perfect for large groups and families!
You'll never be bored at this resort with the multitude of planned activities for the whole family. From scavenger hunts for the kids to watersports and treatments at the spa for the adults, your days are packed with loads of fun. End of the day together with family-friendly movie nights – popcorn aplenty!
Click here to read our complete guide to Jupiter Beach Resort!
Plan for your next beach holiday!
With a range of activities and facilities on hand, beach resorts are perfect for just about anybody. Whether you're looking to do everything or absolutely nothing at all, a beach vacation will no doubt rejuvenate you and have you wishing you didn't have to go home.