5 Amazing Winter Destinations In Montana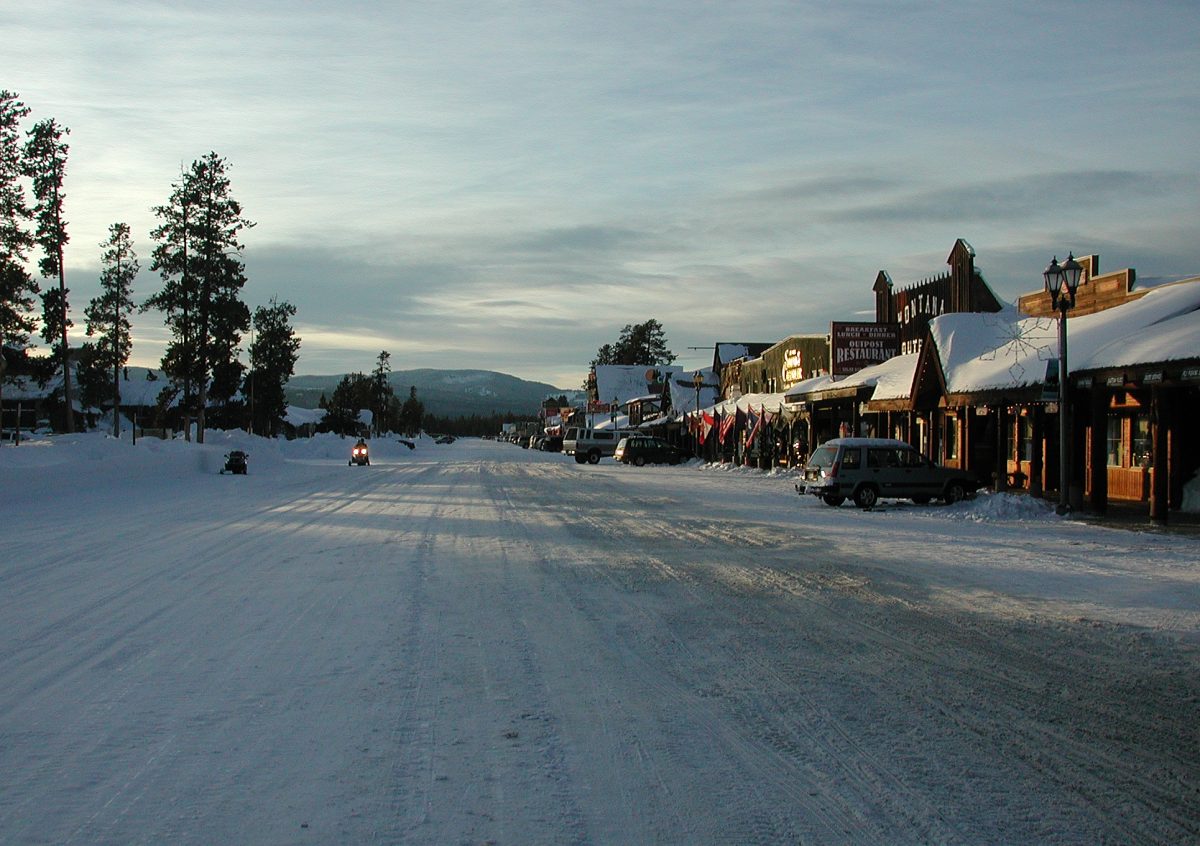 Montana is an untamed, rough, and wild state in America. Also known as, the "Land of the Shining Mountains," this state has more to offer than you expect. The winter season decks out Montana and transforms it into an extraordinary, icy wonderland.
Montana's winter will make you go gaga, having the possibility of a plethora of things to do in the snowy weather of Montana is endless. So hang on tight for a vivid sketch of your next future destination. It's where you can collect priceless lifelong memories to cherish. The following are the places to visit in Montana and escape your mundane, humdrum life.
1.
View The Wonders Of Yellowstone National Park
It is the very first National park in the USA and the world. Yellowstone is famous for its wilderness and geothermal features. It has a myriad of ecosystems, but the subalpine forest is more in abundance. Also, it is a paradise in winter for thrill-seekers and adventurers.
Montana winter of Yellowstone is exceptionally magical and will cut a dash at first sight. If you are looking for a thrilling or even a romantic winter escape, then the Snow of Montana will melt your heart. Also, the park is a perfect place to lay down and forget all your problems.
Things to do!
Yellowstone National park has several winter activities and places and to feast your eyes.
Abundant wild species: Cold weather in Montana brings out a legion of majestic beasts like bison, elks, wolves, and other predators. You can watch these wild creatures from a safe distance through a spotting scope.
The Yellowstone association arranges wilderness tours to accommodate tourists. Also, you can experience the wild side and observe the behaviors of these animals with greater enthusiasm.
Geysers: Hot springs and geysers are prevalent throughout the region from which you can avail an inviting soak even in the cold, bitter Montana winter. The steamy vapors add a strange but fantastic feel to the environment around the place. The warm water of Gardner River, which gives a relaxing and soothing environ, can tackle the bitter Snow in Montana.
Solitude lovers can spend as much time as they want to reflect upon their life and calm themselves among other winter activities. The brilliant, scintillating colored mineral pools will make you awestruck and reflect upon the different shades of Mother Nature.
Old Faithful snow lodges: These lodges are a haven of seclusion and tranquility to experience the quiet, calm Montana winter. You can spend the bitter cold evenings inside the warm, mellow lodges along with a hot cup of cocoa. The lodges are clean and sanitary, ensuring maximum restfulness and halcyon nights.
Winter activities and sports: Travelers craving for an adrenaline rush will have to opportunity to fulfill their desire by skiing, snowboarding, and hiking on the smooth slopes of mountains during Snow in Montana. Ski-Joring is a unique sport in which a horse around a snowy racetrack pulls a skier. The cold chilly weather in Montana gives the tourists a perfect place to experience the adventure of a lifetime.
How to get here?
There is a shuttle bus service that can pick the tourists from the Bozeman Yellowstone International Airport and drop them off at the North entrance of the park. There is an extensive bus network, which the tourists can use to reach the Yellowstone national park from Montana Airport. The Yellowstone National Park is open 24 hours around the clock.
2.
Visit Whitefish Resort Town
This small town is on the rocky, jagged dark mountains of northwest Montana. This place is a winter wonderland and will instantly cast a spell of its beauty on you. It is famous for its snowy peaks and frosty numbing Montana winter. The chilly winter of Montana provides breathtaking opportunities to experience millions of acres of land blanketed in the winter of Montana.
Things to do!
This town offers diverse winter activities to enable tourists to spend quality time at their favorite destinations.
Skiing and snowshoeing: There is no other way to explore the cold weather in Montana by actually going out and get Snow in your boots. You will be exposed to extraordinary scenery of Snow in Montana woods by skiing that you might have overlooked if traveled by a vehicle.
Snowmobiling: Adventure awaits for you if you choose the snowmobiling. This winter activity lets you enjoy the journey and savor every moment of it amongst the scenic Snow-capped Mountains.
Fat-tire Biking: There are groomed trails for you to cycle on the icy paths to traverse the land and face nature more closely. Let your inner child out and have an amazing experience in the Montana winter.
Sledding: Are you a fan of sledding? If yes, then among many winter activities, this sport is also included to provide an optimum ordeal. You do not need to find a sledding hill. There are plenty to choose from around you.
Shop Downtown: There is a complimentary shuttle service for the tourists to shop and enjoy the mouthwatering food of the town.
Alpine Theatre: Indoor activities include a warm, amiable, and benign environment theatre. They can prove to be an amazing escape from the cold Montana winter and a source for entertainment for you.
Spa day: Maximize your staying experience and let yourself relax in the wonderful spas of Whitefish. The hot spas provide a relaxing environment to take a breath and slow down life.
How to get here?
You can choose a taxi or use the bus network to reach from Montana Airport to Whitefish resort town. It is open all around the clock except for some restaurants and shopping centers, which have specific timings.
3.
Explore The Mining Town Of Philipsburg
The area is rich in history in ranching and coal and sapphire mining. You can mine your sapphire stone in this small yet significant town. Montana winter in this town gives a spectacular chance for tourists to embrace the weather in Montana with full amazement. Also, the quaint town of Philipsburg is the next best winter destination. The Snow covers the town and dresses it up to the nines. The place may seem ordinary, but it has more to it than you ever expected.
Things to do!
Ice fishing: If you love to go fishing and spend hours sitting with someone you hold dear to yourself, then this place will offer you all the time in the world. You can go fishing and savor the fish you catch. You can cook it over a wood fire and sings songs hurdled around the fire. It is the best way to spend time with your loved ones.
Sapphire mining: The town has several mines to dig out your precious stone and take it with you as a souvenir. The activity will surely make you remember the tremendous snowy Montana trip. The beautiful rocks make this place stand out among others.
Granite Ghost Town State Park: Philipsburg has the remnants of once-blooming with life 18th-century establishments, which now depicts the gloomy, spectral and eerie, mien in winters. It is a wonderful place to visit and take dozens of creative pictures.
Hunting: If you crave hunting, then this town provides you with significant opportunities to hunt rabbits and squirrels in cold Montana winter. You can have a bonfire afterward as an outdoor winter activity.
Kiteboarding: You can glide on the Snow in Montana winter and appreciate nature's true wonder. The kite is mounted on the back of the rider. The rider rides on a board that is being driven by a snowmobile. The town can receive up to 200 inches of snow each year and makes it a perfect winter activity out there.
Snowboarding and snowmobiling: You can enjoy both winter sports activities in this small town where they even provide free boards for young children. The snowboarding was never this much fun and thrilling. The Montana winter engulfing this town will leave an everlasting impression on your mind.
How to get here?
You can quickly get here by bus services and taxis covering every part of Montana. The town welcomes everyone and at any time.
4.
Take A Swim In Seeley Lake
This lake is nestled between two mountain ranges providing a spectacular, dreamy view for the tourists. The lake seems like a replica from the movie "Frozen." The Montana winter is the perfect time to take advantage of the recreational outdoor activities and coziness of the cabins.
The lake is a sylvan lined beauty with cold crystal clear water adding more beauty to the picturesque view. This lake is a perfect getaway opportunity to enjoy Snow in Montana with winter activities.
Things to do!
Dog Sledding Race: All dog lovers can spend time with their pets and can see dog sled races. The spectators gather at the track to cheer their favorite racer and watch an exciting game.
Ice-skating and hockey tournament: If you arrive at just the right season, the lake turns into a frozen ice rink. A match is held in which local teams participate. The fund that is raised goes to a local charity center. It is a perfect way to experience the raw talent of locals and skate and play hockey yourself after the event has ended.
Cross-country ski: There are vast trails to enjoy this winter activity during Snow in Montana. The skiing experience will surely be a ride of a lifetime. It is the best way to stretch your legs and take advantage of long, snowy Montana winter.
Ranches: You can stay in the ranches, which have spacious cabins. There are pools to burn off tiredness and tend to weary muscles in hot tub baths. You can enjoy board games and reminisce about your day with a coffee during Snow and harsh weather in Montana. Great food is just steps from your cozy cabins.

Historical Museum: There is a historical museum, which explains the political background and geography of the lake and how it has transformed over the years.
How to get here?
Getting here is very easy and straightforward. You have to opt for a bus that will drop you here from Montana Airport. The tournament dates vary according to the freezing of the lake so check before planning a trip here.
5.
Hike Through Glacier National Park
The Glacier National Park is also known as the" Crown of the Continent." It is a hiker's paradise with rugged mountains to refined plains. The glacier park is for adventurous visitors seeking solitude and wilderness. This park is a habitat of bighorn sheep and grizzly bears.
Also, the park is home for massive glaciers, U-shaped valleys, and humongous granite peaks. Montana Winter is an enchanted time to visit this place. The place is quiet and serene. Snow in Montana, especially this place is frigid, and the weather in Montana drops very low in cold, bitter winters.
Things to do!
Camping: There are no lodges, so you have to be prepared to spend a night in the open skies. Enjoy calm forest blanketed in white Snow of Montana winter.
Hiking: A tour guide is provided from the start, which ensures safety and adventure. You can hike around the untamed woods and gaze at the wonders of Montana winter.
Mountain Climbing: If you are skilled enough to face the dangers and thrill, then this winter activity is made for you. You will be provided with a park ranger to traverse the rocky climb. Just pay heed to the warnings and signs.
Skiing and Snowshoeing: Skiing through the alpine woods gives an adventure of a lifetime. A relaxing promenade in the Snow is one of the best things to do in Montana winter. The experience will surely be unforgettable.
How to get here?
Driving conditions can be rough so you can take a flight to the tiny local Airport. The cost of the flight is economical. If you want to drive, make sure your vehicle is built for rough roads. The park is open all the time and is free of any cost.
These were some of the jaw-dropping places to visit in Montana winter. Considering the winter weather and Snow of Montana, the state undoubtedly has a lot to offer. So get out there and see amazing Montana, as there are many things to do among its winter activities.