9 Best Collapsible Water Bottles of 2022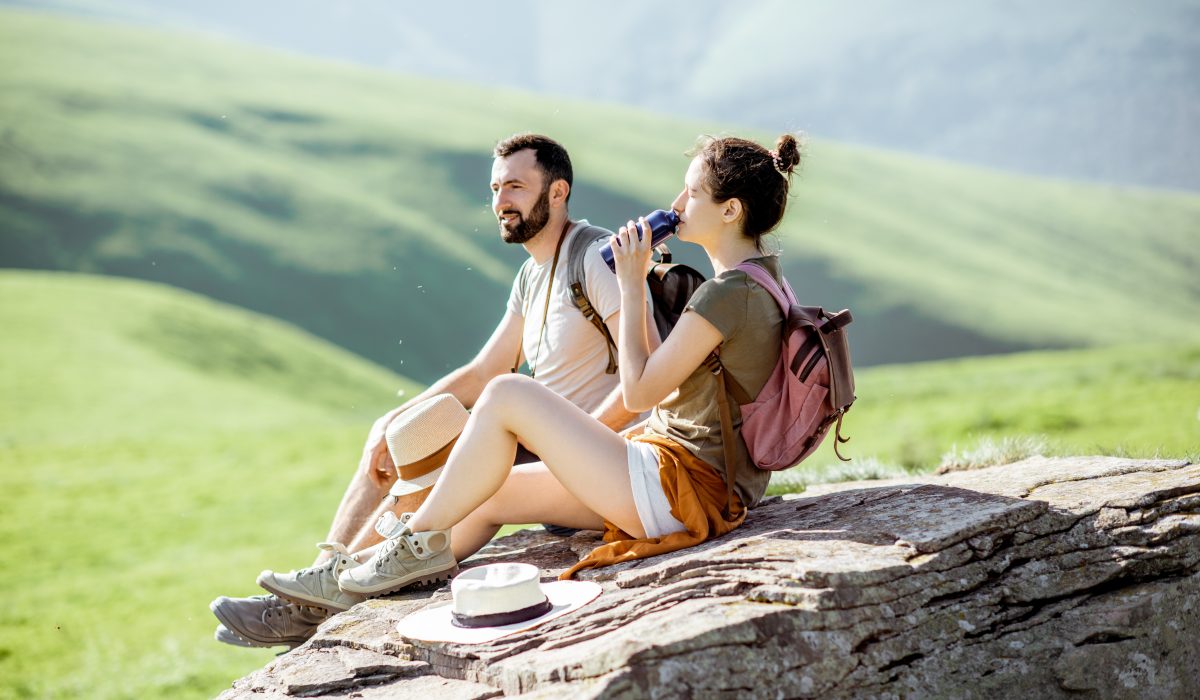 Water containers should be part of any adventurist's travel essentials. Whether you're backpacking through Western Europe or trekking in Nepal, you should never forget to hydrate. And when you are a frequent traveler, you will need a bottle that is extremely space-efficient and lightweight. As such, the best option to bring with you is a collapsible water bottle.
Unlike a stainless steel one, a foldable water bottle made from flexible materials doesn't take up as much space when not in use. They are more lightweight and easier to carry, as well. Not only are they space-efficient, but extremely eco-friendly, too. Like any reusable drink carrier, they are better for the environment than purchasing plastic water bottles. In addition, a reusable water bottle is much more cost-efficient.
Here are our top picks for the best collapsible water bottles for you to take on your next adventure!
9 Best Collapsible Water Bottles
1. Best Overall: Nomader Collapsible Water Bottle
This blue water bottle from Nomader is the best all-rounder out there for many reasons. Constructed from flexible, food-grade silicone, it's sturdy and durable enough to withstand accidental drops. Made of BPA-free material, it can also handle both hot and cold liquids up to 22 fl oz. Its patented cap design means there are fewer chances of leaking when on the go. Additionally, you won't have issues adding ice cubes or fruit slices to your water thanks to its wide mouth lid.
After using, simply roll it up or squash it down and store it in your bag. There's even a multi-function strap, which you can loop around your wrist or attach to the outside of your bag. This neat feature means it doesn't even need to take space in your backpack at all!
On the flip side, the exterior of this Nomader foldable bottle picks up dust and dirt easily. Moreover, while the company promises zero taste and odor, the water picks up a rubbery taste after some time.
Pros:
Dishwasher and freezer safe

Can hold both hot and cold liquids

Patented twist cap
Cons:
Exterior gets dirty easily

Picks up a rubbery taste after a while
Get the Nomader Collapsible Water Bottle on Amazon now.
2. Best with Filter: Katadyn BeFree Collapsible Water Filter Bottle
When backpacking or dispersed camping for extended periods of time, you never know when you're going to get access to filtered water. Thanks to the Katadyn BeFree foldable bottle, you don't have to worry about getting safe drinking water anymore. Featuring a 0.1-micron water filtration system, it removes harmful bacteria and protozoa which cause stomach pain, nausea, and diarrhea. To clean the filter, simply shake out the debris and you're good to go! On top of that, with its sports cap, you don't have to unscrew the entire lid to take quick sips mid-hike. However, the flow rate of the water slows down over time, especially when it's time to change the water filter.
Pros:
Easy to clean filtration system
Cons:
Get the Katadyn BeFree Collapsible Water Filter Bottle on Amazon now.
3. Best Freezable: Baiji Collapsible Bottle
This set of two blue and pink water bottles from Baiji is the perfect storage for your cold drinks during summer getaways. Made from food-grade flexible materials, this water flask pair can withstand the expansion that occurs when water freezes. They are also extremely compact and can fit into the palm of your hand when folded. And if you're a dolphin lover, you should definitely get this set of water containers as 10% of the proceeds goes to dolphin rescue and protection organizations!
A downside to these 20 fl oz bottles, though, is that the material is rather flimsy and can't stand upright when not full. Another drawback to these silicone bottles is their carabiner which may be easily damaged.
Pros:
Cons:
Can't stand upright when not full

Flimsy carabiner clip
Get the Baiji Collapsible Bottles on Amazon now.
4. Best Free-Standing: Hydrapak Collapsible Water Bottle
Speaking of free-standing flexible water bottles, this one from Hydrapak is our top pick for the best option with its stable base. Regardless of whether it's full of liquid or not, it won't have trouble standing upright. Built from high-quality Thermoplastic Polyurethane (TPU) with radio frequency (RF) welded seams, it's hard-wearing but flexible enough to collapse down into the size of a hockey puck. The bottle's small size when collapsed fits most pockets and even water bottle organizers. It comes in 750 milliliters and 1-liter variants, so you can carry just enough fluids for your needs while outdoors.
This collapsible water container does come with a major drawback. It can be difficult to drink out of it using only one hand. Since the material is rather flexible, you'll need to use two hands — one to lift the flask and another to keep the side from flopping over.
Pros:
Stands upright

Available in two sizes
Cons:
Hard to drink using one hand
Get the Hydrapak Collapsible Water Bottle on Amazon now.
5. Best Value: Survivor Filter Collapsible Canteens
For those on a budget and who want to get the best bang for their buck, you certainly can't go wrong with the two-piece set from Survivor Filter. For less than $14, you get lightweight flexible water bottles that can hold up to one liter of fluids. Its opening can accommodate any water filtration system with a 28 mm thread.
While the body comes in a blend of plastic materials, it's rigid enough to stand upright when filled and stand open when air drying. Each foldable bottle features integrated handles and carabiners, which makes them easy to carry. Furthermore, thanks to the push-pull caps, you can even open them using your mouth. The best part? They come with a lifetime warranty! With all of these features, you will surely get the best value for your money.
Pros:
Comes with a lifetime warranty

Useful spout lid
Cons:
Get the Survivor Filter Collapsible Canteens on Amazon now.
6. Best Wide Mouth: Que Collapsible Water Bottle
Looking for the best travel water bottle that's effortless to clean? Look no further than the Que collapsible water bottle! Thanks to its wide-mouth design, you won't have problems cleaning it. It's dishwasher safe, too. Additionally, the wide neck makes filling the container with liquid and ice cubes extremely convenient.
What's more, these Que bottles are completely plastic-free! The body is made from BPA-free, food-grade silicone while the lid is kitchen-grade stainless steel. Not only does this make them eco-friendly, but durable and shockproof, as well. They can also hold both hot and cold liquids with no issue. Meanwhile, the spiral ridge makes them pleasant to hold, and with just a simple push, they collapse down into half their sizes. And if that's not enough, they come in a variety of colors, ranging from green, orange, purple, and blue.
However, when fresh out of its packaging, this Que water bottle has a chemical smell. Its relatively weak base also makes it harder to stand upright, even when it's full.
Pros:
Easy to clean

100% plastic-free

Available in different colors
Cons:
Can't stand upright

Smells like chemicals when new
Get the Que Collapsible Water Bottle on Amazon now.
7. Best Design: HYDAWAY Hydration Travel Pack
This 17-ounce red water bottle from Hydaway features a useful mouthpiece that makes taking sips of water super convenient. However, it does take some effort to get water up from the spout, and squeezing too much can cause a little bit of water to drip out. The company promises watertight seals, though, so you don't have to worry about any spillage while it's in your bag throughout the day.
Meanwhile, the pliable body and accordion-like design of this silicone water bottle allow it to collapse down into a compact disc that's just over an inch thick. This mini water bottle comes with a nifty carrying case and clip, so you can attach it to the outside of your bag or even belt loop. Not to mention, these mini bottles come in a range of bright colors from red, yellow, green, black, and purple! Though, the bottle's price is a tad high for its small size.
Pros:
Comes with a carrying case

Useful spout lid
Cons:
Get the HYDAWAY Hydration Travel Pack on Amazon now.
8. Best Lightweight: Platypus Platy 2-Liter Ultralight Collapsible Water Bottle
The 2-liter water bottle from Platypus is your lightweight companion when hiking the trails along the Austrian Alps. It weighs less than two ounces when empty and folds down small enough to fit into your pocket. Despite its thin and ultralight material, the softshell pouch is still durable and sturdy. Meanwhile, the ergonomic design makes it easy to hold when drinking from.
It's worth noting, though, that while the screw cap is great for preventing leaks, it isn't attached to the drinkware itself. As such, there is a high chance of misplacement, especially when traveling. However, you can replace it using any caps from the brand. Moreover, the small opening makes this flat water bottle difficult to clean and dry.
Pros:
Large capacity

Smart design

Leak-proof
Cons:
Get the Platypus Platy 2-Liter Ultralight Collapsible Water Bottle on Amazon now.
9. Best Versatile: Nalgene Collapsible Water Bottle
When you're exploring out in the great outdoors, you'll need a versatile travel bottle with you. The Nalgene bottle holds 32 fl oz of liquid in its BPA-free body. Featuring a multilayered structure with a gusseted bottom, it can stand upright with no issues. However, the material is still flexible enough to be folded down. It takes up no space and weighs little, making it the perfect companion when camping.
You'd be surprised to know that the Nalgene canteen isn't only used as a drinking water bottle, but as a pee bottle, too! Because of its wide mouth and body, both men and women utilized it as a pee bottle especially at night when they can't leave their sleeping bags or tents. And while this may not be the most hygienic practice, it's certainly handy. Moreover, since the loop-top cap is leakproof, you don't have to worry about untoward incidents.
A major downside to the Nalgene bottle is that it's made from plastic materials. Not the most eco-friendly camping or hiking water bottle in the market, but there's no denying that it's still among the top travel bottles out there.
Pros:
Versatile

Leak-proof

Has no missing standing upright
Cons:
Get the Nalgene Collapsible Water Bottle on Amazon now.
Things to Look For in a Collapsible Water Bottle
Material and Durability
Collapsible water bottles typically come in two types of material — silicone or plastic. A silicone collapsible water bottle will have more substantial weight than a plastic one and can stand upright on its own. Furthermore, silicone bottles are great options if you want to carry hot or cold beverages since they can withstand high and low temperatures. Most collapsible water jugs made from this material are also tough enough to survive accidental drops.
On the other hand, reusable plastic bottles are more budget-friendly and have a larger capacity size. They are also more lightweight but are less durable and pliable compared to a collapsible silicone water bottle. On top of that, you may need to hand-wash plastic water bottles since they are not meant for the dishwasher.
Though regardless of which material you choose, it's crucial that you pick one made from FDA-approved, food grade, and BPA-free materials. This is to ensure that the water you're drinking is safe from any harmful chemicals.
Flexibility vs Rigidity
Depending on the material, your bottle can either collapse down, twist down, or fold and roll up. Those that can collapse or twist down typically are more rigid and thus hold their shape better. Meanwhile, those that can fold and roll up are generally more flexible and easier to fit into backpacks or even pockets.
Heat and Cold Resistance
While you can't find an insulated collapsible water bottle in the market right now, you can find one that can hold hot and cold liquids. Options with thicker silicone builds are more suitable for hot drinks. You can also place them in the freezer. Though some reusable plastic water bottles can be placed in the freezer, you typically can't find one that's suitable for hot liquids.
Ease of Use
When choosing a flexible water bottle, you need to consider how easy it is to use. Is it easy to drink from? Less rigid containers can flop down when you try to drink from it. Is it easy to carry when unfolded and full? Look for a bottle that's lightweight and won't add any extra weight to your luggage when traveling. There are even bottles with clips so you can attach them to the outside of your water bag. It's crucial as well to test how leak-proof the collapsible water bottle is. Lastly, is it easy to collapse and store? Make sure to check if it's easy to collapse down or fold up and pack into your backpack.
Size and Capacity
The best travel bottles come in various sizes and it's important to consider both their size and capacity. Not all collapsible water bottles collapse into the same size — so be sure to pick one that folds into a convenient size you need. In terms of capacity, choose one that's big enough for your needs. A small water bottle that can only hold less than 20 fl oz of water may not be enough to last you throughout the day. Meanwhile, especially if you drink a lot throughout the day, a 2-liter water bottle should be plenty enough.
Easy Clean
There's no denying that reusable bottles are better for the environment compared to those made from single-use plastic. Washing and drying them after every single use can be a pain, though. Bottles with narrow openings are difficult to clean. As such, you will want one with a wide mouth since you can get a bottle brush or sponge inside and clean it.
Why You Need a Collapsible Water Bottle
Traveling with a reusable stainless steel bottle helps reduce the need for single use plastic, but the material can get heavy and take up space in your bag. Therefore, more and more frequent travelers are switching to collapsible water bottles to quench their thirst when on the go. Lightweight, flexible, and compact, they're the ideal companion whenever you're traveling, hiking, camping, or taking on any outdoor sports.