15 Best Travel Pill Organizers For Every Travelers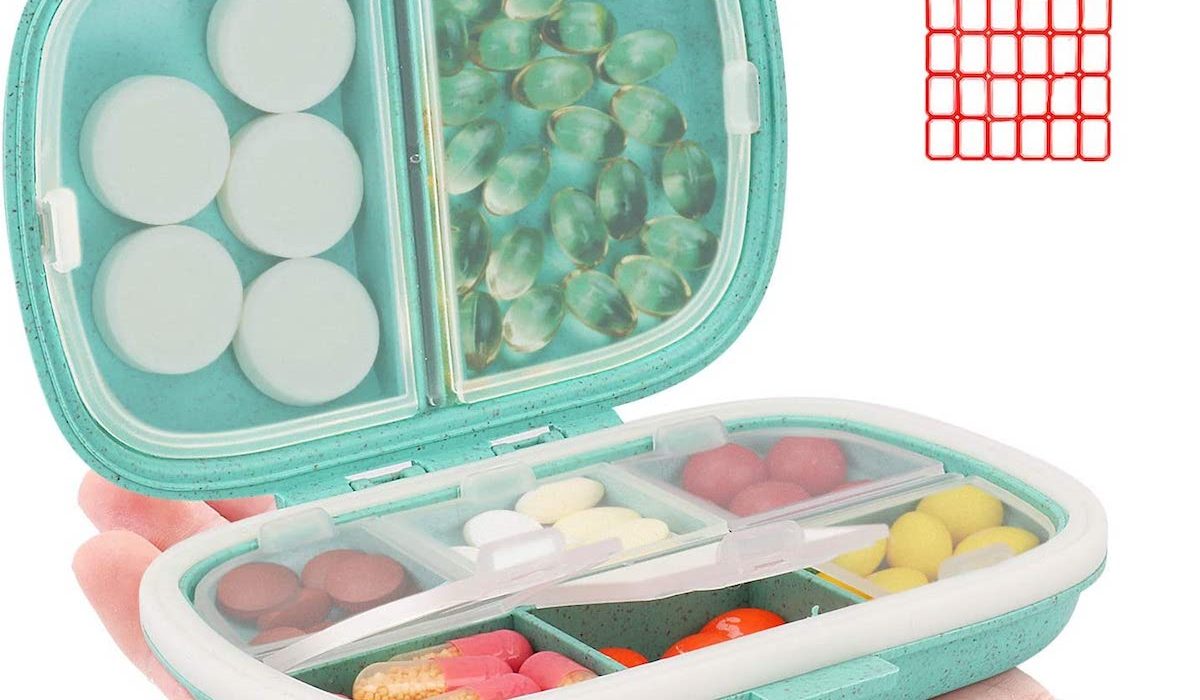 A pill organizer is the most underrated travel items and yet the most useful. While it's true you can transport them in a plastic pouch, but it's more prone to leakage and displacement, especially when it comes to traveling. The last thing you want is to be caught at an airport for not obeying the TSA medicine rules for bringing overdosage of medicines in a big prescription bag. That's exactly where a pill organizer comes in handy.
Not only it keeps your medicines intact, but it also comes in all sizes, styles that are travel custom-approved. So, from hassle-free and straightforward pill dispensers to programmable ones, there's always a pillbox in the market to suit your needs.
Here's a rundown of the 15 best pill organizers that will sit pretty in your hand luggage.
Types Of Pill Organizer
Before you get yourself a pill organizer, get to know your options. To get the right one, you have to answer a few questions. Do you take pills daily or only when needed? How many pills do you need to take in a day? Also, are you traveling for a few days or weeks? All these will play into choosing the best travel pill organizer for you.
To narrow down your choices, here are the types of pill organizers:
Pillbox: Pillboxes usually come with just one or two compartments. These are perhaps the simplest among the variety of pill containers in the market. They're small, light, and are perfect for slipping into your bag. This type is ideal for those who only need medication occasionally or those who only take 1 kind of pill every day.
Daily organizer: If you take more than one medication per day, get a daily organizer. This type of pill container has more compartments to help you organize your medication. This is a great reminder if you haven't taken your pills yet for the day.
Weekly organizer: Available in either one-time-a-day or multiple-time-a-day styles, weekly organizers offer convenience. This is the best type of travel pill organizer for those traveling for weeks.
Monthly organizer: Stay organized for 31 days with a monthly organizer. This is great for long-term travel. Despite the many compartments, a lot of monthly pill organizers are handy.
Automatic organizer: This type of pill organizer lets you program it to alarm. This way, you are reminded to take your pills, especially when you're traveling. Aside from that, the organizer will automatically dispense the medicine in the tray.
Let's start popping the lids of the best travel pill organizers for your next trip!
Daily or Weekly Pill Organizers
1. XINHOME Pill Organizer
Taking multiple pills daily can be confusing. The XINHOME pill organizer is not only cute but also very compact, perfect for traveling. It comes with 7 separate cases with compartments for AM, PM, and night. Instead of the usual pop-up lids, this XINHOME pill container comes with easy-to-slide covers. This ensures your pills don't accidentally spill upon opening.
Designed to be lightweight and compact, the XINHOME pill dispenser comes with a stylish leather pouch. Talk about storing your pills in style!
2. LIZIMANDU Weekly Pill Organizer
Another great option is the Zannaki detachable moisture-proof weekly pill organizer. Both lightweight and compact, this organizer fits perfectly in your purse or hand luggage. Stacked in multi-layers, are compartments based on your customization. This organizer is durable with an aluminum hard shell that can withstand and bumps during transportations and it's lightweight too. The capacity is large and it fits up to 10 large-sized vitamin pills per container. It's sealed with a rubber ring to avoid leakage or moisture sipping into the container.
3. Rainbow Weekly Pill Organizer
The Rainbow Weekly Pill Organizer by Inspiration Industry is very straightforward and simple. The compartments are detachable with easy snap-on lids. Perfect for those who take multiple pills a day, this pill container lets you organize your medication for a week.
What makes this pill organizer great is how each day is designed in vivid colors. The compartments also come with an easy scoop design for your convenience. This helps you easily remember the pills and days to take them. Despite the vivid colors, the cases are still transparent enough to see the pills inside. Housed in a lightweight and clear case, this weekly pill dispenser is perfect for traveling.
4. Pillsteer Weekly Pill Organizer
This weekly pill organizer from Pillsteer is great for those who take 2 vitamins per day. Designed with 14 compartments, the organizer is large enough to hold big pills. This makes it an ideal large travel pill organizer. The rows are also detachable for ease of cleaning.
Each case is labeled with days. They're also see-through, so you can easily see your medication. Aside from that, this pill container has secure lids that won't open by themselves. So, if you're looking for the best pill dispenser for your flight, consider this one from Pillsteer.
5. Lewis N Clark Organizer
Are you taking multiple pills in a day? Check this weekly pill organizer from Lewis N Clark. Not your typical pillbox, this organizer is designed with clear slide-locking pockets housed in a portable pouch. Each clear pocket is labeled to help you stay organized. You can easily slide and remove each pocket in the pill holder, while the velcro fastener keeps them secure in place. This design allows you to carry the pills you only need for the day and leave the rest in the hotel room.
This pill organizer is very lightweight and portable. It can easily fit in a backpack, laptop bag, or even a purse. There's also a medical reference card so you can list important reminders and information. It works great for seniors with multiple medications.
6. Udoosun Pill Box
Travel in style with the Udoosun Pill Box. This pill dispenser is very trendy, compact, and portable. Coming in a single, double, or triple compartment, this pillbox is great for those with just a few medications.
The Udoosun pillbox is made from sturdy metal and comes with a secure clasp to keep your pills safe. You don't have to worry about pills spilling inside your traveling bag. What makes this pill organizer great is the decorative design on its covers. It is recommended for those who want to keep their pill-taking discreet.
7. Stuff Seniors Need Extra Large Pill Weekly Organizer
For the best-oversized travel pill dispenser, get this one from Stuff Seniors Need. This weekly pill organizer is excellent for those who need some reminding about their multiple pills. There are 7 rows with 4 big compartments labeled Morn, Noon, Eve, and Bed. There's also a memo card where you can input important details and reminders. Wrapped in a lightweight binder, all your pills stay secure and organized. This large weekly pill organizer is designed to give seniors and even caregivers convenience and peace of mind.
Despite its big size, this pill organizer is very handy and can easily fit in your bag.
8. ZDQZC Pill Organizer
Sometimes, we just want a simple but cute pillbox. The ZDQZC Pill Organizer is small, lightweight, and portable. Designed with 4 compartments, this is perfect for short-term trips. It's a simple pill container to store some vitamins and headache relief medicines.
Despite its small size, this pill organizer is durable, odorless, and BPA-free. If you want something straightforward to organize the few pills you have, this is a great travel pill organizer option.
9. AUVON iMedassist Portable Daily Pill Organizer
Today's pillboxes are not just travel-friendly but are irresistibly cute. AUVON iMedassist Portable Daily Pill Organizer comes with high-quality and colorful compartments encased in a sturdy transparent case. Each compartment is designed with day and night icons.
This travel pill organizer is moisture-proof, which prevents bacteria from forming inside. Also, you don't need to worry about the labels rubbing off as the printings have passed tape tests.
Monthly Pill Organizers
10. Bug Hull Monthly Pill Organizer
Multiple pills require a bigger and reliable pill dispenser. This choice from Bug Hull is among the best monthly pill organizer options. It's big enough to house 28 compartments for your monthly pill doses. Each compartment is big enough to store 6 large vitamins or 6 fish oils. Despite its large size, it's lightweight and travel-friendly.
The trays are removable, so you can either bring the whole monthly pill organizer, or just a few weekly trays. The Bug Hull pill organizer is also moisture-proof and BPA-free. This lessens your worry of bringing a month's supply of pills when traveling.
11. Promed Supplies 31-Compartment Pill
If you want to go for an organizer that can accommodate a full month's worth of medicines, get the 31-compartment pill organizer from Promed Supplies. With a compartment for each day, it's the best container to help you stay organized for a whole month. It's a perfect choice for long-term travel. Promed Supplies' lightweight pill container is designed with practicality and simplicity in mind. With 8 removable rows of 4 compartments, it can store several pills that can be easily scooped out.
Made of BPA-free plastic, this monthly pill dispense easily fits in your carry-on bag or luggage.
12. Pill Thing Monthly Organizer
Pill Thing monthly pill organizer is another great option when bringing medications while traveling. The organizer looks like a keypad at a glance, but only because organizers come with pods. There are 31 pods on the pill organizer, each big enough to store several pills and capsules. These pods come with flip-tops and are individually removable. You can conveniently carry one or a few pods with you.
The Pill Thing monthly pill dispenser is very handy and compact, making it perfect for travel. To avoid medications spilling or falling out, make sure the pods are fully snapped in the tray. Each pod is clearly numbered for every day, which helps you keep track of the pills you're taking.
Smart Pill Organizers
13. MedWell Smart Pill Box
A pill organizer with Bluetooth? Yes, please! Take it to the next level with MedWell's Bluetooth smart pillbox. This battery-operated pill dispenser connects to your mobile device via Bluetooth. Aside from programming a medication schedule, it also alerts you on which compartment to open. If that compartment is not opened in time, an automatic reminder sets off. If that's not cool enough, it also tracks when medications have been taken from a phone app. This way, you avoid forgetting your medications, and you are also guaranteed to open the right compartment.
MedWell's smart pill dispenser may come heavy with features, but it's definitely light to carry. You can easily slip it in your hand luggage or purse. This handy and reliable pill container is a great independent living aid. It's an excellent gift for seniors who need more reminding, especially when they're traveling.
14. Med-E-Lert Automatic Pill Dispenser
Med-E-Lert's smart pill dispenser takes it to a whole new level with its helpful features. With 28 compartments that can house up to 18 pills, you can store as many as 504 pills in this organizer. That's 20% more space than what you'd get from other smart pill dispensers.
Aside from that, this battery-operated pill organizer has 6 alarms and 6 dosage rings. Even when you change batteries, the device will retain your program settings. This smart pill dispenser also has a louder alarm system, which works great for those who are hard of hearing. There's also a locking system to avoid tampering.
There's nothing more assuring than taking the right medicine at the right time. This is especially true when you have multiple medications, are very busy, or are traveling.
15. Pillgo Smart Pillbox
The Pillgo smart pillbox wins the round in the aesthetics department. With its sleek and elegant features, it's not hard to understand why. The round yet slim smart pill dispenser is stylish and lightweight. In fact, you can easily slip this in your pocket! As with any smart pill dispenser, this device from Pillgo has an alarm reminder. You can link it to your mobile to set the program settings. Doing so allows the device to make a sound alert when it's time to take your pills. It also alerts the correct compartment to turn during the right time.
This smart pill dispenser also features a sensor system that tells if the correct pill is taken. It also has an analysis with biometrics where the device can visualize the body's reactions depending on different dosages and different medications.
Tips When Choosing A Pill Organizer
The best start when choosing a pill organizer is to determine your needs. The following are questions you need to ask yourself to help narrow down your choices:
How often do you need to take your pills? Is it daily or weekly? How many pills do you take per day?
How many pills do you need to take a per dose? Is the quantity of the medications you take the same each time or do they vary per dose? This should determine if you need bigger compartments.
Do you need an alarm to remind you to take your pill? If yes, do you prefer a note or an automatic notification on your phone?
Do you need a pill dispenser with a lock?
Are you a frequent traveler? If so, get a pill organizer that's more travel-friendly. You might consider a waterproof type if needed.
Do you want a simple pill container or a stylish one?
A Box For Every Pill
Taking the right medicine at the right time is very important, even when traveling. And with the many things we have to remember each day, it's understandable why taking pills is often forgotten. Good thing there's a wide selection of pill organizers that make remembering easier. Whether you want the basic kind or the smart pill dispenser, there's one to perfectly store your pills. Aside from that, most of the pill container options today are very travel-friendly. So, grab yours now and give your pills the home they deserve.