Ultimate BEST Winter Vacations You'll Get In The U.S.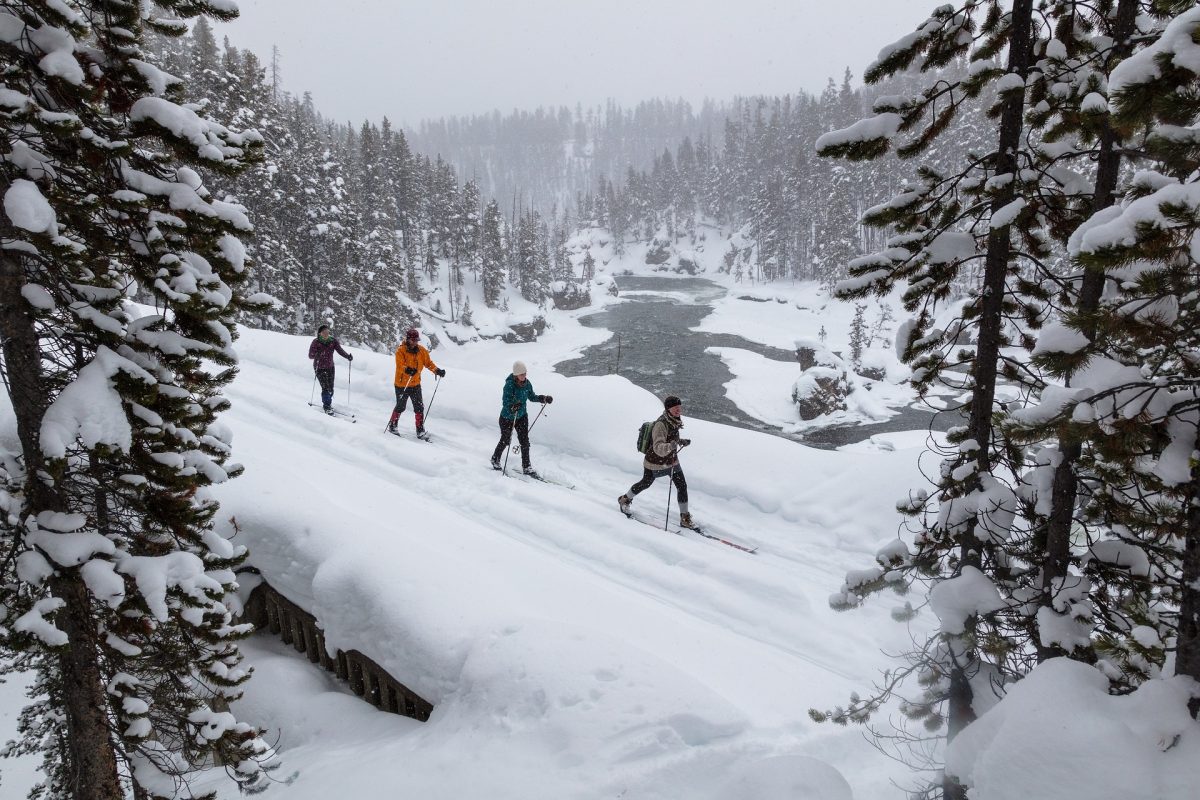 "Living the American dream"; this phrase should not be limited to the work field only. The US has a variety of exciting and astounding places, which will grab your attention and allows you to live and experience the American dream. Here are some places where you can find the best winter vacations in the US.
1.
Visit Breckenridge Town
This small town lies in the state of Colorado at the base of Rocky Mountain ranges. It is one of the best places to travel in the US as it has a plethora of amazing activities that one can enjoy. Wintertime in Breckenridge brings plenty of opportunities for winter travelers seeking thrills and electrifying winter vacations.
From jumping in powder stashes to zipping along miles of tracks, this town provides it all. You can smartly use the extensive bus system to move around town, or you can book a cab with reasonable fares.
Some diverse things to do to make the best out of your winter travel
Skiing: You can ski on the trails in the beautiful scenic mountains, which receive heavy snow every year.
Snowboarding: If you do not like skiing, maybe snowboarding is your cup of tea. Traverse through the white wilderness during this winter vacation.
Highest Chairlift: Take a ride on a thrilling highest chairlift of North America. The view will make you fell in love with the winter.
International Snow Sculpture Championship: This is held every year and masses join to compete with each other in the best ice sculpture.
2.
Admire The Views At Aspen Snowmass
It may sound peculiar upon hearing, but this is a beautiful winter resort; proven to be one of the best vacation spots. If you want a winter vacation full of adrenaline rush then this the best place out there.
The Resort is located adjacent to four mountains in the vicinity of two towns; Aspen and Snowmass Village. As you reach the towns, get ready to have one of the best winter vacations in the US and have an adventure of a lifetime. The flights are readily available to this place. To get here, take a bus from Colorado airport or book a cab.
Note: This place has specific timings for various attractions, so make reservations before coming.
Exciting things to do
Alpine Roller Coaster: The best thing about this ride is when riders wind their way through the elevated tracks in the alpine forest at speed up to 28mph.
Snow biking: The blend of skiing and biking is a sport you must try this winter vacations. Riders can slide down the slopes and feel the chill of winter air. Snow biking is a wonderful activity during a vacation destination.
Ullr Nights: Every year on Friday night, a festival is held to honor the Norse God of snow. Here, you can observe locals sing songs and gather around a bonfire at night tell tales and perform short skits.
Indoor Wall-climbing: During winters, the area receives heavy snow so you may not get the opportunity to climb mountains outside. However, do not worry! Indoor mountain climbing is just as much fun and thrilling for a winter vacation activity.
The Park is a truly magical man-made ice climbing haven for thrill and adventure seekers looking for a break this winter vacations. It is the best winter vacation spots for tourists. It is an engineering marvel, utilizing a gravity-fed plumbing system.
The Park is free to seek out your inner climber. The festival is held on specific dates each year in January. When opened, its timings are Monday-Friday from 8:00 am to 4:00 pm and Saturday-Sunday from 7:30 am to 4:00 pm. The venue is a 15-minute walk from the central city of Ouray.

Spectacular things to do
Ouray ice fest: A festival is held to seek out the fastest ice climber. Once found, there's a ceremony to celebrate his victory. This will be a breathtaking event to watch during your winter travel.
Hot springs: There are local hot springs where you can soak away your day's adventure. They are a once in a lifetime experience you must have.
4.
Do Some Winter Activities In Whitefish Resort
The town is on the rough dark mountains. This place is a winter wonderland and will instantly cast a spell of its beauty on you. It is famous for its snowy peaks and frosty winds, which will prove to be an ideal winter vacation destination in the US.
This winter vacation spot will provide breathtaking opportunities to experience millions of acres of land blanketed in snow for a beautiful vacation destination.
You can hail a taxi or use the bus network to reach from Montana Airport to Whitefish resort town. It is open all around the clock except for some restaurants and shopping centers, which have specific timings. This town offers manifold activities to enable the tourists to spend quality time at one of the best vacation spots during your winter travels.
Things to do in this fabulous place
Fat-tire Biking: There are groomed trails for you to cycle on the icy paths to traverse the land and face nature more closely. Get ready for a fantastic experience during these winter vacations.
Skiing: You will be exposed to extraordinary scenery of snow in woods by skiing that you might have overlooked if traveled by a vehicle. It will be a journey of a lifetime during your winter travel.
Alpine Theatre: This vacation destination has indoor activities including a mellow, amiable and heart-warming environment theatre, which can prove to be an amazing escape from the cold winter
Sledding: Among many winter activities, this sport is also included to provide an optimum ordeal. You do not need to find a sledding hill. There are plenty to choose from around you to invigorate thrilling experience of winter vacations.
Snowmobiling: If you choose to snowmobile, then adventure awaits you. This winter activity lets you enjoy the journey and savor every moment of your winter travel amongst the scenic snow-capped mountains.
Spa day: Maximize your staying experience and let yourself relax in the wonderful spas of Whitefish. The hot spas provide a relaxing environment to take a breath and slow down life at the best vacation spots.
5.
Have A Musical Time In Radio city
For a very long period, Radio City has been spreading joy, happiness, and smiles across the sad faces and it kicks off the winter breaks. The Radio City Music hall is famous for holding the Christmas spectacular during the holiday season. It will definitely be one of the best ways to spend winter vacations in the US during your winter break.
The show combines singing, dancing, and humor with traditions. Lasting for 90 minutes, it's opened from November 8th to January, 5th. Also, you can book tickets online. The extensive bus transit system can be used to travel from the airport. However, you can also hail a taxi.
Interesting things to see
Tap dances: Watch the amazing dancers expressing art with their moves.
Flying Santa Clause on the rope: A one of a kind show, watch Santa walk on a tightrope to entertain the audience!
Ballet performance: The ballerina performances will make your heart melt.
Nutcracker: This is a show that must be watched for the Nutcracker's act will fill the air with laughter.
Plays and skits: There are no limits to how many various plays on diverse topics the audience can see. However, one will never be enough.
6.
Yellowstone National park
Opened all year round, Yellowstone National Park is famous for its wild habitat and geothermal activities. It has a myriad of ecosystems. Also, it is a paradise in winter for thrill-seekers and adventurers. You can spend the best winter vacations in the US at Yellowstone, which is extremely magical and will cut a dash at first sight.
Are you looking for an adventurous or even romantic winter vacation? Then this is one of the best vacation spots. There's a shuttle service that picks tourists from the Yellowstone International Airport.
It'll drop them off at the North Entrance of the Park. Also, Yellowstone National park has several winter activities and places to enjoy as a vacation destination.
Here are some things to do
Abundant wildlife: Cold weather drags out myriads of majestic animals like bison, wolves, elks and other predators. Excitingly, you can watch these wild creatures from a safe distance through a spotting scope.
The Yellowstone association arranges wilderness tours to accommodate tourists. This gives an allowance to experience the wild side and observe the behaviors of these animals with greater enthusiasm, maximizing your enjoyment during winter vacations.
Geysers: Geysers are in abundance throughout the region from which you can avail a warm soak even in cold winter. The steamy vapors add a strange but amazing feel to the environment.
The solitude lovers can spend as much time as they want and calm themselves among other winter activities. The brilliant, scintillating colored mineral pools will make you awestruck and reflect upon the different shades of Mother Nature.
Winter activities and sports: Travelers' craving for an adrenaline rush will have to opportunity to fulfill their desire by skiing, snowboarding, and hiking on the mountains. Ski-Joring is a unique sport in which a horse around an icy racetrack pulls a skier. Also, the chilly weather gives the tourists the best winter vacations in the US to experience the adventure of a lifetime.
7.
Skate To Rockefeller Center
It is the vast complex, which consists of 19 buildings spanning over an extensive area. This Center is the ideal destination for the best winter vacations in the US. The Center is one of the best vacation spots to visit with your family. The best time to visit this is during the winter vacations from September-December. You can skate for an economical price. The bus network can be used to reach from the airport to the vacation destination.
Some fun things to do
Ice-skating: The Center has a huge ice skating rink. Hop into the rink to make the night memorable and everlasting during your winter travel.
Rockefeller Center View: You may not correctly see everything from the ground. However, the Centre view provides a bird-eye view to gaze upon the mammoth size of the Center. Here, tourists can view the area from a 360 degrees angle and the hustle and bustle of life.
Mouth-watering food: All that skating might have made you hungry by now. There are a plethora of restaurants around the Centre, which diffuse smorgasbord of aromas in the air making your winter vacations worthy of remembering.
Celebrate your winter vacations in a medieval and gothic style of Oheka Castle. It is also known as Otto Kahn's state because it is the best way to spend your Christmas vacation in the US. Castle is an ancient hotel with plenty of well kept and reserved rooms. It has often used as a movie set and has been a wedding venue for celebrities.
Also, with these rooms, you can spend your winter vacations living like a king. Your winter travel will definitely be more attractive. The harbor station of local busses is approximately a 4-minute drive away from the Castle. Also, you can reach it directly from the airport via a cab in 35 minutes.
Note: The Castle's rooms should be booked in advance to avoid inconvenience.
Relaxing things to do
Historic Mansion tour: You can genuinely savor the experience by sight-seeing and spending evenings like a royalty. The fantastic culinary uniqueness surely adds a whole new flavor to your vacation destination.
Formal Gardens: You can take a stroll in the majestic and beautiful gardens of the Castle of your vacation destination.
This Resort is ancient and holds a vast amount of land under its territory. The area is heavily forested with pristine woods overlooking a glacial lake. The scenery is truly breathtaking, and the best vacation spot for winters. You can travel here by bus or hail a taxi to reach this vacation destination. The Resort provides various activities for all age groups to enjoy during winter vacations.
Fun things to do
Hiking: One can wander in the wilderness and hike an 85-mile trail. You can traverse through the dense forest. The forest is a habitat for many species that one can admire during this winter travel.
Archery: One can practice archery and improve your precision and focus. It is reserved for overnight guests only.
Tomahawk throwing: One can enhance survival skills by practicing this sport and can improve concentration during these winter vacations.
10.
Take A Look At Lake Erie
If you enjoy fishing then during this winter vacation you must visit Lake Erie for intense ice fishing. The experience would be tough as the weather is harsh, but this will be a fishing trip worth remembering on your winter travel. You can reach here easily via a bus or a cab. There are no specific timings for the lake but avoid staying overnight on the lake.
Chillaxing things to do here
Fishing: you can catch walleye, yellow perch, and crappie if you are lucky and persistent. It is best to hire a guide.
Snowmobiling: It may seem very dangerous to snowmobile on the icy surface of the frozen lake, but the experience will be adventure-filled.
11.
Bear Mountain State Park
Situated in the rugged mountains of Bear Mountain, this State Park covers a vast area of land. Here, a variety of trees and birds inhabit the park and calls it home. This Park is one of the best winter vacation spots in the US. You can spend your Winter vacations close to nature and escape the hectic routine of cities.
In order to get there, you can book a flight and take a cab or a bus from the airport. However, a cheaper alternative would be to use the local bus network at reasonable prices.
Enjoy the following things to do
Skiing: You can ski through the trails in the dense woods and experience the real wild during winter vacation.
These are some of the ideas for the Best Winter Vacations in the US. Explore the States on your own and gaze upon the mesmerizing beauty of everything around you where you can spend your winter vacations.