The Best Hot Springs In The U.S.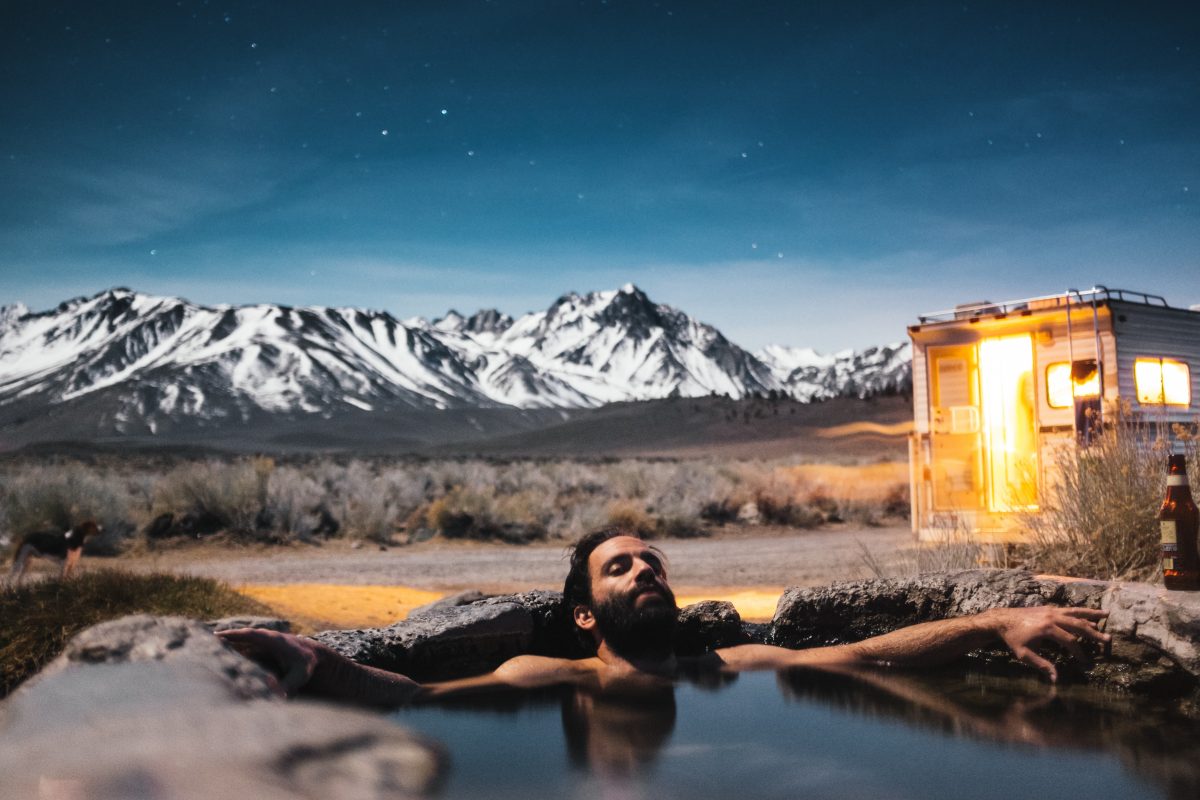 Finding an icy pool to relax in is an easy task nearly anywhere in the US. But the same doesn't hold true for hot springs. The mystic and warm waters so often associated with healing are much harder to find. They only occur in areas with geothermal activity, which can lead them to be in the most remote of locations.

But thankfully, there are still plenty of locations full of scenic views, social atmospheres, and most importantly – hot and soothing water. So take a plunge into the list below, and find the perfect hot springs for your next weekend getaway.
1.
Chena Hot Springs, Alaska
The final frontier is full of relaxing geothermal pools, but Chena Hot Springs is truly a special place. Neatly organised boulders and facilities surround warm pools that provide relaxation, healing, and supreme comfort.
The resort-style setting offers three distinct amenities; an indoor pool, an outdoor spring, and a massage therapy centre. Patrons of all ages can enjoy the indoor pool and massages. Meanwhile, only those over 18 can enjoy the healing waters of the outdoor spring.
Chena Hot Springs reside just over an hour away from Fairbanks, making them the perfect place for a Sunday getaway.
2.
Travertine Hot Springs, California
Spend a day soaking in Travertine Hot Springs to discover why they are some of California's best known geothermal pools.
Travertine Hot Springs reside smack dab in the middle of the Sierra mountain range, granting visitors epic views while they bathe.
Aside from a couple of boulders that have been moved, the springs are just about as natural and free as can be. The pools are notorious for being social at nearly any time.
So visitors can bring a cooler of drinks and make some new friends while relaxing in the soothing waters. However, clothing is optional, so those brave enough (or European enough) can leave their suits and worries behind.
3.
Valley View Hot Springs, Colorado
Those who want a full weekend experience with geothermal baths can find themselves right at home at Valley View Hot Springs.
Valley View Hot Springs offer a collection of thermal pools, saunas, and tubs ideal for any holidaymaker.
The naturally occurring springs are owned and maintained by a private firm, which ensures that they are always kept in pristine condition. And thus protecting them from careless visitors. As a result, they are clean, well kept, and never overcrowded as admission is limited.

Best of all, the site offers nearby camping and lodging, giving visitors the chance to enjoy more than just an afternoon in the warm waters.
4.
Glenwood Hot Springs, Colorado
Glenwood Hot Springs take luxury bathing to a whole new level. The geothermal springs reside inside of a resort that is nothing short of amazing. The luxury site is most famous for boasting the largest hot spring pool in the world.
However, it also contains countless facilities to promote health and wellness. All of the water found in the resort contains 15 natural minerals that help soothe, relax, and even heal visitors.

And of course, it is easy for guests to be taken aback by the stunning scenery surrounding the location. Rolling hills, green vegetation, and a rustic style lodge make every visit to Glenwood Hot Springs one to remember.
5.
Strawberry Park Hot Springs, Colorado
At first glance, visitors may think that Strawberry Park Hot Springs is a throwback to the 1800s. A collection of small huts, teepees, winding rivers, and neatly stacked boulders make the site very appealing to the eyes.
Visitors can check in to a variety of cabins, renovated wagons, and cabooses on the property. All of which offer an authentic Old West feel. Yet, the natural springs are just as impressive.
They gently wind themselves through hillsides and fill quaint rock pools ideal for storytelling. Strawberry Park Hot Springs also offer Watsu massages for those looking for a unique experience.
6.
Dunton Hot Springs, Colorado
If you want another step back in time to an 1800's ghost town when you visit Dunton Hot Springs. Dunton Hot Springs does all of the right things to provide an authentic Western experience.
Masterfully restored log cabins and buildings are scattered throughout the property, creating a beautiful scene straight from a postcard. And of course, it can't be forgotten that the hot springs present are simply fantastic.
Rustic bathhouses provide warm waters while offering scenic views into some of Colorado's best wilderness. Furthermore, Colorado's only natural geyser can be found erupting on the property.
7.
The Springs – A Mountain Hot Springs Retreat At Idaho City, Idaho
It's easy to forget about the Gem state, as Idaho is quietly tucked away in the Northwest. But don't be fooled, The Springs in Idaho City are sure to put the cosy state on any travellers' list.

The Springs – A Mountain Hot Springs Retreat At Idaho City offers a bathing experience that will surely win over any curious visitor. A large geothermal pool is complemented by a scenic backdrop, which shows just how pretty the state can be.
And if visitors want to take a break, they can pop into the lodge and enjoy some cold drinks or baked goods made by local chefs.
8.
Goldbug Hot Springs, Idaho
Goldbug Hot Springs could belong on the cover of a National Geographic magazine. The fairly remote, but stunning hot springs are located in the heart of Idaho's pristine wilderness.
A sound drive and hike from Boise will reward visitors with the chance to bathe in steaming hot pools, which overlook beautiful hillsides and streams. Yet, the site is famous amongst locals and travellers, so finding a spot to relax may be tough depending on the time of year.
9.
San Antonio Hot Springs, New Mexico
Few, if any Americans would look to New Mexico for hot springs. But the reality is, the ones that are there are simply outstanding. And the San Antonio Hot Springs is no exception.

A small rock quarry upholds the naturally occurring geothermal pools along the side of a valley which is nothing short of breathtaking. The water itself is also incredibly clear, and delightfully warm.

However, like many great natural wonders, the San Antonio Hot Springs are fairly remote. Yet, those willing to make the trek can surely discover what makes the local pools so superb.
10.
Umpqua Hot Springs, Oregon
Those willing to make the trek to Umpqua Hot Springs surely won't be disappointed by the marvels the pools hold. While Umpqua Hot Springs are certainly no secret, it is easy to see why such a place is so well liked.
The naturally forming pools drip across a hillside, painting a contrast of colours against the scenery. Calcified minerals harden to form a myriad of colours, which make the pools appear alien-like.

However, like many other hot springs, the site is notorious for nude bathing. Parents or adults concerned with nudity are best off choosing another location.
11.
Fifth Water Hot Springs, Utah
Turquoise green water flows throughout the pools at Fifth Water Hot Springs, making the sight almost too beautiful to believe.
The naturally occurring pools located just an hour and a half away from Salt Lake City are most definitely worthy of a day trip.
A series of beautiful springs with mini waterfalls dot the site, giving visitors the chance to pick their favourite spring with the right temperature.

Best of all, those who are willing to wait until the sun goes down will be rewarded with a picture-perfect scene. Bright stars line the sky, making an evening soak a truly magical experience.
12.
Homestead Crater, Utah
One of the only geothermal springs located inside of a crater can be found in the north of Utah's diverse landscapes. The Homestead Crater is a beehive-shaped cavern that houses a simply incredible geothermal pool.
The underground feature is the ideal place for divers, snorkelers, and swimmers to experience a warm water adventure. And best of all, the site is maintained and operated by a company dedicated to protecting the natural wonder, so that all can continue to enjoy it.
13.
Goldmyer Hot Springs, Washington
Take an adventure to Goldmyer Hot Springs to see what Washington's best-heated springs are like. Goldmyer Hot Springs is a true wonder that proves why a solid trek can result in a glorious reward.
The warm springs tucked away in the Cascade Mountains offer some of the cleanest water in the northwest. But of course, that may seem rather minor to those who notice just how beautiful the surrounding nature is.
Green foliage, clear skies, and masterfully organized rocks make the site very easy on the eyes. Yet, an important aspect worth noting is that Goldmyer Hot Springs only accepts 20 guests per day.
14.
Granite Hot Springs, Wyoming
The Cowboy State provides avid hot spring fans with a simply can't-miss location. Queue Granite Hot Springs. Like most of the scenery in western Wyoming, the Granite Hot Springs is nothing short of fantastic.
Constructed pools house natural geothermal water that is as clean as it gets. The rustic style pools nestle comfortably into a hillside, granting visitors some breathtaking views.

Those who venture to the springs can also rejoice in the ability to visit nearby attractions such as Yellowstone National Park and Jackson Hole.
Let Us Know…
If we've missed any of your favourite hot springs around the U.S. and which one from our list was your top pick! Remember to always stay alert and be careful, follow the safety regulations of any park.
Additionally, take extra precaution when travelling and exploring with kids!