17 Best and Fun Things to Do in Sedona, AZ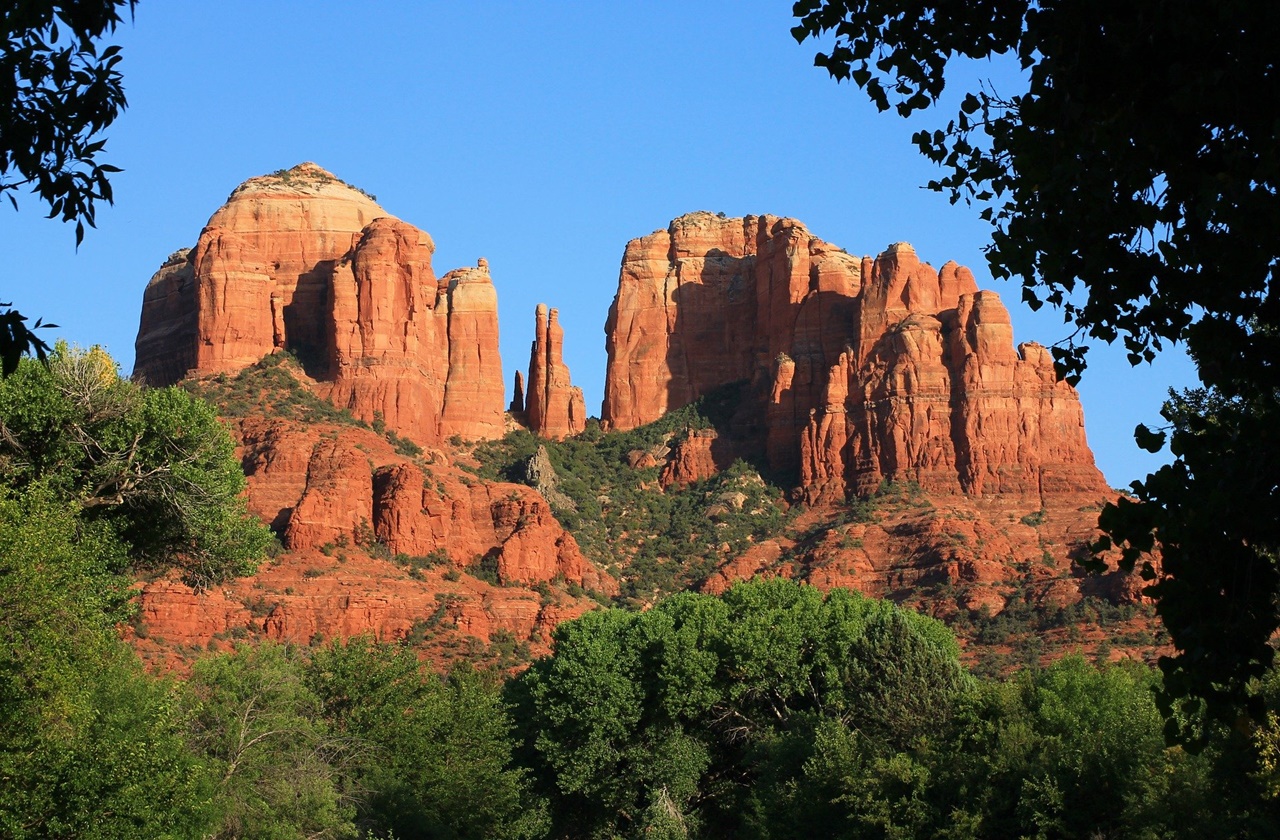 Arizona is home to vast deserts, terracotta-hued canyons, and state parks. The southwestern state is famous for being the gateway to the Grand Canyon, a UNESCO World Heritage Site, and one of America's best natural wonders. Its cities like Tucson and Sedona are also some of the most popular travel destinations. Although not as big as cities like Phoenix and Scottsdale, there are also plenty of things to do in Sedona.
If you're looking for activities and things to do in Sedona, we got you covered!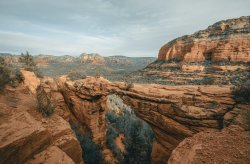 Photo by Clay Banks on Unsplash
Sedona is a desert town in Arizona, situated in between the Coconino and Yavapai counties. It is on the northern side of Verde Valley. The small town is also located in the central area of Arizona, near Red Rock State Park. Sedona lies within the mouth of Oak Creek Canyon, a stunning gorge considered as a cousin of the Grand Canyon.
Because of its strategic location, Sedona boasts towering sandstone cliffs and trees, bushes, cacti, and other lush greenery. Sedona is a 2-hour drive from Phoenix, and 3 or 4 hours away from Tucson.
How is the Weather in Sedona?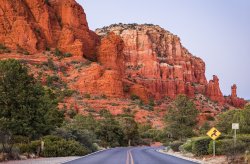 Photo by Matthew Ronder-Seid on Unsplash
Sedona weather is generally pleasant all-year-round and is cooler as compared to Phoenix and Tucson. In spring (March to May), the temperature doesn't go above 26°C (80°F) although evenings can get very chilly. March is also Sedona's wettest month but is relatively drier than most parts of Arizona. During summer (June to August), Sedona weather can get very hot, with the average temperature being 32°C (90°F). However, this is relatively milder unlike Phoenix and Scottsdale's triple-digit weather. Nonetheless, you can still visit Sedona to escape the summer heat.
In the cool days of fall (September to November), Sedona's weather is still pleasing, with temperatures of around 21°C (70°F) during the day. At night, the temperature is lower, so make sure to bring a light sweater or a jacket. Lastly, during winter (December to February), the temperature can reach about 15C (60°F) during midday, so it is still a great time for outdoor activities. It snows in Sedona. Although accumulations are rare, there is still a thin layer of snow capping Sedona's rust-colored rocks during winter.
Best Time to Visit Sedona
The best time to visit Sedona is either March to May or September to November. March to May are the best months to visit Sedona because of the warm yet pleasant weather, perfect for outdoor activities. This is also the ideal time for those who want to hike since desert flowers bloom, giving a pop of color to the hiking trails. Do take note that accommodation rates tend to be higher during this time since it is the peak season for traveling.
On the other hand, fall is also the best time to visit Sedona, although not as popular as spring. Sedona's weather during these months is mild and crisp especially during evenings. In addition, autumn is perfect for hiking. Must-do activities include Jeep tours, horseback riding, and other outdoor entertainment.
1. Learn About Sedona's History at Sedona Heritage Museum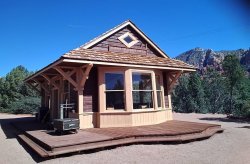 Photo by Sedona Heritage Museum Facebook Page
Discover the origins and rich history of this town at the Sedona Heritage Museum. Once a homestead for the Jordan family, the museum aims to preserve Sedona's history. They also aim to educate tourists on its winemaking heritage. Sedona Heritage Museum and Park is also a historic property, declared a National Register of Historic Places in 2004.
Enjoy their history-themed programs or have your kids join a fun scavenger hunt in the museum. Find the vintage telegraph office, which was featured in hundreds of Western films. During the fall season, discover a collection of locally-made items at the Arts & Crafts Fair. You can buy pottery, stained glass, jewelry, and other handmade products made by the townspeople. If you want to know more about the history of the town, a trip to the Heritage Museum is one of the first things to do in Sedona.
2. Go Stargazing in Sedona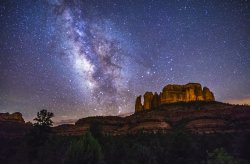 Photo by Coconino National Forest on Flickr
Sedona's clear skies make it a must-visit for astrophile and photographers. It holds the prestigious Dark Sky Community title designated by the International Dark-Sky Association in 2014. Because of this designation, local authorities make efforts to reduce light pollution in the city. Combine Sedona's picturesque red rocks and twinkling stars, and you get a memorable experience you'd want to take photos of.
From September to June, get a chance to see the Milky Way, planets, and other heavenly bodies on a clear sky. Head to the Jordan Trailhead Observing Area and take gorgeous photos of the night sky. Other popular stargazing sites include the Crescent Moon Picnic Site, Schnebly Hill Road, and more. You can also join a small-group tour and have your expert guide show you the basics of astronomy.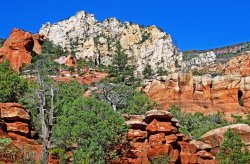 Photo by Don Graham on Flickr
Spend time with Mother Nature and set up your tents at one of the many campgrounds along Oak Creek. The Cave Springs Campground is arguably the most popular and beautiful campground near Oak Creek, offering a variety of activities. On the other hand, the Manzanita Campground is the closest campground to Sedona and boasts tall deciduous trees.
There are also sites for dispersed camping near Sedona for travelers who want fewer crowds. Dispersed camping is one of the best free things to do in Sedona. The Coconino National Forest offers plenty of sites for dispersed camping if ever most sites are full. Just make sure to look for the "Camping Permitted" sign and leave no traces.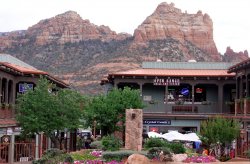 Photo by Don Graham on Flickr
Uptown is Sedona's old town, filled with souvenir shops, cafes, galleries, and plenty of restaurants. You can also find jewelry and craft stores and offices for activity providers. Uptown is also a convenient place to find accommodation since most establishments are within walking distance. Needless to say, you can find almost anything and everything at Uptown Sedona.
Stroll past lines of shops and browse through the galleries at Uptown Sedona. From local craft stores to upscale boutiques, find them at the shopping district. Feeling spontaneous? Sign up for a last-minute tour on the main street! After a day of exploring, relax and enjoy a hearty meal at one of the restaurants overlooking the canyons.
5. Visit Slide Rock State Park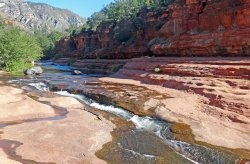 Photo by Don Graham on Flickr
Slide Rock State Park is one of Arizona's most-visited sites. Originally an apple farm, the park takes its name from the water slide found at the bottom of the creek. Additionally, Slide Rock State Park is one of the best examples of Arizona's early agricultural development. It also played an important part in the rise of tourism in Oak Creek Canyon, and in Sedona as well.
A trip to Slide Rock State Park is one of the most exciting things to do in Sedona. Cruise or slide down the creek or just relax and enjoy the heat of the sun on the rock bed. You can also hike along its three hiking trails: Pendley Homestead Trail, Slide Rock Route, and Clifftop Nature Trail. For a challenge, feel the adrenaline rush and go cliff jumping.
6. Hike the Boynton Canyon Trail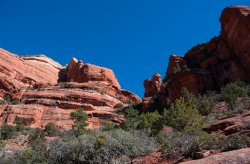 Photo by Coconino National Forest on Flickr
The Boynton Canyon Trail is a 9.8-kilometer moderate trail that offers plenty of scenery. Boynton Canyon is also reputed to be one of the many vortexes in Sedona. These vortex sites are believed to be areas with high energy good for healing or meditation. However, whether you believe in these or not, a hike along Boynton Canyon Trail is one of the best things to do in Sedona.
Since it's a moderate hike, this is perfect for kids. Don't forget to bring your cameras and take pictures of the stunning scenery before you. Dogs are also allowed to hike in the trail as long as they are kept on a leash. If you plan on hiking in summer, make sure to bring plenty of water and snacks.
7. Visit Red Rock State Park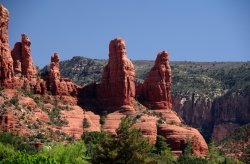 Photo by Daniel Powell on Unsplash
Red Rock State Park features tall sandstone cliffs and rock formations. Apart from its geological formations, Red Rock also has an abundance of plants and wildlife. In fact, the aim of this park is to preserve and protect the riparian habitat, as well as to become an environmental education facility. This oasis is a habitat of bird species and animals like roadrunners, hawks, and more.
At the visitor center, get an overview of the history of the state park, as well as an introduction to its rich flora and fauna. Bring snacks and enjoy a picnic lunch while admiring the view of the cliffs and canyons. After lunch, join a guided nature walk led by expert naturalists. On some days, bird walks are available and you can find out where these birds reside in the park. Red Rock State Park also has several hiking and biking trails.
8. Marvel at the Chapel of the Holy Cross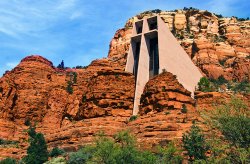 Photo by san diego irv on Flickr
The Chapel of the Holy Cross is a church built into the buttes of Sedona. Local rancher Marguerite Brunswig Staude had the idea of building a church after the construction of the Empire State Building. She then wanted to build a church in Budapest, but her plans fell short after the outbreak of World War II. As a result, she opted to build a church in her homeland, Arizona. Now, it is one of the most-visited sites in Sedona.
From afar, see the tall, 90-foot cross. Upon entering the chapel, admire its simplicity, but be in awe of the view from the floor-to-ceiling glass at the altar. There is no entrance fee at the chapel, so a visit here is one of the free things to do in Sedona.
9. See and Take Photos of Bell Rock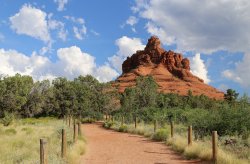 Photo by pieonane on Pixabay
Towering over 4,919 feet, Bell Rock is one of the most distinguishable landmarks of Sedona. It is a butte made out of a horizontally bedded sedimentary rock. If you are visiting Sedona from the south, Bell Rock is one of the first sites you will see on your drive. Like Bell Canyon, locals believe that Bell Rock is a vortex, an area with a high concentration of spiritual energy. Thus, it is a popular tourist destination in Sedona.
A visit to Bell Rock is just one of the many exciting things to do in Sedona. Follow the Bell Rock trail and admire the view from above. The trail is moderate, but make sure to stay hydrated especially in the hot days of summer. You can also spot small wildflowers and even coyotes and foxes. Aside from hiking, biking is also a popular activity in Bell Rock and is perfect for beginner bikers.
10. Visit the Palatki and Honanki Heritage Sites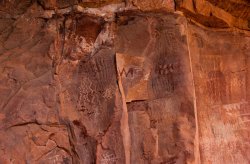 Photo by Coconino National Forest on Flickr
The Coconino National Forest is home to two of Arizona's archaeological sites: the Palatki and Honanki Heritage Sites. These two sites were formerly the home of the Hopi tribe. They are also the largest cliff dwellings of the Red Rock Country, first described by Dr. Jesse Walter Fewkes. Dr. Fewkes was also the one who gave their names: Palatki meaning "red house" and Honanki meaning "bear house".
Get a glimpse of history as you view the pictographs and petroglyphs that are thousands of years old. Follow one of the available hiking trails that take you from one cliff dwelling to another. There are also various Jeep tours that stop by either Palatki or Honanki Heritage Site, along with other Sedona landmarks.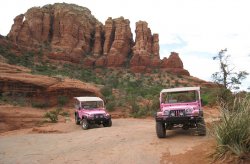 Photo by mroach on Flickr
Exploring Sedona on a Jeep Tour is among the most fun things to do in Sedona with kids. There are several Jeep Tour providers in town, but they all offer educational tours of different sites. These jeeps are affordable, convenient, and available almost everywhere. Joining a Jeep Tour allows you to get a closer look into landmarks and sites, and the driver-guides are very helpful and knowledgeable.
Book a Jeep Tour online or at the kiosks at Uptown Sedona. Take note that depending on the season you'll visit, you may want to book in advance. These tours can take you to the rugged canyons and lush wineries, and even on picnic fields. Because Jeep Tours pass through rugged roads, guests with back or neck problems are recommended to sit this one out.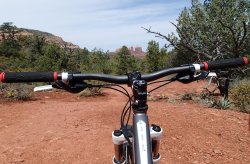 Photo by Alan Levine on Flickr
Sedona is also a popular site for mountain biking enthusiasts. Whether you're a beginner biker or you're on the lookout for an exciting trail, you will definitely enjoy exploring Sedona on a bike. You can rent a bike in town and even join guided bike tours if you want to experience the thrill of mountain biking with a group.
If you're a beginner, try the Bell Rock trail to get a hang of it. You may also follow the Long Canyon or Deadman's Flat trails to practice. The Aerie, Llama, and Chuckwagon trails on the other hand are intended for those who want a moderate yet satisfying trail. For advanced bikers, follow the Hiline Trail and admire the scenery as you zip past challenging ascents and downhill slopes.
13. Shop at Tlaquepaque Arts and Crafts Village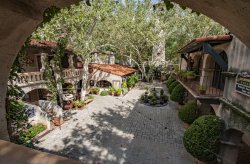 Photo by Graeme Maclean on Flickr
Tlaquepaque Arts and Crafts Village is a popular shopping center styled like a traditional Mexican Village. Its vine-covered walls and cobblestone-laden walkways will make you feel like you've been transported to a different era. Tlaquepaque Arts and Crafts Village has also been a famous landmark in Sedona since the 1970s.
Stroll past idyllic galleries and shops selling jewelry and ceramics. Check out the stalls boasting different paintings, elaborate weavings, and large format photography. You can also get the chance to see a sculptor finishing their latest masterpiece in one of the galleries. Even if you don't plan on shopping, a stop at Tlaquepaque is among the best things to do in Sedona.
14. Feed Your Inner Art Geek at Sedona Galleries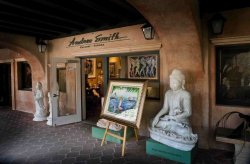 Photo by Andrea Smith Official Website
Aside from soaring cliffs and mystical vortices, Sedona prides itself on its arts and culture. You can find several art galleries within walking distance from each other, perfect if you're in the mood for gallery-hopping. Tlaquepaque Arts and Crafts Village also has several galleries showcasing different styles. At one of the galleries, you may be able to find the perfect souvenir to bring home or a gift for one of your friends.
Don't miss the so-called 1st Friday in the Galleries, an event where members of the Sedona Gallery Association showcase new events and art exhibits. Find like-minded individuals and socialize over hors d'oeuvres, drinks, and live music. If you prefer a more quiet atmosphere, visit any of the galleries within the regular hours and appreciate these artworks at your own pace.
15. Find Peace and Quiet at Amitabha Stupa & Peace Park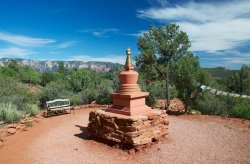 Photo by Peter & Michelle S on Flickr
Sedona is a spiritual traveler's dream. It offers plenty of vortices and areas for healing and meditation, including the famed Amitabha Stupa & Peace Park. The park sits on a landscape of red rocks at the base of Thunder Mountain. Native Americans and locals also believe that the land where the park sits is holy, making it one of the best places to visit in Sedona for spiritual people.
Follow the trail leading to the 36ft stupa, named after Buddha Amitabha, the Buddha of Limitless Light. The stupa is also one of the oldest forms of sacred architecture in the world, dating back to a thousand years ago. Although it is a popular tourist destination, you'll be able to find a quiet area for prayer, reflection, and meditation. The Amitabha Stupa & Peace Park is the perfect place to meditate and slow down after a busy day out.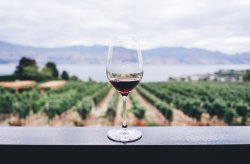 Photo by Kym Ellis on Unsplash
While not as popular as other wine regions like Napa Valley or Sonoma, Arizona also has a rich winemaking heritage. With rich volcanic soil and dry climate, Sedona offers the environment needed for grapes to thrive. For wine lovers, exploring a winery and sampling wines are definitely some of the best things to do in Sedona.
Go on a self-guided tour or join a group tour to follow the Verde Valley Wine Trail. The trail takes you to the area's best wineries like the Oak Creek Vineyards, Alcantara Vineyards, and more. Along the journey, learn more about the intricate winemaking process and its history in Arizona. Sip on locally made wine at most of the tasting rooms in Sedona, Cottonwood, and other areas. In between stops, you can also purchase a wine bottle or two to take home.
17. Visit the Cathedral Rock
Cathedral Rock is one of the most photographed sites in Arizona. It is a natural sandstone butte and can be seen all the way from Highway 179. Cathedral Rock is also believed to be a vortex-like Bell Rock and Boynton Canyon, which is why it is a popular site for spiritual tourists.
Head to Red Rock Crossing Park at the Crescent Moon Picnic Site and get the best views of this site. If you're up for a challenge, hike the Cathedral Rock Trail, a favorite among locals and tourists. This 1.9-kilometer trail takes you through the best views of Sedona from above. Don't underestimate the distance though, as it is also a strenuous hike with steep climbs.
Discover the Beauty of Arizona's Red Rock Country
With stunning rock formations, vortexes, and art galleries, Sedona is an oasis in the middle of Arizona's deserts. Find idyllic meditation spots, challenging hiking and biking trails, and parks showcasing the best of this small town. Travelers not only visit this town in Arizona to see the famous red rocks but also for spiritual healing at one of the four vortexes found in Sedona.
There are many things to do in Sedona for an exciting visit no matter the time. Start the day with a delicious meal at one of the cafes in Uptown Sedona. Then, join a Jeep Tour and explore the town's wineries or state parks. In the afternoon, relax at one of the spas or go on a leisurely stroll past shops and galleries at Tlaquepaque Arts and Crafts Village. Head to one of the vortexes for meditation, yoga, and healing. Catch the sunset at Cathedral Rock and at night, go for a romantic stargazing adventure.