20 Best Things to Do in Georgetown, Washington, D.C.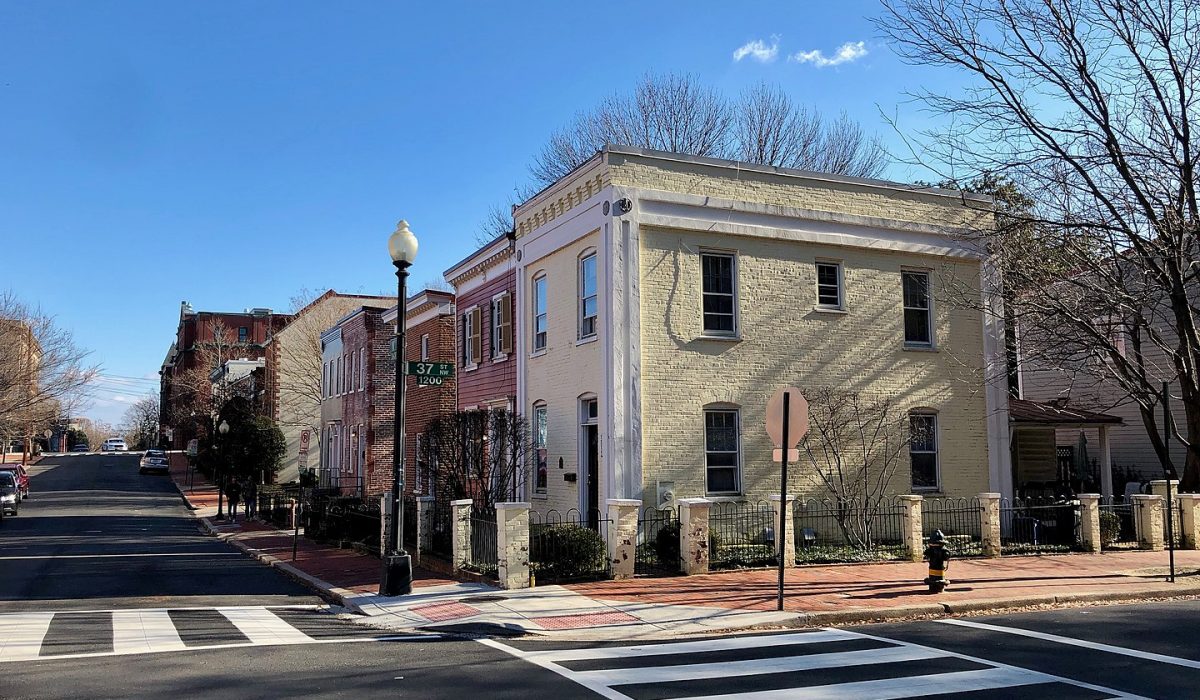 Along the banks of Potomac River, there is a small town that holds a rich history and preserved heritage: Georgetown. Beyond strolling its cobblestone streets and shopping at pretty fashion boutiques, however, there are countless things to do in Georgetown.
Whether you're planning to trace JFK's history, dine in the number one restaurant in Georgetown, or imagine your dream house at Cady's Alley, there are always tons of things to do in Georgetown for you.
To maximize your trip to Georgetown, make sure to avail of the Washington D.C. City Day Pass (starts at US$66 per day) or Flex Pass (starts at US$18 per attraction). The passes allow you to get unlimited admission to more than 15 attractions, see the town through a Big Bus Hop-on and Hop-off bus, and secure a slot in the popular tourist spots.
Where is Georgetown?
Named after King George II of England, Georgetown is a small town in Washington, D.C. that was established in 1751. With its humble beginnings as a 60-acre land owned by George Beall and George Gordon, it grew to be a prosperous tobacco industry, and later on, became the shipping hub of goods to Europe and West Indian routes. Some of the goods they export are flour, textiles, and papers.

Is Georgetown a couple and family-friendly travel destination?
Couples and families may have different preferences as to what kind of activities they want to embark on. Couples prefer artsy strolls around art galleries, romantic dinners in the river, relaxing in a spa, or putting together their future homes.
On the other hand, most families want indoor activities, like bowling or unraveling mysteries in Escape Rooms; while others prefer outdoor activities like canoeing in the river or cycling around the city. Regardless of what kind of adventure you're in, this small town of Georgetown has plenty of things to do for you.

How to get to Georgetown?
Just like any other U.S. city, it is very easy to navigate around the city of Washington D. C. Either you're driving your own car or using public transportation, you will be able to get to Georgetown hassle-free.

By Bus
There are two options for the bus: DC Circulator or Washington Metrobus. The DC Circulator has a blue line (Dupont Circle to Georgetown to Rosslyn route) and a yellow line (Georgetown to Union Station route) that includes stops in Georgetown. While Metrobus has ten lines that will also allow you to get to Georgetown. These are the 30S, 30N, 31, 33, 38B, D1, D2, D5, D6, and G2.
By Ride-Sharing Apps
Similar to other U.S. cities, Uber and Lyft are also widely used to conveniently reach Georgetown from any part of Washington. There are three pick-up and drop-off points that the DDOT encourages riders to hail their rides if possible. These are:
On the East side of the 1200 block of Wisconsin Avenue (from Tory Burch to John Fluevog)
1066 Wisconsin Avenue (in front of Frye and Bluestone Lane)
3111 K Street (in front of AMC Theater)
By Train
There is no train station in Georgetown, but the nearest train station is the Foggy Bottom-GWU Metro station; which is a 15-minute walk away.
By a Water Taxi
The Wharf Water Taxi (US$30 per adult and US$17 per child) offers a scenic way of coming to Georgetown. There are two routes that you can take: The yellow (District Wharf Service route) and pink lines (Alexandria to Georgetown). The schedule varies, so make sure to plan your trip with their schedule. When you have a Washington DC City Pass, you can board the Water Taxi for free.
By Plane
Fly to Georgetown through Reagan National Airport or Dulles International Airport. From the airport, you can ride the train, bus, taxi, or your preferred ride-sharing app.
Things to Do in Georgetown
1. Time-Travel through Georgetown's Oldest Building
Opening hours: Monday to Sunday (11 to 7 PM)
Admission fee: Free
Built in 1766, the Old Stone House is the oldest building in D.C. in its original location. This pre-revolutionary designed house was preserved with the assumption that it was a place where George Washington stayed in his meeting with the city planner, Pierre L'Enfant. To commemorate George Washington, the house was preserved until it was purchased by the National Park Service in 1953. Currently, visitors are only allowed on the ground floor.
2. Stroll around Chesapeake and Ohio Canal
Often called the C&O Canal or sometimes the Grand Old Ditch, the Chesapeake and Ohio Canal used to haul bulks of coal from Allegheny Mountains until 1924. In this day and age, the canal exudes a tranquil remnant of the past.
3. Explore the historic Tudor Place
Opening Hours: Thursday to Sunday (12 PM to 4 PM)
Admission Fee:
Adults: US$10 (Historic House Tour)
Children: Free for children below 6 years old (Historic House Tour)
Self-guided tour in the garden only: Free
Tudor Place is a federal-style mansion that was designed by the famous U.S. Capitol's Architect William Thornton. This house became more popular because it was bought by Martha Parke Custis Peter, the granddaughter of Martha Washington, from her inheritance from her step-grandfather George Washington. Since the 1800s to the present, there are already six generations of the Peter family who lived in this mansion. Thus, visitors get to admire the vast collection of furniture, memorabilia, and design that reflects the long history of America.
4. Marvel at the 18th Century Dumbarton House Museum
Opening hours: Thursday to Sunday (10 AM to 3 PM)
Admission Fee:
Adults: US$10
Reduced Price: US$8. This is only for AAA members, National Trust Members, Veterans, and Civil Servants.
Free: Students, healthcare workers, Museum & NSCDA Members, Children & Students (with ID), AAM, NARM, HHMC, and US Treasury Employees
The Dumbarton House Museum used to be the home of the first register of the U.S. treasury, Joseph Nourse, and his family. Visitors can marvel at the period rooms and rotating exhibitions to witness the old days of Washington.
5. Retrace the steps of JFK
Georgetown made up a huge part of the life of the late president John Kennedy (JFK). From the time he was running for Senate up to his infamous death, Georgetown witnessed not only his wins but also his wife's, Mrs. Jacqueline Bouvier, desperate mishap. Get a glimpse of the houses where JFK used to live with the self-guided walking tour and make sure to dine in at Martin's Tavern where JFK proposed.
6. Burn calories at the Exorcist stairs
The Exorcist Stairs is a steep 97-step stair that was often remembered as the famous scene in the 1973 horror movie, "The Exorcist". In 2019, it became one of Georgetown's historical landmarks, not because of the movie but because of its significance. Over the years, many visitors take up the challenge to run up its steep stairs. Make sure to do a good stretching beforehand, or else you'll be sore for days.
7. Tickle your imagination at the Ghost Tour
Admission fee: US$24 per person
Georgetown offers ghost hunting tours wherein you will visit significant sites that hold eerie stories and curses that some people have experienced. The tour starts at Old Stone House and ends at the Exorcist Stairs. However, just like any other city, spirits are not the only thing that disturbs people, but affairs and scandals as well. Either you're interested in the vile crimes and immoral scandals of the embassy, Capitol Hills, or the White House, the Wicked tours can tell you legit stories about them.
8. Kayak around Potomac River
Potomac River played a huge part in shaping Georgetown's history. One way to pay homage to Georgetown is by exploring the river through water activities. Key Bridge Boathouse Kayak offers rentals of a kayak (starts at US$16 per hour), paddleboard (starts at US$22 per hour), and canoe (starts at US$25 per hour). If you prefer a guided tour, you can also book Sup Daytime Monument Tour (US$65), a one to two hours of guided tours around Theodore Roosevelt Island to Watergate, or the Full Moon Tour (US$75) which is also quite the same with the Sup Daytime Monument Tour but this tour only happens once a month and at night time.
9. Cycle around Georgetown
Opening hours: Monday (11 to 6 PM), Tuesday to Friday (10 to 7 PM), Saturday (10 to 6 PM), and Sunday (10 to 5 PM)
Big Wheel Bikes allows you to rent bikes for an hour, a day, or even week-long. Their bikes range from hybrid bikes (US$35 per day), performance hybrids (US$45 per hour), mountain bikes (starts at US$35 per day), and road bikes (US$50 per day). In addition, they also have bikes for kids (US$25 per day), Bike with baby seat (US$50 per day), Tandem (US$50 per day), and Trail a Bike or Single Bike (US$35 a day).
10. Shop at Chic Georgetown Boutiques
A trip to Georgetown will never be complete without shopping. Either you're the type who likes vintage pieces, minimalistic garments, or chic-style outfits, Georgetown has every option for you. In the intersecting streets of Wisconsin Avenue and M Street NW, you will find countless shops to upgrade your wardrobe.
11. Satisfy the aesthete in you at Book Hill galleries
Opening hours: Tuesday to Saturday (11 to 5 PM)
Aside from the antique stores and boutiques at Book Hill. There are also art galleries that exhibit a range of media, such as paintings, sculptures, drawings, photography to name a few. Most of the artworks limelights both the renowned and rising artists, so you will surely be able to explore various genres.
12. Imagine your Dream House at Cady's Alley
Located in Georgetown's Design District, Cady's Alley is a street composed of different exclusive furniture stores and renowned brands. They match local designers and antique store owners with prominent designers, which ensures that the furniture is not only sleek but high-quality. You can look at the map to see the directions to the stores.
13. See modern architecture at the House of Sweden
A contemporary Swedish designed building by Gert Wingårdh and Tomas Hansen, The House of Sweden is home to Sweden and Iceland Embassies. If you're not applying for a visa, don't worry you can still get a glimpse of modern Swedish architecture by attending events or exhibitions held in the building.
14. Support War Veterans at Dog Tag Bakery
Opening hours: Tuesday to Sunday (8 to 4 PM)
The Dog Tag Bakery is created under the Dog Tag Fellowship program that helps service-disabled veterans, military spouses, and caregivers by starting a business. The Dog Tag Bakery menu has a selection of baked goods and coffee, such as Warrior Bites (US$7), Honey Granola (US$8), Coffee Tin (US$14), Cookies (US$30), and Brownies (US$23).
15. Chill at Blues Alley
Opening hours: Monday to Sunday (opens at 6 PM)
For over 55 years, Blues Alley continued to serenade its guests with their soulful Jazz music. They organize events featuring Jazz singers and musicians. Usually, the event ticket prices range from US$22 to US$65 depending on the performer and performance's duration. Good music and Georgetown food always go together. Aside from the music, guests can also satisfy their palate with some authentic Creole cuisine, steak, and seafood that guests can enjoy per show.
16. Cruise along the Georgetown Waterfront
A Georgetown Food Tour will never be complete without a scenic dinner cruise in Potomac River. The Hornblower Cruise and Events offer the typical sightseeing tour through the Monument Tour (US$13 for adults and US$9 for kids per way) and a dining cruise through Dinner Cruises (starts at around US$117.90). In the dining cruise, they will serve you a plated gourmet dish in a two to three hours cruise along the Potomac River.
17. Have a romantic date at Fiola Mare
Opening hours: Wednesday to Sunday (11:30 AM to 10 PM)
Dubbed as the number one restaurant in Georgetown, Fiola Mare is a sumptuous venue for business meetings, family gatherings, and romantic dinners. They serve Italian coastal cuisine made with fresh seasonal ingredients that complement their regal-interior rooms that will surely make your Georgetown food experience an unforgettable one.
18. Be competitive at Pinstripes
Opening hours: Monday to Thursday (12 PM to 9 PM), Friday (12 PM to 11 PM), Saturday (10 AM to 11 PM), and Sunday (10 PM to 9 PM)
Pinstripes is the perfect venue for family day. They don't only serve sophisticated Italian and American cuisine from scratch, but they also have bowling and bocce alleys that will spike the competitiveness in you. Bowling starts at around US$15 per person, while Bocce starts at US$5 per person. The price varies based on the time and day, make sure to reserve slots through their website.
19. Unravel the mystery at Escape Room Live
Opening hours: Friday (4 PM to 12 AM), Saturday (12 PM to 12 AM), and Sunday (12 PM to 9 PM)
Admission: US$140 (for 5 people)
Escape Room Live is an interactive game wherein you'll be in a themed room and you have to search for clues to unravel the mystery. With suspenseful music and eerie mood set by the rooms, friends and family alike will kindle the adrenaline to solve the puzzle.
20. Relax at a Spa
Sightseeing tours are all fun and exciting until your calves are sore from walking. Dedicate a day in one of the best spas in Georgetown to relax. The Four Seasons Spa offers a customized massage that suits your needs whether you're sore from running up the Exorcist stairs (starts at US$165 for 50 minutes massage) or you're jet-lagged from your more than 20-hour flight (starts at US$175 for 50 minutes massage). If you want a more affordable option, you may also try Unwind Wellness. They offer a 60-minute Swedish, Sports, or a Deep Tissue style for only US$100.
There you have it! We hope that this helped you plan your itinerary to tick off a lot of things to do in Georgetown. Let us know how your experience was!