What To Expect From The Weather In Sedona, Arizona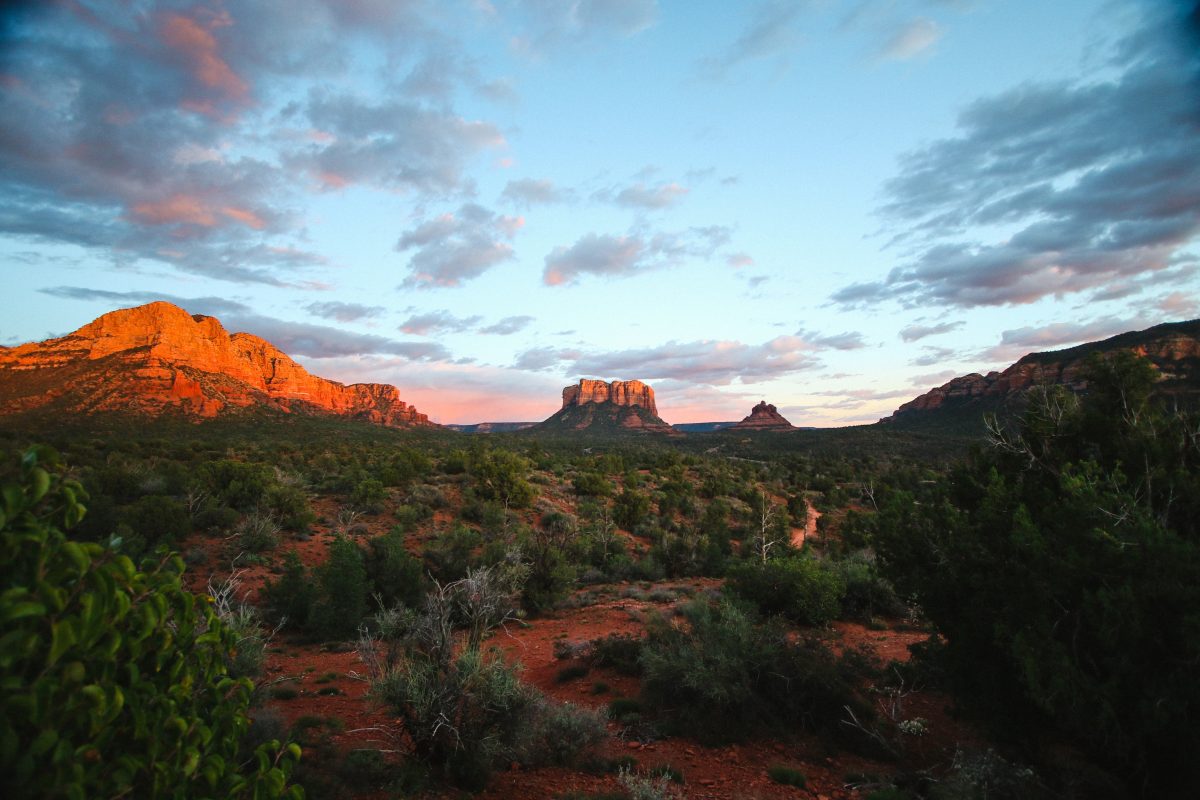 Sedona brands itself as "the most beautiful place in the world". And many people may highly likely agree with that. There are numerous activities that tie well with Sedona weather. This is probably why people flock in this area all year round!
Situated in the north of Arizona, the high desert city is famous for its incredible nature, proximity to splendid sights, and mouthwatering restaurants. It lies just two hours north of Phoenix and three and a half hours north of Tucson.
However, the weather in Sedona is far milder than Arizona's other cities as it rests 4,500 feet above sea level. For this reason, many Arizonans escape there in the summers to avoid the scorching hot temperatures in the south.
Regardless of the weather, visitors always have an amazing time in Sedona at any time of the year. Read on to see what to expect from the weather in Sedona and the best things to do in each season.
What To Pack?
What to pack for Sedona depends largely upon the time of year that you have planned your trip. Visitors who travel during the spring and autumn will surely want to pack athletic gear whilst those who travel during the winter will want a heavy jacket.
And of course, those who visit in the summer will likely wish to wear nothing at all to combat the intense heat. Keep those pants on though, as Sedona doesn't welcome nudity quite as well as Miami's Haulover Park does.
All in all, the best way to pack is to make a checklist. So check out the lists below and make sure you have everything you need before heading to Sedona.
All-Year Gear
Because of Sedona's rugged nature and climate, there are a few basic goods to bring with you at all times of the year. The essentials that are absolutely necessary are a travel bag, camera, sunglasses, athletic shoes, and a first aid kit. With those five items, adventurers can take on nearly any challenge.
Fall and Spring
Due to summer's blazing hot temperatures, most people opt to visit in the fall and spring. The weather is far more bearable, and there is even more to do. For this reason, tourists should pack a solid pair of hiking boots and a light jacket. These two items will come in handy in just about any situation as most of the main seasonal activities involve outdoor excursions.
Summer
Though it isn't the most popular time of the year to visit, the summer in Sedona is still pretty exciting. Travellers can crawl around rocky crevasses to find hidden oases prime for cannonballs or soak in local pools.
With this in mind, it is pretty important to pack a swimsuit, sunscreen, a ball cap, and sandals. Though flip flops are nice for steady terrain, they aren't suitable for the rocky hills where the oases are located, so instead, pack sandals with straps or river shoes.
Winter
Winter can be an awesome time to check out Sedona as there are fewer crowds to deal with. For that very reason, tourists can enjoy sipping coffee in cozy cafes, restaurants, and lodges without waiting in line. Or even better, enjoy a hot air balloon ride.
Yet the weather still drops in temperature enough to freeze, so it is essential to bring a warm winter jacket, and perhaps warm shoes such as duck boots.
Sedona Weather by Month
The Sedona weather forecast for the summer months is always blazing hot, whilst the forecast for the winter is mildly cold. For the average daytime temperatures for each season, check out the info below.
Spring
March: 66˚ F
April: 74˚ F
May: 84˚ F
Summer
June: 93˚ F
July: 96˚ F
August: 94˚ F
Autumn
September: 88˚ F
October: 78˚ F
November: 66˚ F
Winter
December: 57˚ F
January: 58˚ F
February: 61˚ F
Data provided by Sedona.net
What To Do In Sedona, Arizona?
Every season presents something different to do in Sedona. But one thing is for sure — the best times are those spent outside, enjoying the incredible nature. If you haven't figured out your itinerary yet, then check out the following to make the most of your trip.
Spring – Hiking
Spring is an absolutely beautiful time to visit Sedona. The permafrost disappears, the greenery returns, and the weather stays refreshingly mild.
Yet for those very reasons, it is also the busiest time of the year. Hordes of tourists flood into the area after checking out the Grand Canyon which keeps the hotels, restaurants, and cafes wildly busy. And whilst those venues are still good fun, there is an even better way to enjoy spring in Sedona — hiking.
Hiking in Sedona is an absolute treat as the natural scenery is truly one of a kind. Those who set out on foot can choose from a variety of trails, many of which are free. Some do charge a small fee, but only to help maintain the natural area and preserve it for further visitors.
One of the best treks for visitors to take is the Devil's Bridge Hike. The journey, which varies in length from 2-4 miles round trip, provides unparalleled views of Sedona. It is far easier than many of the other hikes and has an abundance of trail markers for directions. Those who are brave enough can even venture out on top of the stone bridge.
Other notable hikes include Cathedral Rock, Soldier Pass, and Boynton Canyon. Hikers who choose Boynton Canyon may witness the energy vortexes which gnarl and twist the local vegetation through magnetic waves.
Summer – Swimming
Boy, do the summers in Arizona get hot! Hot enough that you can literally cook an egg on the sidewalk. So what better way to beat the heat than to retreat to a quiet oasis?
Though the area is primarily high desert, there are loads of great places to swim to escape the hot Sedona weather. Hidden rivers, oases, streams, and pools can be found in many places and can make for an awesome day trip. Thus, when it is a boiling 100 degrees, you will certainly want to head somewhere nice and refreshing.
One of the most popular spots for summer visitors to check out is the Slide Rock State Park. Like the name suggests, the park consists of smooth stone walls that have been worn soft by the river. As a result, visitors can toss themselves into the current and zip down the narrow shoot like a fleshy bobsled. And along the way, swimmers can take in the natural beauty of the red rocks and cliffs that surround the summer hot spot.
Another location worthy of a visit is Grasshopper Point, a swimming hole adored by locals and tourists alike. The 50-foot wide bend in Oak Creek has a bit of something for everyone, including the Instagram fiend.
Children can enjoy swimming in the tranquil water whilst adults can get their thrills by tossing themselves off of cliffs into the deep waters. And of course, the person who never leaves home without the DSLR can also get their fill as the local oasis is a true sight for sore eyes.
Autumn – Biking
Ripping through trails on a kick-ass mountain bike is a great feeling. The wind caresses your face, nature zooms by, and gravity becomes a double-edged sword. Subsequently, Sedona is just the place to get those thrills.
Mountain biking in the autumn Sedona weather is a real delight. The brutal summer heat diminishes, the days become breezier, and the scenery becomes more alive. Vivid colours illuminate the skylines, creating beautiful sights that simply can't be found anywhere else in the US.
Bikers of all experience levels can find epic thrills on Sedona's dusty trails. Dozens of paths cross through streams, around cliff sides, and between forests, providing a one-of-a-kind adventure.
Thus, one of the most notable tracks for experienced riders is Chuckwagon Trail. It is a bit of a smorgasbord as the trail offers a little something for everyone. There are parts that cross through streams, across slickrock, and on the edge of cliff sides. But beware, those who don't cycle often and aren't in decent shape may struggle with the track.
Riders that want something a bit more leisurely can cruise through the Bell Rock Trail which consists of level ground and easy loops. It's the ideal place for new cyclists and families to take on as the route is incredibly safe and simple to voyage through.
Winter – Hot Air Balloon Rides
Whilst it may be a surprise to many, Arizona does in fact fall under a blanket of snow in the winter. Yet that blanket only stretches across the northern regions where there is an abundance of small mountain ranges.
Due to Sedona's high elevation and proximity to the mountains, it also experiences a bit of a chilly winter. Beautiful permafrost covers the land for as far as the eye can see, creating a scene literally frozen in time. However, there is still plenty to do such as visit local cafes, restaurants, shopping centres, and spas.
Nevertheless, those activities can be found in any city, so they aren't of the utmost importance when visiting Sedona. So those who want something out of the ordinary can take a hot air balloon ride and float over the skyline on a clear winter day.
A journey on a hot air balloon is a truly unforgettable one. The massive floating fabrics whisk riders up, up, and away into a gusty sky where they can take in remarkable sights of Sedona. Those who are lucky enough can witness the beauty of the frost as it turns the red rocks into an icy wonderland.
You can do so many things for every season or weather in Sedona, Arizona. Pick your favourite season, pack your bags, and enjoy everything that Mother Nature has to offer in this place!
If you're planning to hike during the winter, you might want to invest in a good pair of winter boots!