Ultimate Guide To The Best Time To Visit Yellowstone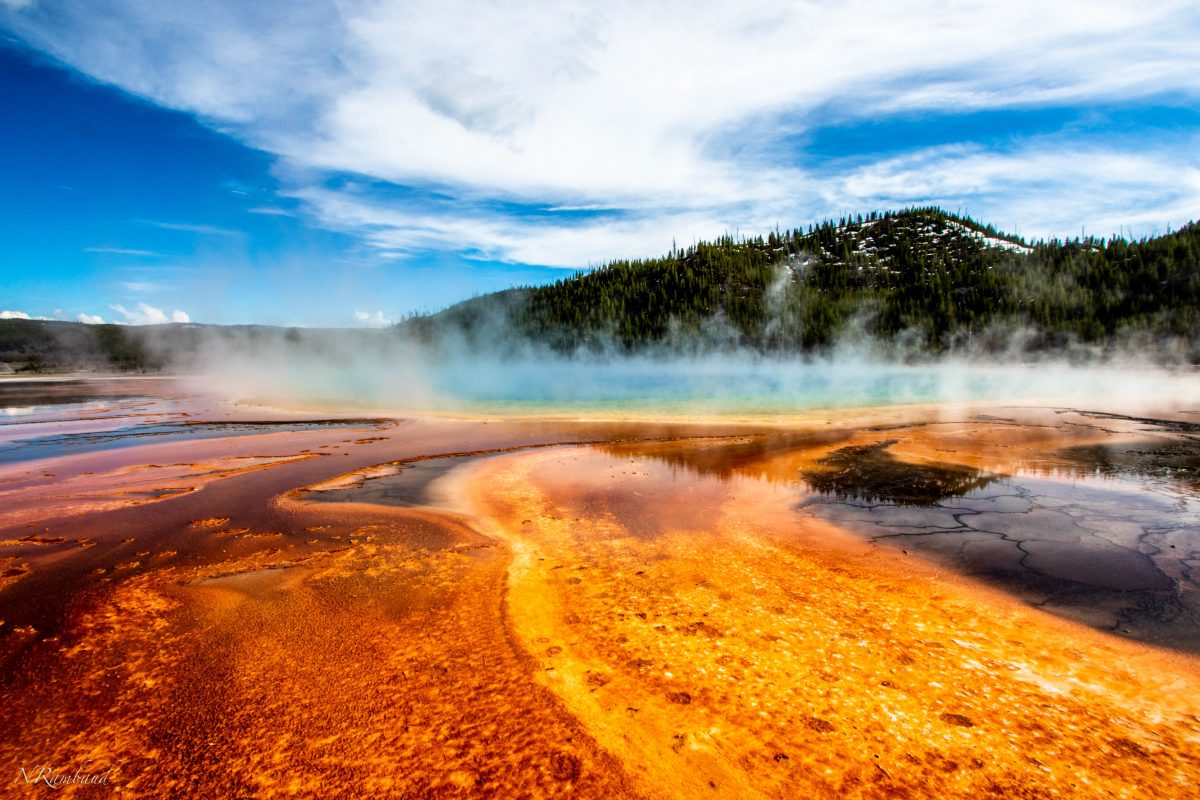 So, you're after a glimpse of the Grand Prismatic Spring and gushing Old Faithful but you aren't sure what the best time to visit Yellowstone is? Look no further than this comprehensive guide. It takes a look at the highs and lows of all four seasons in this iconic American reserve. There are details on how hot you can expect it to be midsummer. There's info about the snowdrifts come December. Between it all, you should get a good idea of the unique weather Yellowstone has, and take the first few steps towards booking your adventure.
What's more, we'll highlight some of the best things to see in Yellowstone for each month of the year. That might mean sightings of Yellowstone Falls in full spring-melt flow, or visions of colossal icicles when the mighty cataract freezes in the winter. It could mean tips on when you can catch the wildflower meadows in full bloom, or dates for the October rut.
In short, this guide to the best time to visit Yellowstone is key reading for anyone planning a jaunt to this amazing American hinterland…
Best time to visit Yellowstone National Park: Weather brief guide
It's really hard to pin down a description of Yellowstone weather. That's because this vast reserve covers a whopping 3,500 square miles of American backcountry. It ranges from the meadows of Montana to the canyons of Wyoming. In addition, the park might sit at an average altitude of 2,400 meters above sea level, but its tallest peaks go way higher. They clock up summit heights of more than 3,400 at the roof of the Rockies.
The upshot of all that is Yellowstone National Park weather is truly unpredictable. Yes, the seasons dictate a lot of the changes. But you've also got to factor in that lower altitudes will be warmer. In fact, mid-summer averages show temperature variations of as much as 80 degrees between night and day at different levels of the park!
And there's an added curveball in Yellowstone. Heated by a colossal supervolcano, the whole reserve steams with vents and fumaroles. The geological action is so powerful that it's responsible for all manner of little microclimates. That means you could be cruising through woodlands with the Wyoming rays beating down one moment only to catch a hefty blizzard the next. In short: Yellowstone weather is fickle.
Yellowstone – season by season
A great way to pinpoint the best time to visit Yellowstone is to get a feel for the various seasons in this cut-out of the Rockies. The truth is, the park looks truly stunning any time of the year. Whether it's blanketed in frost or shimmering under the summer sun, there's always something that will take the breath away. That means the trick is settling on the time of year that you'll enjoy the most, with the conditions that you think the best suit your individual trip. Let's take a look…
Visiting Yellowstone in the winter
Averaging under 20,000 visitors per month from December to March, Yellowstone in winter is the least busy time to come. That's great news if you want to catch highlights like Old Faithful and the Grand Prismatic Spring without the crowds. However, you'll need to be aware that conditions can be harsh!
Average highs in some parts of the park are just 37 degrees (3 degrees Celsius). And then there are the spine-tingling lows of just 3 (-16 Celsius). That's at the point when water droplets freeze right on your face!
So, you'll need to bring the right gear and plenty of thermal clothing, including underlayers, gloves, scarves – the whole shebang. In addition, recommendations on where to stay in Yellowstone will alter. Most folk who visit Yellowstone in winter will prefer the comfort and warmth of a lodge or cabin. You'll probably want to skip roughing it in backcountry campsites.
Things to see in Yellowstone in the winter
Warnings of chills and shivers aside, Yellowstone in the winter is an enticing prospect. The landscapes of Wyoming and Montana get plumed in crystals of snow and ice at this time of year. There's hardly anyone else around, and the geysers look simply otherworldly. Old Faithful still shoots into the air, only it's steam vapor quickly freezes outside and falls as sparkling snowflakes. The springs around Mammoth draw bathers who want volcano-warmed waters surrounded by fir forests and mountains. Meanwhile, snowshoeing and snowmobile outfitters offer to take you off-piste. Choose an adventure with them and you'll be chasing bison herds and prowling wolf packs in the backcountry.
Before visiting Yellowstone in the winter, be sure to check for road closures. These occur every season on account of the high snow levels. If you're wondering how to get to Yellowstone, they can seriously affect travel plans. That's because the main West Entrance close to the Yellowstone National Park Airport is usually shut. The only car access it's typically via Gardiner and the North Entrance. However, snowmobiles and park-run snow coaches are still permitted on most routes.
Yellowstone in spring
Before the high-temperature days of summer hit, and before the big crowds come, spring in Yellowstone is one for those who like to chase the shoulder season.
It's worth pointing out that early spring is a whole different kettle of fish to late spring in Yellowstone National Park. The altitude on the Rocky Mountain plateau means that there can still be surprise blizzards and huge snowfalls well into May in these parts. They are much more likely in April, however, as are those chilly sub-zero days.
The upshot is that you'll need to be versatile with your choice of gear and clothing. You can go camping, but recommendations on where to stay in Yellowstone during the spring also typically include official Yellowstone Lodges with heating, fireplaces and comfortable beds.
Things to see in Yellowstone in spring
At more than 2,000 meters above sea level, Yellowstone rarely gets the same spring as the lowlands of the US. However, as the snows begin to recede and the mercury cranks upwards just a little, there are some goings-on in the park that makes it a truly amazing place to visit.
Top of the bill is the increased animal activity. Grizzly bears come out of hibernation. Wildlife viewers can take to the newly opened roads on the bicycle to see them trudging through the muddy meadows. There are also booming populations of elk, bison, and wolves, all fresh from a hard winter with their young.
These bucket-list sights bring extra precautions with them. Anyone looking to see the fauna in spring will need to be vigilant and keep a good distance. Bears are at their most aggressive, and all creatures can be expected to protect their litters.
Hiking isn't top of the bill in Yellowstone during the spring because the snowmelt brings mud to most of the trials. That makes them dangerous and even downright impassable at points. If you're eager to hoof it in your boots, it's best to pick another time of the year.
Yellowstone in summer
As far as Yellowstone weather goes, summer is the best time to visit Yellowstone of all. From late May to the end of August, this land blooms into life. It's the Yellowstone National Park you're likely to have seen on postcards, all dressed in asters, orchids, and clovers. The peaks retain dashes of snow in some places, while the muddy spring fields change to green grass.
Temperature highs increase from June to August. They go from the low 60s to the high 70s throughout the months. Sometimes, it can even get positively balmy up on the slopes of the Rockies at this time of year.
The downside of the pleasant Yellowstone National Park weather that summer ushers in is in visitor numbers. Crowds of people flocking to Wyoming, Montana, and Idaho swell considerably. In fact, as many as two million holidaymakers and adventurers come flowing through the gates of the park between Memorial and Labor days!
Things to see in Yellowstone in summer
Come summer, Yellowstone is well and truly open for business. That means all the jaw-dropping sights and wild adventures the park has up its sleeve are on the menu. The hiking trails are all open. The biking routes are ready. You can drive on beautiful parkways that were hidden under tons of snow only months before.
Of course, the mainstay sights are a must. They include the resplendent Grand Prismatic Spring – the largest hot spring in the United States. There's also Old Faithful, which draws summertime crowds as it spurts boiling water more than 32 meters into cloudless skies. What's more, the trekking paths to more hidden geothermal wonders are all accessible. They include the routes to the Lone Star Geyser Basin and the Shoshone Geyser Basin, which are great places to head if you're keen to escape the crowds (and there's sure to be crowds!).
Meanwhile, on the Wyoming side of the reserve, Canyon Village comes alive during the summer. Bursting with some of the top things to see in Yellowstone, the area has the mighty Yellowstone Falls. They crash into the majestic Yellowstone Canyon, which is ringed by walking paths and lookouts. Visiting all that during the warmer months ensures you'll have dramatic routes like the North Rim Drive all cleared of snow.
Yellowstone in fall
Last but not least comes Yellowstone in the fall. Loads of locals say this is the single best time to visit Yellowstone. It's when visitor numbers start to plummet, and the park takes on the familiar autumn hues – red-tinged woods, sun-baked grasslands. You'll have loads of opportunities to explore, particularly before the first snowfalls of the season come in earnest.
Just be aware that Yellowstone in September is different from Yellowstone in November. Temperature averages go from around 62 to just 33 in that same period. And the Yellowstone weather can change dramatically.
The upshot? Yellowstone in October is perhaps the perfect balance. It's got mild days (jackets and thermals might be needed) but way fewer people. And it is high time to explore the countryside as it changes color.
Things to see in Yellowstone in fall
There are oodles of reasons why people hail the fall as the best time to visit Yellowstone. With the summer haze and heat just a memory, photographers can get crisp, clear snaps of the Rockies. What's more, day-long cycle jaunts are made possible by milder conditions. And all that web of hiking trails tends to stay open for most of the season.
Wildlife buffs will enjoy Yellowstone in October. That's when the annual elk rut begins. It's also when huge herds of bison can be spotted roaming the plains. Adventurers should stay vigilante against bears, however. Reduced numbers of trekkers on the paths means more solitude, but it also makes it more likely you'll happen upon a grizzly.
Thermal attractions aren't hemmed in by the same huge crowds in the autumn. Around Mammoth, you can sometimes find the Boiling River bathing areas totally empty. In addition, iconic landmarks like Old Faithful are free to do their thing without hundreds of onlookers.
Local amenities and choices of where to stay in Yellowstone will start to close en mass as fall wears on. That means you should always pre-plan how to get to Yellowstone and accommodation near the sights you want to see in autumn.
Takeaways
While everyone has their own preferences of choosing the season and time to visit Yellowstone, our guide breakdown each season to make sure you find the best time to visit Yellowstone. Check out our other guides for national parks in California here.
Share with us your experience here at Yellowstone. We love to hear from you!