Everything You Need To Know About A Korean Spa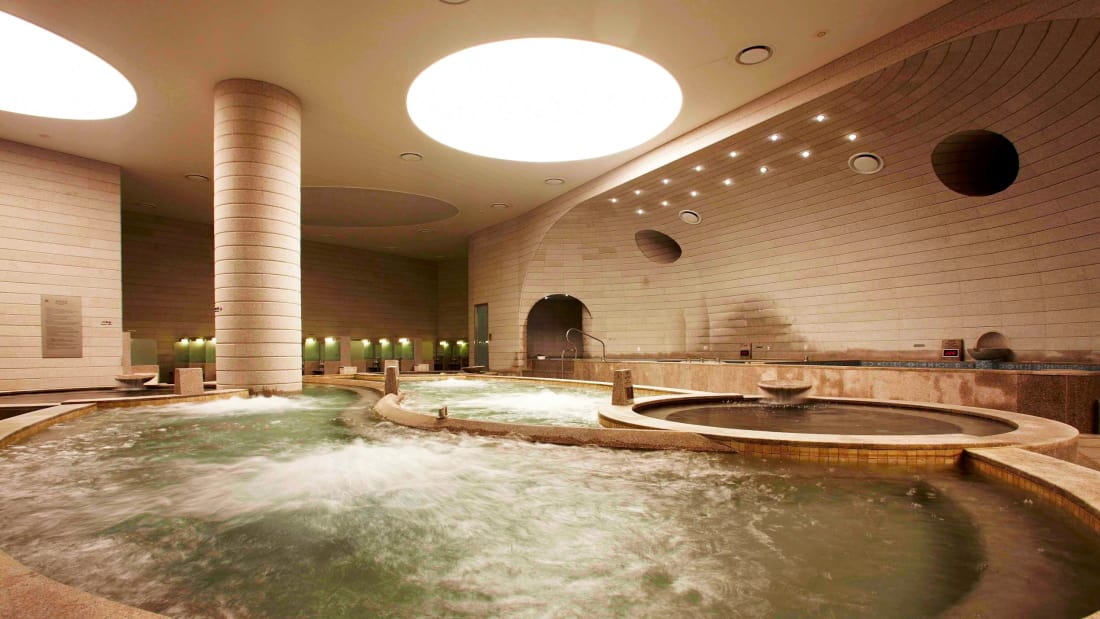 Want to know how locals in South Korea relax after a hard day's work? The best way to find out is to experience it yourself. Spending time in Korean spas or Jimjilbang is a popular way to get some R&R in South Korea. It's a unique experience you mustn't miss out while visiting this wonderful Asian country.
What's Unique About A Korean Spa?
For a lot of people, the idea of a spa involves medicinal baths, saunas, facials, and massages. Korean spas have some similar qualities to the normal idea of a spa, but they have their own quirks that make your time at one interesting. Despite all the quirks many tourists may not be used to, it's still a good place to relax.
The Korean spa, jimjilbang as locals call it, we refer to in this article is more akin to a bathhouse. To put things simply, it's a segregated Korean bathhouse where you can spend time to unwind and pamper yourself.
Usually, spa establishments in Korea have all the amenities you'll need to pamper yourself and even rest for the night. Many of the people who visit this place often stay for the night. It's a popular place to take a break for both locals and tourists, both young and old.
There's one thing of note that a lot of tourists, just like you, might be intimidated by. When you enter the bath and sauna of Korean spas, you must be in the nude, just like everyone else. Usually, there's no exception to this rule, even for foreigners and tourists, but you don't have to worry since this is the norm here. And because it's normal, people inside the baths and saunas with you will pay you no mind.
Inside The Korean Spa
If you're planning to spend some time at a Korean spa, you need to familiarize yourself with some of the areas in the establishment. Here's a rundown of the areas you need to know. There may be some variation among different spas, but the following are the rooms they usually have in common.
Lockers
Since there's a lot of stuff you can't take inside the Korean nude baths and saunas, many of such establishments have lockers where you can keep your valuables. Usually, shoe lockers are located before you reach the front desk, while lockers for your bags and clothes often are available in the changing rooms. Some, however, have a separate room dedicated solely for lockers. Depending on the spa you go to, your shoe locker and changing room locker may have the same key. Some establishments may also use keycards instead of the traditional keys, so make sure not to lose them.
Changing Rooms
When you're in a jimjilbang, you need to change and undress before going to the bath and sauna. For this purpose, changing rooms are available. Men and women's changing rooms are segregated, and there usually are lockers for your clothes located inside for every customer's convenience.
Baths
This is one of the places where the people in Korean spas unwind. The communal baths in this establishment are, of course, segregated for men and women. The bath area in a jimjilbang is made up of different tubs filled with waters of varying temperatures. Usually, the water temperature in different tubs can go up to 40°C. But before you hop into one of the tubs, you'd want to head over to the shower area first and clean up.
Sauna
Like the baths, the sauna area for Korean spas is made up of different saunas, with varying temperatures. It's a good place to relax and sweat out all the impurities you need to eject from your body. If you're lucky, the jimjilbang you visit may even have a cold room that you can try out!
Usually, you don't have to be in the buff when in the sauna area of a Korean spa. However, if you're more comfortable in a nude sauna, jimjilbang often have one of those too, and you can that out if that's more of your jam. Korean spas are diverse and many of them offer a wide variety of themed sauna rooms as well, so be sure to check unique sauna rooms on your trip to the spa as well.
Sleeping Area
As mentioned before, there are many patrons who stay in a Korean spa all night. Usually, they would rest and let the night pass in the designated sleeping area of the spa. However, these areas may not be like what you'd imagine.
When you think of sleeping areas in resorts, you'd imagine beds or bunk beds where you can sleep on. However, in a Korean bathhouse, you usually sleep on the floor in a hall, with a sleeping mat. Of course, there are some Korean spas that have bunk beds or capsules too. But don't expect to always find this option.
Common Room
Not all rooms in a Korean spa are segregated. Usually, there's a common room open to both men and women, with a lot of fun activities you can do while not relaxing in the baths or resting in the sleeping area. Some spas have common rooms with arcades, PC Bang, massage chairs, TV areas and snack bars where people can hang out and have fun.
What To Do While Visiting A Korean Spa
This section of the article will walk you through the things you must do and must try out while in a Jimjilbang. If you're going to visit one, looking for an authentic experience, why not make the most out of it?
1.
Check-In At The Front Desk
The first thing you need to do when visiting a Korean spa is to check-in at the front desk. There are two usual ways to do this. First is to go directly to the front desk, talk to the receptionist and check-in. The second one involves an entry ticket vending machine right in front of the establishment. Get your ticket and present it at the front desk.
Once you've checked in, the person at the front desk will give you a wristband, the keys for your lockers, spa outfits you can change into, and a clean towel for you to use. Leave your footwear inside one of the lockers in the shoe locker area, and then head on over to your designated changing room area.
Whether you plan on lounging around or heading over to the baths, you must head to the changing room after checking in. There, you'll find lockers where you can leave your valuables. If you plan on immediately going to the baths, strip down and leave your clothes inside the locker. However, you can also opt to lounge around the common room first. If you plan on doing this, change into the comfortable spa clothes that the jimjilbang provided.
3.
Try Out The Different Baths And Saunas
The main attraction of a Korean spa is its baths. As mentioned before, when going to a Korean nude bathhouse, you can usually find many different baths, some of them are medicinal baths, containing water in varying temperatures. Many of which are within the 38°C – 42°C range.
Before you try out the baths, though, make sure to wash thoroughly first. You must be clean before joining any communal baths. Usually, the establishments provide the soaps and shampoo you need, but many also allow their patrons to bring their own. The practice of washing up before heading to the baths is a common courtesy practiced in all Korean spas.
After washing up wrap your hair with your towel and try out one of the baths and unwind. You can try out different bathtubs during your time there to see what most relaxes you. We recommend alternating between hot and cooler ones so that you can avoid getting dizzy while you're there.
If saunas are more your thing, depending on the establishment's rules, you can either go with your spa outfit on or naked, with just a towel covering your body. The idea of a sauna in a Korean spa is similar to what you'll usually think of in the spa world. However, you'll get to choose which type of sauna you want to stay in, which temperature and what theme.
While in a bath or in a sauna, always remember to know your limits. Hot and even scalding temperatures can affect you greatly, so don't stay for too long at a time. Also, remember to drink water and keep hydrated all the time.
4.
Try Out A Korean Spa's Body Scrub And Massage Services
After soaking for a while in the baths, you can opt to pamper yourself even more by trying out a Korean body scrub. Many Korean spas have designated areas where you can get a Korean spa. Simply lie down on one of the many tables and one of the attendants will scrub and exfoliate your skin with rough brushes or cloth.
When you get a Korean scrub, however, expect to shed like a snake. The primary reason people get scrubs is to get rid of the dead skin cells in the body. After your scrub, you'll definitely see the difference as your skin will feel smoother and will look clearer.
Apart from a scrub, many Seoul spas also offer therapeutic massages for their patrons. Usually, you can choose from a wide variety of massages to enjoy, such as hot stone and oil massages. All you have to do is go to the massage area, talk to a massage therapist available and get on the table.
Once you're done with the baths, scrubs, saunas, and massages, change back into your spa outfit and take advantage of the common room and sleeping areas. There's a wide array of activities you can do in the common room as Korean spas provide amenities for you and your companions to have fun.
Want to play some games? Head on over to the arcade or the PC Bang. Usually, there's also a TV room where you can watch a movie or your favorite K-Dramas. If you want to sing, there are also karaoke rooms you can use. You can also get some awesome Korean food and drinks while in the common room. Try getting Sikhye, a sweet drink made from rice that you can usually get at a Korean spa.
If you plan to stay overnight, you can go rest at the spa's sleeping hall. Traditional sleeping halls are usually just an open area where you'll sleep on mats on the floor. However, there are more modern spas offering sleeping capsules where you can catch some Zs.
6.
Time To Check Out Of The Korean Spa
Once you've done everything you wanted to do, it's time to check out. Change back into your own clothes and empty your lockers. Leave your used spa outfits and towels in the designated bins and head on over to the front desk. There, return your locker keys and wristband, and pay your tab. Done? Then you're ready to leave.
Korean Spa Recommendations
Location: 49, Jungnim-ro, Jung-gu, Seoul, Korea
Basic Rates: 9,000 – 17,000 KRW ( $8.2-15.5)
Reasons to Visit: It's a traditional jimjilbang that provides patrons with the best Korean spa experience.
The Spa In Garden 5
Location: 10, Chungmin-ro, Songpa-gu, Seoul, Korea 138-962
Basic Rates: 8,000 – 12, 000 KRW ($7.3-11)
Reasons to Visit: An affordable jimjilbang with upscale amenities, The Spa in Garden 5 also offers a wide and diverse menu of medicinal baths, saunas, and treatments you can try out.
SeaLaLa Waterpark and Jimjilbang
Location: 164 Mullae-ro Yeongdeungpo-gu Seoul (B2)
Basic Rates: 8,000 – 10,000 KRW ( $7.3-9.5) for the spa
Reasons to Visit: It doubles as a waterpark where all members of the family, young and old, can have fun.
Location: 35 Centumnam-daero, U-dong, Haeundae-gu, Busan, South Korea
Basic Rates: 15,000 – 18,000 KRW ( $12.50-15.20)
Reasons to Visit: One of the most modern jimjilbang and it opens from 6 AM onwards and all the way to 12 AM.
Experience Another Type Of Cultural Immersion In A Korean Spa
Tourists like you are often interested in the culture of the country you're visiting. If you're visiting South Korea, you'd want to know how everyone lived or is living their lives in that area. Of course, the usual way to get to know another country's culture is through their food, learning about traditions and history.
However, finding out how the locals spend time to relax and experiencing it yourself is another great way to get to know a culture. Korean spas give you that opportunity. When you visit one, you get to know more about the locals, all while spending some time to unwind. So, on your next trip to South Korea, take some time to relax and pamper yourself by visiting a Korean Spa.

Want to learn more about Korean Hanbok or the best way to chug down Korean soju? We got you covered. Click here for more…