9 Best Nude Beaches In Jamaica You Never Knew It Existed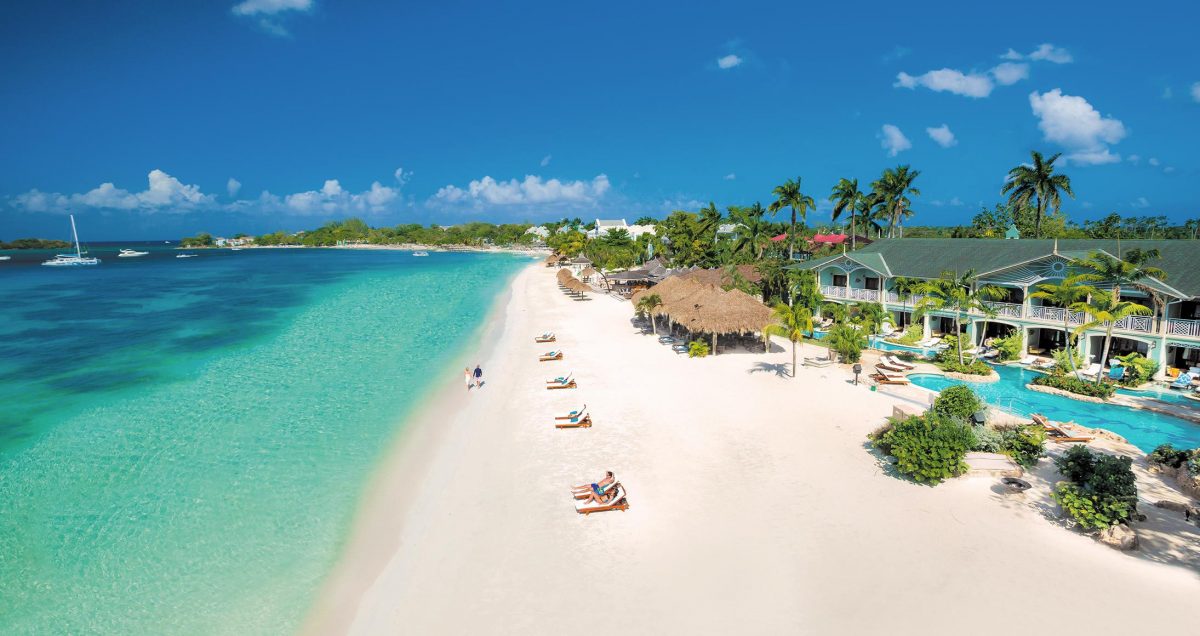 Taking a trip to the beautiful tropical island of the Caribbean is on many people's to-do lists. Who doesn't want to lie under the warm summer sun while the light tropical breeze glides over you as you attain a perfectly tanned body? Indeed, one of the best places to take a flight to is Jamaica. But what if you are looking for a nude beach? Do they have them on the island? If so, what are the top nude beaches?
In this guide, we are going to explore the seven best nude beaches in Jamaica. So, strip down and be ready to discover.
9 Best Nude Beaches In Jamaica
Though sunbathing topless is very popular on the island, you may find it hard to locate a fully nude beach. However, you can find many clothing-optional beaches near some resorts. So if you feel like letting it all hangout, then you must know just where to go.
There are several choices, but below we have carefully handpicked some of the best options for your all-natural Jamaican getaway.
1.
Grand Palladium Hamilton Resort & Spa
This is an all-inclusive luxury resort that has several pools, restaurants, and even shopping areas. The new modern look allows its guests access to several amazing activities. This resort is a family-friendly environment, but tucked away in its own secluded little stretch of beach is a clothing-optional private beach. This is an 18 or over area where you can work on your tan sans clothes.
All in all, staying at the Grand Palladium Hamilton Resort & Spa can be fun for the entire family. Enjoy the sun on this private beach that is easily one of the best nude beaches in Jamaica. And then while away at one of the restaurants, why not get the kids to bed and enjoy a fun evening at the bar.
Couples Negril is an adults-only resort that, like the previous entry, has its own separate private beach. This is for those sunbathers that prefer the natural method as opposed to having many funny lines in weird places. Additionally, this beach has its own area, which includes a hot tub and offers you some privacy for the most part.
At building #6, you can get a view of the beachside. It may not be very visible, however. Nevertheless, once you have that perfect tan from the beach, you can then enjoy the rest of the resort and all its world-class amenities.
Otherwise, sandals on Negril is another great alternative. Although not everyone participates in being nude. But this is private property, hence, it's totally legal to strip down without worrying about the rules & regulations.
This resort offers a large beach where clothing is prohibited. That means that you will have to strip down to walk the shores of this part of the coastline. Included in this area is a swimming pool that ends right at the beginning of the sandy area.
The great thing about this resort is that it has taken the larger area of its private beaches and made it into a nude beach. This means plenty of room to sprawl out, unlike other resorts that don't give you as much land to lie on. So if you are looking for one of the best nude beaches, check out Couples San Souci.
The Couples Tower Isle is one of the first all-inclusive resorts in Jamaica. It was also once a place where you could see Hollywood stars mixing with ordinary people. Though not as much a star destination as the Couples Tower Isle, this remains a beautiful beachfront resort offering a very unique nude experience. Instead of being a designated beach or section of the beach, this resort is actually a whole island.
Just a minute away by boat is where you can sunbathe in your birthday suit while enjoying all the amenities of the island. These include a swim-up bar or the beautiful beachside. There are activities as well that you can enjoy as you hang loose. This island is not clothing-optional. As such, the minute you step off that boat, you will need to disrobe and get ready to enjoy your au naturale adventure.
This resort is located on a little piece of Seven Mile Beach that is tucked away from the rest of the area. It offers a plethora of activities and restaurants that will make your couple's retreat a little spicier. Hedonism II has two beaches that are connected to the resort. One is referred to as the prude beach and the other, you guessed, is called the nude beach.
Both beaches have similar amenities. They both have a few pools, jacuzzis, and even a waterslide. You will, therefore, have the ability to enjoy the warm Jamaican sun any way you want whether with clothes or no clothes. This is a great all-inclusive resort with one of the best nude beaches on the island.
6.
Sunscape Splash Montego Bay
When many people think of nude beaches, they think of frolicking 20 somethings that want to parade around in the buff. At Sunscape Splash, however, you actually get a nude beach that is also family-friendly. Though kids are not permitted on the private nude beach, the resort itself is equipped to keep them busy while the adults indulge in a little naked sunbathing.
There are no cameras on the beach itself. This beach is also a no bathing suit place, which basically means that clothing is not optional. It is therefore clearly marked so that anyone not wanting to take part in walking around nude won't end up strolling in the area. This saves you from having to answer questions from the little ones which you are just not ready to handle.
7.
Grand Bahia Principe Jamaica
This site is an excellent option for the travellers that are looking for a little less party and a little more relaxation. There are plenty of activities that you can get up to while visiting the resort. Moreover, it definitely has one of the best nude beaches in Jamaica.
The beach itself is located at the western end of the private beach and is delineated by a tall fence that marks its boundaries. Therefore, when you are looking for a nude beach that offers a little extra privacy, the Grand Bahia Principe resort may be an ideal option for you.
8.
Couples Swept Away Negril
If you are getting away from the kids or just want a child-free resort for your Jamaican vacation, then booking your stay at the Couples Swept Away Negril is the right choice. This modern-designed resort offers a large spacious complex and a stunning beach. You can hang around with adults that think the way you do and not worry about those pesky tan lines.
By staying at this Couples resort, you can indulge in the Caribbean culture. Plus, you can enjoy the area's natural beauty while sporting what your momma gave you. You can also lounge on the beach and enjoy live music. Either that or swim in the crystal blue waters unfettered by those bothersome clothes without any fear of getting in trouble. In fact, the only concern you may have is putting on enough sunscreen especially in the delicate areas.
9.
Grand Lido Negril Au Naturel
This all-inclusive adult only (over 21) resort is a nice boutique hotel that offers an outstanding view of the crystal-clear waters of the Caribbean. This entire resort is clothing-optional and has many great amenities that make it worth looking at. You can book one of the 26 suites that look out on a private alcove area of the bay. You can also have butler service and access to the other two resorts attached to the hotel.
Though there may not be any restaurants on-site, the ones attached to the two sister properties are close enough making this a minor drawback. Taking an adult vacation at the Grand Lido Negril Au Naturel is a great way to take advantage of one of the top nude beaches in Jamaica.
Final Thoughts
If you are heading to Jamaica and want an excellent nude beach where you can feel comfortable, then we hope that this carefully crafted list of the top nude beaches in Jamaica has helped you out. Whether you are a first-time sunbather or a seasoned pro, there is no doubt you'll feel comfortable at these resorts.
Not only will you have access to some fantastic au naturel beaches, but these resorts have so many great amenities your stay will leave you with many unforgettable memories. So why not pack your suitcases and head out! Remember, you don't have to pay for that swimsuit, because it's time to work on that line-free tan!
If you enjoyed this article about the best nude beaches in Jamaica, check out our article about the 5 Best Beaches In Puerto Rico To Visit On Your Trip.