Things To Do In Nice, France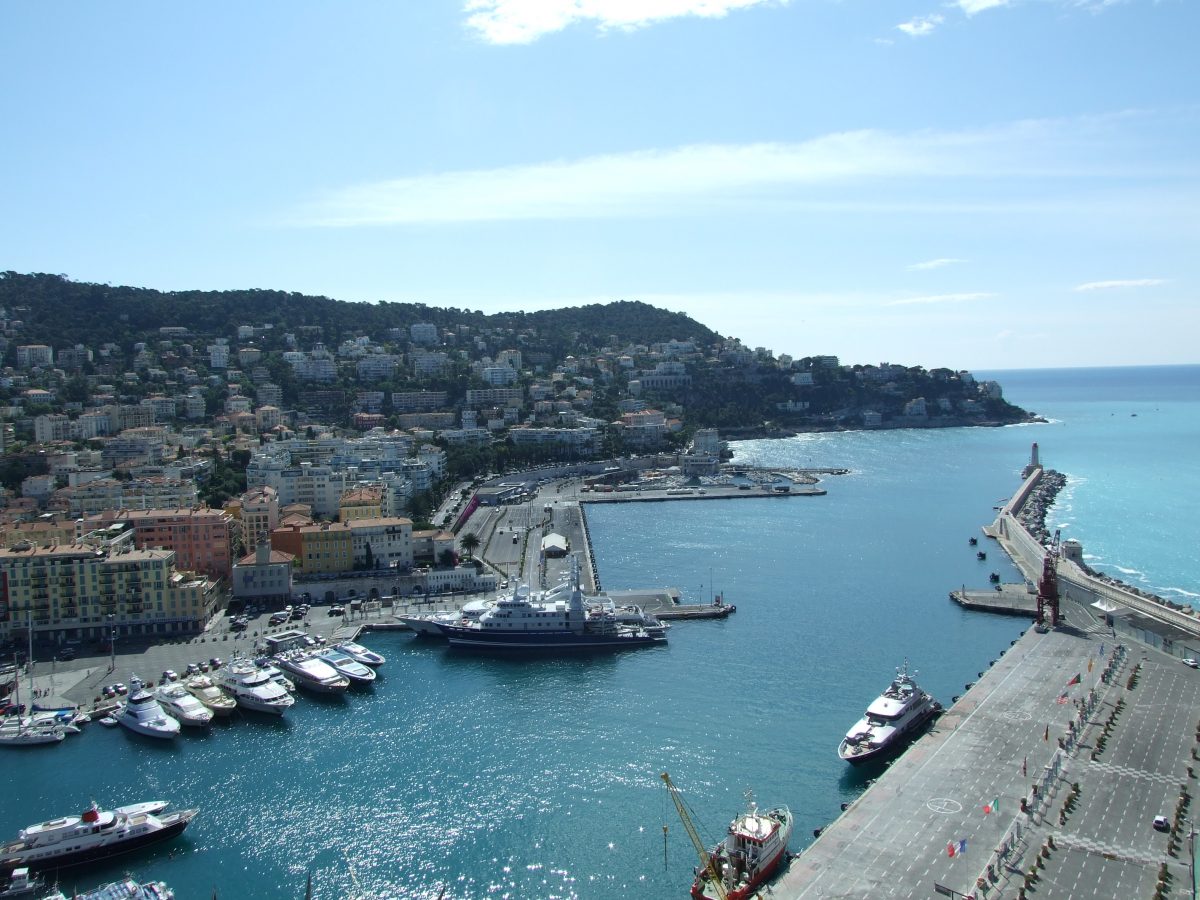 Nice, a lovely city in the south of France, is a great holiday destination.
It's an incredible place to try delicious French cheese, savory wine, and southern French cuisine.
Exploring all corners of magical Nice and its fascinating coastline is enough to make a perfect holiday.
Why Is Nice A Popular Destination?
The city of Nice is also known as Nice La Belle or Nice the Beautiful. Most people agree that Nice is, indeed, the most beautiful city in the south of France.
Nice has been popular with tourists and merchants since the 18th century. Thanks to its geographical position, the mild climate of the area has always attracted tourists from England. Thus, the English preferred spending winters in Nice than in their freezing, damp homeland.
However, nowadays, people from all over Europe and the rest of the world don't hesitate to visit Nice.
Not only did Nice become attractive for its stunning waterfront, but also for its culture. For one thing, culturally speaking, Nice is a perfect mix of Italian and French culture.
What's more, Nice will amaze you with clear waters of the Mediterranean, its architecture, museums, and galleries.
Nice And The French Riviera
The French Riviera is the Mediterranean area of the southeast of France. Although there is no clear boundary where it begins and ends, the coastline has plenty of resort areas.
What's more? Cote d'Azur has always been a retreat for the wealthy and a symbol of prestige. On the other hand, exploring the French Riviera has become more affordable recently.
Can you just imagine 550 miles of beautiful beaches, picturesque towns, and cities, breath-taking views, perfect blue water?
However, Nice is the capital of the French Riviera. Some of the most beautiful French Riviera beaches spread along the coastline of Nice.
Promenade Des Anglais
A lot of cities in the world have great seaside walking areas. However, none of them can match the iconic Promenade des Anglais. This 7-kilometer walkway is popular both with the tourists and the locals.
Thanks to the English who built it, you can now take long walks down the coastline, enjoying the scenery.
Furthermore, doing sports in Nice is an interesting experience since you can go rollerblading or jogging. If you are into a more relaxing evening, you can sit at one of the benches and enjoy the view on the Mediterranean.
Finally, let's not forget that even the famous Nice carnival takes place here in February. The carnival alone is an amazing event that should make your visit fantastic. Confetti, a plethora of different colors, lively music, cheerful people, and a vibrant atmosphere. What more can one ask for?
Then again, if you are more into having a relaxing beach holiday, head out to one of the great beaches in Nice.
Popular Beaches In Nice
1.
Opéra Plage For A Relaxing Day
Visiting the oldest private beach in Nice, the Opéra Plage, might be ideal for those who want an all-inclusive relaxation package. Do you need a massage? No problem, a masseur will give you one right there on the beach.
You can find it easily on the Promenade des Anglais since it is one of the most popular French Riviera beaches. What's more, the waterfront terrace also serves food from noon to 5 pm.
2.
Castel Plage To Enjoy Night Swimming
If you like less crowded beaches, then the private Castel Plage is the right choice for you. It opens at 10 am and closes at midnight. You can spend an entire day lazing around by the water enjoying some of the finest French rosé wines.
This beach is on Quai des États-Unis, at the far end of the Promenade des Anglais which makes it quieter than others.
3.
Ruhl Plage Is Perfect For Families
Are you looking for a great beach for children? Ruhl Plage sits near the Théâtre de Verdure and Albert 1er gardens on the Promenade des Anglais. It's ideal for children since there is a saltwater pool for kids with a lifeguard on duty. Therefore, parents can enjoy some dips in the Mediterranean too.
4.
Blue Beach For Those Who Are Sporty
Situated on the Promenade des Anglais, Blue Beach is perfect for all water sports enthusiasts. Parasailing, wakeboarding, waterskiing. What's more, spending a day basking by the water is also possible since you can rent beach beds.
Nice And Its Numerous Museums
In spite of being a coastal city with beautiful beaches, Nice is also famous for its museums. Even if you are not very artsy, don't miss the chance to visit wonderful museums situated in centuries-old villas.
Two Must-Visit Museums In Nice
1.
Musée Matisse To Enjoy Impressionism
France is a country famous for its artists, especially Henri Matisse. Within the walls of Musée Matisse, you can find a stunning collection of statues and prints.
If you have ever wondered: "What is Matisse like?", then you should visit the museum and discover his impressionist's style. Thanks to a timeline on the first floor, you can explore various periods of his outstanding art.
However, do be aware that all the explanations are in French. On the other hand, you can still get books in the store in English, German and many other languages.
Do note that the museum is in a beautiful olive garden, so you can enjoy taking a stroll too.
2.
Must-see Marc Chagall National Museum
On your way to the Matisse Museum, you will bump into the Marc Chagall National Museum. His first paintings were a set of Old Testament stories. You should take the opportunity to visit the museum as it's highly unlikely you will be able to see them elsewhere.
Furthermore, you will be grateful for headphones in English explaining every painting. Even though there is no much diversity in Chagall's art, every Chagall's fan will enjoy the chance to see his early pieces.
Finally, once you are done browsing the paintings, you can make a break in a lovely café in the garden. Having a refreshing drink under the trees might as well be an ideal end to your visit to the Marc Chagall National Museum.
Have Some Extra Time? Head To These Museums
1.
Stunning Musée Masséna
Situated on the Promenade des Anglais, this villa attracts the attention of passers-by due to its beauty. You can get a glimpse of French history since Napoleon's death mask and his wife's tiara are there too. Furthermore, you can also take a look at the letters they sent to each other.
Additionally, you can take a stroll down the perfectly maintained gardens. The rich interior should give you an idea about how luxurious life was in 19th-century France.
2.
Musée D'Art Moderne Et D'Art Contemporain
For those who are fans of modern art, the Museum of Modern and Contemporary Art in Nice will be a paradise. The building itself is a stunning architectural piece of work.
However, inside, you can find an array of different collections of American and French artwork from the 1960s to the present. If you are a fan of Yves Klein, then you will be happy to see a wonderful yet also permanent exhibition.
Exploring The Rich History Of Nice
Nice might be one of the biggest cities in France, but thanks to its position, it has a rich history worth exploring.
1.
Can't Miss The Views From The Castle Hill
If you want to see Nice, the bay and the beautiful sea, don't waste your time. Head to the Castle of Nice as soon as possible.
The Castle Hill of Nice was built in the 11th century for military purposes. However, nowadays, it's one of the most popular tourists' attractions.
On the other hand, a lot of people find it challenging to get to the top of Castle Hill on foot. Alternatively, you can take the lift, but keep in mind that it looks old and run-down.
It offers fantastic views of the bay and Nice. Furthermore, you will certainly enjoy seeing the artificial waterfall. It will cool you down with its mist on a hot summer day.
Moreover, two historic cemeteries, the Jewish and the Catholic one, are also worth your visit. You can see the tombs of aristocrats and famous people as well.
2.
Live Like The Locals Live In The Vieille Ville
If you get tired of Nice's broad boulevards, you should hide in the oldest part of the city – Vieille Ville. Can you imagine strolling down alleys with local shops and restaurants?
Even though the Old Town of Nice is quieter and not so touristy, its colorful markets are amazing. Apart from fruits and vegetables, you can find a variety of handmade products including soaps and jewelry.
Plenty of bistros serve traditional French dishes that are simply mouth-watering. Don't skip desserts since you can find delicious ice cream and sorbets on Place Rosetti.
Spectacular Sightseeing in Nice
Nice is not only known for its expensive stores and luxurious yachts. What makes this city truly charming and elegant is its architecture.
1.
Popular Gathering Square – Place Masséna
Nice is proud to have a square as broad and vibrant as the Place Masséna which is cherished both by the locals and the tourists.
It dates back from the 1840s and it represents historic, the main square in Nice. All the Pompeian red buildings with white window frames remind of Italian architecture. Make sure to look at the statues up on the large poles as they are truly magical.
Even though there are plenty of restaurants, cafes, and shops, you can still enjoy walking up and down the square. What's more, a lot of street artists dance and play classical music so you can enjoy a vibrant atmosphere.
2.
Mesmerizing Palais Lascaris
Nice is home to numerous old villas and buildings that make its architecture unique. Nevertheless, The Palais Lascaris is one of the oldest buildings dating back from the 17th century. Architecture enthusiasts will be happy to hear that it's perfectly preserved both on the inside and on the outside.
For instance, the staircase between the first and the second floor is stunning and the ceilings are mesmerizing. The place itself is beautifully furnished with amazing paintings and tapestries on the walks.
Nevertheless, today the palace is a musical instrument museum with different variations of standard instruments and 19th-century harps.
Beautiful details and frescoes of the baroque Palais Lascaris attract more and more visitors every year, especially those who are into music.
Religious Buildings In Nice
France is a country of beautiful cathedrals and small churches. Nice is not an exception and visiting at least a few should be on your list. Not so much for the religion itself, but these buildings are breathtaking works of art.
1.
Unique St Nicholas Russian Orthodox Cathedral
Many people are surprised when they learn that Nice is home to the most important Orthodox cathedral outside the Russian Federation.
Royal Family built it in the mid-19th century for the growing Russian population inhabiting the French Riviera. It was named after Tsesarevich Nicholas Alexandrovich, the son of Tsar Alexander II, who died of meningitis in Nice.
When it comes to architecture, the cathedral really stands out because of its Old Russian style.
On the other hand, some elements are quite different than traditional Russian architecture. For example, the Greek cross plan with five domes that represent Jesus and the four evangelists. What's more, a rich iconostasis made in Russia is truly fascinating so make sure you go inside the cathedral.
Although it cannot be compared to the breathtaking cathedrals in Moscow and St Petersburg, it's still unlike anything else you will be able to see in France. Even if you are not religious, you should still give this place a chance. Take this unique opportunity to see what Orthodox churches look like.
2.
Cathedrale Sainte-Reparate
Do you think a religious building can leave you speechless? No? Then you should visit a lavish, baroque design of the 17th-century Nice Cathedral.
Once you are in front of it, you might not even realize it's a religious building.
However, the moment you step inside, it seems like a whole other world. All the sculptures, the paintings, and gilding are mesmerizing.
Architecture fans will be fascinated by high beams, perfect alter and amazing stain glass windows. Additionally, there are many small side chapels dedicated to different saints.
With free admission, this cathedral is worth your visit if you find yourself roaming around the Old Town Nice.
3.
Beautiful Architecture And Gardens Of The Monastère De Cimiez
If you get tired of baroque designs in Nice, you can walk your way to Monastère de Cimiez. This gothic monastery dates from the 14th century whereas its frescoes are from the 1500s.
The monastery's architecture is worth seeing. However, the real value is in its gardens that are simply excellent. If you want to run away from the hustle and bustle of Nice, this place is ideal.
What's more, you can enjoy a stunning view of Nice since the monastery is located on a hill. However, keep in mind that walking up a steep hill can be exhausting. Do remember you can always hop on a bus too.
4.
Breathtaking Notre Dame De Nice
Notre Dame de Paris might be the most beautiful gothic basilica, but Notre Dame de Nice is well worth seeing too.
It was built in the 19th century in white stones with golden details. While the interior doesn't look as glamorous, seeing the cathedral at night is a unique experience. It simply looks marvelous and impressive illuminated by night lights.
All you have to do now is to book a ticket to Nice. Imagine a holiday in this amazing city on the French Riviera. Sipping French wine. Tasting French cheese. Sightseeing. Staring at the perfect blue waters. La vie est belle, isn't it?