Things To Do In Cozumel, Mexico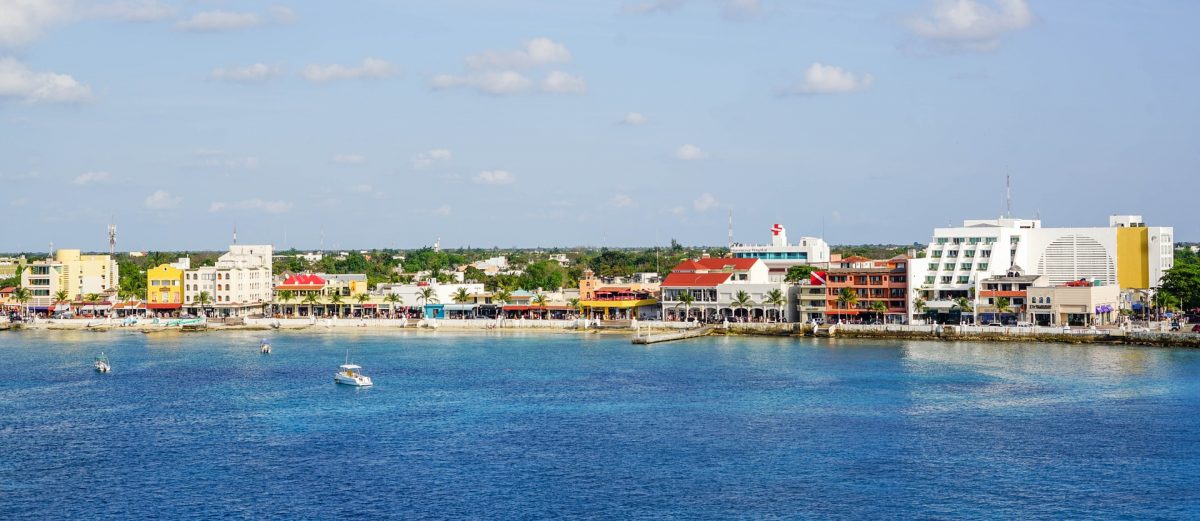 Cozumel happens to be Mexico's largest Caribbean island. While Cozumel offers an abundance of white sand beaches, swaying palm trees, and brilliant blue seas, there is also so much more that's worth exploring.
While it may tempting to spend your entire vacation laying on the beach, we think that you should definitely check out everything else that Cozumel, Mexico has to offer. Let's have a look at some of the top things to do while in Cozumel, Mexico!
1.
Punta Sur Ecological Park
Punta Sur Eco Beach is said to be the best beach on the island. If you're looking for the créme de la créme, Punta Sur Eco Beach in Cozumel is where you should head. The eco-park is one of the best places to visit while in Cozumel.
Punta Sur Eco Beach can be found on the south of the Cozumel and spans a massive 2,500 acres. It contains a diverse array of precious flora and fauna that include, although not limited to, crocodiles, sea turtles, exotic flowers, and breathtaking beaches.
If you're still not satisfied, be sure to visit the Mayan Ruins in the area. The El Caracol Ruins, also known as Tumba del Caracol, dates all the way back to 1200-1500AD. The El Caracol Ruins were built to serve as an early hurricane warning system for the Mayans. The roof give rise to a humming noise when faced with strong winds, which alerted the Mayans that danger approaching.
2.
Chankanaab Beach Adventure Park
If you drive a short 10 minutes away from the Cruise Port, you'll arrive at Chankanaab Beach Adventure Park. 'Chankanaab', in Mayan, basically means 'small sea'.
Chankanaab Beach is a great place to snorkel. Look out for schools of colourful fish swimming amongst the vibrant Mesoamerican Reef, which happens to be the second largest coral reef in the world. You will also see an array of underwater statues that create a unique museum of sorts.
You can also experience Chankanaab with the help of a submarine. Atlantis Submarines organises three daytime departures (10:00 am, 12 noon and 1:00 pm).
Be prepared to feast your eyes on the likes of the Felipe Xicotencatl wreck which went underwater in 2000 as well as huge schools of fish, sharks, turtles, stingrays, and lobsters.
Do take note that the park is closed on Sundays. However, it is open from Monday to Saturday between 8:00 am to 4:00 pm. The cost of entry for adults is $21 per person, and $14 for children aged between 3 and 11. Also, remember to bring your child's passport or ID as the staff are quite strict about age.
3.
Cozumel With A Catamaran
If you're time in Cozumel is going to be limited, we suggest you make use of a catamaran tour! It's one of the best ways to see the many different sights around the island.
You can take a load off and relax with drinks and snacks while on board. Alternatively, you can choose to snorkel the reef and make friends with the vast array of sea life. If you're lucky, you may even spot some sea turtles and maybe a shark or two!
While the waters around Cozumel are brimming with marine life, rest assured that it is very safe to swim and snorkel in these waters.
4.
Hop On A Private Jeep Tour
Another interesting way to experience Cozumel is to rent a private Jeep Tour. The private jeep tours come with lunch as well as the opportunity to go snorkelling.
A private guide will accompany you throughout the course of your tour and will take you to the best secluded beaches. To make it a full-blown party, there are also tequila tastings, a Mexican lunch of tacos, and of course, a margarita included in the tour.
5.
A Pirate Cruise And A Lobster Dinner At Cozumel
If you're looking for a little bit more excitement during your visit to Cozumel, a pirate cruise might just be what you're looking for! An old thematic Spanish galleon, a.k.a. pirate ship, will take you from the port on a 2.5-hour cruise with plenty of games and dancing.
There are several companies that organise pirate ship tours followed by a scrumptious lobster dinner. We recommend you check out either the Jean Laffite Pirate Dinner Cruise or the Sunset Dinner Cruise Cozumel. Both of which offer a fabulous evening of pirate-themed debauchery plus a delicious meal onboard.
6.
Visit The Cozumel Pearl Farm
This family-owned and operated Cozumel Pearl Farm makes for a splendid experience where you're taken to a private, uninhabited beach via boat. You will then receive a hands-on demonstration of pearl farming techniques!
The second part of the tour takes you to a pearl hatchery where you get up close and personal with growing pearls. You'll also get to see how reefs are grown and formed.
Remember to be on the lookout for the underwater, life-sized Virgen de-Guadalupe statue. The Virgen de-Guadalupe statue, now covered in a layer of moss, makes for a surreal experience underwater. Definitely something you don't want to miss while you're in Cozumel, Mexico.
Choose to spend the rest of your time swimming in the warm, inviting waters or snooze in a hammock in true siesta fashion! Of course, lunch and drinks are included as part of the tour.
7.
Visit The Mayan Cacao Company
A mere 15 minutes from downtown Cozumel next to the Playa Mia Beach Club is where you'll find the Mayan Cacao Company. If you're a person who just can't get enough chocolate, you owe it to yourself to visit the Mayan Cacao Company.
The Mayans made fantastic chocolate from the beans of the cacao trees. If you're still not satisfied, make your way over to San Cristobal de las Casas. There you can learn how the Mayans ground the beans into a paste before adding hot water after waiting for the cacao to ferment and dry.
The tour will take a little over an hour. Additionally, you can expect to try some exquisite ancient Mayan recipes and even buy some delicious chocolate to take home with you.
8.
A Plush Experience At Playa Uva Sur
Playa Uva Sur can be found on the west coast of Cozumel, Mexico and it's definitely a plush experience. If you'd like to enjoy the Uvas Beach Club, you'll have to pay an entrance fee of $15.
This will give you access to the basic package which includes a welcome drink, snorkel gear, a guided snorkelling tour which lasts for half an hour, half an hour of kayaking, and the marine park fees.
In addition to all of the above, you'll also be able to use the chairs, umbrellas, Wi-Fi, hammocks, and the restaurant/bar. The premium packages even include an open bar! We'd say it's good value for dollar.
9.
Shopping At Puerta Maya And Punta Langosta Mall
What's a vacation without a little retail therapy? With all the unique finds waiting for you in Cozumel, it would be a waste if you didn't at least check out some of the shops.
Puerta Maya makes for an exciting day of bargaining to get the best prices on everything from clothes to souvenirs! Alternatively, for a more modern shopping experience you could give Punta Langosta Mall a try!
10.
Scuba Dive Along The Mesoamerican Reef
If you're not a fan or snorkelling and would like to take things up a notch, try scuba diving when in Cozumel, Mexico. Few things compare to the experience of scuba diving along the Mesoamerican Reef.
If you're an advanced scuba diver, there are plenty of dive sites that you will appreciate. These dive sites will both challenge and delight you! Take the time to head down to the likes of Maracaibo, the Devil's Throat, Cathedral, and Barracuda.
If you exist on the other end of the spectrum and are a newbie looking to try out scuba diving, consider taking a PADI course. The Professional Association of Diving Instructors (PADI) allows you to learn, at a comfortable pace, how to scuba dive. The Cozumel Dive School offers PADI courses for those of you looking to attempt a scuba dive when you're there.
11.
Ha Haak Paddle-Boarding Cozumel
When in Cozumel, the water-related activities aren't limited to scuba diving or snorkelling. We've got good news for you, if you're an avid paddle-boarder, Cozumel is one of the best places to paddle-board at with its vibrant blue waters.
Fret not if you've never attempted paddle-boarding, the waters in Cozumel are gentle and calm enough to accommodate a beginner. Ha Haak gives beginners a very easy introduction to paddle-boarding which will bring you up to speed in no time. Additionally, you can check out a paddle-boarding course which costs roughly $35.
San Miguel can be found on the west coast of Cozumel, Mexico. One of the best things to do in San Miguel is to walk on the sidewalk along the seafront during sunset. We recommend you avoid a seafront walk during the day as cruise ships are in port during the day. Meaning that the sidewalk is teeming with cruise passengers.
While that may be the highlight of your time in San Miguel, there's also several other things for you to do. Look for the San Miguel Zocalo. A Zocalo is essentially a park. You will find that every Mexican city and town has a Zocalo.
If you find yourself in San Miguel with not much planned, head out for the evening and explore the Zocalo. Take time to get lost in the town's winding alleys. You'll be surprised with the number of free events you will stumble across.
13.
Experience A Temazcal In Cozumel
A temazcal is a Mayan ceremony, that many tourists strive to experience when in Cozumel, Mexico. During the ceremony, you begin by entering a brick hut which is kept warm with volcanic rocks. Not unlike your local sauna back home!
Once you're feeling all nice and toasty, you'll be greeted by a Shaman. During the temazcal, you will go through a process of cleansing, relaxation, and purification with the Shaman as your guide.
The ceremony wraps up with a much needed dip in a nearby cenote. If you're wondering, a cenote is a deep sinkhole that has filled up with water. The temazcal is quite the spiritual ceremony, which will leave you feeling liberated and cleansed. We suggest you make time for it during your trip to Cozumel, Mexico. It is, after all, one of the more unique experiences that Cozumel has to offer.
14.
Kayak At Palancar Beach
The water sports in Cozumel seem to be never-ending, and we're not complaining. One of the best all-rounded beach spots in Cozumel is Palancar Beach. It is especially famous for its water sports which include kayaking, snorkelling, sailing, and even diving.
At Palancar Beach, you can even rent a dive charter to take you out to grab some delicious grub at the plethora of restaurants and bars which surround the waters. If you're looking for a pre-planned excursion for a more authentic experience, Palancar Beach is your best bet.
It's also a great place for divers of all skill levels. However, it's always recommended to rent a charter so that you can avoid the hassle of permits or licensing, and for an overall safer experience!
15.
Explore The San Gervasio Ruins
This shrine in central Cozumel was visited by ancient Mayan women in order to pay tribute to the goddess of love and fertility, Ixchel. You can pay your respects by taking a quick tour of this ruin while you are here.
If you've never seen Mayan ruins up close, you should absolutely take the time to visit the San Gervasio Ruins. You're free to explore the ruins on your own and you could save a pretty penny if you opted to go rogue. However, some travellers prefer to pay for a guided tour. With the help of a tour guide you will get to learn more about the history of the San Gervasio Ruins.
Remember to wear a pair of comfortable sneakers as the ground is quite sandy and there are also plenty of lizards and large iguanas on the grounds. It's also advisable to bring lots of water as well as insect repellant to ensure your utmost comfort. You can visit the ruins of San Gervasio Ruins from Monday to Saturday between 8:00 am to 4:00 pm.
16.
Watch The Sunset At El Palomar Restaurant And Bar
Looking for a mellow way to wrap up your time in Cozumel, Mexico? We recommend watching the sunset at El Palomar Restaurant and Bar located on the west side of the island.
Expect authentic Mexican dishes concocted with love and through following centuries-old family recipes. Remember to order yourself a mojito or a cuba libre for the ultimate experience!
Let Us Know…
Cozumel is jam-packed with attractions to keep you entertained right until the end of your stay. We hope that this article was helpful in planning your itinerary for when you visit Cozumel, Mexico.
We'd love to hear which your favourite attractions were and if we missed anything that you think if worth a mention!