Nude Hiking Exists? Where Is It & What To Take Note?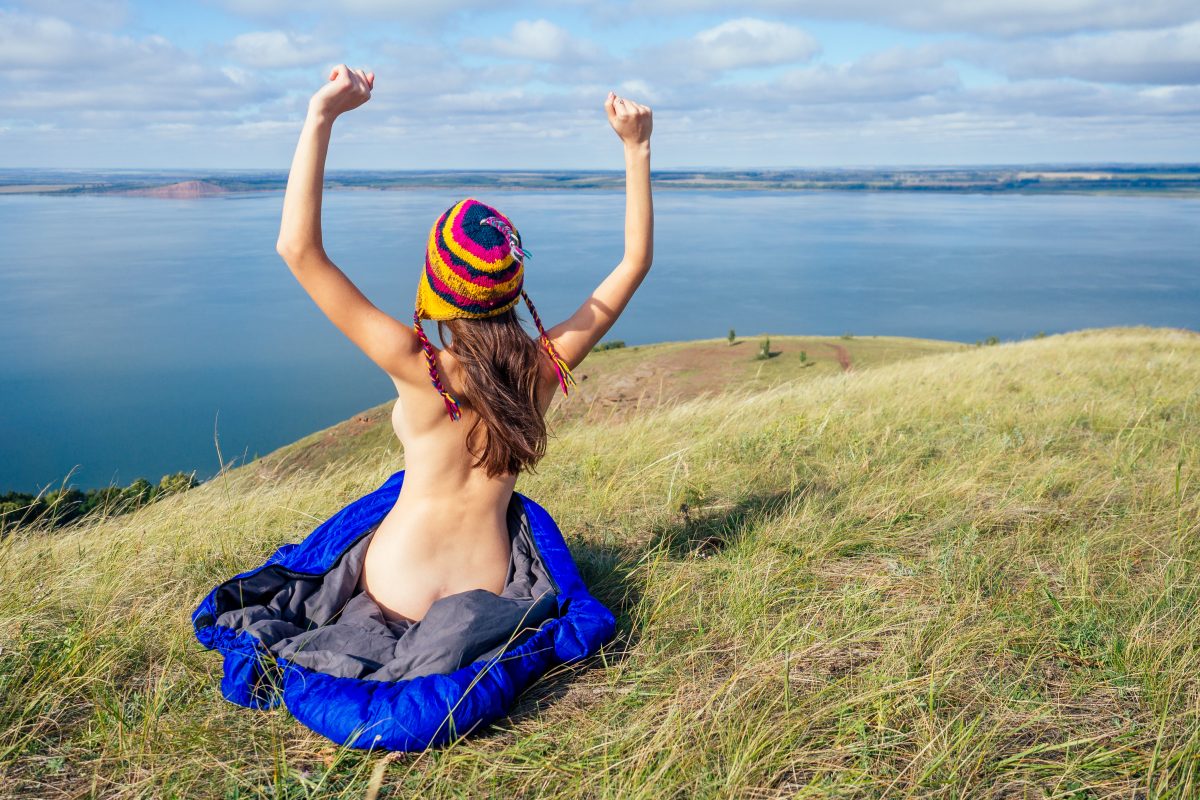 Nude hiking — an activity that has yet to hit the mainstream. Sure, you've heard of nude beaches, and skinny dipping probably doesn't take you by surprise anymore. While the general idea of walking around naked in nature can be perplexing, there are many that find it enjoyable.
In fact, the audience for nude hiking has grown so much that more and more nudist camps have popped up around the United States alone. If you want to give nude hiking a try, these are the best places to go.
1.
Green Valley Nudist Camp, Ohio
As one of America's oldest nudist camps, Green Valley's reputation precedes itself. The camp is managed and run by naturists, so you know you're in good hands. Green Valley in Ohio offers no shortage of fun activities. You can play volleyball, basketball, pickleball, shuffleboard, horseshoes, and petanque. If you're more in the mood for relaxation, Green Valley's amenities will not disappoint. The camp houses a heated swimming pool and a hot tub spa. There's also a heated clubhouse boasting a full kitchen.
When it comes to accommodations, Green Valley provides RV hookups, so you can bring your motorhome to the campgrounds. However, if you don't own an RV, you can just rent a cabin or a tent. Don't worry about having to relieve yourself in public; the camp also has indoor restrooms and hot showers. Green Valley is also a family-oriented camp, which means you can take your whole clan to join in on the fun. There's a children's playground on the premises, as well as a clubhouse specifically for the young ones.
Of course, the experience wouldn't be complete without nude hiking. If you're wondering where in Ohio to go nude hiking, Green Valley is the place to be. The camp features several hiking trails just waiting to be explored. Expect to encounter other friendly nude hikers along the way but not so friendly that you'd feel uncomfortable. The camp prohibits overt sexuality and staring, so you definitely won't encounter any hiking sex. If nude walking is more your speed, there's a nude forest on the commons you can tour.
Green Valley Nudist Camp is a safe place for nudists and would-be nudists. The camp has a strict policy against the use of photographic devices (cameras, cellphones, and the like). As such, you can rest easy knowing no one can snap a picture of you while you're nude hiking or just relaxing. Additionally, Green Valley screens its members and guests, requiring a government-issued photo ID to check any matches on the National and Ohio Sex Offender Registry.
2.
Gymno-Vita Park, Alabama
Alabama isn't exactly known for its nudist community. However, just outside of Birmingham sits Gymno-Vita Park, a 110-acre nudists' paradise. Unfortunately, if you're looking for somewhere to go alone, this isn't the place for you. Gymno-Vita Park only admits couples and families.
The place itself is mostly made up of forests, with the middle part occupied by facilities. Despite this, the camp has managed to stay well-kept and clean. Here, you'll find a game room, complete with table games, a ping pong table, and a pool table. Outdoor activities include volleyball and horseshoes. There's even a mini-museum you can visit, as well as a ballroom for grand dinners and performances.
If you prefer to cool down on a hot summer's day, the swimming pool is perfect for you. Be sure to pop by the bathhouse before and after, though. Since Gymno-Vita Park is also a family-friendly nudist camp, children are more than welcome here. There's even a children's playground to keep them entertained. As for where to sleep, you can rent a room or choose to go camping in an RV or tent. The campsites at Gymno-Vita Park come equipped with all the necessities. You'll have shade, electricity, and potable water. There are also picnic tables for easy dining.
For the main event, avid hikers can roam free at Gymno-Vita Park. The park boasts a mile-long nature trail that's perfect for nude hiking or nude walking. And, since Gymno-Vita Park only allows couples and families inside, you can be sure there aren't any creeps or weirdos hanging around the woods. Just make sure to bring all the essentials when you go hiking.
3.
Olive Dell Ranch, California
If you're wondering where to go nude hiking in California, the answer is Olive Dell Ranch. Located in Colton, this nudist resort ticks all the right boxes. Like other nudist camps on this list, Olive Dell Ranch accommodates RV hookups for those who prefer to bring their own motorhome. However, they also have a campsite where you can sleep in tents under the stars, as well as cabins you can rent. Since the place is close to a lot of tourist attractions in Southern California, you can book an extended stay at Olive Dell while still visiting all the top spots in the area.
The nudist camp has plenty of activities on offer, too. Those who like to work up a sweat can head for the tennis court or the sauna. On the other hand, you can get your workout fix and reconnect with nature at the same time by going for a hike. Nude hiking in the desert may sound like an entirely laughable idea to you, but don't knock it 'til you've tried it. If you're worried about getting sand in more unsavory places, topless hiking is always a good alternative.
For some R&R, try taking a dip in the outdoor pool. If swimming laps isn't your thing, get in the jacuzzi and let the bubbles carry your worries away. As for dining options, a stay at Olive Dell Ranch simply wouldn't be complete without trying Cafe Delicious, which boasts tasty home-cooked meals. Be sure to time your visit, though. The cafe is closed on Tuesdays and Wednesdays.
4.
Strawberry Park Hot Springs, Colorado
While not a nudist camp, Strawberry Park Hot Springs in Colorado does attract a fair amount of nudists. The resort requires everyone to be clothed during the day. However, their policy becomes clothing-optional after dark. So, although you will be confined to wearing clothes when the sun is up, you are free to disrobe once it's dark out. The policy also only applies to guests over 18 years old.
You must also know that there's little to no light within the grounds at night. As such, it's a good idea to bring a flashlight with you. This may seem like an inconvenience, but the minimal lighting does allow the stars in the sky to shine brighter.
Aside from the natural hot springs, Strawberry Park also boasts a number of Colorado hiking trails. You can ask for a trail map on-site or reference the one they have on their website. If you're not in the mood to go nude hiking, biking is an equally popular option.
However, the winter weather may not always cooperate with your plans. As a result, you may have to cancel that nude hiking trip you've got scheduled after dark. Don't be disappointed, though. You can go snowshoeing or cross country skiing during the winter months instead. After a day of fun-filled activities, you can unwind with an hour of therapeutic massage.
Strawberry Park Hot Springs offers various cabins for rent. There's also a campsite where you can set up a tent. Unfortunately, the place doesn't allow RV camping. However, the park's many amenities and gorgeous landscapes easily make up for it.
5.
Tanque Verde Falls, Arizona
The North Rim Grand Canyon can be found in many-a-hikers' bucket list. Unfortunately, you can't be your natural naked self there. If you do want to go nude hiking in Arizona, Tanque Verde Falls is your best bet. Located east of Tucson, this trail encompasses a series of adventurers from all over the country visit. However, it's likely you won't encounter naked hikers until a certain point in the trail.
As you begin to descend into the canyon, you'll find a sign for the Upper Tanque Verde Falls. You'll notice markings made by other visitors signaling the upcoming area is nude-friendly. From there, you can drop trou' and enjoy the rest of your hike baring it all. If you're looking for an outdoor naked experience in Arizona, Tanque Verde Falls should top your list.
6.
Whispering Pines Nudist Resort, North Carolina
North Carolinians can also enjoy hiking naked in nature. You just have to know where to do it. So, where is nude hiking allowed in North Carolina? None other than Whispering Pines Nudist Resort. Boasting 35 acres worth of land, Whispering Pines is open to all. Clothing is optional, but nudity is a must when you're in the pool or hot tub. The resort also has an airconditioned clubhouse for hot afternoons.
In terms of lodging, Whispering Pines offers RV hookups and a site for tent camping. Alternatively, you can book one of their airconditioned Park Model RVs that are furnished with a living room, a full kitchen, a dining area, sun decks, and a working shower.
While there are no opportunities to go hiking, you can always go nude walking. The woodland setting encourages casual strolls and more vigorous activities like jogging or running. The resort also allows for other fun activities like volleyball, horseshoes, shuffleboard, and bingo. You can even attend a campfire gathering. All things considered, Whispering Pines Nudist Resort is certainly a gem for nudists and naturists in North Carolina.
Is Nude Hiking Legal?
Due to the nature of the act, many people inherently believe nude hiking to be illegal. However, it's more complicated than that. There are no federal laws prohibiting nudity in parks and forests, but local laws may be more restricting. Most public parks have policies in place that prohibit walking naked. For instance, in national parks like Yellowstone nudity is prohibited. Some parks have authorities that are more relaxed than others. There are also parks with unspoken nude-friendly rules. However, that doesn't mean you can just disrobe along any hiking trail.
The best precaution is to check ahead of time whether the hiking trail you're going to is nude-friendly. You can also join a local nude hikers club and attend nude hiking events. But, perhaps the most basic course of action is to become a member of the American Association for Nude Recreation (AANR), which helps its members with legalities and to find nudist places.
Nude Hiking Tips
If you're new to the nude hiking scene, you may not have a good grasp of what it entails. While it's similar to regular hiking in some ways, there are also a number of differences. For instance, there are more things you must consider before taking your first nude hiking trip. Should you accept the nude challenge, here are some tips you must keep in mind.
Tip #1: Have All The Essentials
Water, sunscreen, and a bug repellent are all important items when hiking. However, they become all the more critical when you go hiking in the nude. As your body temperature goes up, your water consumption must increase. And with nude hiking, you can bet you'll feel hot fast. Because you're completely exposed to the sun, you must pack more sunscreen than usual.
It's also a good idea to invest in sunscreen with a higher SPF. After all, some parts of your body are more sensitive than others. The same logic applies to bug repellent. Normally, bugs only get to the parts of your body not covered by clothes. However, nude hiking fully exposes you to all the elements.
It's also crucial to pack a fully-stocked first-aid kit with you. There's a bigger risk of getting injured or bruised when you're naked in nature. Keep all of these things in a bag. With no clothes and no pockets, there's no way you can carry all of them with just two hands.
Tip #2: Consider Your Footwear
Sometimes, nude hiking doesn't mean being totally naked. Depending on how rough the terrain is, you may not even need footwear. Soft grass, fine sand, and flat dirt don't really require any insulation for your feet. However, if you'll be walking on uneven ground, it's best to wear hiking shoes. After all, the last thing you want is to hiking with bloodied feet. In the end, it's better to be safe than sorry.
Tip #3: Pack Emergency Clothes
This one may go without saying, but first-timers may neglect to do it. It's a smart move to pack an emergency set of clothes, just in case you need them. On the other hand, you could always just use the clothes you came in. It's not like you leave your house undressed, right? Either way, emergency clothes are always a good idea when nude hiking, especially if it gets particularly cold at night.
Hiking In The Nude
It's normal to feel self-conscious about your first time hiking in the nude. However, once you get past the initial awkwardness, nude hiking is a great way to exercise and boost your own confidence. If you're curious to know more, you can always go to a clothing-optional resort to test the waters first. Take baby steps before you can walk (naked, that is).
Before you know it, you'll be joining nude hiking clubs and telling your friends about it, too. You can also give nude beaches a try for starters.
asdasd hello hehehe