Best Things To Do In Tampa, Florida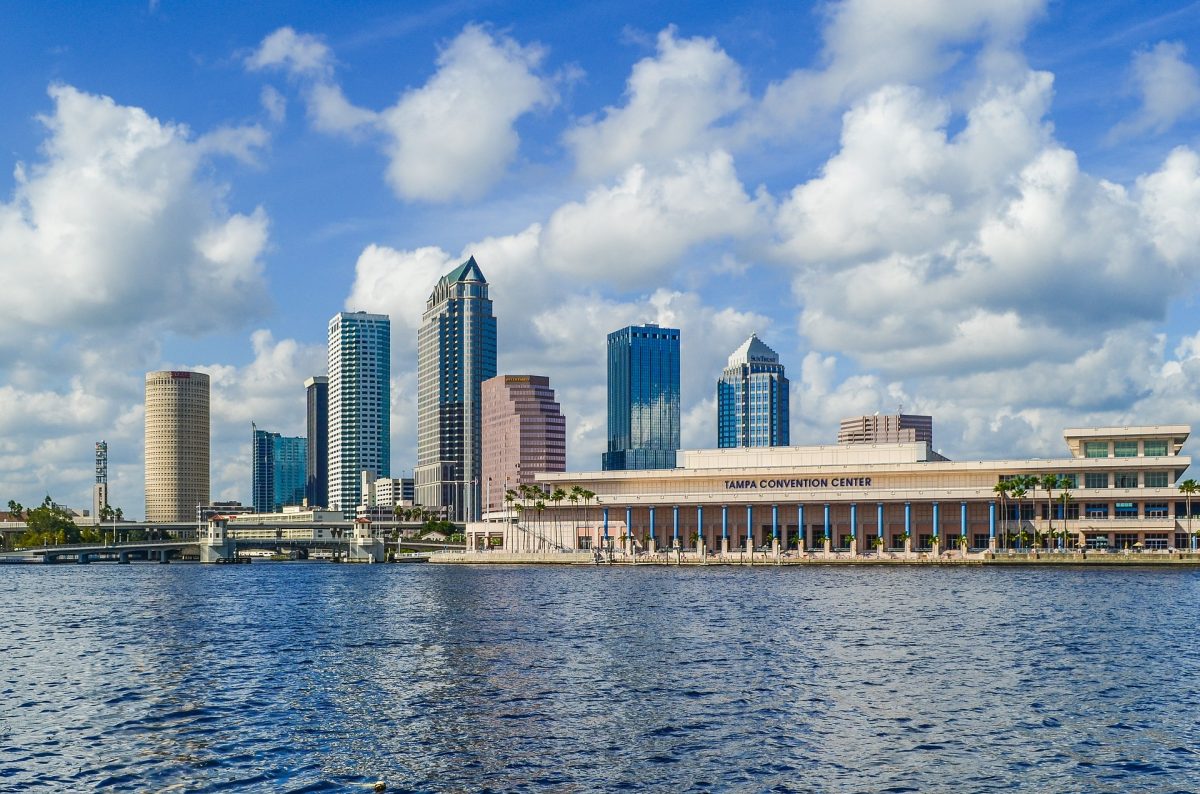 History, culture, Dolphins, the Sun, and a whole lot of fun are all that come to mind when I think of Tampa city in Florida. If Florida is famous as 'The Sunshine State', Tampa city is the warmth of sunshine! Tampa Bay dots four cities in Florida, Tampa, St. Petersburg, Clearwater, and Brandon. These four cities border the largest open-water estuary on Floria's west coast. Nearly 400 square miles!
Laced along Tampa Bay, on the Mexican Gulf coast, Tampa city is brimming with historic fusion, Tampa attractions, and true Floridian culture. There are more things to do in Tampa city, aside from just the things to do in the Tampa Bay area. We're featuring the best of Tampa, in an all-inclusive guide of the city. So, what to do in Tampa, you ask? Ponder not, here's our case!
The Energy of Downtown Tampa
At Downtown Tampa, the riverwalk is alive with food, chatter, and appetite! Everything in perfect cultural harmony. From the southern delicacies to America's much loved cheesy meals. Tampa city's northern landscapes offer wild waterways through the Hillsborough River, and soon, more exotica surfaces in the iconic gardens in Tampa.
From Dolphins to Quaint Cafes
There's nothing that you won't get to see in Tampa city. At Ybor City, you'll find the best cafes in Tampa. All the energy breathes beside Tampa's historic cigar factories.
In addition to all the distinct fun, Tampa will charm you with the Dolphins in Tampa Bay, and gastronomic seafood delicacies, aside from a host of intriguing museums. Walking around the alleys here is definitely one of the fun things to do in Tampa for couples.
A Holiday for Everyone
Tampa's outdoor advantages alone are reason enough to visit Tampa city, however, if you aren't the outdoor or water sports lover, Tampa still has enough to offer. Tampa is a holiday for everyone because there are so many unique things to do in Tampa! There are all sorts of cool activities for adrenaline junkies, shopaholics, bar hoppers and even museum loves!
In addition to the popular fun things to do in Tampa, there are also things to do in Tampa with kids, and super fun things to do in Tampa at night. What's more, there are even fun things to do in Tampa for free! All this makes Tampa city a must-do in Florida! Here's a list on everything amazing to experience during your trip to Tampa. Make a note of this Tampa bucket-list.
Let's explore the best things to do in Tampa Florida.
1.
Get a Rush at Busch Gardens Tampa Bay
If someone wants to make a new theme park, they ought to take inspiration from Tampa's Busch Gardens! Busch Gardens in Tampa is still one of the most iconic theme parks in all of America! Located just 15-minutes from Tampa's city center, Busch Gardens Tampa Bay is a must-do for anybody who loves fun. Don't forget to collect your Busch Gardens Tampa map at the entrance. You don't wish to get lost now, do you? Also, we advise checking online for the Busch Gardens Tampa crowd calendar to know the best time to visit.
135 Hectares of Tampa Fun
Opened in 1959, the Busch Gardens in Tampa covers a whopping 136 hectares on Tampa's northern hems. In addition to flaunting the most intimidating coaster rides, Busch Gardens also nestles Tampa's largest zoo and Tampa's only water park! Tampa Bay Busch Gardens is the family-friendly entrainment, that does not disappoint!
Exotic Zoo at Tampa Bay
In addition to being the largest zoo in Tampa, the Zoo within Busch Gardens Theme Park is home to a diversity of species! At Tampa Zoo you'll get to see 12,000 animals, hailing from 300 different animal species. Tampa Zoo presents a free-roaming ambiance to help us imagine the original habitats of wild animals. Spot the Giraffes, Flamingos, jungle zip lines, loop-de-loops and the thrilling Cobra's curse!
Take Rides at Tampa Adventure Island
Soak up some fun at Adventure Island Tampa. This water park is the only water park in Tampa city! Enjoy in 30 acres of exciting rides and tube slides. If you want more, get to the wave pool to enjoy perfect waves. If all this feels too safe, get your best spirits to the park's newest slide, Vanish Point. This 70-foot drop slide in Tampa is sure to give you a rush.
2.
Explore The Florida Aquarium in Tampa
The Florida Aquarium is one of the top 10 aquariums in America! This is surely the place to see in Tampa if you love exploring the sea. Only here can you find the wetland residents of Florida, all under a protected roof! Snapping alligators, curious otters, lethal Burmese pythons and more!
At The Florida Aquarium, you can also see Sharks and Penguins, or maybe, dare to touch a Stingray. To interact better with the sea habitats, take The Florida Aquarium Swim & Dive tours. It's your ticket to swim with Sharks and other Marine life.
If you get hungry from all the sea exploration, head to the restaurants near the Florida Aquarium. A lot of weddings at the Florida Aquarium have given rise to multiple accommodation choices in the vicinity. There are also many hotels near the Florida Aquarium, should you wish to park for the night!
3.
Spend the Day at MOSI in Tampa
Tampa's Museum of Science & Industry (MOSI) is not just any other museum. MOSI in Tampa is the largest science centre in USA's south-eastern region! A day spent at MOSI will definitely be worth your time. The MOSI Tampa Renaissance Festival is a big hit with locals and visitors.
Florida's Only IMAX in Tampa
The museum offers over 400,000 square feet of interactive exhibits. MOSI also houses a planetarium within its premises. What's more, at MOSI you will see Florida's only IMAX Dome Theatre in Tampa. In fact, we feel MOSI Tampa IMAX is the real crowd-puller. No surprises there, because MOSI Tampa IMAX projects images on a five-story, dome-shaped screen. And, who wouldn't find that cool?! MOSI Tampa ticket prices range from USD 7.95 – USD 12.95. If you research well online, you can even be able to bag a MOSI Tampa tickets discount.
4.
Drink Up at Tampa Bay Brewing Company
The best place to get chilled beer in Tampa city, the Tampa Bay Brewing Company aka TBBC has been crafting beer since 1995. Born out of the need for bespoke beer in Tampa, this Tampa brewery is a feather in the Hat for all of Tampa city.
For the Beer Lover
We aren't exaggerating. Just one glance of the Tampa Bay Brewing Company menu is sure to give you a beer fix! Imagine
Eight regular labels and seasonal bests also! If that doesn't make TBBC one of the best microbreweries in Tampa city, then what will?!
Bespoke Beer in Tampa City
You'll find a host of whimsical crafts in the Tampa Bay Brewing Company menu. The selection is so vast with local chart- toppers, that it takes a good 10 minutes to just read it all! So, if you're a beer lover, looking for good beer in Tampa, look no further!
5.
Feel Small at Dinosaur World Tampa
You can pose beside a gigantic Dino in Florida, only at Dinosaur World Tampa. Not one or two, there are over 200 Dinosaurs at Dinosaur World in Tampa city! This self-guided outdoor museum is a must visit if you're wondering what to do in Tampa.
Florida's Top 10
Tampa's Dinosaur World features in Florida's top 10 Destinations. Hence, a visit to this Dino park in Tampa is an absolute must! Dinosaur World Tampa is located in Plant City. You can easily get to this Dino attraction in Tampa in 20 minutes from Tampa city-centre.
Feel Like a Palaeontologist
Dig up for fossils, or a life-size Dinosaur at the boneyard in Dinosaur World Tampa. This is as close as it gets to feeling like a Palaeontologist. Spend a day at Dinosaur World Tampa and enjoy the Jurassic experience.
Dinosaur World Tampa Florida tickets
The Dinosaur World Tampa ticket prices for an Adult is $16.95 USD and $11.95 USD for a Child, above age 2. You can also search for Dinosaur World Tampa coupons for great discounts.
6.
Head to Tampa Bay History Center
Know all about the history of Tampa and south-central Florida at Tampa Bay History Center. At Tampa's history center you can learn about European explorations in the Americas. In addition to knowing how the Spanish reached the shores of Tampa.
A Collection of History
This all-encompassing center is located in Tampa's Channelside District. In addition to European conquests, Tampa Bay History Center also narrates the military conflicts involving Tampa city in the early 19th century.
Ample Facilities
Don't shy away from taking your car, Tampa Bay history center parking facilities are great. There are always Tampa Bay history center coupon discounts for cheaper tickets. On a regular day, Tampa Bay history center discount tickets seem like a boon. To get lucky more often, you can choose the Tampa Bay History Center membership.
7.
Relax at Tampa Beach Florida
There might be many things to do in Tampa, but chilling at Tampa Bay beaches is definitely included! If you're google searching for 'Tampa beaches near me, prepare for a lot of choices, because Tampa's coastline is exciting, all of it!

Tampa – 35 Miles of White Sand
Here there are lots to do aside from the Tampa area beach resorts, Tampa beachfront resorts, and Tampa beach hotels. Tampa beach Florida has more to offer. Tampa's coastline boasts 35 miles of white sand. Tampa beaches are not popular just for their scenic beauty, but also because of the sand quality and its environmental management initiatives have won awards! So, now you know Tampa beach vacations are trending for a reason!
An Untouched Paradise
Tampa Bay beaches at the Caladesi Island, Fort DeSoto Park and a Clearwater beach feature in the best beaches in Tampa Bay. All because these beaches are still untouched and pristine. More like untouched paradises. You are sure to feel like you hopped onto a deserted island in Florida. Spend a day Tampa Florida Beach, and explore Tampa Beach Florida attractions and the Tampa resorts of the beach. You may be able to get great deals on Tampa Bay beach rentals.
8.
Enjoy Shopping In Tampa
There are a lot of things to buy in Tampa, especially if you enter the Tampa shopping malls. Tampa shopping areas are located near the Tampa International Airport, in addition to Tampa shopping areas at Hyde Park Village, near Tampa's Downtown region. Both of the above Tampa shopping outlets offer a host of shopping and dining selections.
Skating Rink inside Tampa Mall
Aside from the Tampa shopping malls, and the choices for Tampa shopping near the airport, there's also Westfield Countryside Shopping Mall. Westfield Countryside Shopping mall in Clearwater in Tampa Bay is a class apart because of the large ice skating rink in the center of the mall.
Shopping in Madeira Beach Florida
Just a few minutes outside Tampa Bay are the Madeira Beach Florida hotels. At Madeira Beach near Tampa, John's Pass Village and Boardwalk serve as a top attraction in Tampa. Besides the tons of Madeira Beach vacation rentals, you will find over a hundred merchants selling antiques and souvenirs.
When you've had too much shopping in Tampa for a day, indulge in some excellent seafood at the many Madeira Beach restaurants. Shopping in Tampa downtown is equally popular, so don't forget to check out the Tampa malls in Downtown Tampa. Enjoy shopping in Tampa Bay.
9.
Camp at Hillsborough River State Park in Tampa
Calmer than The Riverwalk in Tampa Downtown is the experience at Hillsborough River State Park in Tampa. In addition to the tranquil of nature, Hillsborough River State Park Camping is also a hit with Tampa locals and Travellers in Tampa.
Take the River Tours
There are tons of full, and half-day Canoe Tours in Tampa. On the Hillsborough River Tours, you can spot White Ibis, Turtles and also Alligators! Similarly, another fun activity is to hop into a Pirate Water Taxi in Tampa. It's a fun way to get to Downtown Tampa without getting too far from it.
10.
Enjoy Florida State Fair Tampa
Fun occurs every February in Tampa. In other words, it is called the Florida State Fair in Tampa! Florida State Fair is a treat for the belly, in addition to entertaining us with over 100 rides. Florida State Fair definitely ranks high on the 'fun things to do in Tampa with family' list.
If you miss Florida State Fair by a whisker. Make in time for the 11-day Florida Strawberry Festival in March. The event celebrates strawberry harvest in Eastern Hillsborough County.
The heart of Tampa's artistic edge, Tampa Museum of Art is a temple of modern, classical and contemporary masterpieces. The Museum of Art in Tampa also features visiting exhibits by world-famous artists. Exhibits flaunt the works of Renoir, Degas, Picasso, and Cassat.
Rainbow in the Sky Tampa
Similarly, the exterior of the Tampa Museum of Art is no less of a masterpiece. The 66,000 square-foot building, is illuminated by a 14,000 LED light. As a result, the building is called Sky Tampa, as it glows in violets, hot pinks, purples, and reds. Tampa Museum of Art is as vibrant as the Tampa nightlife.
12.
Journey Back at Ybor City Tampa
Tampa city is rich in history. A history that's 450 years old. Long ago there lived 200 factories with over 12,000 cigar makers here, as a result, the city of Tampa was known as the 'Cigar Capital of the World'. While most of the museums in Tampa help you understand more on Tampa's history, our favorite exploration is to step on the streets of Ybor City. At Ybor City in Tampa, you can experience the past by riding in an electric streetcar on Tampa's streets.
Getting around Tampa Bay
If you took a flight to Tampa airport on your arrival, you might want to hit the road for the rest of your trip!
Finding your way around Tampa Bay, or anywhere in Florida is super easy. You will find that renting a car in Tampa is affordable, and also the most convenient way to get around the city. In addition, there are tons of rental cars to choose from for picky travelers.
Get a SunPass in Tampa
To get to the sights near Tampa Bay, all you need is a car and your SunPass! The SunPass is the coolest way to zip through Florida's city and state highways. Don't forget to get yourself on the fast lane with a SunPass on your trip to Tampa!
Adios Tampa-Goers
And there you have it, all the best things to do in Tampa Florida, in one enthusiastic post! To wrap things up, we love it that Tampa is a city for everyone. Allow your heart to sway in its magic too. Enjoy your trip to Tampa and share your travel secrets with us!