Things To Do In Dubrovnik, Croatia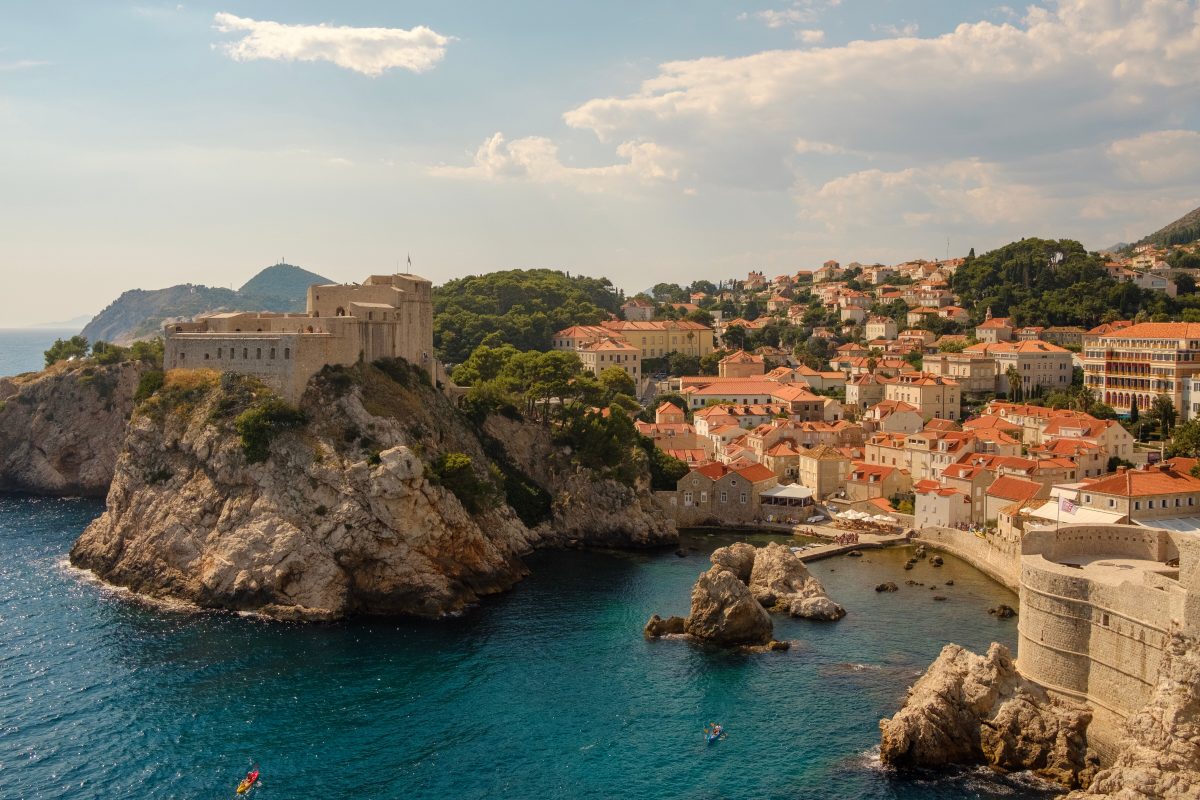 Dubrovnik— often called "The Pearl of the Adriatic" is very true to its name. The mighty Adriatic Sea surrounds it from most sides providing the perfect backdrop for all its architectural masterpieces. As we will see very soon, multiple structures from medieval ages still strike the visitors with a pleasant surprise. Even some cuisine places here proudly boast their stone wall structures and high archways. You will never run out of things to do in Dubrovnik.
This place is also home to many 'Game Of Thrones' and 'Star Wars' fans. Crucial scenes of both the franchises were filmed here. Besides, you will have a great time trying out kayaking, snorkelling and taking walks along a dense green forest. As you can see, the things to do in Dubrovnik are endless! Let's skip the talk and dive right into the details of each sight and activity.
1.
City Walls of Dubrovnik
If you haven't been to the Great Wall of China, this series of stone walls in Dubrovnik may quench your thirst of curiosity a little bit. You will see the whole city engulfing by these majestically built massive walls of Dubrovnik. The deep blue water of the Adriatic Sea splashes at these walls from time to time creating a pristine setting that highlights the city. At times, you'll feel like you're deeply rooted in a period movie full of scenic beauty shots.
The city walls were first built in the 7th century. However, the Croatian inhabitants used them as their best fortification system in the Middle Ages. Though these city walls were renovated multiple times during the period of 14th to 17th centuries. Now city walls gracefully resting 1,940 meters high around the Dubrovnik city.
From earthquakes, sieges to the independence war of Croatia, these walls have stood with pride and dignity. Pay a visit there to marvel at its complex structure that stood the test of time. Expect an entrance fee of 150 Kn ($2.31) per adult.
2.
Dubrovnik Rector's Palace
Another architectural marvel is the Rector's Palace which served many purposes for centuries. You will find it standing in an apt location among the Dubrovnik's Town Hall, the Cathedral, the Sponza Palace and the Church of St Blaise. Not to mention, this is the most popular site among the Dubrovnik museums.
This 14th-century monument bears incredible architectural patterns on both its interior and exterior. If you're curious of what it feels like to be a true royal, walking between its gigantic arches, ornate staircases and elegant floors will certainly put you in awe. Besides being considered to be an amalgamation of various architectural inspirations like Renaissance, Baroque and Gothic. This palace survived fire, gunpowder and much more throughout its long turbulent life. Yet it stands here to please you with beauty and glory. If you're in Dubrovnik, you'll definitely don't want to miss any of these.
3.
Dubrovnik Lovrijenac Fortress
The Lovrijenac Fort has served as one of the filming locations for the epic TV series "Game of Thrones". Although the majority of its shooting was completed in the Dubrovnik Old Town, this fort functioned as the famous Red Keep of King's Landing on the TV series. So you can have some nostalgic moments of famous 'GOT' scenes featuring King Joffrey and Cersei Lannister while visiting this fort.
Besides being the capital of a fictional kingdom, Dubrovnik's Lovrijenac Fort has been a real life saviour dated back in the 11th centuries of Croatia's history. Proudly defended the West Dubrovnik from the Venetians, this fort stands tall here and then before their enemies as a symbol of victory.
Along with historical and theatrical importance, you will love to see the deep blue sea up close and personal from this detached fortress. The beautiful palette of green, blue and white weave an astonishing visual tale in this fort. Take note, Lovrijenac Fort can be quite crowded. So, come here as soon as they're open. And don't forget your perfect Instagram shot at the panoramic platform of Lovrijenac Fort.
Believe it or not, among all the majestic historic remnants, Dubrovnik Old Town is the most favoured attraction in Croatia. Even though "Game of Thrones" has ended recently, its filming locations here in Dubrovnik keeps drawing the attention of tourists around the world. The beautiful Old Town painted in red and white has served as the King's Landing of GOT.
Historically, every new ruler of the seven kingdoms has set his or her foot here. Similar to the Lovrijenac Fort, exploring Dubrovnik old town never seems to fail to give you some deja vu moments from the exciting series. You can have the time of your life looking at this town from a Dubrovnik cable car station. When the car stops exactly on top of this old town, you will feel like a bird marvelling at human creativity. As a tip, try to get on the cable car during sunset to make the most of its magical view.
Be it from a bird's eye view or in front of the eyes, the enchanting Old Town of Dubrovnik impresses all the same. It's stone walls come from the 16th century. This medieval city posed great competition for Venice to be the bigger trading port. The churches, palaces and monasteries located here exhibit Baroque architecture. On the other hand, the facades and fountains portray a Renaissance pattern. The combination of dreamy natural beauty and intricately detailed medieval architecture make this a must-go place for the visitors.
5.
Take a stroll at Stradun
Dubrovnik does not only cater to the 'Game of Thrones' fans! The main street of Dubrovnik city named Stradun or Placa is also one of the most interesting destinations for a Star Wars fan or just a casual stroll down the Baroque streets. As a Star Wars fan, you'll easily recognize the 9th instalment in this movie series was filmed here. In addition, the bell of its clock tower is now famous for being the star of final GOT season.
The best part, you can take a walk here in groups without an issue. The streets are well-maintained and it's vehicles-free. So travellers like you can enjoy the time here without fearing to be hit by a car or a motorcycle. Stop here for a quick Croatian treat. You will find restaurants, cafes and shops on both sides of this street for snacks and souvenirs. Don't leave without trying the ice-cream and crepe from 'Dolce Vita' which claimed to be the best in Dubrovnik.
6.
Go City Beaches Hopping
Take a detour from the architectural beauties and go refresh yourselves along the seacoast! Since this Dubrovnik is located along the Adriatic Sea, you will find plenty of pristine beaches within the city. From Lokrum to Mokosica, beaches in Dubrovnik will not disappoint.
However, the most popular one is the Banje beach situated not too far from Old Town Dubrovnik. If you visit this beach along the east of the Old Town, you will often see celebrities and elites partying there. Though locals love to bask in the sun on the soft sand beach, there's so much more you can do here. From jet skiing, parasailing to speed boat rides on Banje beach, you're going to love it. Besides, there are also an al-fresco restaurant, a cafés and bars to enjoy some delicacies along the coast. Although Banje beach is most attractive during summer, try to visit here on other seasons to avoid the dense crowd.
If you prefer a little more peace and quiet than the Banje beach, Copacabana beach is a great alternative. You can get here by taking bus no. 6 to Lapad or Babin Kuk and expect a short walk to your destination. Rent a canoe here and enjoy floating under the beautiful blue sky!
7.
Wine Tour at Konavle Valley
No trip to Dubrovnik is complete without pleasing your palate with Croatian wines. Now that you have a refreshing mood after sunbathing and boat rides, let's have some wine! About 30-minutes drive from Old Town Dubrovnik, The Konavle Valley is well-known for its multiple family-run wineries. Here, you can have a taste of these Dubrovnik wines while visiting the exotic countryside. So, pack your back and go on an excursion to the winery through a mini-train.
Among all, Konavle valley is well-known for its agricultural assets spread across 20 villages. Besides the world-awarding wines, they are also well-trained in making wools. If you're interested, Ljuta village is a great place to witness the demo of its process. On your way to Brajkovici village, keep an eye on the dreamy view of Snijeznica Mountain. The craggy hills will is quite awe-inspiring.
Along with the delicious wine, you can enjoy the peace and quiet all around. Trust us, unlike Dubrovnik Old town, there will hardly be anyone to come between you and your glass of wine. You can choose to stay in Hotel Konavle or Villa Oasis Cypress – two of the most popular hotels here.
Why not make the most of this sea-surrounded city and do some kayaking on the way? Plus, it is one of the most popular things to do in Dubrovnik. You can just rent a kayak boat with two oars and share this soothing adventure with a loved one.
We recommend starting your kayaking journey from Pile bay located just below the Pile Gate of Old Town. Hop onto a kayak and begin your ride over the crystal clear deep blue water. The scenic view is most mesmerising throughout the ride. So, sit back, relax and just indulge in the peaceful serenity. An endless sky over your head meets the infinite sea beneath while greenery and mountains surround you. It's an ethereal feeling only a few can experience.
Make sure to wear life jackets throughout the ride as the water can be quite bumpy at times. However, if comfortable with deeper water, you can opt to go out to the sea for snorkelling. See the underworld of sea painted with turquoise hue and framed in sparkling water. Among the other things to do in Dubrovnik, you can also sunbathe after making a stop during this kayaking ride. It usually ends at Lokrum island where oak, pine and olive trees have made a dense forest.
9.
An Excursion to Lokrum Island
If you have a keen eye, you can see the Lokrum Island from the cable cars of Dubrovnik Old Town. This incredible forest is located right across the town of red and white bricks. Find shelter here from the scorching sun in summer, or come here only to enjoy the peaceful environment in winter.
Here, you'll find trees from the 19th century adorn the Botanical Gardens. Come here for a nice and quiet walk here under the shade of numerous palm trees. At present, this area boasts a wide variety of about 800 exotic plants. If you're lucky, peacocks living here for centuries might be a few feet beside you.
In addition, the ruins of Benedictine Monastery from the 15th century are also present here. Benedictine monks found accommodation in this place but then were forced to leave. Before going, however, they cursed on all future possessors of this island. The GOT fans can also find a replica of the infamous Iron Throne in this monastery. If you have not done the kayaking activity, you can reach Lokrum by taking a boat from Porporela port. The sailing itself will add to your soothing experience.
10.
Food Hunting in Dubrovnik
Despite the stunning beaches and enthralling sight-seeing, food in Dubrovnik itself is worth your visit. Now that you have done some adventure, head on to a Dubrovnik restaurant to re-energize yourself. The top three restaurants of this city include Restaurant Dubrovnik, Restaurant 360 and Above 5 Rooftop. All of them are great for a taste of traditional Croatian meal. However, if you crave for some cocktails 'Above 5 Rooftop' is an excellent choice especially for its al-fresco dining setting.
For an unconventional experience, Restaurant 360 is especially unique for dining by the stone walls. It is stunningly decorated to preserve the traditional beauty of age-old Croatian architectures. So you can find yourself walking on modern wooden floors within an archaic building. Behind the curtains of each archway lies a fine dining experience among candlelights and comfy cushions. This combination of past and present builds the distinct aesthetic which you can definitely utilize for some epic Instagram posts.
Ready to explore some more architectural beauties? Head on to the Dubrovnik Cathedral along Poljana Marina Drzica street. The other name for this Roman Catholic church is the Cathedral Of Assumption. Dubrovnik cathedral gained its name mainly from its famous painting from 1518 named 'the Assumption of the Virgin Mary.' It was created by the Venetian painter named Titian. You can see it present behind the main altar. Like many other old Croatian structures, this one also survived sieges and multiple enormous earthquakes. However, this 12th-century cathedral remains as a centre-piece of the Dubrovnik city.
Now, the church stands tall portraying some of the most beautiful baroque motifs created by 17th-century architects. Four Corinthian columns welcome you at its front gate. You can visit there to explore the lovely religious paintings created by maestros of centuries. Slide to the left of the main altar and you'll see the glorious church treasuries. It includes golden and silver relics from the 11th to 17th centuries. The best part, you find a hand armour moulded from pure gold that reminds much Game of Thrones fans of Jaime Lannister.
End your tour in Dubrovnik with a museum like you began. This time, visit the Maritime Museum of Dubrovnik located at St John Fortress. It is filled with the rich history of Croatians at the sea.
Once upon a time, the sailors of this city dominated the world by exploring America, England, Northern parts of Germany and the Black Sea. You will get to see the achievements and remarkable objects of this golden era in the Maritime Museum. It displays the sailing instruments, parts of sunken ships, written documents, old books, pictures and more from archaeological finds of 16th century Croatia. If you're into pirates or voyages across the sea, this is your chance to meet the true heroes of the sea. The maritime museum stays open four hours longer in the summer. Hence, plan your Dubrovnik vacation accordingly, you wouldn't want to miss a single bit of it.
So, are you ready to explore this beautiful, adventurous and historical city? We are sure you will find tons of things to do in Dubrovnik even outside our list. We wish you a great holiday and Bon Voyage!