5 Best Beaches in Adelaide, Australia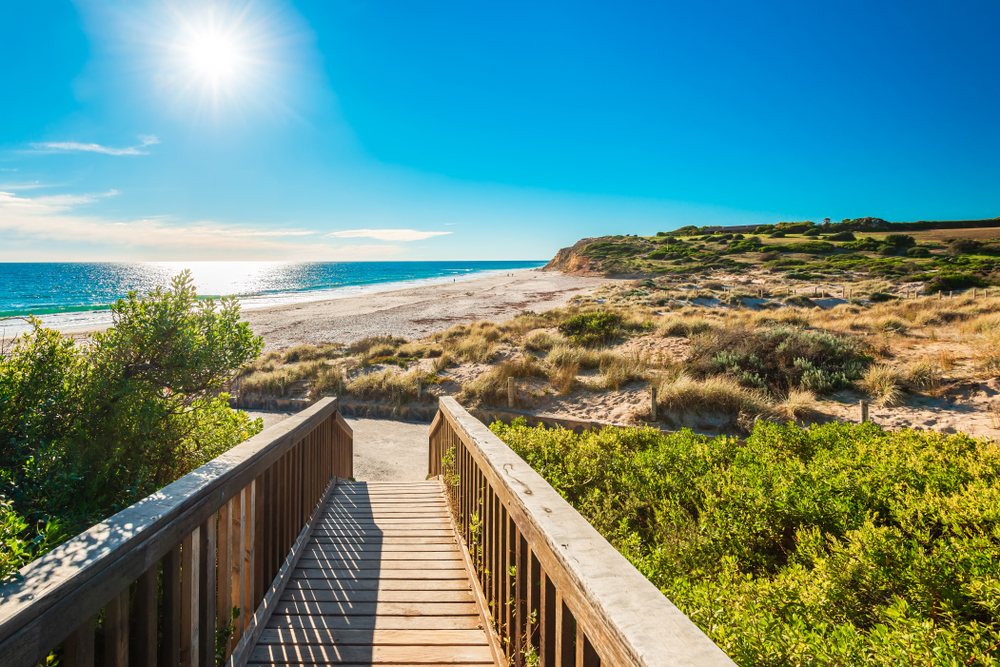 Once considered a sleepy city, Adelaide has now transformed into the cosmopolitan coastal capital of South Australia. With a prospering entertainment scene, world-class food and wine, and deep history, Adelaide is a vibrant destination that provides.
Looking to move at a slower pace? Another popular attraction of Adelaide is its gorgeous beaches that are easily accessible from the city centre. Within an hour's car ride, you could be sunbathing or hitting the waves.
The Top 5 Adelaide Beaches To Visit
Only 20 minutes away from the city centre and five minutes from Adelaide Airport, Glenelg is the city's most popular beach. Famous for its heritage as South Australia's first mainland settlement, there are tons of things to do in this coastal neighbourhood.
The wide Adelaide beach boasts white sands, clear waters and stunning sunsets – everything to look for in a beach. There are also loads of activities you can enjoy; from swimming to snorkelling and fishing.
Do as the locals do and pack a picnic basket and find a shady spot at one of the many grassy areas to kick back and relax. Kids will delight in the foreshore playground which offers family-friendly entertainment during the summer months.
In Glenelg, there is an opportunity to watch and interact with dolphins up close – Temptation Sailing has offered dolphin swim and watch cruises for years. Choose to watch these gentle creatures from the bow of the boat, or get into the water and play with them. In a gulf where there are thousands of common and bottlenose dolphins, you will definitely see them on this cruise!
For a bit of history on the area, take a trip to the Bay Discovery Centre, housed in the iconic Town Hall of Glenelg. As a social history museum celebrating the cultural heritage of South Australia, the museum is a haven for history and art lovers. Along with a range of permanent and temporary exhibits by local artists, the museum captures snapshots of Glenelg as a thriving seaport settlement.
This Adelaide beach is picturesque with its red sandstone beach cliffs, long jetty and reef, making it one of the most iconic diving destinations in South Australia. Due to low waves and the absence of rips, the waters are relatively safe to swim in. However, the local lifeguard club advises to swim inshore as there may be stronger waves and currents around the reefs.
The offshore reef is part of a group of sanctuary zones within the Encounter Marine Park – each protecting important habitats and marine wildlife. Protected since 1971, the Port Noarlunga Reef Sanctuary Zone is a rich and popular snorkelling and diving spot.
The significant barrier reef system is full to the brim with marine animals including large schools of reef fish, spotted wobbegongs, blue groper, blue devil fish and dolphins! There is even an underwater diving trail for a tour of the reef, with plaques offering information on the region and animals.
The jetty at Port Noarlunga is also a favourite hotspot for long walks and fishing. For a bit of shopping, pop into one of the many shops along the main street and into Becs Bakehouse for afternoon tea.
This seaside town is a family vacation must-visit! Semaphore beach's white sands, family-friendly shallows and bustling foreshore make for a favourite Adelaide beach escape.
The Semaphore Jetty, built since 1860, is a major landmark on the beach. Time Ball Tower is another marker you should see. This stone structure was used in the past to allow ships at sea to align their navigation instruments.
After a few hours at the beach, head to the foreshore for some fun activities. The Semaphore Waterslide Complex has a mini-golf course, 70-metre water slide, and rides – perfect for young children. Additionally, ride on Australia's oldest and largest operating carousel which can be seen even from the jetty!
Semaphore Boulevard has many boutiques, famous pubs, modern cafes, and a range of accommodation – making it a perfect overnight trip. If you are lucky, you may even catch one of the many events that Semaphore hosts throughout the year. From summer carnivals to music festivals and fireworks during festive seasons, there is never a dull moment here.
This Adelaide beach is popular among both locals and tourists. Lazy sunbathers and family picnics take over the soft sands, while swimming and paddling are common in the gentle surf. The long jetty is great for some fishing or an evening walk to catch the sunset.
Henley Beach is also hedged by many seafood restaurants and bars, perfect for relaxing by the coast. For dessert, head to Bottega Gelateria for some artisan gelato. Everything is handcrafted on-site and you can taste the freshness from the ingredients! Choose from a variety of flavours such as the award-winning Salted Pecan and Maple Syrup, Lemon Sorbetto, Gawler Pistachio, and Hazelnut Piemonte.
The adjacent Henley Square has recently undergone a redevelopment and became a great place to group up and recharge. Now, it has more coffee shops, restaurants, and areas for play, along with easy access to the beach and jetty.
Enjoy a game of frisbee on the lawns or play among the central water features. To catch a breather, chill with a cup of coffee while admiring the many art sculptures lining the promenade.
Ever wanted to go to the beach in your birthday suit? Well, now you can at Australia's first official nude beach here in Maslin. This long stretch of Adelaide beach enveloped by gorgeous cliffs is a great peaceful getaway.
The 3km long beach is split into the southern part for nude bathing and the northern part for families. There are also signs along the beach informing visitors where appropriate attire is required. With the nude area being a good 800m away from the main entrance, unwanted views can be avoided.
However, the northern part of the beach holds the best views. Caves and crevices can be found in the bronze-coloured cliffs, plus, the water is one of the clearest in South Australia. Also, the descent from the stairs at the top of the cliff gives a picturesque view of Maslin Beach.
An interesting find close to Maslin Beach is Dyson Wines. A small vineyard along the side of a hill, the family-run business produces pure, small-batch wines. The wines can only be bought through their Cellar Door, making it the perfect pit-stop for a bottle of wine. Enjoy it over a chat with the owners, or bring it with you to the beach!
Pack Your Sunscreen!
While many people hardly associate Adelaide as a beach destination, these are some of the best beaches that the region has to offer. With many facilities and attractions near to these Adelaide beaches, they make for a great day trip.