BEST Things You Must Do In Los Glaciares National Park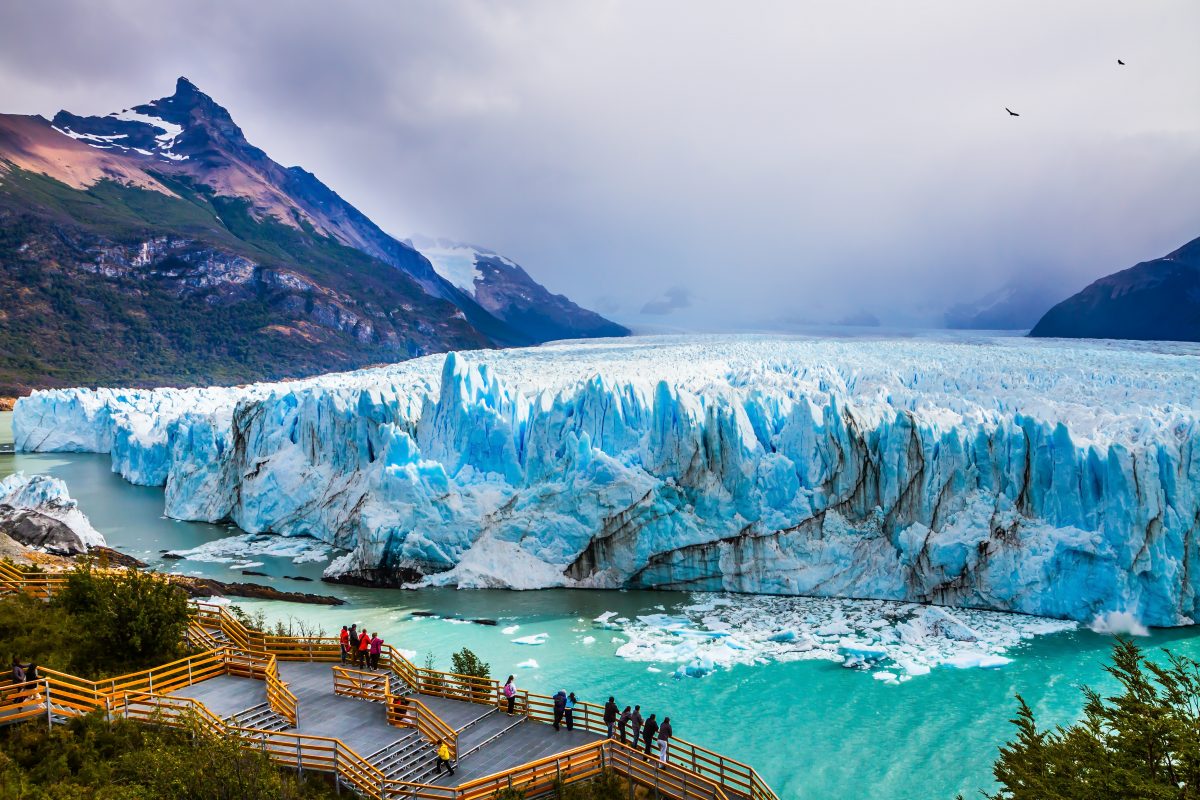 Described by UNESCO as "an area of exceptional natural beauty," visiting Los Glaciares National Park is an unparalleled experience. With towering mountains, massive glaciers, and lakes, it seems every angle is worth marveling at. If it's your first time visiting Los Glaciares Parque, we rounded up the best things to do here.
Los Glaciares National Park How To Get There
First of all, where is Los Glaciares National Park? The park sits in the Austral Andes southwest of Argentina on the shared border with Chile. Los Glaciares Parque is the largest protected area in Argentina.
Visiting Los Graciales National Park is easy via daily flights from Buenos Aires to El Calafate International Airport. If you're traveling by car, take the coast side from Buenos Aires. Meanwhile, traveling via bus, you can do so from Río Gallegos.
Los Glaciares National Park Facts
Glaciers National Park is not listed by UNESCO as a World Heritage Site for nothing. What is special about Los Glaciares National Park? This park boasts famous glaciers in action, which is among the rare sights in the world. In addition, Los Glaciares Parque is home to glacial lakes, majestic mountains, and floating icebergs of impressive sizes and shapes.
When was Los Glaciares National Park formed, you might ask? Established in 1937, the park has since been a tourist attraction. People all over the world visit here to enjoy the scenic views and glaciers. Another important question is, how much is it to go to Los Glaciares National Park? There are no permits to enter the park. However, Los Glaciares National Park entrance fee is around US$30 for foreigners.
Other Interesting Argentina Glacier Facts:
The park's glaciers are said to be different from those around the world. While most glaciers start 8,200 feet above sea level, the Argentina glacier starts at less than 5,000 feet. These glaciers also flow down to 650 feet above the sea.
Los Glaciares Parque is the second-largest national park in Argentina. It spans 1,721.63 square miles.
It has been a national park since 1937 and a UNESCO World Heritage Site since 1981.
Its name comes from the massive ice cap in the Andes mountain range.
Los Glaciares National Park is home to two beautiful lakes – Lake Argentino and Lake Viedma.
Be prepared before exploring Los Glaciares National Park. The roads are not well-paved so it can be a challenge. It's best to bring a spare tire if you're driving to the site.
Time to conquer the famous glaciers! Here are the best things to do in Los Glaciares National Park.
Things You Must Do
1.
Ice Hike Across The Perito Moreno Glacier
If you're in for some ice hiking, do it on the most famous glacier in Patagonia — Perito Moreno. Taking after the name of Argentinian explorer Francisco Moreno, this glacier spans 20 miles long. The massive glacier feeds down into Lago Argentino. Aside from that, it is among the few that are accessible to hikers.
So, if you're up for the adventure, grab your winter boots for some ice trekking!
Why Visit Perito Moreno?
It is one of the accessible and safest glaciers in the world.
Perito Moreno is for hikers of all skill levels. Just don crampons and you're set to go.
Watching the chunks of glaciers crash into the water is an experience of a lifetime.
It is close to El Calafate town. This gives you a chance to explore the nearby surroundings.
Aside from Perito Moreno, there are other glaciers you must see. Visit Upsala and Spegazzini in the south via a boat. Meanwhile, if you head north, you can take in the beauty of Viedma Glacier. This stunning and active glacier feeds into Viedma Lake. It is accessible from El Chalten. As mentioned, Los Glaciares Parque is home to numerous glaciers. The less-famous ones include Torre and Piedras Blancas. You can view them when trekking Mount Fitz Roy.
2.
Trek The Peaks Of Mount Fitz Roy
One of the best things to do in Los Glaciares National Park is trekking its peaks. If you want to brave the highest mountains, Mount Fitz Roy has you covered. With a staggering height of 3,359 meters (11,171 feet), conquering Mount Fitz Roy provides high-quality climbing.
Nestled in the Southern Patagonian Ice Field, you can enjoy world-class hiking for either half or full day. Mount Fitz Roy was initially named Chalten, which means "peak of fire." Today, adventure-seekers trek its jagged and snow-capped peaks. Take note, though, that Mount Fitz Roy is difficult to climb because of its sheer granite surfaces. However, the views from the summit are rewarding. From clear blue skies to panoramic views of open valleys, all these make the climb worth it and more bearable. Don't forget to wear heated gloves to keep you warm throughout the trek!
Another worth the climb is Cerro Torre. It may be not as famous as Fitz Roy, but they say the climb is just as challenging. You can reach the foot of the peak via the Laguna Torre day hike.
3.
Marvel At The Magnificent Lakes
If hiking isn't your thing, a relaxing activity to do in Los Glaciares Parque is to visit its two lakes. There are two beautiful lakes in the park, located in the south is Lago Argentino. Being the largest lake in Argentina, it boasts an impressive 600 square miles of size. The water is fed by the La Leona river as well as by Perito Moreno, Upsala and Spegazzini glaciers. The milky blue waters of the lake flow into the Santa Cruz River and empty into the Atlantic Ocean. Cruising along the river allows you to take in the beauty of the mountains and glaciers.
Meanwhile, the smaller of the two is Lago Viedma. Spanning 80 km in length, this lake is famous for its turquoise waters. Located in the heart of Argentine Patagonia, you can cruise it from El Calafate. Visiting Lago Viedma offers a peaceful Patagonian landscape. While you're at it, enjoy a picnic on the shore of the lake.
4.
Explore The Town Of El Calafate
You can't visit Los Glaciares National Park without exploring the town. Sitting at the base of the Fitz Roy mountain, El Calafate is more than just a gateway to Los Glaciares Parque.
El Calafate is home to many trailheads that mountain climbers can choose from. Aside from that, a variety of restaurants, breweries, and bars dot the town.
Take advantage of El Calafate as it's the only big town in the area. It houses an airport and transportation links. A famous spot in El Calafate is the Perito Moreno Glacier. This Argentina glacier is just an over away from the town.
El Chalten, meanwhile, is a small town close to Fitz Roy. The town may be small but it is home to bars and restaurants to keep you busy and full.
Top Things To Do In El Calafate:
Enjoy the views of Mount Fitz Roy and Cerro Torre on day hikes.
Mingle with the locals in the restaurants or breweries.
Have a taste of local cuisine and pastries.
Buy some souvenirs from the local stores.
5.
Join An Expedition To The Southern Patagonian Ice Cap
Are you up for an expedition? If you're keen to don snow boots and crampons, the Patagonian Ice Cap awaits you!
The Patagonia Ice Sheet is a vast stretch of ice that covers four parks including The Los Glaciares National Park. If you want to conquer this famous ice cap, the southern part is where all the action happens. Expeditions to the ice cap usually take at least 8 to 10 days. They begin at the Marconi Pass or Paso del Viento.
Top Things To Do And Enjoy:
Take the challenge of trekking deep into remote lands and wild trails.
Enjoy the natural beauty of wide-ranging environments. These include stunning glaciers and icy seas as well as the forests of Piedra del Fraile.
Take in the sweeping views of Mount Fitz Roy and Cerro Torre. This is an amazing opportunity to take stunning photographs. Bring along a trail camera or a selfie stick to capture the best moments.
Get closer to nature by camping near the streams or lagoons. You can also opt to set up your tent on untouched snow. Don't forget a quality sleeping bag for the ultimate comfort.
6.
Go Around Town On A Horse
Argentina is known for its quality horse breeding. This means when visiting Los Glaciares National Park, don't miss the chance to ride on a horse to explore the town. Viewing the Patagonian terrain is without a doubt one of the best experiences here.
The town has many routes that travelers on horses can take and enjoy. To make the experience more fun, there are organized horse riding trips available for travelers to take advantage of.
For a fun-filled day, wear comfortable clothes. To complete the look, wear a pair of sunglasses that work in extreme conditions.
7.
Kayak Your Way Around Rio De Las Vueltas
Aside from exploring the park via a horse, you can do it via a kayak. Rafting and kayaking are top activities practiced on River Santa Cruz and on Rio De Las Vueltas (El Chalten area). There are pneumatic boats available that can fit up to 10 people designed to navigate the rapids.
The ride begins at El Chalten downtown from where you enjoy a 5-hour kayak trip. The ride wounds its way through Rio Las Vueltas. Kayaking the river allows you to enjoy the stunning views of Mount Fitz Roy from the water.
To fully enjoy this experience, make sure to dress appropriately. This includes waterproof boots or shoes for your convenience. Aside from that, place your valuables in waterproof bags or containers.
8.
Explore The Town On A Bike
Getting to know a town means exploring it. Another popular choice to do this in Los Glaciares Parque is by riding a bike. It's a simple activity that brings a host of benefits not just to you but to the environment as well. You can rent a bike from El Chalten either for half a day or full.
Renting a bike is perfect if you want to explore the town on a budget. This also allows you to visit places that cannot be accessed by cars. Just follow the paved road or cycle around the lake. Don't forget to look up so you won't miss the spectacular views!
9.
Enjoy Wildlife Encounters In The Park
Spanning 600,000 hectares, Los Glaciares is home to a variety of animal species that you won't see every day. Visiting the park allows you to see and learn about over 100 species of birds that live in the forest. Some of the rare ones include torrent duck, white-throated caracara, Andean condor, lesser rhea, and black-throated finch. Aside from animals, the park houses plant species. The climate in Los Glaciares also makes it ideal for these animals and plants to thrive.
There are organized wildlife tours from El Calafate, from half-day to full-day tours.
Accommodation Options
Estancia Nibepo Aike: About 69 km from Perito Moreno, Estancia Nibepo Aike offers rural accommodation with sweeping mountain views. Boasting a beautiful wooden house, Nibepo Aike has heated rooms with rustic-style furniture. There's also a restaurant serving a variety of dishes. For activities, this farmhouse offers horseback riding tours. If traveling with the kids, the farmhouse has a playground available.
Adventure Domes Glamping: In for some glamping? About 49 km from Calafate Hill, Adventure Domes Glamping lets you enjoy camping in style. The accommodation has a restaurant, garden, and a shared kitchen for guests to enjoy. For some R&R, there's a private beach area and hiking tours that can be arranged.
Hosteria El Galpon Del Glaciar: El Galpon offers its guests with authentic country experience. Sitting in Patagonia Argentina, El Galpon has comfortable rooms with the best views of the Andes Mountains. What makes your stay here special is how you can get an up-close view of sheep shearing and herding. For some activities, you can also engage in mountain biking and fly fishing.
Estancia La Usina: Located in Puerto Bandera, the hotel offers stunning river views. The rooms are clean and comfortable. The hotel also houses a restaurant and bar for your pleasure. To diversify your stay, guests can enjoy cycling, hiking, and horseback riding.
Pro Tips To Conquer The Argentina Glacier
Be prepared: Hiking in Patagonia is an experience of a lifetime but keep in mind that it's not that easy. To fully enjoy the stunning scenery and impressive glaciers, prepare yourself physically and mentally. It's recommended to do some regular exercise in the months before your travel. This is important if you're not in the habit of doing so. Practice mountain walks or climbing staircases to prepare for the hike. Regular walking and jogging are also helpful.
Break in your shoes and test your backpack: Having the right gear and outfit is important but testing their quality is just as important. Before heading to Los Glaciares National Park, check if your shoes properly fit you. The right fit makes a big difference in how comfortable and safe your hike will be. Testing your backpack, too, is important. After all, this is where you'll keep your travel essentials. Make sure your backpack is sturdy and big enough to hold your things together. A waterproof type is highly recommended in case of sudden weather changes.
Pack well: Patagonia is known for its constantly changing weather. To avoid getting inconvenienced, pack well. Make sure you have enough food and water supply with you. Extra clothes, a light rain jacket, and a scarf are also recommended. Aside from that, bring along emergency items such as a flashlight, a first-aid kit, and medicine.
Other Helpful Tips
Be responsible: Just like anywhere else in the world, be a responsible climber. Respect the rules around Los Glaciares National Park and when hiking Patagonia. This includes camping and cooking in the designated areas only.
Be green: Take note that the water from Patagonia rivers is drinkable. This means, as a visitor, you are expected to respect this and be responsible when hiking here. Make sure not to throw any trash anywhere the trail and especially on the rivers. This also means you can drink straight from the river or refill your bottles from it anytime you want.
Book in advance: You may be the spontaneous traveler, but Los Glaciares National Park can be busy in the summer (December to February). To avoid any inconvenience, book your flights, accommodation, and tours in advance.
Stunning Glacial Landscape Awaits You!
Los Glaciares National Park is more than just its famous glaciers. While people flock here to witness the spectacle of towering walls of ice, the park has more to offer. Visitors can feast on the scenic views, kayak on rivers, or explore the town on a horse or a bike. Let's not forget the lines of restaurants and bars that will give you a taste of local cuisine and delicacies. They say a day is truly not enough to enjoy Los Glaciares Parque.
To fully enjoy your stay, research and plan well ahead. Hopefully, this list of best things to do in Los Glaciares National Park will make your visit more memorable.