Why Sleeping Bags Are A Must Have In Your Backpack?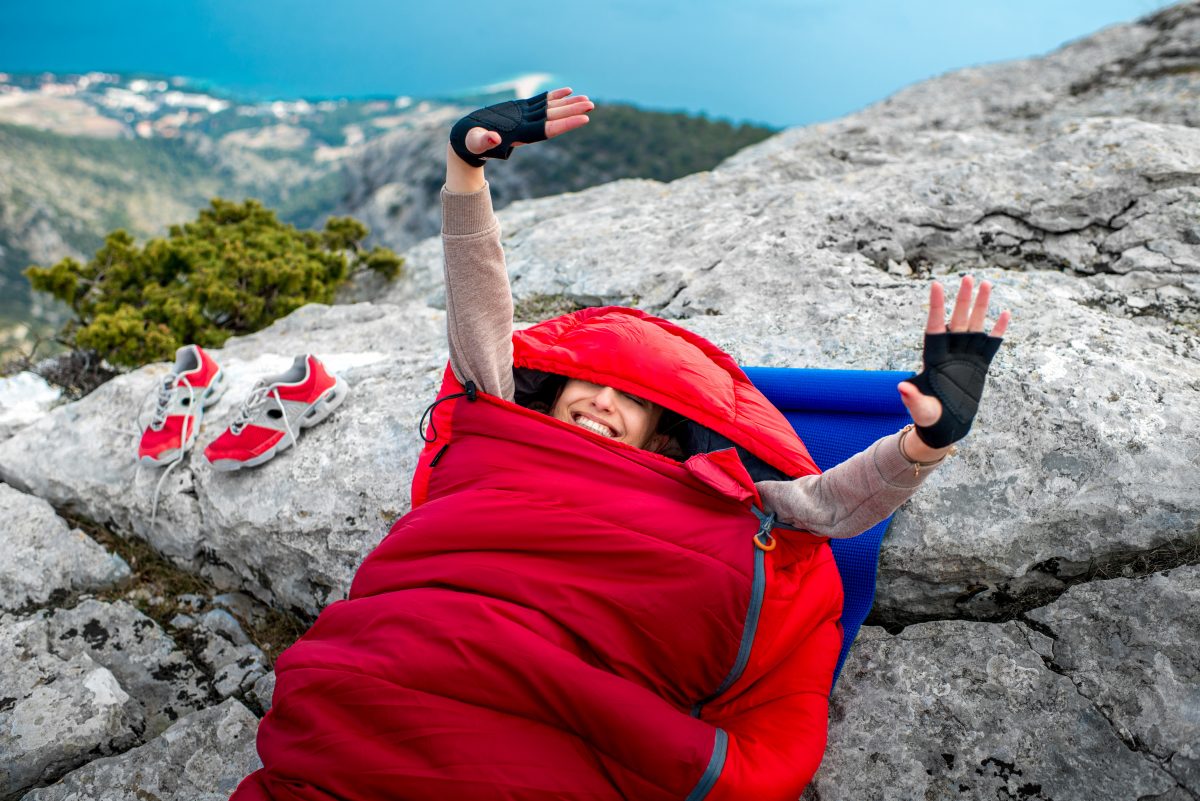 Do you feel cold while sleeping outdoors? Are you worried about your comfort while sleeping at night when you are camping?
All of these problems have a straightforward solution and that's a sleeping bag!
What Is A Sleeping Bag And How Does It Help You?
If you haven't heard of sleeping bags before or if you are new to this, sit back and keep reading. Everything that concerns the best sleeping bags will be memorised in your head by the end of this article. Well, it depends on your concentration, but you got the idea.
So, what are sleeping bags and what to do they provide?
Keep this in mind: Sleeping bags are essential! Really Important!
The reason for that is because you probably don't want to freeze to death while sleeping, right?
Sleeping bags will help you keep your body temperature high and have a relaxing and comfortable night experience. Not only do they provide you with extreme warmth but also brings you the comfort you need to prepare thoroughly for the following day. Note that these sleeping bags will make you feel refreshed and ready for new adventures and travels. This will improve your mood. You will have more fun and make better decisions throughout the day.
Let's take a look at how you experience the temperatures.
Sleep Experience Depending On Different Factors
So, this is not a precise science like math.
When it comes to body temperature, you need to understand that every person is unique and has a unique temperature. Some people sleep colder, others warmer. All in all, you need to remember that women sleep a few degrees colder than men.
Also, consider the weather conditions. If there is nasty weather upon you raining or snowing? What would you do? The humidity goes really high and this will definitely have an impact on body temperature while you are resting in a sleeping bag.
Are you sleeping on the ground or are you laying on a sleeping bag? Well, you should be sleeping in a sleeping bag. That's because the ground can extract the warmth of your body while a sleeping bag will keep you warm and relaxed. Also, laying on the ground ought to be uncomfortable, and you will be having issues while falling asleep.
In addition to a sleeping bag, you can put a sleeping bag liner to add more warmth and comfort to your night experience. Sleeping bag liners are great for lightweight sleeping bags since they keep you toasty and help you feel warm in colder weathers.
Temperatures In Which Sleeping Bags Arrive
You already have a better understanding of the variables that can cause your body heat to go up or down. Now let's discuss the temperature ratings.
There are three unique temperature categories:
T Comfort – this can be counted as the standard or traditional type. It represents an adult woman laying on a layer and having a comfortable night's sleep. Simply put – it means high-quality comfort.
The next one would be T Limit. It represents the lowest range of T comfort where an adult person can have a comfortable night experience.
And the last one is T Extreme. In other words, – survival mode. It's not suggested for any person since it's on the lowest border of T Comfort.
Check some of the best sleeping bags we recommend:
The Best Sleeping Bags In The Market
Since you fully understand the importance of having a sleeping bag in your backpack, we created a list and gathered the best sleeping backs you can get for yourself and your family.
1.
Kelty Tuck 22 Degree Sleeping Bag – Regular

Kelty is a famous brand that offers one of the best sleeping bags out there for both men and women. They are offering two models of this type – 20°F and 22°F. The difference between both types is that 10°F, as you can see, provides less heat but it's significantly lighter than the 22°F one. Magma bags are created from high-quality materials, where most of the other brands skip this vital step.
Kelty Tuck 22 Degree Sleeping Bag is available on Amazon.
2.
Western Mountaineering Alpinlite 20°F

Same as the above, Western Mountaineering creates some of the highest quality, lightweight, and warm sleeping bags that bring an extreme amount of comfort as well. This type of sleeping bag is one of the most popular in the market and is made only from top exceptional materials – draft collar with cinch cord, well-shaped foot box, and hood, differential cut fabric, continuous baffles, full-length draft tube. All in all, this is one of the best sleeping bags we can recommend to you.
Western Mountaineering Alpinlite 20°F is available on Amazon.
3.
Paria Outdoor Products Thermodown 15 Degree Down Sleeping Quilt

This one is a mix of exceptional features, making it a unique sleeping bag where you can comfortably put your body to rest. It's lightweight, versatile, and its affordability makes this one an excellent choice if you have a spending limit.
A good option, if you are on a budget.
Paria Outdoor Products Thermodown 15 Degree Down Sleeping Quilt is available on Amazon.
4.
Mallo Me Single Camping Sleeping Bag
This is one of the best choices for people in the market. It is really durable and since its lightweight can be easily carried while you go for camping. It is quite convenient and can be washed easily without any hassle.
Mallo Me Single Camping Sleeping Bag is available on Amazon.

These incredible bags are for those who search for quality comfort as a priority. Might not be the lightest, but the fantastic comfort and warmth they bring to the table, make them a perfect choice for a backpacker who is on a budget. If you need more room to move around in the bag, these come with more extensive sizes for a more comfortable and relaxed sleep.
Buy SOULOUT sleeping bag from Amazon.
We hope you have found this guide really useful and you are all geared up for your next adventure.