10 Best German Christmas Market You Need To Visit In [2019]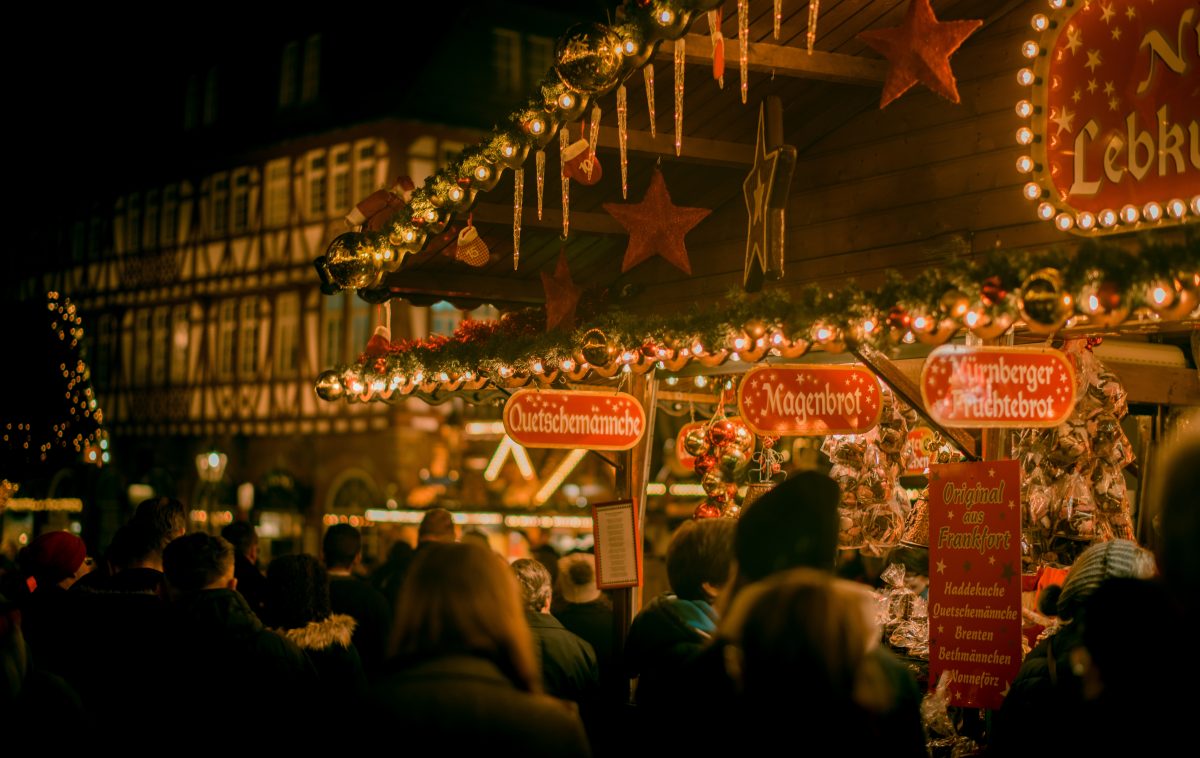 It's that time of the year again. With Christmas just around the corner, holiday preparations are in order. In Germany, that means loads and loads of Christmas Markets. Known alternatively as Christkindlmarkt or Weihnachtsmarkt, German Christmas Markets pop up all over the country in celebration of the yuletide. For locals and tourists alike, that means discovering great finds and unique items for reasonable prices. So if you find yourself in the area, here are the best German Christmas Markets you must visit before the year ends.
1.
Aachener Weihnachtsmarkt, Aachen (November 22 – December 23, 2019)
Dating back to the 1970s, the Aachen Christmas Market (Aachener Weihnachtsmarkt) takes place in front of the Aachen Cathedral and the Town Hall. Wooden pavilions line up to create a Christmas village. Additionally, a large fountain takes the center stage.
The sprawling street bazaar sees more than a million visitors per year. There are so many booths that alleyways become occupied, too. Local bars run out of space for patrons, having to spill over into the streets just to accommodate more. For food, don't forget to try local specialties like Aachen Printen (gingerbread). As you walk through this German Christmas Market, a sense of wonder and joy will immediately overcome you.
While you're in Aachen, make a note to visit other local attractions as well. As one of the most popular spa cities in Germany, this place has a lot to offer. Pop into the Aachen Cathedral for a dose of spiritual enlightenment or to simply gaze at the marvelous design. The Gothic Town Hall will give you a taste of Aachen's bourgeoisie. On days it's open to the public, enter the Gothic Coronation Room for a truly royal experience.
Feeling cold? Do as the Romans do and dip into one of the mineral thermal baths. Art connoisseurs should enjoy Aachen and its many museums. There's the Ludwig Forum for International Art featuring more contemporary works. On the other hand, the Couven Museum will satisfy lovers of historical architecture.
2.
Dresden Striezelmarkt, Dresden (November 27 – December 24, 2019)
The Dresden Striezelmarkt is the oldest of its kind in all of Germany. It's also one of the best Christmas markets in Europe. The spirit of Christmas runs rampant through the streets of this time-tested Christmas bazaar. Bright lights adorn booths, which sell everything from delicious food to Christmas ornaments. Traditional nutcrackers, crafted by hand, seem to be a favorite among visitors. A miniature chimney sweep made of dates called Dresden Pflaumentoffel is equally popular.
When it comes to food, don't miss out on sampling the famous stollen fruit loaf. In fact, stollens are such a huge part of this German Christmas Market that there's an entire day devoted to it. During this merry day, the city of Dresden welcomes a vibrant parade. Giant fruit loaves make their way around. You can also learn how to bake stollen yourself at the Stollenfest baking stand.
Additionally, visitors can enjoy riding a small Ferris wheel and carousel at this German Christmas Market. If you're more of an observer, Dresden offers no shortage of sights to see. This Baroque city is an architecture lover's dream. The style is very prominent among its buildings and structures. From Zwinger Palace to the Dresden Frauenkirche, the whole city screams Baroque. On the other hand, if you're more of a nature fan, Sachsische Schweiz is a large park that inspired Germany's romantic period.
3.
Frankfurt Christmas Market, Frankfurt am Main (November 25 – December 22, 2019)
Aside from being one of the best cities to visit in Germany, Frankfurt also hosts an incredible Christmas bazaar. The Frankfurt Christmas Market takes place in the historic old city, among timbered buildings that look straight out of a fairytale. The mesmerizing lights that decorate each chalet add to the sense of merriment. There's a giant Christmas tree flocked by tourists for a chance to pose with it. Additionally, there's a wooden carousel that would bring joy to children and adults alike.
This German Christmas Market welcomes around 3 million visitors each year — and for good reason. The traders here sell an assortment of products. However, amidst all the decorative items you'll find displayed all around, it's the local delicacies that stand out. Two of them feature marzipan as the star: Brenten and Bettmannchen. The third one, Quetschemannchen, is similar to Dresden's Pflaumentoffel. However, instead of a chimney sweep made of dates, Frankfurt's iteration is figures made of prunes and nuts.
Since you're already in Frankfurt, you must also take time out of your schedule to visit its other tourist spots. The old town is in itself an attraction, even without the allure of a German Christmas Market. The stark contrast of this historic German town against Frankfurt's more modern skyline is something to be admired. In the mood for romance? There are several intimate restaurants in the area. After dinner, cement your love at the Eiserner Steg bridge. Here, you can add a padlock on the railings just like in Paris.
4.
Gendarmenmarkt Berlin, Berlin (November 25 – December 31, 2019)
There are over 70 German Christmas Markets in Berlin. However, the Berlin Christmas Market held at Gendarmenmarkt is perhaps the most popular. This historic market square plays host to an annual bazaar that sweeps the streets with music, entertainment, and more. Plus, it runs all the way until December 31, so you can do some last-minute shopping before ringing in the new year.
At the Berlin Christmas Market, you'll stand in awe of craftsmen carving intricately designed wooden gifts. If you're more into paintings, this German Christmas Market has got you covered. Here, artists display their works for all to see (and potentially buy). You can even purchase handmade clothes that were sewn just minutes before. There's also a seemingly endless supply of entertainment here. Fire-eaters, jugglers, glassblowers, and choirs — they can all be found at the Gendarmenmarkt Berlin.
When you're done sipping on spicy mulled wine, remember to visit the best attractions in Berlin. The Brandenburg Gate, a classical grand archway, definitely tops the list. However, there a number of other destinations you mustn't miss. These include the Reichstag Building, Tiergarten, the Victory Column, Museum Island, and many more.
5.
Goslar Christmas Market, Goslar (November 27 – December 30, 2019)
For a truly magical experience, Goslar is the place to be. Apart from the usual stalls that make up a standard Christmas Market, the one in Goslar also features a festive Christmas forest. Consisting of 36 illuminated Christmas fir trees, this forest remains one of the Goslar Christmas Market's main attractions. It's also worth noting that the stalls form a star shape at the market square.
As you step into this German Christmas Market, you'll immediately hear cheery seasonal music and smell the aroma of spices. If you happen to make it for the market's inauguration, you're in for a treat. A parade of lanterns brushes through the streets on opening day. Be sure to try the local mulled wine and candied almonds (Gebrannte Mandeln), too.
While Christmas is a good time to visit Goslar, the city offers plenty to do year-round. Take a gander at the Imperial Palace and all its glory. Zwinger Tower, on the other hand, will remind you of ancient times. Goslar's Old Town, one of the German towns known for its rich history, will give you fairytale feels. Half-timbered houses line the cobblestone streets of this UNESCO World Heritage Site. For wintry fun, this Germany city is also the perfect skiing destination.
6.
Leipziger Weihnachtsmarkt, Leipzig (November 26 – December 23, 2019)
Dating back to the 15th century, the Christmas Market in Leipzig is the second oldest of its kind in all of Germany. Twinkling Christmas lights, 300 stalls, merry music, and jolly parades define this street bazaar. It's located around the Marketplatz near the Old Town Hall. There's an abundance of food selections here, so be sure to make room in your belly for a night of eating.
Aside from the usual Christmas ornaments and local delicacies, the Leipziger Christmas Market also houses a Ferris wheel measuring 38 meters tall. The ride is perfect to share with friends or loved ones for a spectacular view of the market square. Speaking of gigantic attractions, there's usually also a large Advent Calendar for all to see. However, Leipzig isn't only known for having one of the largest Christmas Markets in Germany.
When in Leipzig, you must pay a visit to the Monument to the Battle of the Nations, which commemorates Napoleon's defeat. For a stunning view of the city, walk up 500 stairs to get to the top of this 91-meter-tall structure. Additionally, there are a couple of churches in Leipzig worth your time. St. Nicholas Church and St. Thomas Church easily come to mind. Whether you're religious or just into beautiful architecture, be sure to check them out.
7.
Lubeck Christmas Market, Lubeck (November 25 – December 30, 2019)
The Lubeck Christmas Market is unlike any other on this list. The Christmas bazaar itself is made up of some 150 stalls that are further divided into sections. For example, the Obertrave section is geared towards families with baking and model trains as the main focuses. On the other hand, the Petrichurch section is more art-inclined, with different works of art on display.
Perhaps the most popular draw of this German Christmas Market, however, is the food. Lubeck is one of the cities in Germany best known for marzipan. Thus, treats featuring marzipan at the forefront are prevalent. You'll easily encounter marzipan with just a quick walk through the stalls. No trip to Lubeck would be complete without trying out the sweet specialty. However, if you're on a budget, the marzipan cappuccino and the marzipan-stuffed apples are definite musts.
Lubeck is also a UNESCO World Heritage Site, so make time in your schedule to visit the many other attractions in the area. Admire Holstentor, the red-brick city gate, before spending the rest of your day in one of the museums in the city. For more architectural sights, the Lubeck Cathedral and the city hall are known for their Gothic style. Additionally, Lubeck overflows with charming alleyways and impressive courtyards tucked away from the crowd.
8.
Munchner Christkindlmarkt, Munich (November 27 to December 24, 2019)
There are a few notable German Christmas Markets in Munich. However, arguably the best one is the Christmas Market that takes place in the city's central square. The Munich Christmas Market at the Marienplatz takes place in front of the town hall. A large Christmas tree with adorned with twinkling lights immediately catches the eye of visitors passing by.
The stalls here sell everything from the usual Christmas ornaments to homebrewed Beeren Glühwein. There are also hand-painted glass balls that would make for a perfect present. If time permits, be sure to drop by this German Christmas Market by 5:30 p.m. During this time, a live music performance takes place at the town hall's balcony.
While in Munich, don't forget to try out the local beers. After all, it's one of the best cities to visit in Germany for beer lovers. Hofbräuhaus, for instance, is a state-run beer hall that dates back to the 16th century. The place is usually packed on Friday and Saturday nights, so plan your visit accordingly. On the other hand, Eisbachwelle is a more unconventional Munich destination. Here, you can surf with locals and tourists. However, novice surfers may find it more difficult than other surfing spots.
9.
Nuremberg Christkindlesmarkt, Nuremberg (November 29 – December 24, 2019)
Known popularly as the largest Christmas Market in Germany, the Nuremberg Christmas Market just screams holiday cheer. The red and white booths line the streets of Old Town, which swells with visitors from around the globe each year. Aside from the usual accouterments of Christmas bazaars, the one in Nuremberg boasts tons of tasty delicacies. Sample the renowned Lebkuchen (gingerbread) or the Zwetschgenmannle (figurines made of prunes). Nuremberg also has their own version of a Bratwurst which are smaller but just as delicious.
Apart from this German Christmas Market, there are numerous other attractions that call Nuremberg home. The Kaiserburg Castle, for instance, bears deep historical significance. Tourists also flock to Weißgerbergasse, a street that would charm even the most cynical of people. Prepare to get lost in wonder as you walk through colorful timber houses echoing styles of Baroque and Rococo.
10.
Weihnachtsmarkt Am Kolner Dom, Cologne (November 25 – December 23, 2019)
Juxtaposed against the Gothic Cologne Cathedral, the Cologne Christmas Market is the city's largest. The bazaar is made up of wooden chalets decorated in the spirit of Christmas. These stalls sell a sundry of items, including toys, soaps, and ornaments. Of course, no German Christmas Market is complete without the scent of delicious food in the air. Don't forget to wash it all down with some Gluhwein!
In terms of fun activities, there's an old-fashioned carousel perfect for kids. You can also try your luck on the wheel of fortune. With a giant Christmas tree at the center and the Cologne Cathedral in the back, countless photo opportunities await.
Of course, Cologne itself attracts millions of tourists every year. With so much to do, it comes as no surprise. Kolner Dom, a towering cathedral, is responsible for the bulk of visitors that visit Cologne. However, people also flock to other sites like the Romisch-Germanisches Museum and Salon Schmitz.
Frequently Asked Questions
What Is A German Christmas Market?
Put simply, a German Christmas Market is a Christmas bazaar of sorts held in the streets. Here, booths and kiosks decorated in the spirit of Christmas sell local and foreign merchandise. Visitors can walk around and shop freely. These markets, also known as Christkindlmarkt or Weihnachtsmarkt, first originated in Germany. It didn't take long, though, before the festive tradition spread to other countries. The event is meant to celebrate and welcome Christmas.
What Might You Shop For At A German Christmas Market?
No two German Christmas Markets are the same. As such, every market offers a diverse selection of products that are made both locally and internationally. If you have yet to discover the perfect Christmas gift for a loved one, there's a good chance you'll find it here.
Of course, every visitor of the German Christmas Market must sample the local food and beverages. Gluhwein, a hot mulled wine, is ideal for cold nights. Feuerzangenbowle, on the other hand, is a similar drink but with the added intensity of a flaming sugarloaf. Reibekuchen is a potato pancake that goes really well with Gluhwein. Other tasty delicacies include Handbrot, Baumstriezel, Christstollen, and Dampfnudel.
Additionally, German Christmas Markets are known for selling hand-made decorations. Christmas pyramids, in particular, stand out for the intricate design and cultural significance. Some markets even have large ones displayed as a centerpiece.
Which Germany City Has The Best Christmas Market?
There are obviously a ton of Christmas bazaars in Germany. However, given each German Christmas Market has its own distinct charm, it's impossible to determine which one is the absolute best. It all comes down to personal preference and experience.
What Are You Waiting For?
Due to the country's yuletide celebrations, Germany remains a top choice for holiday vacations among tourists. As you can clearly tell, this European nation offers no shortage of German Christmas Markets. Because they do it so well, it's no wonder other countries have adopted the tradition. So the next time you plan a trip to Germany, make sure you schedule it around Christmastime.