Alaska's Top 10 Amazing Ski Resorts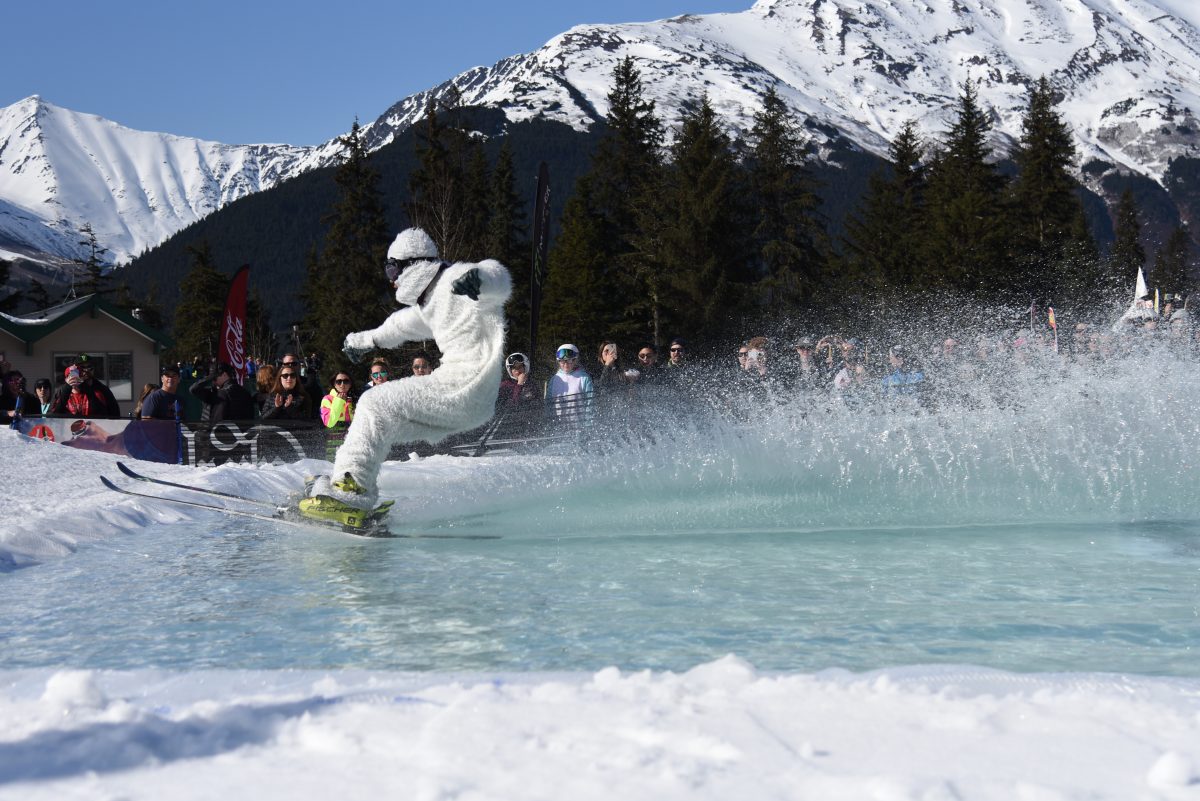 Alaska ski resorts, which are interchangeably called ski areas, are some of the best on the planet. The slopes here have long been sought after by both the extreme heli-skiers and the beginner bunny hill seekers. With nearly 700 inches of annual snowfall, it's no wonder Alaska ranks exceptionally high on the list of top ski destinations. Aside from sensational ski slopes, witnessing Alaska's rugged and wild beauty is worth the trip alone. During the winter months, the Northern Lights are regularly visible too, which only add to Alaska's unmeasurable allure.
While you can certainly spend your entire ski vacation here skiing, there are many other winter activities to do. There are also ample opportunities to indulge in revitalizing spa treatments, hot tub soaks, saunas and steam rooms, and an endless supply of hot cocoa.
1.
Ski Down To Alyeska Resort
Alyeska Resort is the premier ski resort in Alaska. Located in Girdwood, the chateau-style hotel is open year-round but is a particularly exquisite home base if you are coming to Alaska to ski. There is an average of 669 inches of snowfall every year in this ski zone. By staying here, you are granted easy access to all that fresh powder via short lift lines. Also, there are 1,610 skiable acres, seven lifts, and 76 named trails at this resort. There are runs for all levels of skiers, including North America's longest continuous double black run.
For more advanced and extreme skiers, you can access deep backcountry skiing right from the on-site private helipad. If at the end of the day you aren't totaled wiped out from all the skiing you've been doing, night skiing is open from 4 pm to 9 pm.
During your stay at Alyeska Resort, you also have access to a spa, a AAA Four-Diamond award-winning mountain-top restaurant, a 60-passenger aerial scenic tram ride, a saltwater pool, a whirlpool, a fitness center, and Starbucks in-room coffee. There are 304 luxurious rooms at the Alyeska Resort Hotel, but they are always in high demand.
2.
Visit Ski Land Ski Resort
Ski Land Ski Resort is home to the farthest north chairlift in North America. Skiing is only permitted here during the prime snow season, which is from early December to mid-April. Also, lift runs are only open on Saturday and Sundays. This exclusive ski resort in Fairbanks, Alaska has runs for beginner to advanced skiers, as well as an option for ski lessons. You can also rent ski equipment here and opt to purchase either a day pass or a season pass depending on how long you are planning on sticking around Fairbanks.
While the ski runs might only be open two days a week, Ski Land offers Northern Lights tours seven days a week from October 1 until the middle of April from 9 pm to 3 am. On this tour, you will be taken to the top of Cleary Summit, which overlooks the Poker Flat Research Range. From this dark and elevated vantage point, you will experience a 360-degree view of the Aurora Borealis.
While the Northern Lights can be seen from other view-points, from up here, you have a truly unobstructed view as you are above the tree line and far removed from any light pollution. You can also enjoy a cup of hot cocoa or a glass of wine at the Aurora Café, as you watch the sky dance from the viewing deck.
3.
Glide To Moose Mountain Ski and Snowboard Resort
Moose Mountain Ski and Snowboard Resort is the largest alpine ski and snowboard resort in Alaska's interior. The south-facing runs are shielded from Alaska's predominantly northeast prevailing winds. Temperatures here can be twenty to thirty degrees warmer than in Tanana Valley. There are 750 acres of runs for mainly intermediate and advanced skiers, but there are beginner-friendly areas near the base.
What's truly unique about this particular ski resort is that the primary mode of lift transportation is a fleet of school buses. While there is a traditional lift, which takes between thirteen and fifteen minutes, the school bus system only takes ten minutes and cuts the ski pass cost to you significantly. The school buses are kept nice and toasty and have remained an popular and efficient way to get up the mountain.
4.
Have A Range Of Fun At Tordrillo Mountain Lodge
If you are keen to go heli-skiing, the Tordrillo Mountain Lodge should be your top-choice ski resort. Located on Judd Lake, this luxury mountain lodge is an incredible home base for your extreme skiing vacation. The Tordrillo mountain range is revered for having some of the deepest snowpacks in the area. The lodge is within eyesight of two 11,000-foot volcanoes and the tallest peak in North America, Denali, which tops out at 20,320-feet.
During the summer months, there is a range of other heli-activities available such as heli-hiking, fishing, biking, and rafting. Using a helicopter as a mode of transportation grants you access to otherwise inaccessible parts of the wilderness. There are several accommodations options at Tordrillo Mountain Lodge, including private cabins and family-sized lodges. The attention to detail and comfort is truly next level. Other amenities include a wood-fire sauna, a copper hot tub, massage services, and a 500-bottle wine cellar.
5.
Drop Down To Mount Eyak Ski Area and Resort
Mount Eyak is an alpine ski area above the town of Cordova in Alaska. The steel and wire single-chair lift that was built in 1939 is still in use here! This ski area is a bit more remote and rural than the others, but none the less noteworthy. The base elevation is 400 feet, and the lift takes you up to 1,200 feet. There is an annual average snowfall here of 350 inches. Most of the 30 ski trails are geared more toward intermediate and advanced skiers; however, there are easier runs and even a bunny hill for the first-time skier.
This ski resort is open from December through April on the weekends, holidays, and most powder days. There is also a full-service rental shop and snack bar at Mt. Eyak. During the summer, Mt. Eyak is a popular hiking destination and is also the home of the annual Copper River Salmon Jam. If you enjoy Mt. Eyak and plan on regularly visiting throughout the snow season, you should join the Sheridan Alpine Association and purchase a season pass.
There is also an option to stay at one of the cozy mountain cabins in Hidden Valley. These charming cabins are available year-round for rent and offer the perfect basecamp for your winter and summer activities at Mt. Eyak. Each cabin can comfortably sleep four to six people and are all complete with a heated wood store, a covered deck, and an outdoor fire pit. The cabins at Hidden Valley were built in 2018 and are the latest edition to this amazing ski area.
6.
Have A Relaxing Stay At Girdwood Ski Inn
Girdwood Ski Inn is a quaint boutique inn located in the small Alaskan mountain village of Girdwood. Surrounded by the peaks of the Chugach Mountain Range, this is a prime location to station yourself if you want to spend the majority of your winter holiday here skiing or snowboarding. There are eight different room options, including a very budget-friendly bunk room. All of the rooms at this charming inn are less than $200 a night, though, which is hard to find elsewhere.
Girdwood is famous for its downhill skiing and snowboarding, as well as cross-country skiing, backcountry skiing, heli-skiing, cat-skiing, and snowmobile excursions. This mountain village is a lovely place not only to access the slopes but also to unwind and enjoy Alaska's vast wild natural beauty.
7.
Find Your Ski Love In Black Ops Valdez
Black Ops Valdez specializes in heli-skiing. While there are other heli-ski operations in Alaska, Black Ops Valdez takes it to the next level. The team of highly-experienced heli-ski veterans will make sure your experience is all-time and as safe as this extreme sport can possibly be. The limit of group sizes is up to no more than 16. Additionally, there is a guide for every four skiers. Their heli-season runs from February 23 to April 26, and their runs range from 2,500 to 6,000 vertical feet.
There are all different types of packages you can choose from depending on the length of stay and hours of flight and ski time that you are after. Black Ops Valdez offers a unique opportunity to combine a boat trip with your heli-ski trip. This particular package includes 14-hours of flight time, two professional ski guides, and seven nights abroad a private or semi-private luxury yacht. You can also choose from two different lodges or rent a cabin during your heli-ski adventure. The cabins are a bit more rustic than the lodges. However, all accommodations are cozy and offer a great place to return to at the end of your day.
8.
Have Fin In Eaglecrest Ski Area
Eaglecrest Ski Area is the only ski resort in the southern region of Alaska. With 650 skiable acres and a variety of runs for all levels, this is a great option for the multi-level skiing family or group. This ski area near Juneau receives anywhere between 200 and 500 inches of snowfall a season! The resort is open from December to April. Aside from the abundant snow and great runs, there are also options to attend the snow sports school as well as take part in several different groups and clubs.
Everything you need to ski or snowboard can be rented at the rental shop, and there are lockers available to store your gear or whatever you don't want to take up the mountain with you. To fuel your snow day, try a famous breakfast burrito from the Eaglecrest Grill before hitting the slopes or refuel with a cup of hot soup or hearty panini mid-day at this popular eatery.
9.
Jump Off Hilltop Ski Area
In 1979, the Youth Exploring Adventure, Inc. was established in Anchorage to provide recreational programs for kids in Anchorage. In 1984, the Hilltop Ski Area was established by the Youth Exploring Adventure, Inc. and has since been run by the non-profit organization. This family-friendly ski area is located to the north of the Bicentennial Park and near the Chugach State Park at the base of the Chugach Mountains. The majority of the runs are suited for beginner and intermediate skiers; however, there are a few more challenging trails for those with a bit more experience.
The Karl Eid Ski Jump Complex, which is adjacent to the Hilltop Ski Area has 15, 40, and 60-meter jumps and the Hillside Park has 7.5 miles of trails that are suitable for Nordics skiing. As you can see, this area has plenty of ski options! This is one of the best ski resorts to come to for those who are just getting into skiing or snowboarding. After a season skiing here, you might be ready for the more challenging ski slopes that Alaska has to offer.
10.
Slide Down The Arctic Valley Ski Area
Arctic Valley Ski Area is run entirely by volunteers from the Anchorage Ski Club. Located just ten minutes from Anchorage, this spectacular ski area is perfect for families. It is generally way less crowded here than the surrounding ski areas, and there are runs for all levels. Many compare this ski area to that of a backcountry ski area but safer and with convenient amenities. The Arctic Valley Ski Area is only open on the weekends. Also, due to a recent purchase of a winch groomer, you can look forward to consistent fresh tracks.
There is also a tube park here for some additional family-fun. The Arctic Valley Trailhead is a great access point to several true backcountry skiing trails. The most popular areas are the north side of Toklat Creek and the south-facing slopes of Mt. Gordon-Lyon. If you are interested in backcountry skiing, a few clinics are offered at the beginning of the year. However, these clinics book up fast, so if this is something you want to do, book as soon as possible!