13 Amazing Things To Do In Frankfurt, Germany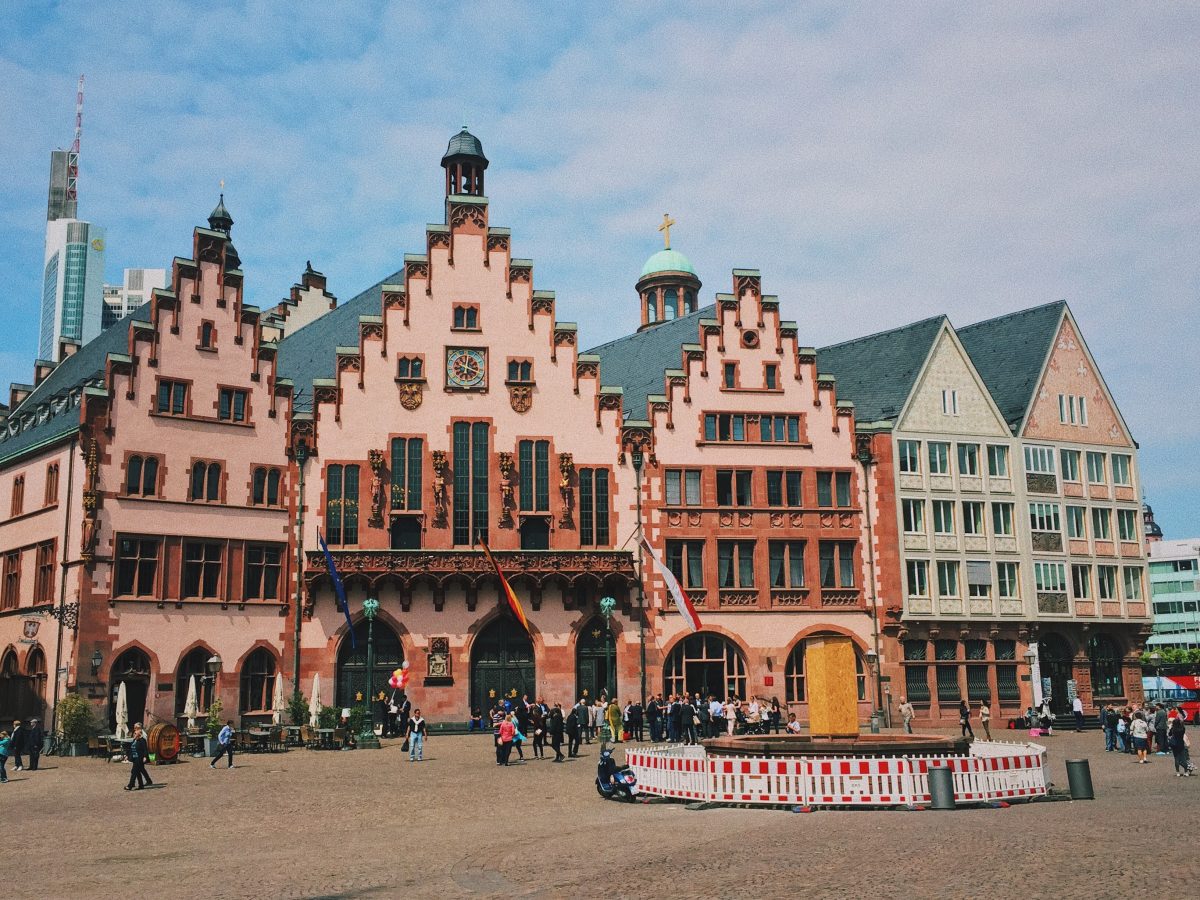 Germany is hard to miss when you're on a European tour. As a country that has found immense success in both the financial and automobile industries, Germany has what it takes to have you stunned in silence. While many flock to Munich for Oktoberfest and Hamburg for the city bridges, there are innumerable interesting sights spread across Frankfurt. Found on the western part of Germany, Frankfurt is not only encompassed by skyscrapers but also with unique sights. If you're in Frankfurt for a holiday, don't forget to treat yourself with Grüne Sosse Schnitzel and wash it all down with the traditional Apfelwein (Apple cider).
If you don't know what to do or see, we have compiled a list of locations throughout Frankfurt for you to visit. So, stop scratching your head and pop in for a visit to these wonderful attractions in Frankfurt!
1.
Visit The Frankfurt Museum Embankment (The Museumsufer)
Beyond its thriving financial hub, Frankfurt's Museumsufer is a three-lane avenue that is great for a stroll or a quiet time by the river to take in the view of Frankfurt's old town. As the most important landscape in Frankfurt, this museum district is prestigious locally and internationally. While there is no shortage of museums in this city, there are plenty of iconic museums that can be found along this embankment.
This museum district holds thousands of important artifacts from a variety of cultures around the world. Films, architecture — you name it, Museumsufer has it. From the Museum of World Cultures, Museum of Applied Arts, Museum of Ancient Sculpture, and the German Architectural Museum, this district can easily fill up your day.
Try and plan a Frankfurt stopover if you want to make the best out this city. Do note that the last weekend of August is the best time to catch the Museumsuferfest. From outdoor music and dance performances to dragon boat regatta, you'll never be bored.
The Frankfurt Cathedral a.k.a. St. Bartholomew's cathedral is one of the most important and historic landscapes in Germany. Built in the 1300s, Frankfurt Cathedral has gone through two major do-overs due to the drastic destruction it underwent during World War II. Spend some time here to admire its impressive gothic architecture.
How important is this cathedral historically? Well, kings were crowned here back in the 1500s. That was also the time when it gained its 'Cathedral' title. Be sure not to miss the choir stalls from the 1400s. Also, the grave slab of king Günther von Schwarzburg is a major sight of the Frankfurt Cathedral. The 95-meter high tower is hard to miss despite skyscrapers surrounding it.
3.
Frankfurt Old Town: Römerberg
The Renaissance Fountain of Justice is one of the few structures that survived the forces of WWII. Römerberg is located in the reconstructed old town of Frankfurt, and it dates back to the 1400s. Römerberg is an ideal place for you to visit if you like people-watching and chilling. Although you'll find many interesting and colorful buildings here, the most attractive structure of Römerberg is probably the Römer. This building has been the city hall of Frankfurt for 600 years and counting! You'll easily be carried away by the historic imprints; not to mention the unique exterior.
Though the rest of the town was rebuilt after the war, this largest pedestrian zone in Frankfurt remains as the favorite for both locals and international travelers. If you're in the mood to do some shopping, Frankfurt's old town is where you need to be. In order to complete your visit here, try the doner kebabs at Koylu-Doner and wash it all down with Frankfurt's signature Apfelwein (apple wine).
4.
Eiserner Steg (Footbridge In Frankfurt)
Eiserner Steg stands high above the Main River and is a prime tourist attraction in Frankfurt. This footbridge rests gracefully in the heart of Frankfurt city, but its history is long. In fact, this historic remnant was destroyed by the Nazis at the very end of WWII.
Some may call the Eiserner Steg the Pont des Arts of Frankfurt because this bridge is particularly known for its love locks. Whether you're to simply take a stroll or to look at the love locks, the Eiserner Steg emits elegance despite its big metal frame and monstrous structure. If you ever need to do some photoshoot in Frankfurt, you need to make sure that Eiserner Steg is in your itinerary.
5.
Frankfurt Botanic Garden (Palmengarten)
Palmengarten or the Palm Garden is yet another attraction that stands out in Frankfurt. In fact, this is the largest botanical garden in Germany. If you consider yourself to be a nature lover, this place is a must for you.
Here, you can explore a wide array of tropical plants in the glass greenhouses. Additionally, there are plenty of other activities to fill up your day like having a picnic under a shady tree or hiring a boat to admire the lush nature. If you're visiting Frankfurt between June to late August, be sure to enjoy the Jazz im Palmengarten where the open-air jazz show takes place at the music pavilion. Though no seat reservation is available, you should make sure to secure your tickets 4 weeks in advance. Make sure you arrive early to grab a good seat as it can get crowded especially when the weather is good.
6.
Kleinmarkthalle (Frankfurt Market)
If you must pick three great things about Europe, food has to be one of them. Frankfurt is no different from the rest of the continent. And to feast to your heart's content, what better place than the Kleinmarkthalle in Frankfurt, Germany.
Kleinmarkthalle is an indoor market near Zeil shopping street. The great thing about Kleinmarkthalle is you can choose between more than 150 stalls. Whether you like fresh produce or an unconventional food fest, Kleinmarkthalle is the place to go. However, this market is always filled with locals and travelers from all walks of life. So, if you don't mind the crowd, be ready to go here on an empty stomach. During the weekend or even on a weekday, you'll see locals gathering outside, enjoying the weather with a glass of wine or beer. However, if you intend to try the local food here, grab yourself a wurst from Schreiber – it won't disappoint!
Apart from the traditional German cuisine, you'll also find a mixture of everything including Italian, Spanish, Turkish, and many other cuisines. Meat, vegetables, cheese, fruits, and baked goods are available in this market to satisfy your palate. Also, bars are a bonus to make your night a lot more enjoyable. Kleinmarkthalle opens daily from 8 AM to 6 PM except on Sunday.
7.
Farmer's Market (Bauernmarkt Konstablerwache)
After enjoying the variety of food at Kleinmarkthalle, we have another surprise for you. Head to the Bauernmarkt Konstablerwache for the ultimate local food experience. As Frankfurt's largest farmer's market, you'll find all sorts of fresh produce and quick bites here. If you are in the mood for some cured meat with cheeses or a simple craving for sandwiches, you'll definitely find something you'll love in this market. Ditch your ordinary breakfast staple! You'll find locals and travelers having breakfast here with Apfelwein on the side.
Make sure to try out the Grüne Sosse or commonly known as the green sauce here. If you like the taste, there are vendors that sell these sauces for you to bring home as a souvenir. Unlike any other markets, this one preserves its traditional food preparation methods. Hence, you'll notice many artisanal and baked goods that are organic and sourced from the best local producers.
Regardless of whether or not you're interested in arts, the Städel Museum is a must-visit attraction in Frankfurt. Having opened in 1815, the Städel Museum gained its fame for housing some of the most prominent German collections of classic Pan-European art. That includes sculptures, paintings, and drawings that date back as old as the 1300s. Though some of you might be curious for the name of origins, Banker Johann Friedrich Städel is the one who left his extensive art collection for an art institute bearing his name. Standing tall and proud today, this museum was once honored as "Museum of the Year" in 2012 and recorded the highest attendance figures in its history.
Historical events relating to the romanticism, expressionism, and impressionism are found widely in this Frankfurt museum. Artists like Degas, Kirchner, and Casper David Friedrich are some of the most notable ones in the museum. The entrance price is $16 for adults and it closes on Tuesday.
Unlike any other city in Germany, Frankfurt is probably the only city that is encompassed by many skyscrapers. Though not all of them are accessible by the general public, the view is stunning just by first glance. To fully immerse in the beauty of Frankfurt's cityscape, you need to visit the Main Tower.
Open since the early 2000s, this 200-meter skyscraper is one of the tallest buildings in Germany. What you'll get from the Main Tower is a transparent view of the mesmerizing beauty of Main and the Altstadt. While the observation deck is accessible for the general public every day, the operation hours change according to the season. So, make sure to double-check prior to your visit. Do note that from March to October, the operating hours extend to 11 PM. And the admission price for the observatory deck is at $8 per person.
10.
Goethe House and Museum
While it's not a strange sight to find many museums in Frankfurt, the Goethe House is one of the highlights of this city. The Goethe House was established in the mid-1700s to honor Germany's greatest writer — Johann Wolfgang Von Goethe. Born and raised in Frankfurt, Von Goethe is fascinating and unconventional. From his writing room to the decorated dining area, this residence is one that will take you back to the bygone. Don't leave without visiting the puppet theatre where he used to play as a child artist.
If you go peek next door, you can find the Goethe Museum. Masterpieces from the Romantic period and the Late Baroque are being displayed all across the gallery. To take things up a notch, visit the Goethe Tower in Frankfurt. This 43-meter wooden structure is one of the greatest spots in Frankfurt for a panoramic view of the dazzling city. Otherwise, Goethestrasse is a great alternative to do some shopping or enjoy a coffee.
Frankfurt Zoo has long been established since the mid-1800s and situated at the east of Innenstadt. This is the second oldest zoo across Germany and one that is filled with surprises. As home to more than 4,500 species of animals and an array of interactive events and tours, Frankfurt Zoo is a must-visit on your travel list.
Don't miss Ukumari Land which is an outdoor facility that is home to the Andean spectacled bears and howler monkeys. To make the most out of your trip to Frankfurt Zoo, look out for events that allow visitors to get up close to animals like seals, crocodiles, penguins, and more. Take a break by visiting the Grzimek house which displays the versatile fauna of Madagascar. You can also stroll around the Bird Hall to marvel at distinct and colorful species of birds. Check out the Frankfurt's Zoo events, so that you don't miss any of these fun festivals, themed tours, and exhibits.
12.
Ebbelwei-Express with apple wine (Apfelwein)
How about a tour of the Frankfurt city with a glass of Apple wine in your hand? Ebbelwei-Express in Frankfurt is the only city tram that offers Apfelwein (apple cider) for all visitors while touring Frankfurt. While beer is the conventional choice of beverage across Germany, Frankfurt is a little different. Apple cider or locally know as Apfelwein is the primary beverage in Frankfurt. A bembel (an earthenware pitcher) holds the apple cider and is served in Frankfurt's geripptes (a special glass). If you find yourself below the legal drinking age in Germany (which is 16), you'll still be able to enjoy the ride with a glass of apple juice and pretzel.
Hop on to this fun tram and throw in a couple of euros to get the unlimited Apfelwein. Along the way, you'll see many interesting sights including the Frankfurt Zoo, the old Jewish cemetery, Römerberg, and finally, the apple wine district. It cost $9 for adults and $4 for students and children.
13.
Frankfurt Green Sauce (Grüne Sosse)
Complete the entire Frankfurt experience by trying the signature Grüne Sosse. As a Hessian tradition recipe, the Frankfurt green sauce is a thick condiment that contains egg yolks and plenty of herbs like – chives, parsley, cress, and more. Unlike the common mayo in the US, this green sauce is distinctive mainly for its tang from lemon juice, quark, and Greek yogurt, not to mention the signature green color from the herbs. Paired with hard-boiled eggs, boiled potatoes, and schnitzel, this green sauce is certainly appetizing and addicting. Besides, the green sauce was supposedly Von Goethe's all-time favorite! The best way to complete your authentic Frankfurt's meal, pair it with Apfelwein; you certainly won't regret it.
Takeaway
With all the wonders Germany has to offer, Frankfurt is definitely one of the pioneers. Through a blend of modern technology and historical monuments, a trip to Frankfurt will not disappoint. From Frankfurt Zoo to the Main tower, Frankfurt has something to offer for everyone. Share with us your experience in Frankfurt and inspire others to visit this amazing city!