The 10 Cities In Poland Must Be On Your Travel List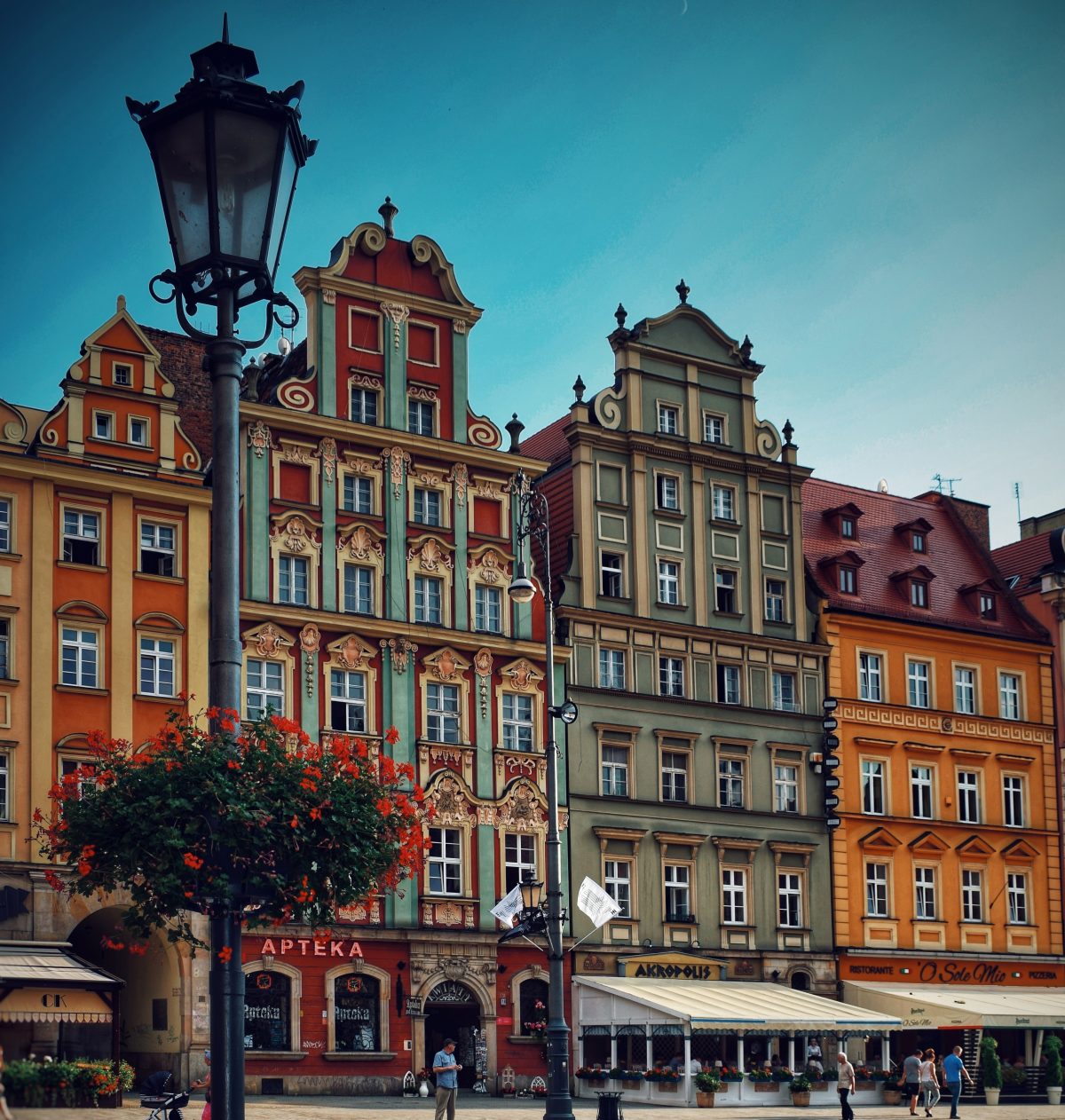 Poland — a nation whose rich history practically screams through its walls. A land that withstood war, endured conflicts and came out of the other end stronger than ever. Today, uniquely diverse cultures, inspired architecture, and delectable food mark the beautiful country.
Despite this, many travelers continue to leave Poland off their bucket list in favor of other European destinations. However, a closer look at this proud nation will tell you why it's absolutely a must-visit.
Here are 10 cities in Poland that must be added to your list.
Gdansk is a city defined by an interesting blend of architectural styles. It was one of the cities in Poland that Germany invaded. For a time, it remained under their control. Now, only glimmers of Germanic traits are left, with post-war reconstruction borrowing more influence from Dutch and French design. However, there is more to Gdansk than architectural beauty.
A walk down Royal Way allows you to check off several monuments in one go. The streets are lined with colorful buildings, which make for a perfect Instagram-worthy background. Additionally, Gdansk boasts a gothic church, St. Mary's, which dates all the way back to the 14th century. Just a few minutes away, Ulica Mariacka's cobblestone street and old narrow buildings would make anyone swoon. For dinner, try one of the restaurants with outside seating along Dlugie Pobrzeze (Long Embankment).
Not everyone has the luxury to plan their trip around a specific month. But if you do, Gdansk in late July to early August is unbeatable. For a three-week period, the city hosts St. Dominic's Fair, a long-upheld tradition. The celebration begins from the last Saturday of July, with a sprawling market that features local and foreign goods. You can also witness cultural events such as concerts, parades, street theater, and sports competitions. St. Dominic's Fair draws in hordes of tourists every year, with around 5 million people flocking to Gdansk to take part.
Some of Poland's main cities alone — Warsaw, Krakow, Lodz, Gdansk, Wroclaw, Poznan, and Szczecin — are already worth the trip. However, lesser-known cities like Gdynia deserve equal attention. Though at a glance, it doesn't seem like there's much to do or see in Gdynia, the truth is very much the opposite.
Polish cities are known for their markets, and Gdynia is no different. The seaside port boasts an indoor market, Hala Targowa, where visitors can shop everything from food and drinks to clothing and other items. If you're feeling particularly energetic, walk to the top of Stone Mountain (Kamienna Gora). The pinnacle of Stone Mountain offers fantastic views of the city at any time of the day, but it's especially popular during sunrise and sunset. Other attractions at Stone Mountain include a large cross, a restaurant, and a number of lush gardens.
In central Gdynia, Kosciuszki Square draws in most of the tourists. The square features plenty of stalls and little shops, with a grand fountain standing right in the middle. But, perhaps the most visited site in Gdynia is the main beach, where you can participate in summer activities or just relax idly and work on your tan.
As one of the most famous cities in Poland, Krakow is a can't-miss destination. The assortment of architectural styles found in this city is sure to blow any design geek away. Krakow's Old Town (a UNESCO World Heritage Site) is reason alone to visit, with the buzzing streets of Market Square smacked right dab in the middle of it all. It's the perfect setting to spend your afternoon. Moreover, the plethora of cafés and shops all around means there's plenty to do here.
If nature is more your vibe, Planty Park is the place to be. Located just five minutes from the main square, this thriving park is popular among tourists and locals alike. History buffs can head to the many old buildings that litter Krakow. Wawel Castle features an interesting combination of Renaissance, Gothic, Romanesque, and Rococo architecture. At the back, you'll find Wawel Cathedral, which boasts Gothic and Baroque frontispieces. On the other hand, the Krakow Barbican dates back to medieval times. Finally, St. Florian's Gate is a sight to behold, where you can practically hear the voices of old Polish kings that once passed through.
Krakow is one of the largest cities in Poland. As such, it serves as home to a great number of citizens. The Krakow population as of 2019 sits somewhere around 760,000, therefore making it the second most populated city in the country.
Because it's not one of the major cities in Poland, Lublin often gets neglected by visiting tourists. However, if time permits, this Eastern city must definitely be on your list. As with many Polish towns and cities, Lublin also boasts a historic Old Town. What sets it apart from other old towns, however, is its more intimate atmosphere. The streets branch off to small alleyways where cool bars and Instagram-worthy cafés stay hidden from the mainstream.
With Roman Catholicism being the most prevalent religion in Poland, the sheer amount of churches here comes as no surprise. Most tourists admire churches from a distance, rarely heading inside. However, St. John the Baptist's Cathedral must be an exception. The cathedral's interior features intricately designed walls and a breathtakingly painted ceiling. If there's only room for one church on your list, let it be Lublin's own.
You don't have to be a history buff to recognize the importance of Majdanek, where one of the largest German concentration camps once stood. Lublin itself was invaded by the German troops in 1939. Today, the grounds house a complex and a museum in remembrance of the people that died at the cruel hands of Hitler's Nazi regime.
Olsztyn is one of the cities in Poland part of the Polish Lake District. As you'd expect, a big draw of Olsztyn is Lake Ukiel, the largest lake in the city. The vast Lake Ukiel offers no shortage of fun activities. You can participate in sports or go for a leisurely hike. Moreover, the bird population here is quite impressive. As a result, you'll often find birdwatchers in the area. Feeling tired? Spend the rest of your day in one of the many bars and restaurants that surround Lake Ukiel.
Speaking of bars, tourists are encouraged to sample locally crafted beer at Warmia Brewery Bar. Poland has always been associated more heavily with vodka, but craft beer has become more popular in the area. You can tour the brewery before settling down with a glass of their finest Warmian beer as you look out at Castle Park. Still under 21? Don't worry. The legal drinking age in Poland is 18 years.
History connoisseurs should make time for Olsztyn Castle. The castle itself dates back to the 14th century when it served as the residence of the Teutonic Knights. Now, the impressively maintained castle houses a museum where you'll find relics displayed. If museums aren't your thing, you can explore the city's history by heading to Olsztyn's Old Town. Despite being Olsztyn's social and cultural hub, the place remains largely untouched by tourists.
While Poznan is one of the oldest cities in Poland, it continues to be one of the most spirited as well. The city's Old Town presents many photo opportunities, with its vibrant buildings and charming sidewalks. Visit the Old Market Square where the Town Hall stands proudly at the center. Stop for a drink and some pastries at one of the cafés and restaurants that surround the area.
A 10-minute drive from Old Market Square will get you to Citadel Park, the city's largest of its kind. Here, you'll find remnants of a Prussian fortress, as well as many historically significant sculptures. Across the Warta River lies Cathedral Island (Ostrow Tumski), where the original 10th-century Piast church is located. The church houses the tombs of Mieszko I and his son, Boleslaw the Brave, who first ruled the country.
The crown jewel of Poznan happens once a year. On the shortest night of the year (June 21 or 22), Kupala Night takes place. During this time, tourists and locals gather together to take part in the centuries-old Slavic tradition of releasing thousands of lanterns to the sky. Watch as the dark sky comes alive as lanterns float up in the air and feelings of warmth begin to envelop you. The event is meant to celebrate love, both old and new, so those feelings should be right on theme.
Interestingly, Torun was one of the only cities in Poland to come out of World War II unscathed. However, by no means does that diminish the city's appeal. In fact, the Medieval Town of Torun is listed as a UNESCO World Heritage Site. A walk through this old town exposes you to many tourist attractions, including the famous clock tower and Caesar's Arch. Moreover, St. Mary's Church, the Holy Spirit Gate, and the Copernicus Monument can be encountered along the way.
Speaking of Copernicus, a trip to Torun wouldn't be complete without a visit to the House of Copernicus. The historic house once belonged to the family of Nicolaus Copernicus, Poland's famous astronomer. Interestingly, it was Copernicus who proved that the Earth revolved around the sun. Today, the house serves as a museum in remembrance and honor of his life and work.
Pisa isn't the only one with a leaning tower. Not far from the House of Copernicus, the Leaning Tower of Torun draws tourists from far and wide. Walk a little further and you'll stumble upon the ruins of the Teutonic Knights Castle. The structure — or what's left of it — dates all the way back to the 13th century, making it one of the oldest castles in Poland.
Warsaw remains one of the most popular places to visit in Poland — and for good reason. As the largest city in the country (the Warsaw population is estimated to be over 1,775,000), Warsaw offers no shortage of sights to see and things to do. As with other Polish cities, Warsaw has a stunning Old Town, which has been listed as a UNESCO World Heritage Site. There, you'll find the Royal Castle, a place of residence for royalty from the 16th to the 18th century. Unfortunately, the castle was torn down when Nazi Germany invaded in 1939. It was only during the 1980s, after the Communist regime, that the castle saw reconstruction.
Outside of Old Town, Warsaw is a thriving intellectual hub featuring a medley of cultures and art. Along the Vistula River, you'll find a space where free concerts are played. There's also an outdoor cinema, a swimming pool, and numerous bars and cafés. The Royal Lazienki Park, the city's largest of its kind, boasts several gorgeous palaces. Got a sweet tooth? Try some Poland's best chocolate at the Wedel Factory.
In 1939, Warsaw was one of the cities in Poland invaded by Nazi Germany. Today, tourists can learn how World War II affected this great city by visiting The Museum of the Warsaw Uprising. A newer museum, the Museum of the History of Polish Jews (POLIN), hosts various workshops, lectures, and events. Its location is equally important, being the site of the former Jewish ghetto of World War II.
Wroclaw is one of the largest cities in Poland and the largest overall in western Poland. While there are many attractions to see here, perhaps the most popular among tourists is the Panorama of the Battle of Raclawice. The painting is housed in a round building of the same name. It depicts the eponymous battle, complete with special lighting and artificial terrain that makes you feel like you're inside this work of art. At 114 meters long and 15 meters long, this 19th-century painting is truly iconic.
A mere 15 minutes away, you'll find Market Square. The medieval market square dates back to the 13th century and is home to the highest town hall in Poland, the Gothic Old Town Hall. It's also one of the biggest market squares in Europe — a certainly impressive feat. Take a leisurely stroll through the streets lined with colorful houses. Feeling hungry? Try the Piwnica Swidnicka, the oldest restaurant in all of Europe.
Wroclaw has proven itself to be the home of many superlatives. Adding to that list, Wroclaw's Cathedral Island (Ostrow Tumski) is the oldest part of the city, going as far back as the 10th century. The area overflows with many historical buildings, monuments, and gardens just waiting to be admired.
Zakopane is a prime example of Polish towns that have largely slipped under the radar of tourists. Sitting two hours south of Krakow, Zakopane gives you a glimpse of life in the Poland countryside. Here, nature reigns supreme.
Begin your day by taking a hike on one of the trails around the Tatras. Lake Morskie Oko (Eye of the Sea) is hard to get to, but its stunning beauty is well worth the journey. For wintry fun, skiing is an equally popular pastime here, with slopes that rival those found in the Swiss Alps.
If you're not the physical type, a walk through the town opens your eyes to the unique Zakopane-style architecture. The style, created by Stanislaw Witkiewicz, is defined by rounded windows, wood, and intricate embellishments. After a day filled with excitement, simmer down with some mulled wine and Oscypek, a local smoked cheese made from sheep's milk.
Frequently Asked Questions
Where Is Poland Located?
Poland sits in central Europe, next to the Baltic Sea. Germany borders it to the west, with Ukraine, Belarus, and Lithuania to the east. Slovakia and the Czech Republic border it to the south.
How Many Cities And Towns Total Are In Poland?
It's important to note that Poland offers no distinction between cities and towns. Therefore, the cities in Poland are essentially the same as their towns. As of January 2019, the total number of cities and towns in Poland is a whopping 940.
Which Cities In The U.S. Have Direct Flights To Poland?
There are several cities in the United States that offer direct flights to Poland. On the west coast, you can fly from Los Angeles, San Francisco, San Diego, and Seattle. Meanwhile, east coasters can fly from New York City, Raleigh, Charlotte, Boston, Newark, Miami, and Atlanta. Other major cities that have nonstop flights to Poland include Chicago, Philadelphia, Phoenix, Fayetteville, Louisville, Denver, Dallas, Houston, and San Antonio.
The Takeaway
Now that you know which cities to visit in Poland, you can get started on planning your itinerary. Tourists often land in Warsaw and make their way to Krakow or vice versa, neglecting the rest of Poland altogether. However, as you can see on this list, there are many more cities in Poland worth your time plus many things to do. Warsaw and Krakow are definitely part of the overall experience, but lesser-known cities like Olsztyn and Zakopane are breathtaking in equal measure. So, if you find yourself in this central European nation, you know where to go.