Everything You Need To Know About The Munich Oktoberfest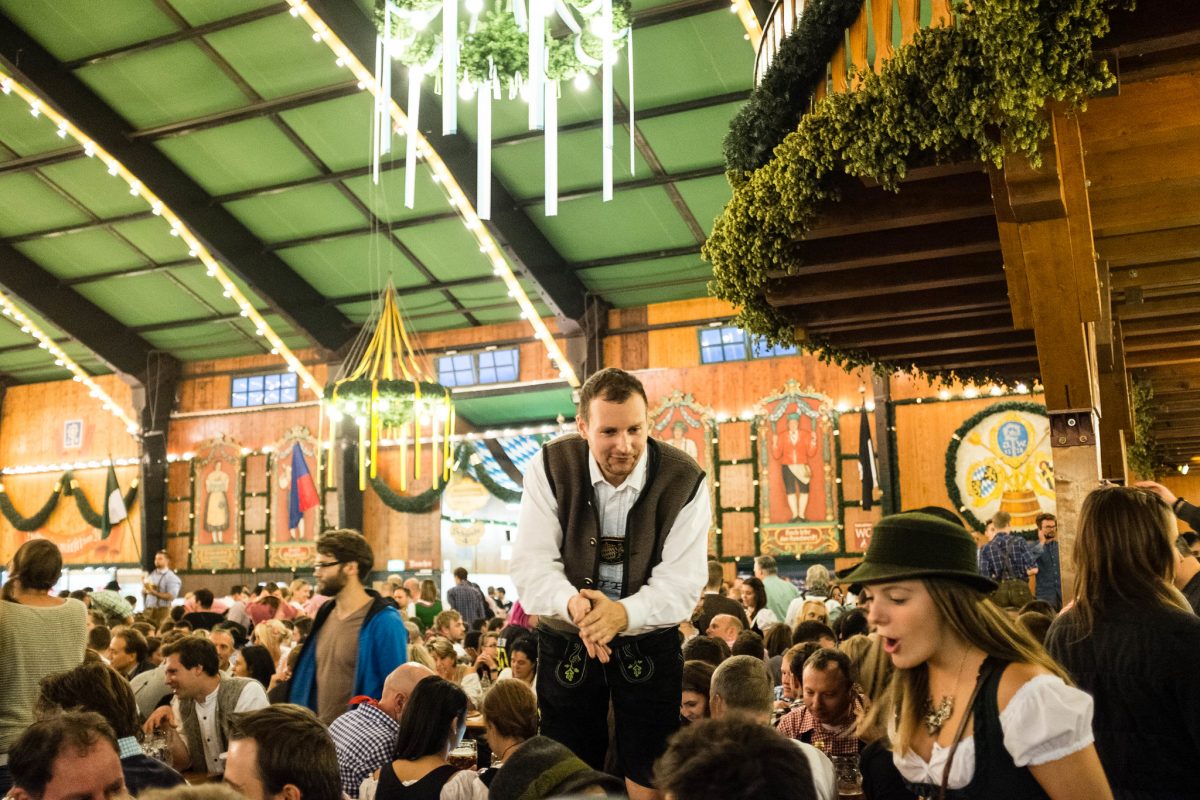 The Oktoberfest in München (Munich), Bavaria, is not only the biggest of Germany's annual beer festivals but also the largest folk festival in the world. Every September and October, more than 7 million visitors flock to this 16-day party. So don your dirndl, drink Bavarian beer and join the singing and schunkeln.
Now here's everything you need to know about Oktoberfest's attractions, with advice on how to make the most of your experience.
How Much Does It Cost?
Admission is free. You can enter the Theresienwiese, roam among stalls and enter the big tents without a ticket. You pay only for your drinks and meals, your purchases and any fairground rides.

Also, a maß (one litre) of beer costs around 12 Euro.
What Is Oktoberfest Like?
Oktoberfest involves watching people in their dirndl and lederhosen, drinking beer, joining in the singing of drinking songs and the schunkeln (linking arms with the people around you and sway side to side with the music). You also get the chance to eat hearty Bavarian food, mill among the crowds, go on fairground rides, and display your physical strength in contests, all to the accompaniment of 'oompah' folk music bands.
How To Get To Oktoberfest
Oktoberfest's location is in the Theresienwiese, also called 'Wiesn' by the locals. It's not far from the Hauptbahnhof (main train station).
The U-Bahn lines U4 and U5 stop at Theresienwiese and Schwanthalerplatz, which are both convenient. If you don't mind a short walk, you can take the U3 or U6 to Goetheplatz.
You can also take the S-Bahn to the Hackerbrücke stop. From there, it's a 10-minute walk. You won't need to ask directions. Simply follow all the dirndl and lederhosen-clad folks.
How Much Time Should I Spend?
Most visitors spend between half a day and a day.
When Is The Best Time To Visit Oktoberfest?
The atmosphere is great in the evenings' thanks to the bright illuminations of beer tents and fairground rides. However, that's also when the place is most crowded. On weekends and in the evenings, you may find it difficult to move through the tightly packed crowds, let alone find a seat to enjoy your meal.
To avoid the biggest crowds, go on a weekday morning. The majority of beer tents, stalls, and attractions on the Wiesn open at 10.00 and close at 23.30 on most days.
When Does The Octoberfest Take Place This Year?
The annual event begins at the end of September and runs for 16-18 days. You'll find the current year's schedule on the official website: https://www.oktoberfest.de/en/information/oktoberfest-opening-times
Do I Have To Wear Dirndl And Lederhosen?
If at all possible, make sure to don the traditional Bavarian costume. For guys, that's lederhosen (leather shorts which the Bavarians call krachlederne) with a small-checkered shirt. For gals, it's a dirndl dress with a white blouse (typically with short puffed sleeves and cleavage) and an apron.
Although these garments are not obligatory, most visitors choose to dress in the local style as part of the fun. The Bavarian attire will help you enter into the spirit and blend in. It's also a great opportunity for memorable souvenir photos and social media selfies.
You can buy a costume in decent quality from around 150 Euro in a department store, or rent one for a day for around 40 Euro.
Prepare for rainy weather. Contrary to what you see in promotional photos, the sky isn't always sunny and blue in Germany in October.
Above all, wear flat comfortable shoes because you'll be on your feet a lot.
How To Drink The Oktoberfest Way
Beer is, of course, the standard drink at Oktoberfest. Bavarian beer in particular is the best in the world, at least according to the Bavarians.
The Oktoberfest has strict rules about what kind of beer may be sold. The beer must be brewed within the city limits of Munich and conform to the German Reinheitsgebot. As such, the beers you'll find include Augustiner-Bräu, Hacker-Pschorr-Bräu, Löwenbräu, Paulaner, Spatenbräu, Staatliches Hofbräu-München. You may want to sample all six and find out which is your favorite.
Bier is sold in a maßkrug, a big one-litre glass beer jug with a handle. Expect to pay around 12 euro for a maß, plus a 2 euro deposit for the jug. This prevents people from wandering away with the glasses, smashing them, or taking them as souvenirs.
To toast, lift your jug and say "Prosit" or "Zum Wohl" to your seat neighbors. Also drink a lot of water, especially if you plan on swigging a lot of beer.
Soft drinks are also widely available, as are some other alcoholic drinks.
What To Eat At Oktoberfest
The meals and snacks sold in the tents and stalls are typical south German fare which include schweinshaxen (leg of pork), krautsalat (with cabbage salad), bratwurst (fried sausage), kartoffelsalat (potato salad), halbes hähnchen (or, as the Bavarians say, a hoibads hendl – half a grilled chicken), käsespätzle (a pasta dish with melted cheese), weißwurst ('white sausage' made from veal and bacon), brezeln (giant pretzels) and more. For those with a sweet tooth, enjoy a traditional apple strudel.
Tip: food purchased at outdoor vending booths costs less than the ones sold in the big tents.
What is A Bierzelt?
A bierzelt is a 'beer tent'. But don't expect a normal tent. Most of those 'tents' are huge, brightly decorated buildings, holding up to 10,000 people each, tightly packed on wooden benches between narrow tables. There'll be waitresses in dirndls carrying armfuls of beer jugs, live bands playing folk music, and lots of drinking.
Sometimes there's dancing. More often, there's schunkeln. People link arms with their neighbors and sway their upper bodies from side to side with the oompah music and classic pop songs, singing loudly. You may want to learn the lyrics of some popular German drinking songs so you can join in, perhaps "Ein Prosit der Gemütlichkeit", "Bier her", or Wer soll das bezahlen?"
Securing a seat in one of the big tents can be difficult unless you belong to a group that has reserved a table. Without a reservation, your best chance for a seat is on a weekday morning.
How Do I Reserve A Table In A Bierzelt (Beer Tent)?
Groups (typically ten people) can reserve a table by buying meal tokens in advance. Each tent handles its own bookings. To secure a reservation, you have to contact your chosen beer tent eight to ten months in advance.
Is There Dancing At The Oktoberfest?
If it's a dance party you're after, the Oktoberfest is not the best festival for you. Although some tents feature dance floors, those tend to be small to make room for tables and benches.
Occasionally, people will stand on benches to dance. But not all tents permit this, and it's more swaying (schunkeln) than actual dancing. Take your cue from the locals for this. Don't attempt to dance on the table or else you might get evicted from the tent.
What Happens At The Anzapfen?
At the beginning of each Oktoberfest, Munich's mayor taps the first keg. This ritual draws a lot of attention and the audience watches eagerly how often the mayor needs to strike the tap with the wooden hammer to drive it into the barrel. The worst record is 20 strikes, with the best two achieved by the same mayor in different years.
As soon as the beer begins to flow, witnesses shout, "Ozapft is!" and the cry spreads across the site followed by "Auf eine friedliche Wiesn!" (To a peaceful Oktoberfest.)
What Are The Best Things To Do At The Oktoberfest?
Besides drinking beer? Stroll the Wiesn (31 hectare) and soak up the atmosphere. Join in the singing and schunkeln. Sample Bavarian food. Listen to bands playing happy oompah music on accordion and trombone.
Visit the fairground to ride a rollercoaster, roundabout, or ghost train. Ride the famous Wellenflug swing carousel or the giant Ferris wheel which has become the symbol of the Oktoberfest.
Another traditional ride is the interactive Teufelsrad (Devil's Wheel) where you have to respond to taunts from the overseer (some German language skills help here) and try to fight against the centrifugal force to stay on the wheel.
Measure your gun or crossbow skills at a Schießbude (shooting booth). For Bavarians, target shooting contests are an important part of a traditional volksfest. Why not also demonstrate your physical strength and technique at a Hau Den Lukas booth by slamming down a big wooden hammer on a spring disk.
Where Can I Watch The Costume Parade?
For the Trachtenumzug (also called 'Trachten- und Schützenzug'), around 9000 participants in traditional costumes march from the Maximilianstraße through the old town to the Theresienwiese. Here, marching bands, hunters' and craftsmen's guilds and folk dance troupes from Germany and other countries display their colourful historical clothes.
This pageant takes place on the first Sunday of the Oktoberfest.
What's A Good Gift To Buy At Oktoberfest?
The traditional gift is a lebkuchenherz – a giant dark brown gingerbread heart, inscribed with endearments or whimsical messages in white sugar, with a ribbon to hang around the neck. If you take a date to the Oktoberfest, it's custom to buy her a lebkuchenherz.
A pack of gebrannte mandeln (candied almonds) is another sweet gift. Or how about a glass or ceramic beer jug?
What Does The Blue-and-White Diamond Pattern Mean?
Everywhere on the Wiesn, you'll see garlands, flags, tents, awnings, and bunting in a white-and-blue diamond-check pattern. These are the colors and pattern of the Bavarian flag. Bavarians display them proudly on festive occasions, especially at a big event like the Oktoberfest.
Is It Safe To Visit The Oktoberfest?
You may encounter a lot of drunken people – some so seriously drunk that they pass out – but security personnel are on the spot to deal with troublemakers. However, be on your guard for pickpockets.
What's The Weather Like In October?
The Oktoberfest begins at the end of September and lasts into the middle of October. The weather during this time is typically mild. However, it can get windy, rainy and cool. You may have to wear a cardigan or cagoule over your dirndl.
What If It Rains?
In rainy weather, even more, people cram into the already-crowded beer tents, and you may not get a space to stand, let alone sit. If it's only a mild drizzle, it's best to don a mackintosh and keep walking. You can also look at undercover attractions on the fairground, such as a ghost train ride.
What About Toilets?
The location of toilets is marked on all site plans and maps. However, there can be long queues for the ladies' facilities, especially on weekends.
Can I Ascend The Bavaria Statue?
The Bavaria is a bronze monument, 18.52 meters high, a personification of the Bavarian homeland. Inside the statue, a circular staircase leads up to a platform in the head.
Through four openings in the helmet you can get a fantastic view of both the Theresienwiese and downtown Munich.
The Bavaria is so popular during the Oktoberfest period that you may spend many hours queuing where four openings in the helmet provide a view of the Theresienwiese and downtown Munich.
Is The Oktoberfest A Touristy Event?
Although the festival is world-famous and attracts visitors from many countries, over 80% are Germans and most of them are from Bavaria. The people of Munich themselves participate of course. Remember that few Münchner will choose to forgo their own Oktoberfest.
How Did The Oktoberfest Tradition Begin?
On 12 October 1810, crown prince Ludwig (later King Ludwig I) of Bavaria married Princess Therese of Saxe-Hildburghausen. The citizens of Munich were invited to festivities held in front of the city gates. In honour of the princess, the fields were named 'Theresienwiese' (Theresa's Meadow).
The following year, it was decided that the celebrations would be conducted every year. The Oktoberfest has grown ever since.
What's The Proper Oktoberfest Etiquette?
Here's what not to do at Oktoberfest:
1. Bring big bags or rucksacks, weapons, knives, glass bottles or animals (other than guide dogs), skateboards or bicycles. There simply isn't room for luggage, vehicles and pets.
2. Bring your own food and drinks.
3. Dancing on the tables. Although dancing on benches is allowed and even encouraged.
4. Drinking so much that you vomit on the Wiesn, or that can't remember your visit afterwards. So remember to ride the rollercoaster before you eat your meal.
What If The Oktoberfest Gets Cancelled?
The Münchner never allow their Oktoberfest to get cancelled, except in the most drastic circumstances, such as a war or epidemic. You can count on the festivities to take place whatever the weather.
What About The Frühlingsfest​?
Since 1965, Munich has celebrated a Frühlingsfest (spring festival) on the Theresienwiese. Locals call it the 'Kleine Wiesn' (little meadow). It offers a similar atmosphere but is less crowded and has a stronger emphasis on folk traditions.
Where To Find Accommodations For The Oktoberfest?

During the Oktoberfest weeks, finding accommodations can be difficult. So book your hotel room or hostel bed in well in advance. Forget CouchSurfing because you're unlikely to secure a place at this popular time. Airbnb places and camping sites tend to be booked out, too and prices are steep. The further away from the Theresienwiese, the better are your chances. You may need to stay outside Munich and travel into the city for the day.
Now that you know about the Oktoberfest, why not have a look at other things you can do in Munich.