30 Best Places to Visit in December in the USA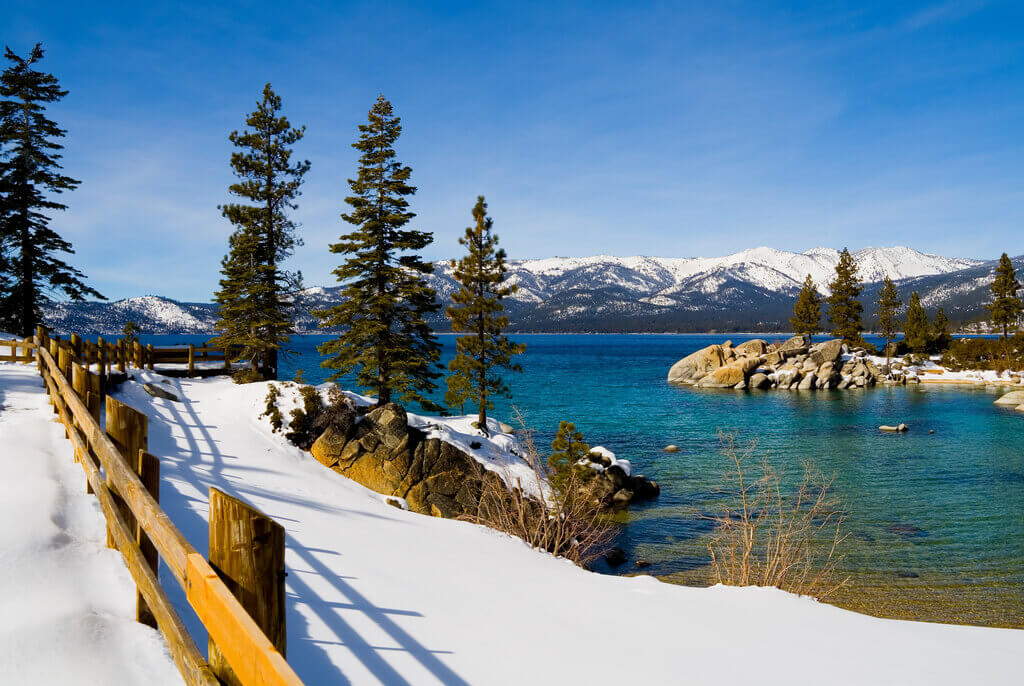 Whether you're looking to escape the cold or seeking a fun-filled Christmas getaway, you can find them all in the USA! Lounge by the beach, hike a mountain, attempt heli-skiing, or go dog sledding at any one of these remarkable destinations! Here are the 30 best places to visit in December in the USA.
Warm Places To Visit In December
1. Key West
, Florida
Travelers who detest the cold and yearn for bathing suit weather often flock to Key West in Florida to enjoy a festive, warm winter vacation amidst nature. After all, its average temperature in December is a pleasant 74 to 78 degrees Fahrenheit. Anything but cold and gloomy, the winter season brings a slew of fun things to do in Key West. These include sunset cruises around the island and colorful parades like the Lighted Boat Parade and Key West Hometown Holiday Parade.
It's easy to get carried away in the hustle and bustle of the island's festivities. However, don't forget to drop by Duval Street to experience the island's urban city attractions! From dive bars to Caribbean restaurants and aquariums, you can truly feel the tropics in Key West even in the midst of winter.
2. Las Vegas
, Nevada
When in doubt, one can always flock to Las Vegas for a weekend of fun-filled adventure. If staying huddled up in a casino isn't your thing, consider exploring the great outdoors. With mild temperatures of 54 to 50 degrees, Las Vegas is a popular winter hotspot for horseback riding, cliff hiking, and rock climbing in the Red Rock Canyon National Conservation Area. There are a plethora of hiking trails in the area, with some notable ones being the Calico Tanks and Moenkopi Loop.
Other activities include stopping by to explore Nevada's oldest and largest scenic state park. Known as the 'Valley of Fire', this site is home to a variety of uniquely sculpted natural formations. You'll also see ancient rock art carved into some of the rock formations, particularly along the Petroglyph Canyon Trail.
3. Los Angeles, California
Visiting the City of Angels is no doubt one of the best things to do in Southern California, particularly in December. With a cooler temperature range of 40 to 60 degrees in December, this glamorous city is the perfect place for all sorts of glitzy holiday celebrations.
Car fanatics will enjoy the annual L.A. Auto Show held in early December. The city will also be dressed in shimmering lights all over, including two enchanting botanical gardens, Descanso Gardens and South Coast Botanic Garden. For Disney lovers, December is the best time to visit Disneyland. The entire theme park will be bedecked with Christmas decorations, and the Christmas Fantasy Parade will give you the most magical celebration ever.
4. Santa Monica
, California
While Santa Monica gets colder through the winter, its temperatures are significantly easier to bear when compared to the rest of America, hovering within a comfortable range of 51 to 64 degrees. Besides being a fantastic semi-warm winter destination, Santa Monica is revered for more than its climate.
The Santa Monica Farmer's Market along Arizona Avenue is one of the best places to visit during December for the freshest winter produce. Meanwhile, down by its beach, Santa Monica Pier features various carnival games, thrilling rides, and arcades. This area is also home to the world's only solar-powered Ferris wheel.
5. Miami, Florida
This tropical destination makes for the best warm winter vacation! Its beaches, which are open all year round, boast waters that are always warm, even during the nation's 'coldest' winter seasons. Beyond the sandy shores of its beaches, Miami is an intoxicating place to be in December, with its line-up of various cultural events.. A must-visit in December is the Art Basel Miami Beach, an annual art festival showcasing thousands of artworks. Many exciting dance performances are also held throughout the event.
The city of Miami is also revered for its scenic aerial views, which are best witnessed while cruising in a helicopter. What's more, these helicopter experiences offer more than just an awe-inspiring city skyline. Don't be afraid to look down now and again to catch a glimpse of the area's teeming sea life, which include sharks, dolphins, sea turtles, and more!
6. South Padre Island, Texas
Warm and sunny even during the winter, South Padre Island averages temperatures of an estimated 52 to 67 degrees. Situated on the southernmost tip of Texas, this island is characterized by its lush green palm trees and mild-temperament weather. Regarded as an ideal destination for nearby southerners seeking an escape from harsh winters, South Padre Island provides many exciting outdoor activities such as kiteboarding, parasailing, and deep-sea fishing.
Apart from boasting the most prominent outdoor sandcastle in the United States, this island also features various attractions worth visiting. The Dolphin Research & Sealife Nature Center is a must-visit for dolphin lovers, with opportunities to meet rescued dolphins. Other attractions include Sea Turtle Inc., which saves, rehabilitates, and conserves marine turtles. Additionally, the Laguna Madre Nature Trail is a popular site for coastal observation of migratory birds and other wildlife.
7. Charleston
,
South Carolina
Who would've thought that the unsuspecting city of Charleston in South Carolina would make such an enjoyable Christmas holiday getaway? Not nearly as cold as many other towns at the height of winter, Charleston boasts an average range of 50 to 60 degrees F. With the exception of rare and unexpected snowfall, Charleston is the ideal choice for a comfortable getaway.
Each year, travelers flock to the city to be part of all its famous festivities. Host to the largest New Year's Eve countdown party, Charleston celebrates the issuing of a new calendar with a party aboard the historic USS Yorktown aircraft carrier from World War II and the Vietnam War. This party, which features an outdoor nightclub setting and live music, will sail through the city, passing the Ravenel Bridge and downtown Charleston.
Best Places To Visit During Christmas in The USA
8. New York City
December is the busiest time of year in New York City. Famous for its innumerable traditional festivities, New York City draws thousands of visitors each year. Many of them come to see the iconic tree lighting ceremony at Rockefeller Center and ball drop in Times Square. However, there's a lot more to do here than that. Catch the city's most popular Radio City Christmas Spectacular at Saint Patrick's Cathedral to enjoy various traditional Christmas performances in the form of skits, songs, and dances.
Winter travelers can also expect to find at least one pop-up Christmas market around every corner. Amongst some of the most popular are the Winter Village at Bryant Park and Union Square Holiday Market. If you wish to stay warm while browsing through Christmas trinkets, the Grand Central Holiday Fair is ideal for you.
9. Puerto Rico
Puerto Rico has the most prolonged Christmas celebrations in the USA. Here, the holidays begin at Thanksgiving and continue uninterrupted throughout January. Of the innumerable things to do in Puerto Rico, the most notable include the San Juan Christmas boat parade. This midday parade takes place at the San Juan Bay and features a myriad of Christmas-themed boats bedecked with festive lights.
What's more, Puerto Rico is also famous for the Hatillo Masks Festival. This event honors the biblical story of King Herod's attempts to kill the infant, Jesus. During this festival, locals don colorful masks and costumes as they pass through the town on elaborate floats.
10. Asheville,
North Carolina
Get into the holiday spirit at western North Carolina's biggest city! Nestled within the Blue Ridge Mountains, it is the ideal choice for travelers seeking a mountain getaway without heavy snowfall. Especially for waterfall lovers, Ashville is where you can find hundreds of frozen waterfalls in winter. With a variety of ski resorts and snow tubing parks, the city of Asheville prides itself in offering an abundance of winter fun. But the month of December is when the city truly transforms, particularly around Christmas. The city is illuminated with millions of twinkling fairy lights, particularly down Main Street.
For a truly magical experience, sit on a horse carriage to marvel at the lights. Else, go for a holiday spin at one of America's most beautiful drive-thru Christmas lights, a 2-mile Christmas light show at Tryon International Equestrian Center. And a must not miss place is the 8,000-acre Biltmore House, which turns absolutely magical during the Christmas season. The entire estate positively glitters, with over 100 decorated trees and miles of garland lining the hallways.
11. Honolulu City, Hawaii
Believe it or not, winter in Hawaii is indeed a reality. However, snow in December only falls on the island's highest peaks at Maui and the Big Island, making Honolulu's Christmas celebration very much a tropical one. The biggest Christmas event of the year is the Honolulu City Lights festival, where Oahu's mayor will light the city's Christmas tree live. The tree lighting ceremony is then followed by a dizzying parade of marching bands, colorful performers, and vibrant holiday floats traveling across the city.
The City Lights Festival may be the largest event on this island in December, but there are plenty other Christmassy things to do in Honolulu. For more family fun, make sure to also head to Polynesia Cultural Center where your kids can enjoy Christmas train rides and a meetup with Santa at his workshop! Otherwise, embark on a paddling adventure with Santa Claus himself at Waikiki Resort, for a truly tropical Christmas adventure!
12. New Orleans, Louisiana
New Orleans is a popular tourist destination particularly during Mardi Gras, but December brings a milder yet equally joyful spirit to the city. Celebrate Christmas southern-style and indulge in lavish Reveillon dinners and jolly Christmas concerts in beautiful cathedrals.
Each year, the New Orleans City Park commemorates the holiday season with a beautiful light display. During this time, the park adorns its famous oak trees in colorful LED lights. The park also offers opportunities to snap a Christmas photo with Santa Claus. For a truly Cajun holiday cheer, make sure to head to the levees opposite the Mississippi River on Christmas Eve and join in the bonfire dances!
13. San Antonio
The city of San Antonio is most famous for its Holiday Lights on the River Walk. Free of charge for all who wish to participate, this annual event showcases over 100,000 festive lights. Additionally, the city also hosts the Ford Holiday Caroling event which invites visitors to enjoy free live music performances from boats as they pass through the River Walk.
Another bucket list event in San Antonio is 'Christmas at the Caverns'. This event at Natural Bridge Caverns features a variety of activities and attractions. These include live Christmas caroling performances, country hayrides, and reindeer easter hunt competitions!
14. Savannah, Georgia
Sporting cool winter winds amidst bright sunny days, Savannah, Georgia, is one of the most popular holiday destinations in the United States. Best known for their holiday home tours and Christmas by the river celebrations, the city of Savannah transforms into a melting pot of art, culture, and music during the winter.
Stop by the Savannah River to witness the city's immaculate display of Christmas lights and opulent floats. The annual Christmas parade begins at West River Street and extends all the way through the Historic Downtown to City Market. Here, visitors can expect to enjoy live music performances and festive cuisine. Amplify your Christmas experience at River Street by browsing a diverse range of handmade crafts from local vendors, and enjoy firework displays on the first weekend of December.
Scenic Places To Visit in December
15. Joshua Tree National Park, California
Temperatures in Joshua Tree National Park drop significantly from an estimated 100 degrees in July and August to an average range of 60 to 70 degrees in December. The cooler weather with frequent rainfall and light snowfall now mean that visitors can enjoy their famous hiking trails without breaking a sweat.
Snap photographs of the area's famous Arch Rock, Skull Rock, and Heart Rock natural formations. Else, explore old mining trails such as the Desert Queen Mine, Wall Street Mill, and Lost Horse Mine. And though it can get freezing cold at night, for those who enjoy stargazing, Joshua Tree will be a lovely place to camp overnight. The area's gentle slopes and deserted land means that one will always have clear and uninterrupted views of their surroundings and the sky.
16. San Juan
Islands,
Washington
State
Best known for its rural Pacific Northwest landscapes, the San Juan Islands are home to a diverse range of wildlife. Complete with ferry tours, hiking trails, and wildlife exploration, the holiday adventure at the San Juan Islands begins even before arriving. Most infamously known for their exhilarating seaplanes, which charter visitors from Boeing, Lake Union, and S. Lake Washington to the shores of Friday Harbor, San Juan Islands is a destination worth the adrenaline rush.
Deemed a popular destination for both winter hikers and cyclists, the San Juan Islands feature a variety of shore-side and mountainous trails, suitable for all levels of expertise. Their most notable hiking spots include Turtleback Mountain, Shark Reef Sanctuary, and San Juan County Park. Other must-do activities include the islands' whale and wildlife tours, which invite guests to witness killer whales, humpbacks, sea lions, and more, up close with the help of professional tour guides and onboard naturalists.
17. Death Valley National Park, California & Nevada
Horror stories of summer vacations spent at Death Valley can be intimidating. This desert land is infamous for its sinister landmark names like 'Coffin Peak' and 'Devil's Golf Course' which sound almost like places from post-apocalyptic fiction. Undeniably one of ​​the hottest and driest places on earth, Death Valley National Park, is a bucket list item few dares to strike off. Luckily in America, seasons change. And as it turns out, the best time to conquer the Death Valley is during the winter months, when the scorching summer temperature of 120 degrees Fahrenheit finally dwindles down to a cool average of 65 degrees.
The cooler weather allows you to explore its many uniquely beautiful trails with ease, such as the Badwater Road and Golden Canyon. Make sure to stay till the night falls and camp out in the desert. It can be a little chilly at night, but it'll be worth it. With the absence of light pollution and towering trees, you can savor an unparalleled stargazing experience.
18. Big Bend National Park, Texas
During December, Big Bend sees temperatures drop from the usual scorching 100 degrees to a much cooler average of 63. This is a great time to tackle one of Big Bend National Park's most famous trails! Emory Peak Trail will give you a gorgeous sweeping view of the park all across the Chihuahuan Desert. Beginners looking for an equally scenic hike will enjoy the Window View Trail overlooking the mountains.
Cooler weather also means that year-end visitors can finally enjoy the Rio Grande Village's year-round 105-degree-Fahrenheit natural hot springs. Situated amidst the great outdoors, these hot springs form a 0.75mile scenic loop that stretches along the entire ridge and offers uninterrupted aerial views of the river.
19. Kōkeʻe State Park
, Hawaii
If you love nature, the Kōkeʻe State Park should rank near the top of your bucket list. Situated in northwestern Kauai in Hawaii, there are diverse hiking trails and a large variety of cabins to rent for a nature getaway. Some of the popular hiking trails to try are the Alakai Swamp Trail and Pihea Trail, from which you can see plentiful wildlife and native plants. Encompassing a total of 4345 acres of land, this region marks the perfect site to witness multicolored Hawaiian forest birds such as the apapane, iwi, and moa.
Get the best uninterrupted panoramic views of the Kalalau Valley from both the Kalalau Lookout and the Puu O Kila Lookout, with each towering between 3,200 to 4,200 feet high! What's more, the area also features the Kokee National Museum, which showcases exhibits from the park and Waimea Canyon.
20. Nā Pali Coast
, Hawaii
Also located in Kauai, the picturesque Nā Pali Coast is known for its astonishing view of scarp cliffs, sprinkled with cascading waterfalls, narrow valleys, and flowing streams between. And one of the attractions not to miss is the breathtaking Manawaiopuna Falls, also known as the "Jurassic Park" falls. It also features an eponymous state wilderness park with a variety of native plants and dated agricultural terraces. Other excellent holiday season activities include snowboarding on the island's dormant volcano, Mauna Kea. Peaking at 13,803 feet above sea level, Mauna Kea is the second highest peak of any island on Earth.
TouristSecrets Tip: As the Nā Pali Coast is a sacred site with a natural beauty worth protecting, all enthusiastic visitors seeking to hike through its terrain will need to attain a valid Camping Permit from Napali Coast State Wilderness Park.
Best Places For Winter Sports in December
21. Sun Valley
, Idaho
Every inch of Idaho's revered Sun Valley exudes an atmosphere of a winter wonderland. A favored cold-weather destination for many celebrities since the 1930s, Sun Valley is the best winter break for those looking for a luxurious stay. The resort attracts slews of enthusiastic visitors looking for world-class skiing at the Bald Mountain's 3,000 feet descends. Beyond the traditional means, this resort also offers heli-skiing and Nordic skiing.
Besides skiing, there are many other winter recreational activities to try, such as fat biking, snowmobiling, and paragliding. Many natural hot springs also surround the resort, allowing one to rest and rejuvenate after a full day of winter sport.
22. Lake Tahoe,
California & Nevada
Home to a slew of ski resorts including Heavenly Mountain and Diamond Peak, Lake Tahoe's most notable attraction is Squaw Valley. Revered as one of the top ski destinations in the country, Squaw Valley is historically celebrated for hosting the 1960 Olympics winter sports games. There, one can explore the ski resort's in-house museum to learn more about the games.
While Lake Tahoe may be most known for skiing, there are many other winter activities you can try out in the area. You can go snowshoeing, snowboarding, or snow tubing. Prefer letting the vehicle do the work for you? Go on a snowmobile or even a sleigh ride!
23. Grand Teton National Park, Wyoming
Experience the adventure of a lifetime at Grand Teton National Park this winter. Home to an abundance of winter recreational activities and surrounded by some of the best Wyoming ski resorts, this national park is a top-rated destination for skiing enthusiasts and snowshoers from all over the world.
There are many spots to enjoy cross-country skiing and snowshoeing, with the most popular being Teton Park Road. You can also ski and snowshoe in Antelope Flats Road, Taggart Lake, and more. Furthermore, this region is also famous for its snowmobiling wildlife tours through Rockefeller Parkway. Additionally, visitors seeking a less adrenaline-pumped vacation can opt for a quiet day of ice fishing along the area's frozen Jackson Lake.
24. Durango
, Colorado
Showcasing ​​stunning views of the rugged San Juan Mountains, this old Wild Western town is the ideal destination for outdoor enthusiasts. While skiing remains most popular, there are many other winter delights to explore. Families will love dog sledding and snow tubing, while thrillseekers will relish cross-country skiing and ice climbing.
And whether you enjoy fishing or just love eating fish, Durango is the perfect place for you. Even in winter, Durango's reservoir is stockpiled with fish. With all that supply, you can expect ice fishing to be extremely rewarding. And just like Sun Valley, Durango has many hot springs in the area, perfect for relaxing after a whole day of outdoor fun.
25. Acadia National Park, Maine
Dust off your ice grippers and cleats for an amazing adventure on the Mount Desert Island of Maine. Here, winter visitors are spoiled for choice with a variety of winter sport activities. Embark on 45 miles of cross-country skiing and snowshoeing adventures along the Acadia Winter Trails Grooming Routes, or hop on a snowmobile to explore Park Loop Road up Cadillac Mountain.
What's more, some of the easier Acadia National Park's hiking trails remain open during this time. Winter hikers can try their luck at conquering Ship Harbor Trail, Ocean Path, and the Carriage Roads. When feeling fatigued, visitors can also enjoy a day of ice fishing or birding within the park's compounds.
26. Yellowstone National Park, Wyoming
The Yellowstone National Park is a must-see destination at all times of the year. But winter presents a surreal beauty of pristine whiteness. Along the park's eastern border is where you will find the world-class Absaroka Range, which stretches 150 miles across the Montana–Wyoming border. Here, visitors can enjoy an entire range of hiking, climbing, and mountaineering activities.
And since it's only the start of winter in December, you can also get to revel in the beauty of nature. As it is of lower elevation than the mountains, the park is teeming with wildlife like elk, bison, and wolves. Moreover, you'll also catch frozen waterfalls and steaming geysers all around.
27. Mount Rainier National Park,
Washington
The Mount Rainier National park is where one will find the highest peak in the Cascade Range. This active volcano towers 14,410 ft above sea level. Bordered by 142 square miles of preserved natural terrain, Mount Rainier showcases a diverse range of nature's wonders from ancient glaciers to blue alpine lakes.
Come December, Mount Rainier turns into a winter wonderland. Paradise, in particular, is blanketed in heavy snow. The abundance of snow allows you to indulge in all sorts of winter activities like cross-country skiing, snowboarding, and snowshoeing.
Best Places to See Wildlife in December
28. Crystal River, Florida
Not everyone finds joy in scaling a mountain, hiking through desert trails, or leaping out from a plane. For those who enjoy quiet contemplation and prefer to engage with nature through education, this one's for you! The Crystal River National Wildlife Refuge is the one and only place in America dedicated to protecting manatees. It is also the only place in America where one can legally swim with these gentle maritime mammals.
While it is true that these creatures can be seen floating within the refuge at all times of the year, the winter period is when its population reaches a peak. Visitors stopping by between November and April can expect to see dozens of manatees in search of warmth in the perpetually 72-degree springs of Kings Bay in Florida. Besides swimming with the manatees, there are also dozens of other activities you can engage in, such as scalloping, boating, and paddleboarding.
29. Poipu Beach, Hawaii
Each year, between the months of January and March, the warm waters of Poipu Beach in Kauai draw unexpected guests. Deemed the ideal pitstop for migrating humpback whales seeking to escape the cold, Poipu Beach's shallow coast creates a perfect environment for visitors to spot whales from the safety of the shores. Some great spots for whale watching include the Kilauea Lighthouse and Kealia Beach.
If you're looking to get even closer to the whales, you can either rent a boat or embark on a whale-watching tour atop a cruise. And apart from the whales, you can also spot lounging Hawaiian monk seals and green sea turtles on the sandy beaches!
TouristSecrets Tip: The Hawaiian monk seals are an endangered species, with only about 1000 found worldwide. That said, it is illegal to touch them. So keep a respectful distance if you happen to be lucky enough to see one.
30. San Diego, California
Yet another unique destination to witness wildlife in its natural environment is the Scripps Park of San Diego. Besides being a great spot for a midday picnic or stroll, Scripps Park's open concept and sparse tree density enable visitors to receive a clear view of the surrounding ocean. When frequented during December to April, one may catch a glimpse of over 2,000 mature grey whales as they pass San Diego on their route from Alaska to Baja, California.
However, don't stop there, expand your exploration to La Jolla Cove. This hotspot is an excellent destination for those hoping to catch a glimpse of wild seals and sea lions. Otherwise known as 'Seal Rock', La Jolla Cove is a popular evening hangout spot for these semi-aquatic mammals. Visit the area at sunset and witness a myriad of adorable pinniped creatures in their natural habitat from a safe distance.