What To Expect From The Weather In Destin, Florida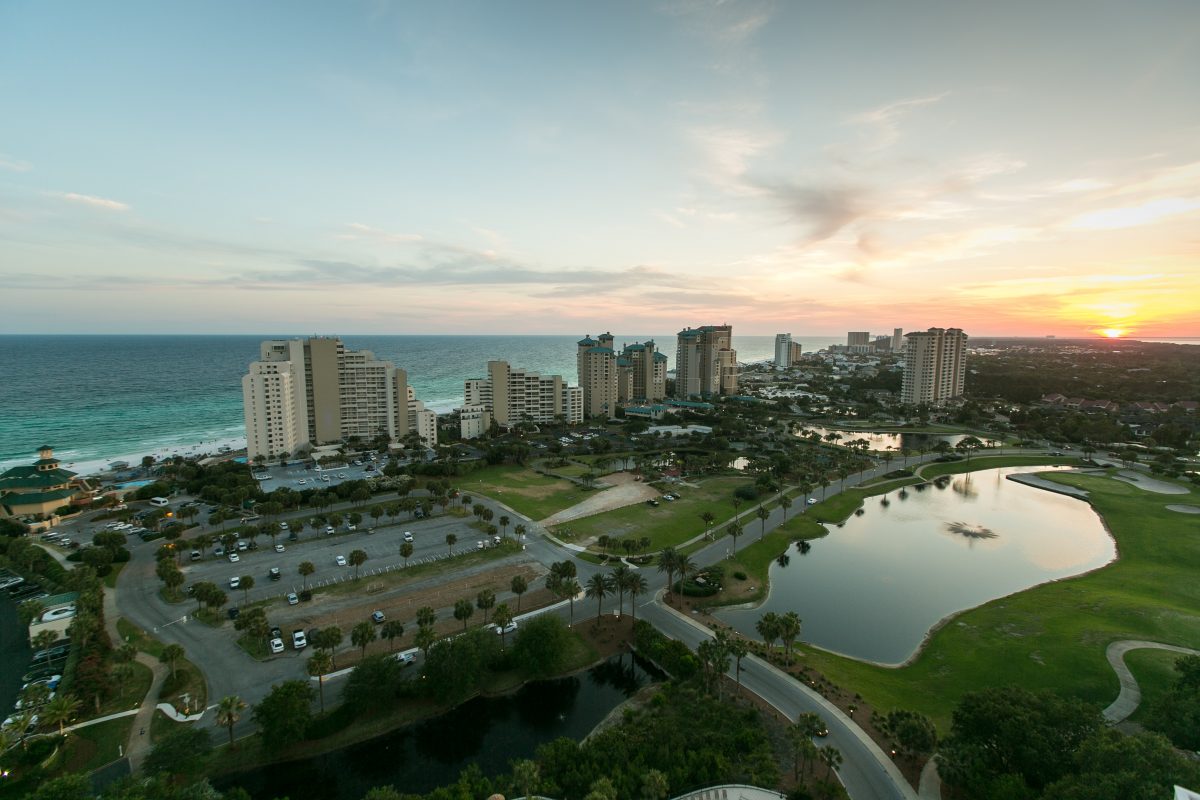 Destin, Florida, is a synonym of white-sand beaches along the emerald coastline of the Gulf of Mexico. Considering the weather in Destin, you may visit this attractive holiday destination to sip cocktails at the seaside resorts or have fun while enjoying water sports.
You can enjoy many other activities in Destin, including playing golf, pampering at spas, joining cruises that search for dolphins, and browsing seafood restaurants. Whether you will spend your time indoors or outdoors pretty much depends on the seasonal fluctuations of weather.
So, let's see when the ideal time is for you to show off that summer bod, and when doing so could leave you with a cold as a souvenir from your Destin holiday.
1.
Destin Seasonal Overview
Summer is the peak tourist season in Destin, Florida. That means the highest deals and the highest chance of someone seizing the last place on a dolphin cruise right under your nose. Temperatures are at their annual peak, which you can say for precipitation, too.
For comfort, average temperatures of the waters of the Gulf of Mexico are at their highest this time of year. So if you like to swim, snorkel, dive, or lose balance while water skiing, summer is the best time of year for you to visit Destin.
In winter, the Emerald Coast is cool for the most part, while sea temperatures aren't suitable for swimming unless you arrive from the Arctic. Rainfall is lower than during summer, rendering this time of year ideal for improving your skills of a golfer and holiday savings.
To benefit from reasonable deals, comfy water and air temperatures, and lesser crowds, plan your vacation while the weather in Destin is in late spring and early fall. Add to that low rainfall during the second part of spring, and you have April and May as the best months for seaside activities in Destin, Florida.
2.
Average Air Temperatures In Destin, Florida
Air temperatures (Dec-Feb) typically vary from around 6°C/43°F in the morning to approximately 17°C/63°F during the day in winter. Nights and mornings are cold, while it gets cool between midday and early evening.
So, bring layered clothing and a sweater, for the weather in Destin could be chilling.
Florida's Emerald Coast experiences the highest temperatures of air in summer. June, July, and August feature similar temperatures, which fluctuate from around 23°C/73°F in the morning to 32°C/90°F in the afternoon.
Therefore, during the hot weather in Destin, you will need your sweaty skin, muscles and a little more than that.
Air temperatures rise in spring as quickly as they decrease in fall on Emerald Coast. In March and November, they fluctuate between 10°C/50°F to 20°C/68°F. April and October feature air temperatures roughly from 15°C/59°F to 25°C/77°F.
Temperatures in May vary between 18°C/64°F to 28°C/82°F, and from 21°C/70°F to 30°C/86°F in September. Whichever month you choose to visit Destin in spring and fall, you will mostly have pleasant days and cool nights.
So, prepare a light outfit (shorts, shirts, and sandals) for the day and layered cloth and sweaters for the night.
3.
The Emerald Coast Sea Temperatures
Sea temperatures of the Gulf of Mexico are typically the lowest in February (16°C/61°F) and the highest in August (30°C/86°F).
Besides the weather in Destin during February, the months you shouldn't consider for activities in the water around there are January, March, and December. Dipping a toe in the waters of the Gulf of Mexico in April (over 20°C/68°F) should make you feel comfortable about getting yourself wet.
The last chance to remind yourself of the benefits of warm water before winter comes to Florida's Emerald Coast is the month of November. During the weather in Destin in November, average temperatures of water seldom drop below 20°C/68°F.
4.
Getting Wet In Destin Without Jumping Into The Sea
By comparing rainfall averages for Destin and the rest of the USA, this coastal city in Florida is by all accounts a wet city. On average, it receives almost 60% of rainfall in excess.
Thankfully, the average rainfall for the USA is 96cm/38in, so no big deal.
If you don't like becoming wet except in salty water, June and November are the least rainy months in Destin in terms of precipitation (9cm/3.5in). August, September, and October are the wettest annual months, with around 18cm/7in of rainfall per each.
Albeit Destin receives less rainfall in July than in August, it sees almost 15 days with some rain during the mid-summer month compared to nearly 14 in August. June features 12 wet days, while other months have fewer days with occasional rain, typically between six and nine.
A chance that rain will present itself during summer in Destin fluctuates between 40% and 60%. During other months, this probability is around 30%.
5.
When The Rain Usually Falls Over Destin?
The weather in Destin is unpredictable. It depends on various whims of nature when you may need an umbrella instead of a parasol to have a nice time on a Destin beach. Still, here is how a general pattern looks like:
The highest probability of rainfall during the summer months is around midday. The lowest chance of precipitation is around mid-evening in June and late evening in August.
In fall, weather in Destin is most likely to be wet during the early afternoon (past noon). The lowest possibility of rain is during the late evening in September and before mid-evening (9 pm) in November.
Winter months usually have the highest chance of precipitation at night or in the early morning, while this possibility is typically the lowest around the late afternoon or early evening.
Come spring, make sure to have a raincoat or an umbrella at hand around midday. If you like to place bets, put a large sum on the claim that rain isn't going to fall during the early evening in Destin, Florida.
6.
Does Destin Feature Extreme Weather?
While spending a vacation in Destin, Florida, a gentle breeze is the strongest wind you will have to deal with most of the time. Unless, of course, a hurricane sweeps through to ruin your golf match.
These strong winds that unleash massive amounts of rainfall may come to Florida from June to November. Still, the highest probability of them claiming your parasol by catching you unaware on the beach is in the second half of the hurricane season (September, October, and November).
According to statistics, two hurricanes typically hit the USA East Coast per year. Furthermore, the possibility of one hitting Florida is around 40%. So, you have a good chance of avoiding being hit by this storm while enjoying your time on the Emerald Coast.
From the statistical point of view, the hurricane hits Florida in September the most. To avoid potential disappointments, consult The Weather Channel for a 10-day update about the weather in Destin before hitting the road.
7.
Things To Pack For A Holiday In Destin, Florida
Given the weather averages for Destin, Florida, we could conclude the following:
If you prefer travelling with a backpack, June is the month you should plan for coming to Florida's Emerald Coast.
Travellers spending a holiday in Destin in July and August should pack their bags with swimsuits and raincoats in particular. The situation is similar in September, while October calls for layered clothing in addition to swimsuits and raincoats.
Uncharacteristically, you may travel lighter to the Emerald Coast in November than in October since the precipitation significantly decreases. Leave a raincoat or an umbrella at home, as well as one of your two swimsuits. The temperature of water decreases for a few degrees compared to October.
Albeit you won't face severe winter in Destin, stuff your bags well with layered clothing, sweaters, waterproof garments, and warm footwear. Come spring, leave out sweaters at home, keep layered clothing and raincoats, and add swimsuits starting from April.
Final Thoughts…
The statistics may show a lot, and nothing, such is the case with the number of rainy days in Destin, Florida. While the summer months feature most days with precipitation, the rain seldom falls. Most of the time, the sun shines on the Emerald Coast of Florida.
Here are also some of the Best Spa you can find in Florida!