Where To Go for the Best Nordic Skiing Experience in the World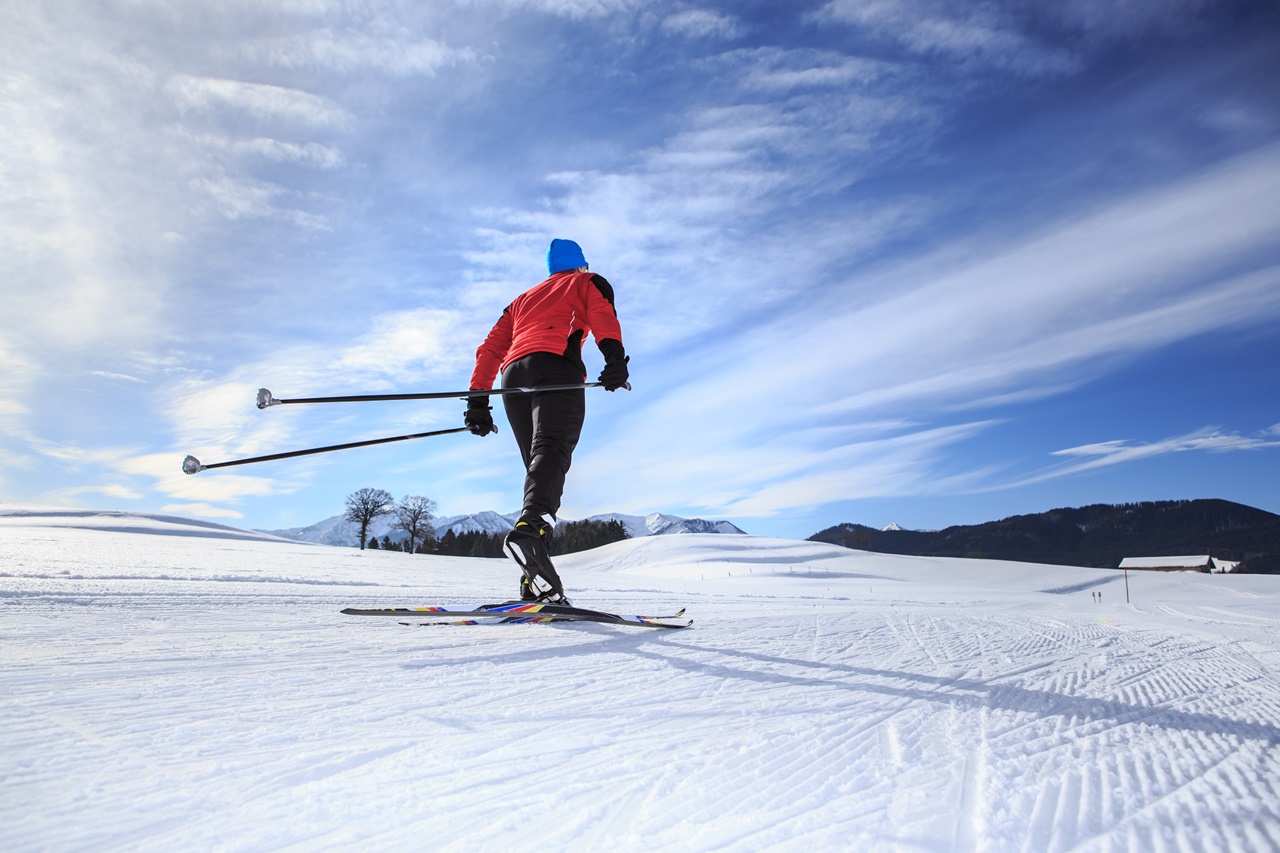 Aside from sledding, skating, and snowboarding, skiing one of the best ways to enjoy the outdoors during winter season. What's not to love about skiing across powdery hills, while enjoying the views overlooking the snow-capped mountain peaks, gliding through one of the ski resorts in Lake Tahoe and catching stunning views of the lake? Nordic skiing, in particular, encompasses different branches of the winter sport that lets you slide, jump, and even carry a rifle! It's a different kind of skiing as compared to Alpine skiing, but it's definitely worth a try.
Whether this will be your first time to try the winter sport, or you're on the hunt for your next skiing destination, here's a guide to the best places for Nordic skiing in the world!
Photo by Colin on Adobe Stock
Nordic skiing is a type of skiing in which the toe of the ski boot is attached to the binding, allowing the heel to rise off the ski. The sport originated in Norway out of necessity where locals use it to travel across snow-covered areas for hunting and social purposes. It then became a sport in the mid-1800s, and the first competition took place in 1840. During the 1924 Winter Games in Chamonix, the sport was first introduced.
There are four different branches of Nordic skiing, namely Telemark, Cross-country, Ski Jumping, and Biathlon.
Telemark
Telemark skiing combines elements of Alpine skiing and Nordic skiing. In this technique, the skier's boots are clipped to the toe bindings, leaving the heels free. As the heels are free, the skier can go into a lunge position when turning. Simply put, telemark skiing is a squat-like position when going on downhill skis.
Additionally, telemark skiing is relatively difficult as compared to alpine skiing. It requires a lot of leg power and a good balance as well.
Cross-country
Cross-country skiing is a more popular branch of skiing and is efficient for long distances. It involves skating on narrower skis and, like all forms of Nordic skiing, the heel isn't attached to the ski. Instead of using ski lifts, cross-country skiers rely on their own locomotion to navigate across the terrain. You can also go cross-country skiing on a marked track or in fresh snow.
Although it is a widely practiced sport, it can be used as a form of transportation. In areas like Russia and North Scandinavia, cross-country skiing is a form of transportation, used when traveling great distances.
Ski Jumping
Ski jumping is a popular winter sport that involves competitors aiming for the longest jump after going down a specially designed ramp. It originated in Norway during the late 19th century and was eventually known throughout Europe and North America. Ski jumping made its Winter Olympics debut in 1924, and the first women's Ski jumping event was held in 2014, despite the sport being open to women since the 1990s.
Biathlon
Unlike telemark and cross-country, biathlon is a more competitive sport. The sport comes from the Greek word for two contests, with it involving both cross-country skiing and rifle shooting. In biathlon, participants ski around a circuit and while carrying a rifle on their backs. Skiers will stop and aim at the targets with the rifle. For every miss, a certain amount of time is added to the skier's time.
The sport originated from the survival skills practiced in Scandinavian forests where people went on hunting trips on skis, carrying rifles over their shoulders.
Nordic Skiing vs. Alpine Skiing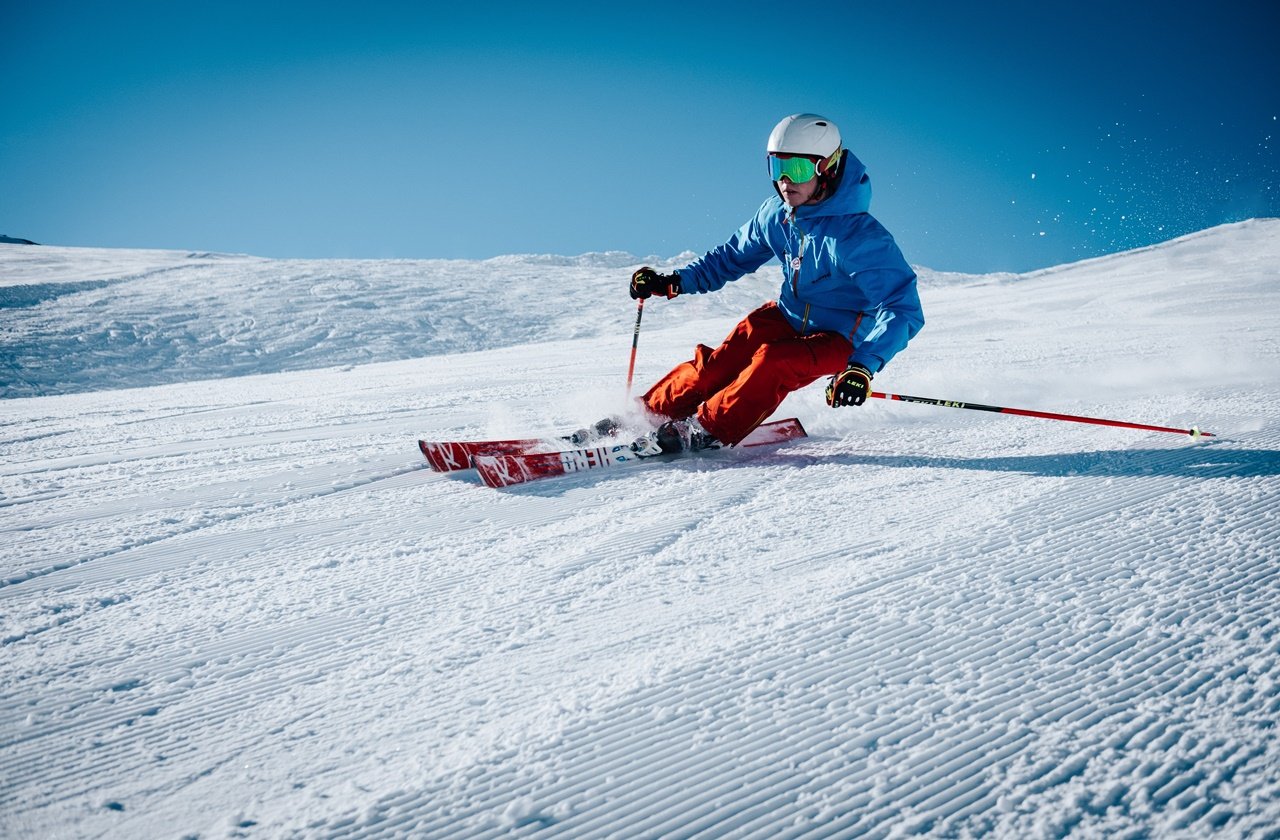 Photo by Maarten Duineveld on Unsplash
Although Nordic skiing and Alpine skiing may look similar especially to non-skiers, there are differences between the two. In Nordic skiing, the heel of the binding is loose so the skier can move his heels freely; whereas in Alpine skiing, the boot is attached to the ski from toe to heel. The terrain is also more gentle and smooth as compared to the terrain in Alpine skiing. The boots used are also different, with Nordic ski boots being more lightweight and warm, and are more flexible.
In terms of health benefits, Alpine skiing is ideal if you want to strengthen muscle groups like the hamstring, upper body, and core muscles. It also helps you improve your balance and coordination, enabling you to be more aware of your positions when skiing. On the other hand, Nordic skiing is more focused on your lower muscle groups since it involves constant lifting of the skis. That being said, it improves your cardiovascular health and is also efficient when burning calories.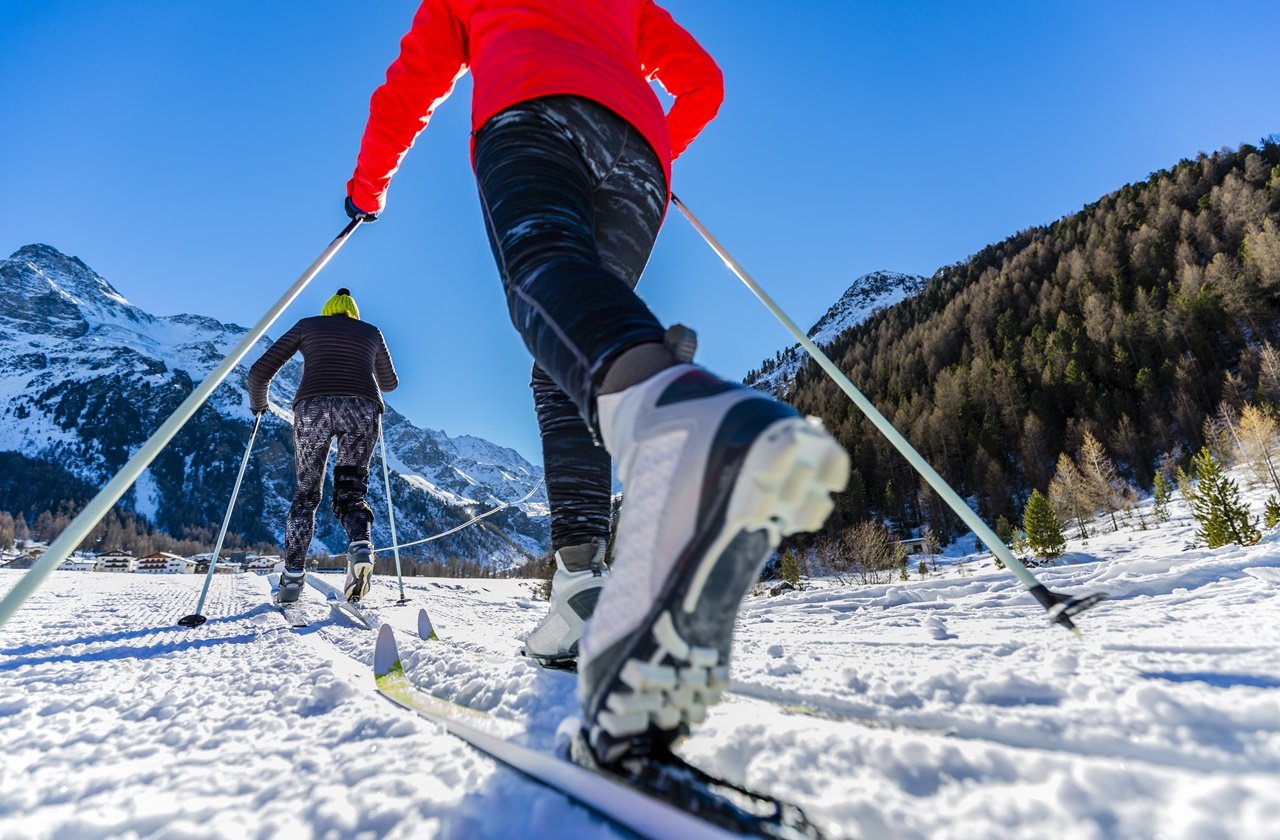 Photo by Gorilla on Adobe Stock
When skiing, it's important to have the appropriate gear. Although skiing gear might be a bit heavy on the pocket, if you take good care of them, you can use them for a long time. Here are the necessary things to have before embarking on a skiing adventure:
Skis
Cross-country skis are generally taller than you, although the exact length depends on your weight. On the other hand, touring skis are more common. They are long and narrow, best used on groomed trails. For beginners, you may want to choose waxless skis since these are low maintenance and perform well in different kinds of snow.
Poles
Poles are perhaps the only skiing gear that you can spend less on since more expensive ones are stiff and light. Recreational and amateur skiers can opt for affordable ones that can reach anywhere between the armpits and the tops of the shoulders.
Ski Boots
When choosing ski boots, it's important to keep comfort in mind. After all, your feet should be comfortable when they're laced into your ski boots. As compared to Alpine skiing boots, those used in Nordic skiing are low-cut and more lightweight, like running shoes. When looking for ski boots, make sure to fit them and make sure that they are flexible enough so you can move your feet around, at the same time, also stiff enough so stopping and turning won't be a problem.
Clothing
Whether you're skiing across the French Alps or at The Dolomites in Italy, it's important to wear quick-drying clothes. Skip the bulky jackets and excessive layers since you'll be sweating a lot. Invest in a good-quality softshell jacket and clothes with fabric that help you stay dry. If you'll be wearing layers, make sure that they won't be too much of a nuisance when you take them off.
Accessories
When skiing, it's also important to have a good pair of ski goggles that will protect you from ultraviolet (UV) rays. You can also carry a small knapsack with you containing other needed items like a first-aid kit, sunscreen, lip balm, and a bottle of water. You can also opt to have a portable hydration pouch so you can easily drink anytime.
Best Places to Go for Nordic Skiing
1. Colorado, USA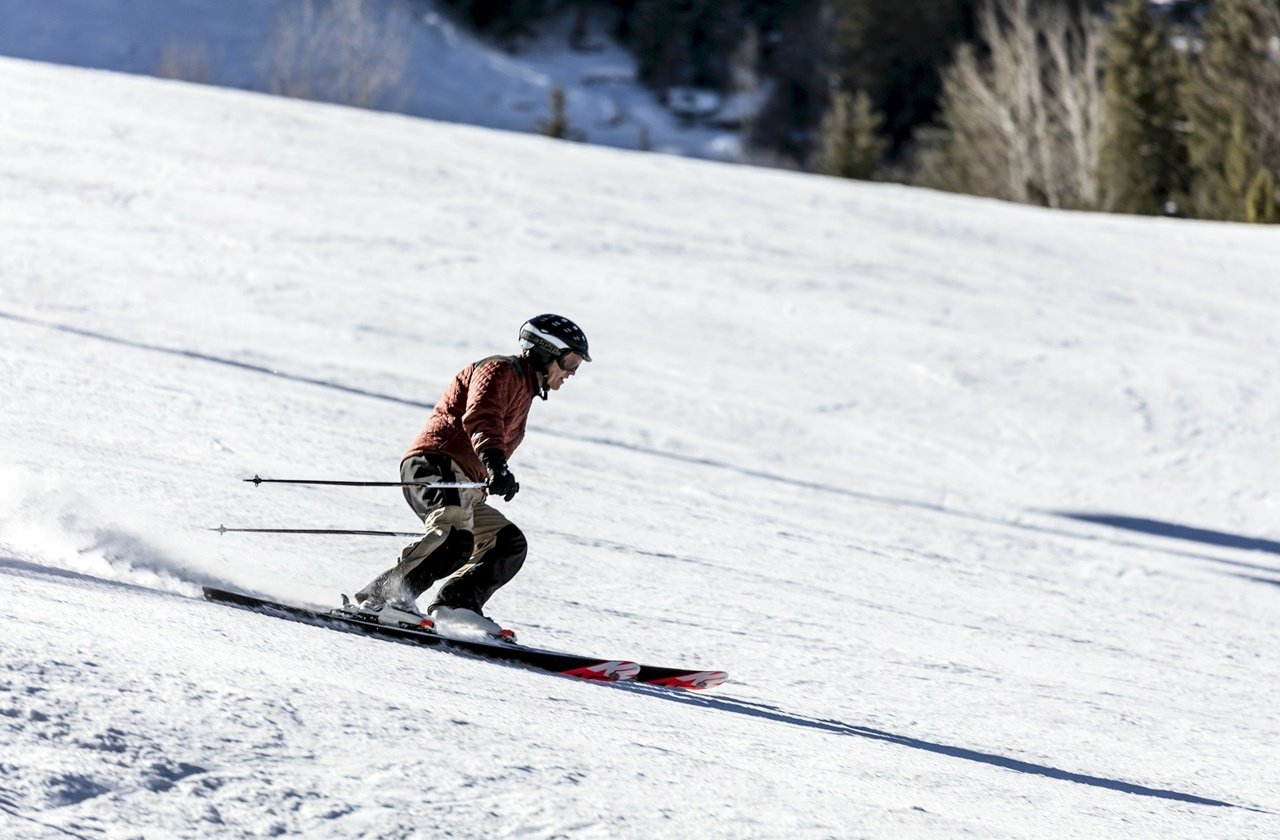 Photo by skeeze on Pixabay
Best Time to Go: February to March
Notable Places: Devil's Thumb Ranch, Breckenridge Nordic Center
When it comes to Nordic skiing, Colorado is the best place to visit in America. The state offers the highest altitude lift terrain as well as the best snow conditions. What makes Colorado a must-visit for skiing is its varied yet challenging terrain, along with the breathtaking mountain views. In Colorado, head to the Aspen Snowmass Nordic Trail System, boasting more than 55 miles of free and exciting cross-country trails. For spectators, you can catch the annual Owl Creek Chase and Tour in February and the Ski For the Pass 7K Class, a benefit ski race.
Photo by eugen_z on Adobe Stock
Best Time to Go: October to March
Notable Places: Feldberg, Notschrei Skiing Trail
Known for its evergreen forests and picture-perfect villages, the Black Forest is also a great destination for cross-country skiing. Feldberg, in particular, is perfect for families, with 28 lifts and more than 20 skiing trails. Take note that it can get crowded during the weekend, especially during the skiing season. However, the best thing about skiing at the Black Forest is that most resorts are within driving distance from Basel and Strasbourg airports, perfect for a weekend getaway.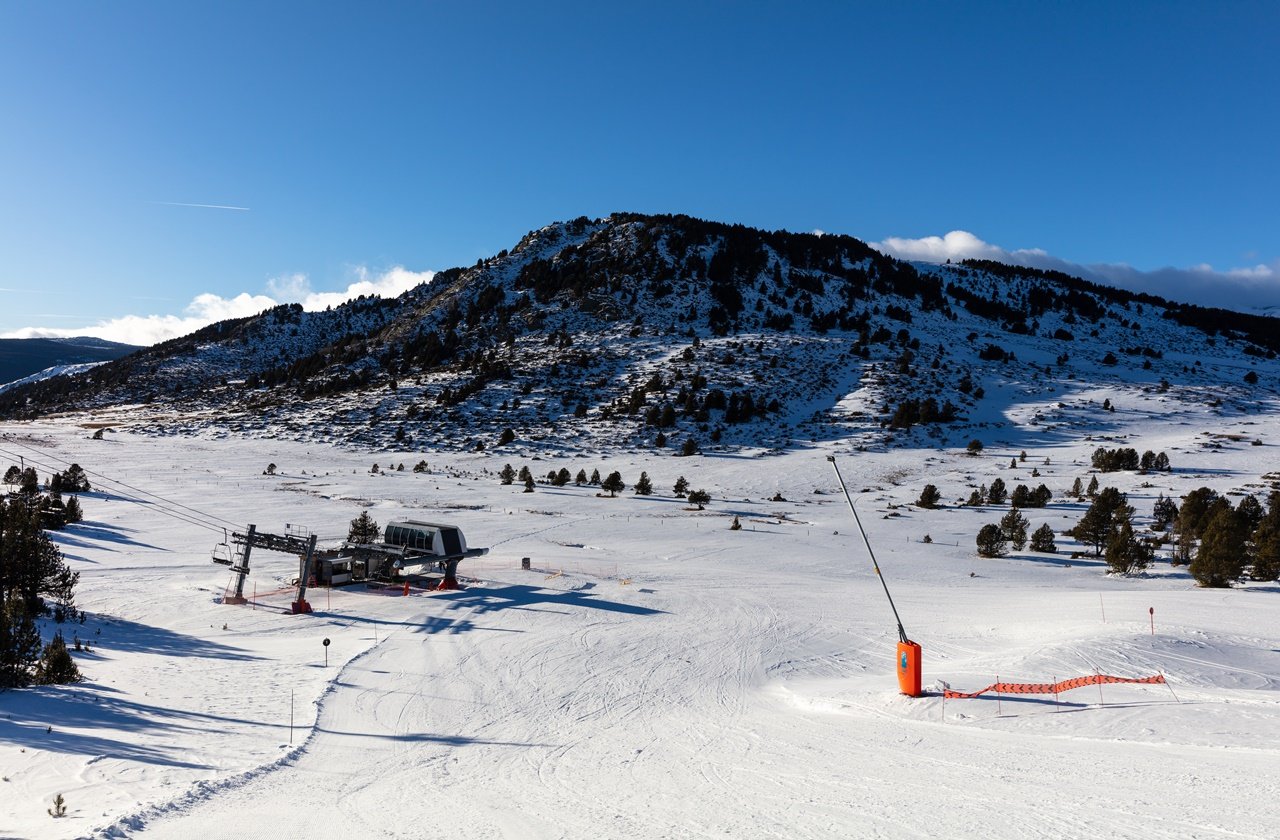 Photo by thomathzac23 on Adobe Stock
Best Time to Go: March and April
Notable Places: Cauterets, Font-Romeu
The French Pyrenees also offers some of the best underrated cross-country ski trails in the world. This is the place to go if you're looking for solitary yet sunny ski trails. Head to Cauterets, an idyllic resort where you can enjoy cross-country skiing as well as downhill skiing. Meanwhile at the Grand Tourmalet, enjoy more than 60 ski trails, ideal for both beginners and expert skiers.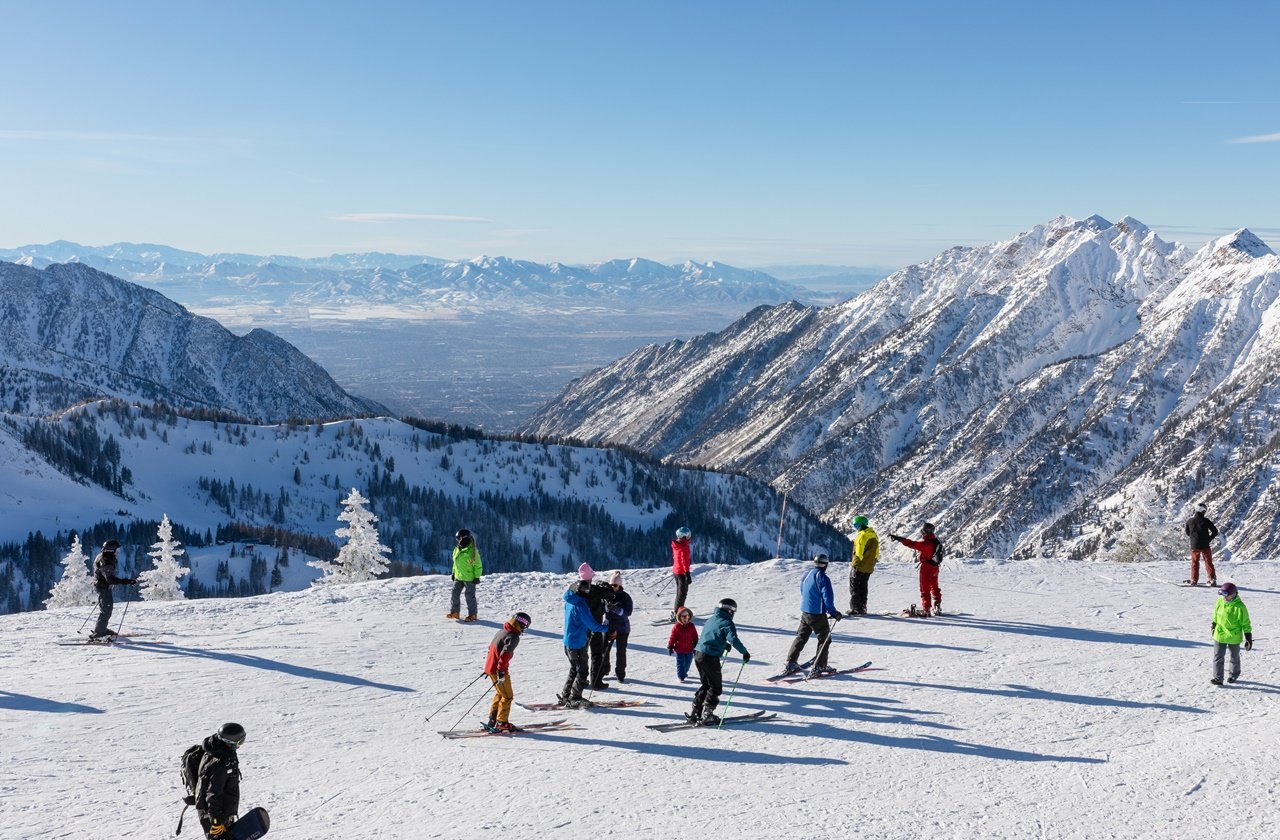 Photo by NG-Spacetime on Adobe Stock
Best Time to Go: November to March
Notable Places: Sundance Resort, Soldier Hollow Cross Country Resort
Nordic skiing is a popular and very well-organized sport in Utah, a favorite activity during the cold winter months. The U.S. state also prides itself on its National Forests and protected areas that offer hundreds of trails for cross-country skiing. If you're planning on visiting the best Utah ski resorts, visit Soldier Hollow Cross Country Resort, featuring 19 miles of well-maintained trails. On the other hand, you can also visit the Robert Redford-owned Sundance Mountain Resort for its world-class skiing, dining, and cultural scene.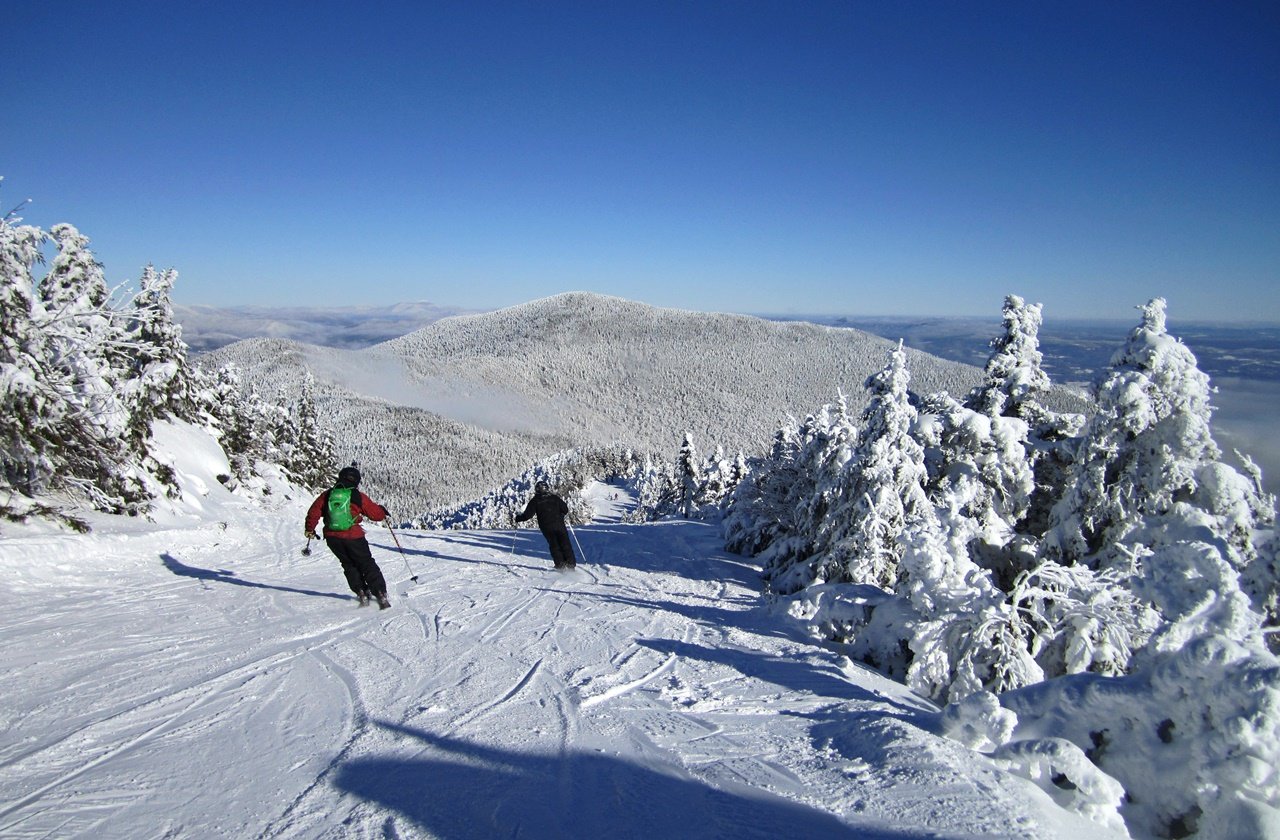 Photo by jkrueg on Adobe Stoc
Best Time to Go: December to March
Notable Places: Trapp Family Lodge, Stowe Cross Country Ski Center
Find some of America's best ski resorts in Vermont! On the East Coast, the state is a favorite winter destination due to the abundance of ski resorts and trails you'll find here. Bolton Valley's 5,000 acres is sure to be the highlight of your Vermont skiing experience. Enjoy over 62 miles of backcountry trails as well as 35 miles of groomed trails at the Trapp Family Lodge, home to America's first cross-country ski center. The ski resort is also owned by the famous Trapp Family.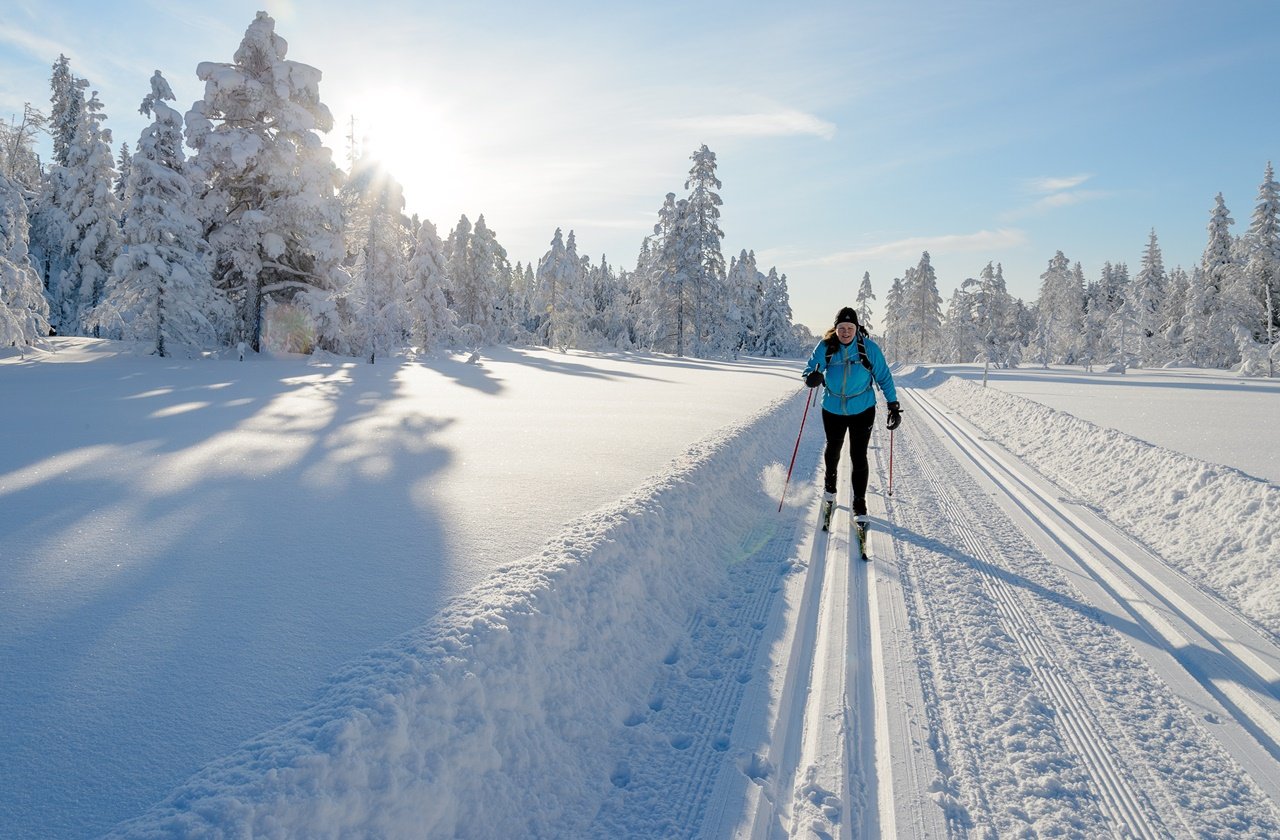 Photo by STUEDAL on Adobe Stock
Best Time to Go: December to March
Notable Places: Sjusjøen Langrennsarena, Sjusjøen Rundt
Sjusjøen is Norway's top destination for Nordic skiing, with its 2,500km of trails and trail networks. Whether you're going out for a relaxing ski trip or a heart-jumping excursion, you'll find your perfect trail here. Additionally, Sjusjøen is also a good place to start for both beginner and intermediate skiers. Visit the Sjusjøen Langrennsarena for the best cross-country trails, or head to the Sjusjøen Rundt trail if you plan on skiing with first-timers. If you want to take a quick break from skiing, visit the Sjusjøen for other winter activities.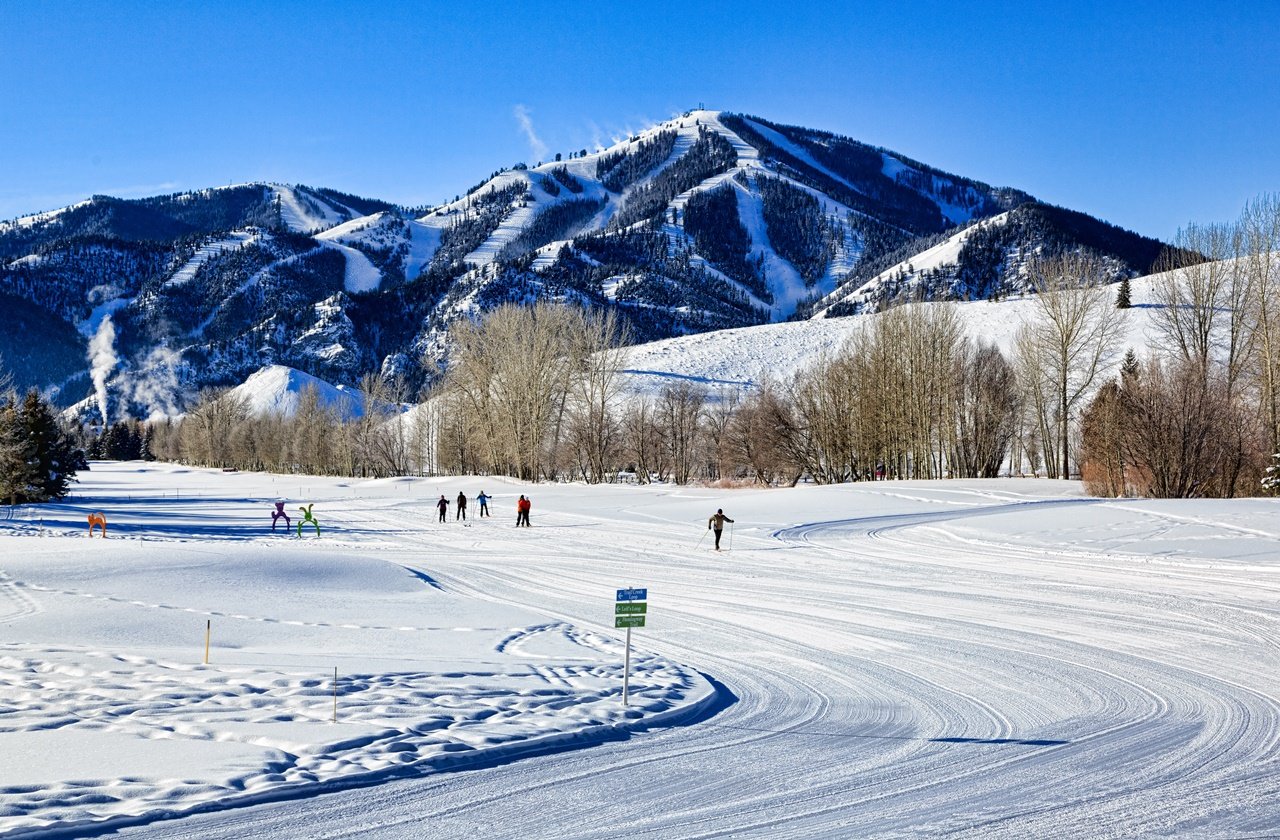 Photo by John on Adobe Stock
Best Time to Go: November to April
Notable Places: Schweitzer Mountain, Sun Valley
Explore the snowy mountains of Idaho on a ski or snowshoes. Several ski resorts offer the best groomed trails, and its state parks also have a number of ski trails with varying levels of difficulty. Schweitzer Mountain is a popular getaway for cross-country skiers that offers fine rails and breathtaking panoramic views. Treat yourself to a luxury winter getaway at Sun Valley if you want to go somewhere more remote.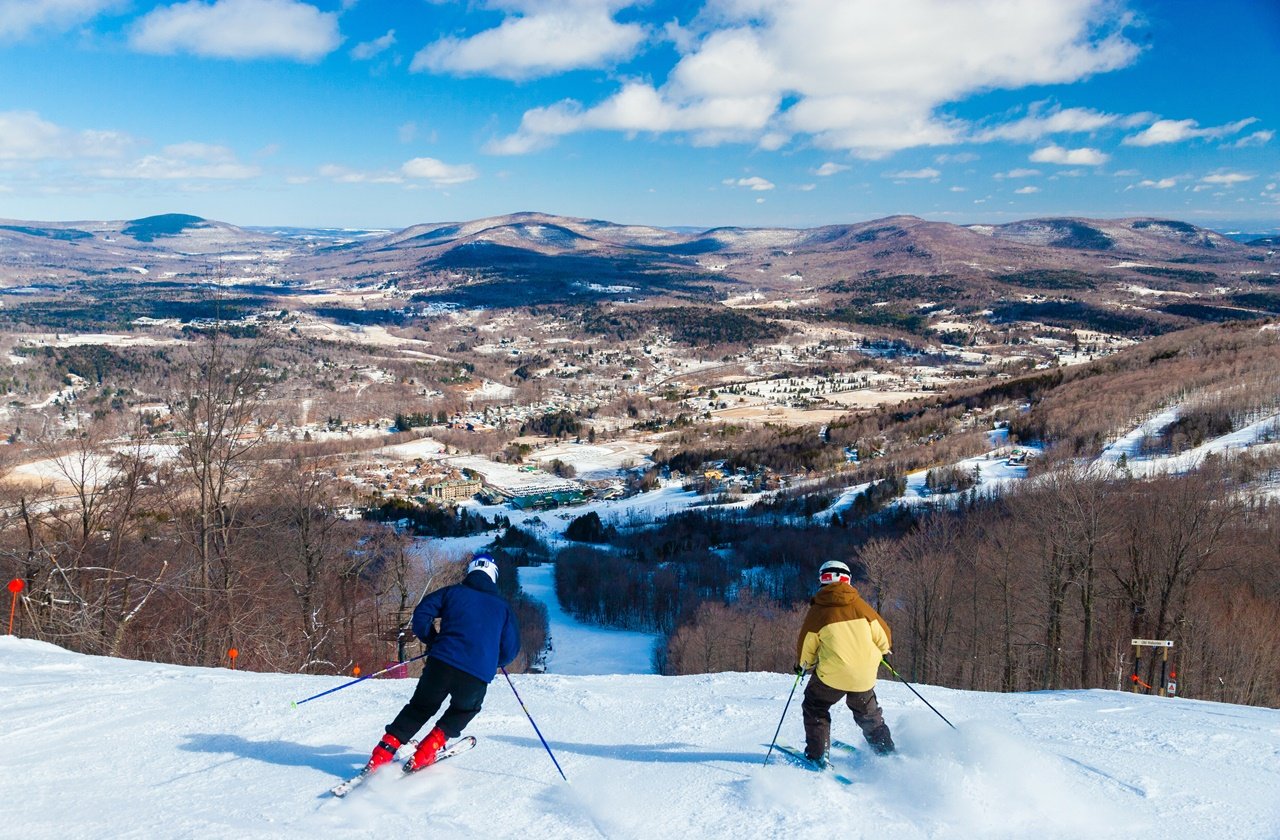 Photo by Don Landwehrle on Adobe Stock
Best Time to Go: November to March
Notable Places: Whiteface Mountain, Gore Mountain
Offering plenty of ski resorts with scenic trails and towering peaks, New York is one of the best places to visit for Nordic skiing. Lake Placid's Whiteface Mountain lets you experience world-class cross-country skiing terrain while admiring the beauty of the lake. If you want to brush up on your skiing skills or if you want to learn more about adaptive skiing, visit Peek 'n Peak in Chautauqua-Allegheny. Gore Mountain, although a far drive from New York City, offers the best value for money, thanks to its modern lifts, challenging terrain, and fewer crowds.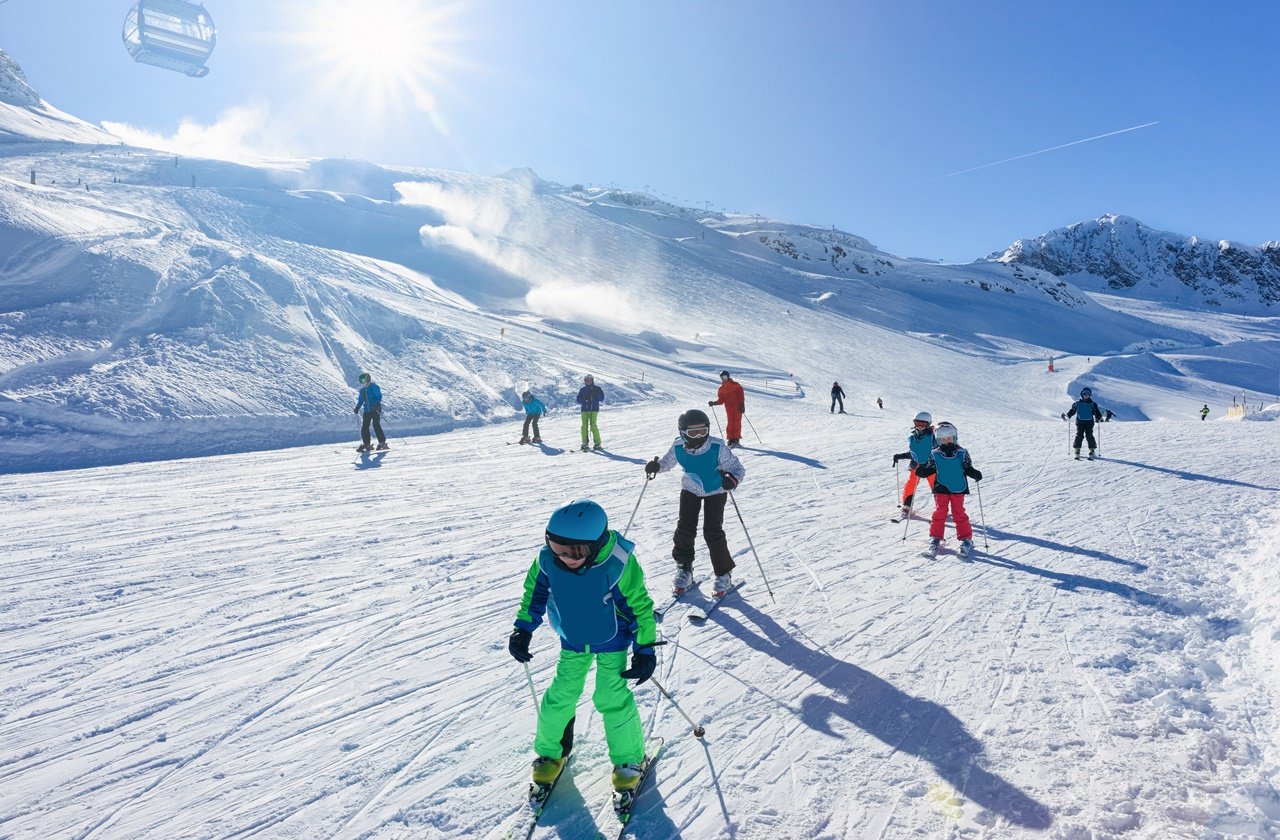 Photo by Roman Babakin on Adobe Stock
Best Time to Go: January to March
Notable Places: Goms
Switzerland is a no-brainer skiing destination, attracting winter sports enthusiasts aside from the usual vacationers. The small village of Münster is a river rafting hotspot in summer, but during winter, it becomes a cross-country skiing heaven. Have the time of your life Nordic skiing across its 90km of trails, past idyllic villages with views of the snow-frosted mountains. The Goms Valley is also a popular destination in Münster, offering 80km of classic and skating-style runs. Divided into different trails, you can choose to go on lengthy yet easy trails or short but challenging ones.
10. Banff National Park, Canada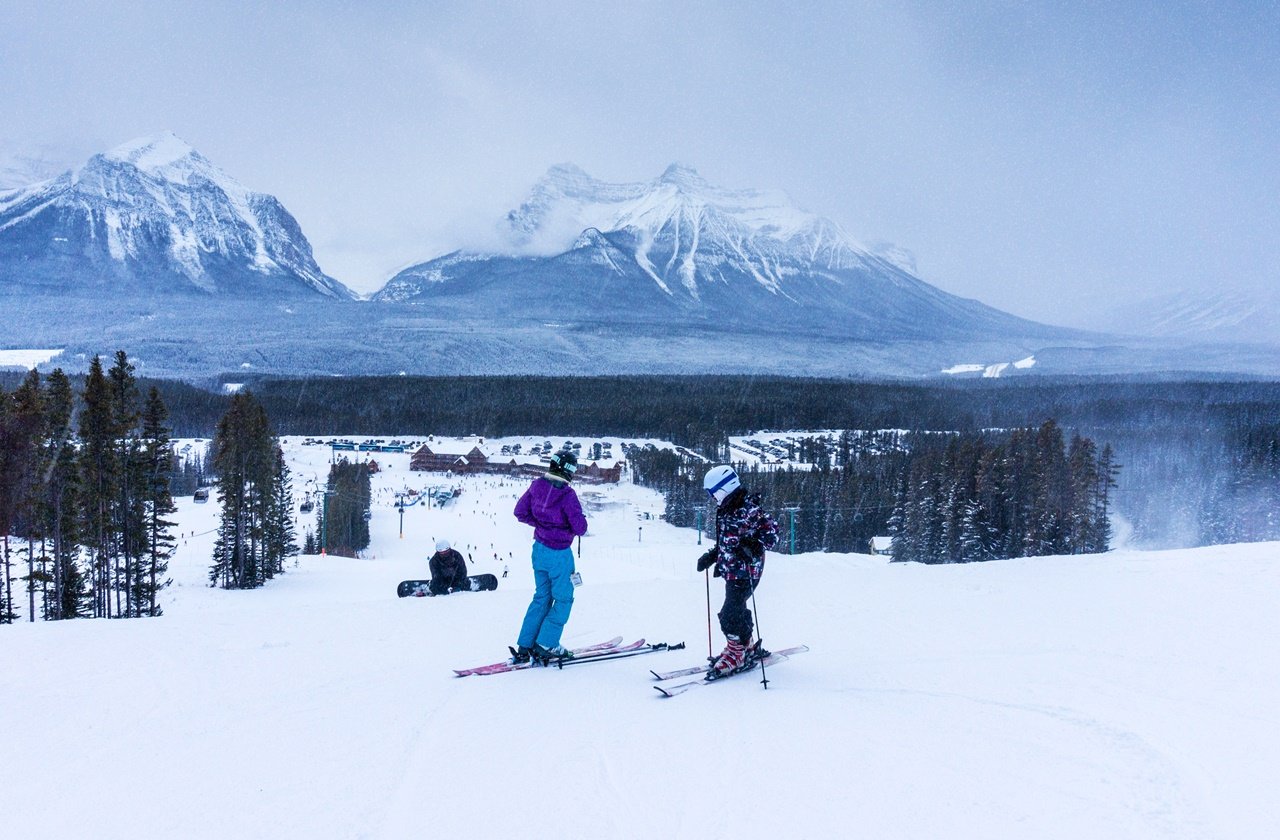 Photo by ronniechua on Adobe Stock
Best Time to Go: February to April
Notable Places: The Big3 — Banff Sunshine, Lake Louise, and Mt Norquay
Canada's Banff National Park is a UNESCO-listed World Heritage Site famous for its postcard-perfect scenery and abundance of wildlife. It is also famous for the Big3, three ski resorts offering exciting trails and picturesque mountain views. Start at Mt. Norquay, an easier destination, before heading to the more challenging slopes of Lake Louise and Banff Sunshine. If this will be your first time skiing, make it more memorable by taking up ski lessons from a professional.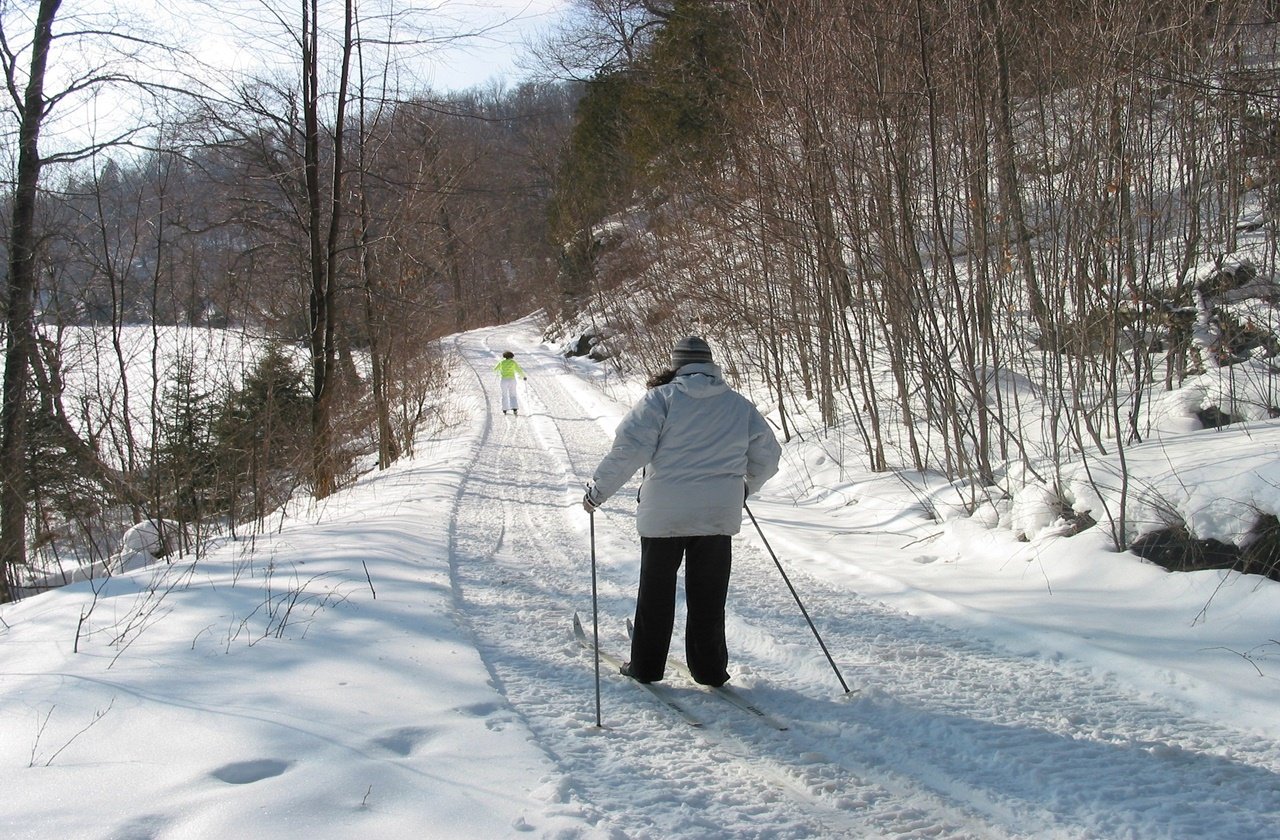 Photo by sharonj on Pixabay
If you don't have prior skiing experience, you may consider investing in lessons from a qualified instructor.
Before going on a skiing expedition, it's important to keep fit since Nordic skiing demands a lot of physical strength. To prepare yourself, it's good to go jogging or cycling to avoid straining your muscles while skiing. Nordic walking, power walking with poles, is also another way to prepare yourself for cross-country skiing.
If you're cross-country skiing, know which kind of technique or style you want to learn. The classic technique is easier and is less intensive, while the skating technique suits beginners who have a good level of fitness.
Nordic skiing, especially cross-country skiing, generates a lot of heat, so it's ideal to dress in layers of clothing made of wool or quick-drying fabric.
Know your colors. In most ski resorts, trail systems have designations depending on the level of difficulty: green or blue for beginner, blue or red for intermediate, and black for advanced. As much as possible, stay in the beginner-friendly trails. You can also ask about this at the concierge or at the help desk at every ski resort.
Stay relaxed. Don't forget to flex your ankles, bend your knees, and use your muscle groups properly for efficient skiing.
Have Fun Out in the Snow!
Nordic skiing is one of the best winter sports to try, having different branches like cross-country skiing, ski jump, and even combining two disciplines like biathlon. There are also several ski resorts around the world where you can lace up your skis and head for the mountains. You can choose from solitary slopes or Olympic-level ski resorts. If you're flying out of the country for your skiing adventure, make sure to book international flights in advance as skiing season brings in lots of tourists and increased prices for hotels and tours.