25 Best Places to Visit in November in the USA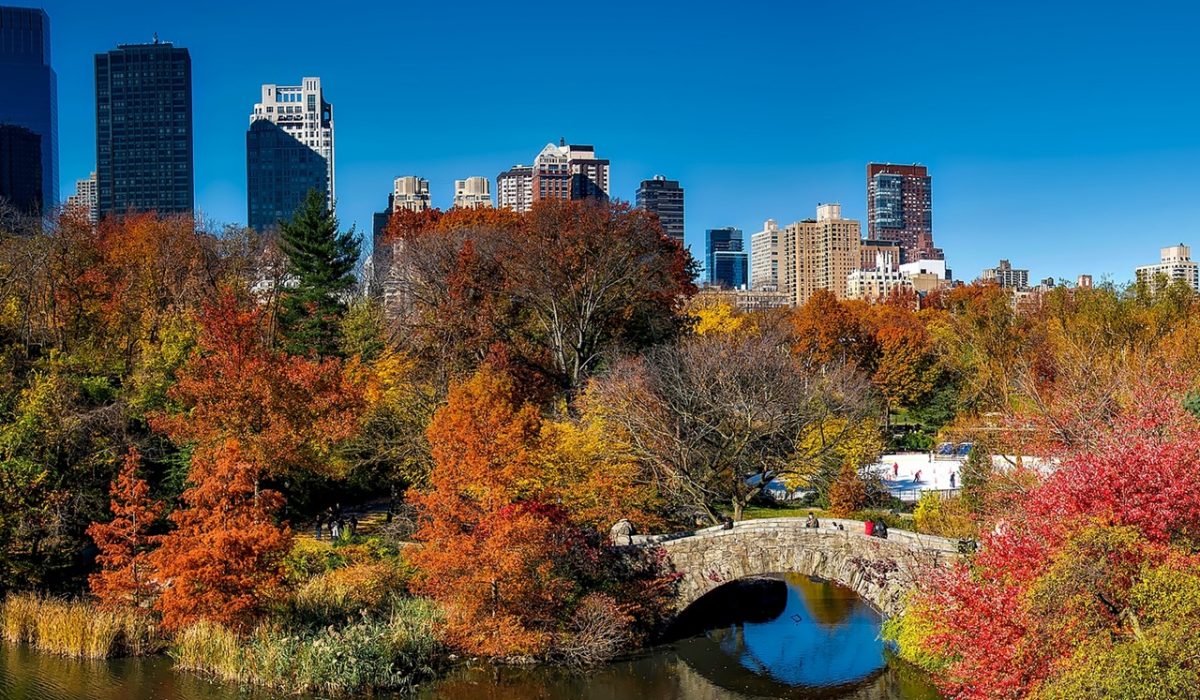 November is one of the best times to visit America. In some parts of the country, the first snow has fallen while in other areas, the last of the foliage has passed. The month also falls under the shoulder season, so you can enjoy fewer crowds and inexpensive hotel and airfare. Furthermore, the country also boasts some of the best places to visit in November in the USA for every traveler. There are national parks, coastal regions, metropolitan cities, and even UNESCO World Heritage Sites in the US. These places also make ideal weekend getaways, short day trips, and even multi-city excursions.
If you want to experience the last weeks of autumn in the US, here are some of the best places to visit in November in the USA!
1. San Diego, California
San Diego combines historical sites, fascinating museums, and several family-friendly sites. Located in Southern California, you can visit San Diego on quick day trips from Los Angeles or on longer weekend getaways. Because of its mild weather, San Diego is one of the best places to travel in November.
The summer crowds are gone and the crisp air is perfect for heading to the beach. At Balboa Park alone, you can easily spend the afternoon exploring the San Diego Zoo, the botanical gardens, and several museums. For foodies, discover the best Mexican restaurants and find well-preserved houses and buildings at Old Town San Diego.
TouristSecrets Tip: To catch the fall foliage in San Diego, go on a hike at the Peninsular Ranges and see the lovely fall color displays.
2. Kauai, Hawaii
Surrounded by rugged canyons, a white-sand coast, and lush forests, Kauai is an underrated island destination in Hawaii. It is also known as the "Garden Island" as a whopping 97% of the island boasts unspoiled mountain ranges. If you're looking for a tropical getaway, Kauai should be on your list of places to visit in November.
From hiking and swimming to ziplining, enjoy a variety of things to do in Kauai. Explore Waimea Canyon State Park, hailed as the Grand Canyon of the Pacific, and follow various trails that lead you to breathtaking landscapes. Ride the waves and go surfing at Ke'e Beach or bask under the warm sun at Poipu Beach. If you're up for an adrenaline rush, go ziplining and feel the thrill as you zip past lush forest and cascading waterfalls.
TouristSecrets Tip: The food scene in Kauai shouldn't be missed, offering a fusion of Japanese, Filipino, Thai, and Western influences. Try the lomi lomi salmon, poke bowl, and huli huli chicken on a food tour of the island.
3. Savannah, Georgia
Savannah is one of the best places to visit in November if you're looking for romantic sights. After all, this Southern city is famed for its well-manicured parks, cobblestone squares, and horse-drawn carriages. Most of the things to do in Savannah revolve around outdoor activities, so November's balmy weather is perfect for visiting this charming city.
See the breathtaking Cathedral of Saint John the Baptist, a Gothic-Revival structure in the heart of Savannah. Then, go on a relaxing carriage ride around downtown as you admire its Antebellum architecture. The weather in the city also makes it comfortable for going on walks around Forsyth Park and River Street.
TouristSecrets Tip: Despite its picture-perfect appearance, Savannah is home to some of America's most haunted places. If you're up for unique things to do in Savannah, visit some of its spooky spots such as the Bonadventure Cemetery or join ghost tours of the city.
4. Napa Valley, California
For oenophiles and wine enthusiasts, Napa Valley is one of the best places to visit in November in the USA. Not only are you treated to spectacular views of the rolling hills and vineyards, but the warm colors of the foliage add to its charm. Its laid-back atmosphere, chilly weather, and picturesque scenery are perfect for a fall vacation.
Go winery-hopping and sip on a glass of Cabernet Sauvignon as you marvel at the Napa Valley fall colors. Embark on a scenic road trip and feel as if you've been transported to the verdant towns of the Italian countryside as you drive past the vineyards. Then, walk around town and see the streets decked with festive decors in preparation for the holidays. But for the ultimate Napa Valley experience, view its golden-hued vineyards from above on a hot air balloon!
TouristSecrets Tip: In November, some restaurants offer tasting menus featuring seasonal produce like pumpkin, apples, and Brussel sprouts.
5. Charleston, South Carolina
With its mild weather, historic architecture, and charming streets, Charleston is a must on your list of best places to visit in November. It is also a great place to spend Thanksgiving thanks to the local restaurants and cafes offering seasonal meals. On top of that, the city also holds several Thanksgiving celebrations and events including the famed Turkey Day Run.
Downtown Charleston is known for its period architecture, with beautiful pastel antebellum mansions lining the streets. As the weather is balmy and comfortable, you can go on a sightseeing tour for hours without feeling tired. During the month, don't miss the chance to join a harvest festival!
TouristSecrets Tip: From mid-November until the end of the year, Charleston holds the Holiday Festival of Lights. Find millions of colorful lights around James Island County Park along with walking trails and drive-thru routes for you to enjoy the holiday spectacle.
6. Santa Fe, New Mexico
Santa Fe in New Mexico boasts a hodgepodge of cultures with its Hispanic and Native American influences. It is also a city rich in museums, art galleries, and restaurants offering the best regional specialties. If culture, art, and food interest you, then Santa Fe is your perfect destination in November!
Whether indoor or outdoor activities, there are plenty of things to do in Santa Fe. Go for a stroll along Canyon Road, a half-mile road teeming with art galleries housed in pueblo-style buildings. There are plenty of museums and galleries, but the Georgia O'Keefe Museum and New Mexico History Museum are must-visits. Then, discover the city's culinary heritage and feast on local specialties featuring a combination of different cuisines.
TouristSecrets Tip: Ski Santa Fe, one of the city's most popular ski resorts, opens for the winter season around late November.
7. New York City, New York
NYC is a place that needs no introduction. It is a year-round favorite destination among travelers for its vibrant city life, exciting districts, and iconic parks. In November, NYC is even more stunning, with the striking colors of the fall foliage standing out among the buildings and skyscrapers.
Bask in the cool Manhattan weather as you go sightseeing and enjoy the surroundings. You can also take a ferry around the infamous Statue of Liberty or visit Central Park for a picnic as you admire the fall colors. Lace up your skates and head to the ice skating rink at Rockefeller Center and get a chance to see the Christmas Tree Lighting at the end of the month. This is also one of the best places to visit in November in the USA if you want to avoid the onslaught of shoppers and tourists coming to enjoy the holidays.
TouristSecrets Tip: Don't miss the Macy's Thanksgiving Day Parade in late November. You'll find the streets of New York filled with marching bands, colorful performers, and giant floats and balloons.
8. Phoenix, Arizona
While the rest of the nation enjoys crisp autumn air and colorful foliage, Phoenix is the best place to visit in November if you want to relive the summer days. And unlike other cities whose shoulder season is in November, this is the start of the high season in Phoenix. So make sure to book everything in advance and keep your eyes peeled for great bargains.
Take advantage of the warm weather and go golfing or book a stay at one of the luxury resorts in Phoenix. Challenge yourself and follow the Treasure Loop Trail at Lost Dutchman State Park or the Hieroglyphic Trail.
TouristSecrets Tip: If you have an extra day or more, go on a road trip from Phoenix to Sedona. There are plenty of hikes, art galleries, and mystical vortexes to add to your bucket list. Moreover, there are a couple of interesting cities and national monuments on the way.
9. Orange County, California
Orange County is the best place to warm up and enjoy the beachside weather. Sea temperatures are ideal for swimming, although they're not as warm as in the summer. Nonetheless, you can still bring your surfboards and ride the waves in Huntington Beach. Additionally, since there aren't that many tourists, you can enjoy crowd-less beaches and other attractions in the area.
Aside from surfing and lounging at the beach, there are other things to do in Orange County in November. Get the chance to go on a pumpkin wagon ride as you take a tour of the pumpkin farms and patches. You can also enjoy fall-themed snacks, coffee, and drinks at the cafes downtown.
TouristSecrets Tip: Around mid-November, don't miss the Surfing Santa Competition in Salt Creek Beach. The competition has men, women, and children surf while wearing Santa Claus and other holiday-themed costumes.
10. Joshua Tree National Park, California
For those who want to get in touch with nature, Joshua Tree National Park is a must on your list of best places to visit in November in the USA. It offers almost 800,000 acres of unparalleled desert landscapes and large Joshua trees which the park was named after. Although most people flock to the park from March to May and October, November is also a perfect time to visit.
At Joshua Tree National Park, embrace the inner adventurer in you and explore the park. Go hiking and try bouldering and rock climbing for a change. Follow different trails that let you take in its distinct landscape, influenced by the Colorado and Mojave Deserts. Then at night, bring out your binoculars and telescopes and marvel at the night sky.
TouristSecrets Tip: Holders of the US National Park Pass and Senior Parks National Pass can enjoy free admission to the park along with discounts on standard amenity fees.
11. Lake Tahoe
Although it is a popular year-round destination, Lake Tahoe is one of the best places to visit in November in the USA. Visitors can witness the subtle change in scenery as the winter months approach. Furthermore, there are fewer visitors so you can enjoy and appreciate the lakeside environment.
From hiking, biking, and boating, tick off your list of things to do in Lake Tahoe! Catch different views of the lake from hiking and biking trails that suit beginners to seasoned hikers. Road conditions are also perfect for going on scenic drives along the rim of the lake, offering panoramic views from every angle.
TouristSecrets Tip: For a memorable trip to Lake Tahoe, join a sunset dinner cruise along the lake. Most vessels and boats have heating facilities so you can remain cozy even on cold evenings.
12. Las Vegas, Nevada
Because of its location in the Mojave Desert, Las Vegas' weather most of the year is hot. But by November, the temperature drops and is now cooler (or warmer, depending on where you're coming from). Nonetheless, overall weather in Las Vegas is comfortable for exploring the Entertainment Capital of the World.
November in Las Vegas is a great time to visit since you can enjoy indoor and outdoor activities minus the scorching heat. Walk around Fremont Street, whose colorful neon lights make the perfect backdrop for a photo. If you feel lucky, try your luck at one of the casinos on the Las Vegas Strip.
TouristSecrets Tip: For nature lovers, there are several state and national parks near Las Vegas worth checking out.
13. Los Angeles, California
Without a doubt, Los Angeles is one of the best places to visit in November in the USA. It is one of the warmest cities in the country during the month so it is the perfect respite from the colder cities in the north. You can still chase the sun and head to the beaches to perfect your tan. By evening, the balmy weather makes al fresco dining even better.
Los Angeles in November is also an ideal time to visit for nature lovers. Explore the hiking trails in Griffith Park and the Santa Monica Mountains and catch panoramic views of LA. Before the gray whales migrate starting December, go on a whale watching tour in Long Beach and other areas in the city.
TouristSecrets Tip: Although November falls under LA's shoulder season, the Thanksgiving holiday brings plenty of crowds and tourists.
14. Great Smoky Mountains National Park
November is the perfect time to visit Great Smoky Mountains National Park for your leaf-peeping adventure. The park is surrounded by trees in various hues of red, gold, and yellow, but there are fewer crowds as compared to October. Furthermore, the crisp November air makes hiking and exploring the park more comfortable.
Explore the Smokies and discover the beauty of this UNESCO World Heritage Site. Whether you want to catch breathtaking views of the fall colors or you'd like to chase waterfalls, there are trails perfect for you. For a more relaxing way of sightseeing, drive along the Clingmans Dome Road and other scenic routes.
TouristSecrets Tip: Want to enjoy the views without the strenuous hiking? Ride the Great Smoky Mountains Railroad or take the chair lift at Gatlinburg Sky Lift.
15. Naples, Florida
Also known as the Paradise Coast, Naples is one of the best places to travel in November in the USA. It offers swoon-worthy beaches, amazing golf courses, and picturesque tree-lined avenues. Naples is also perfect for beach bums who want to perfect their tan or ride the waves. November is also the perfect time to visit before the crowds start coming in by December.
Enjoy Naples' "glitz-and-glam meet small-town" vibes as you explore the beachside city. Sink your toes into the powdery white sand on the beach or go surfing. You can also go food truck-hopping at Celebration Park. At the end of the day, head to Naples Pier and witness the fiery sunset take over the sky.
TouristSecrets Tip: On select days from November to April, Naples Botanical Gardens offer guided tours of the park.
16. San Antonio, Texas
San Antonio combines historic missions, a rich Mexican and Hispanic heritage, and bustling city life. It effortlessly combines old and new, which is why it is a popular destination in summer. But by November, crowds have gone, the temperature is fantastic, and you can score great deals on hotels and tours.
For budget travelers, San Antonio is one of the best places to visit in November in the USA. The city offers admission-free attractions like the Japanese Tea Garden and Brackenridge Park. Museums like the San Antonio Museum of Art and Witte Museum also have days and hours where the admission fee is waived. Top that off with the cool weather, you won't have to worry about the heat as you explore the Riverwalk, San Antonio Zoo, and the missions.
TouristSecrets Tip: Because of its colonial heritage, Dia de los Muertos (Day of the Dead) is a widely celebrated event in San Antonio. If you're planning to visit early in November, don't miss this holiday.
17. San Francisco, California
November is a great time to visit San Francisco. The month boasts some of the warmest days and chill yet comfortable evenings in the city. In addition, there are plenty of events that celebrate Thanksgiving and welcome the start of the holiday season.
From fun cruises, family-friendly activities, and exciting festivals, you'll enjoy many things to do in San Francisco in November. Enjoy the mild weather and go on a sightseeing cruise around the Bay Area, passing through iconic sights like Alcatraz and the Golden Gate Bridge. By the end of the month, don't miss the lively Thanksgiving celebrations and the highly anticipated Christmas Tree lighting ceremonies around the city.
TouristSecrets Tip: The month marks the end of the humpback whale season around San Francisco. Go on a whale-watching cruise and get to see these gentle giants in their natural habitat.
18. Death Valley National Park
Death Valley National Park may be a sight to behold in summer, but it is uncomfortably hot. But by November, temperatures are perfect for exploring and even camping. If you're coming from cold places, the weather at Death Valley is a welcome change. Best of all, there are fewer visitors so you can freely enjoy the trails and irresistible photo spots.
Explore Death Valley National Park and feel as if you're on another planet with its otherworldly appearance. See its salt flats, dunes, and other landforms dating back to more than a thousand years ago. Visit the lowest point in North America at Badwater Basin or be fascinated with the unique and colorful slopes along Artists Drive and Zabriskie Point.
TouristSecrets Tip: Hailed as a dark sky park by the International Dark-Sky Association, stargazing is recommended at Death Valley National Park. Don't forget your binoculars and cameras and get a chance to see the Milky Way Galaxy and other celestial bodies.
19. Miami, Florida
Sunny Miami is one of the best places to travel to in November for travelers wanting to escape colder temperatures. Humidity levels are low and although it falls under the hurricane season, there are few chances of a hurricane towards the end of the month. Rain is still common, but this happens for a short while late in the afternoon.
Take a day trip or weekend getaway to Miami and enjoy the warm weather as you relax at its beaches. Discover its lively arts scene and take photos next to the murals and street art at Wynwood Walls. Events like the Miami Book Fair, Jazz Festival, and Miami Live Arts Month also happen within the month.
TouristSecrets Tip: Miami tends to get busy as Thanksgiving approaches. Make sure to book hotels and flights in advance if you plan on spending the Thanksgiving holidays in Miami.
20. Palm Springs, California
Palm Springs is one of the best places to travel in November for those in LA. Its proximity to the City of Angels makes it a great day trip for those wanting to relax at its luxurious spas and check out its golf courses. Apart from that, the balmy November weather brings out plenty of things to do in Palm Springs.
For art junkies, visit the Palm Springs Art Museum and find contemporary art pieces, sculptures, and other works of art. Ride the Palm Springs Aerial Tramway and catch gorgeous views of the Coachella Valley and California Desert. But if you want to experience Palm Springs in the most relaxing way, book a stay at any of the boutique hotels, Airbnbs, or luxury resorts in the area!
TouristSecrets Tip: Palm Springs doesn't fall short of fun events in November. Notable festivals and events include the Greater Palm Springs Pride and Cathedral City Hot Air Balloon Festival.
21. Everglades National Park
Everglades National Park is a 1.5 million-acre preserve in Florida. Deemed a UNESCO World Heritage Site, it protects its ecosystem and several endangered animals as a national wildlife refuge. You can find manatees, Florida panthers, and hundreds of bird species in their natural habitat. On top of that, Everglades boasts a large mangrove ecosystem, the largest in the West.
November marks the start of the dry season in Everglades National Park, making it the perfect time to visit. The weather is mild and pleasant so you can comfortably explore the mangrove forests of the Ten Thousand Islands. Join ranger-led programs as you learn more about the park and its history and significance to the environment.
TouristSecrets Tip: Because of the lower temperatures and dry weather conditions, wildlife viewing is easier in the park. Birdwatching is also a popular activity in the Everglades starting in November.
22. Salt Lake City, Utah
November in Salt Lake City offers mild weather and the start of Christmas preparations in the city. Depending on your time of visit, you may also get to see the first snowfall in the city. But during the first weeks of the month, the weather is perfect for hiking and mountain biking.
There are also other fun things to do in Salt Lake City in November! Explore downtown Salt Lake City and check out the Christmas displays in store windows and along the street. If you're visiting in early November, catch the last of the fall colors in Big and Little Cottonwood Canyons. Meanwhile, late November is perfect for skiing, snowboarding, and other winter activities.
TouristSecrets Tip: Temperatures can fluctuate in Salt Lake City this month. That said, make sure to pack clothing that can suit sudden shifts in the weather.
23. Mammoth Lakes, California
Along the eastern side of the Sierra Mountains, Mammoth Lakes is the best place to visit for nature lovers. The alpine lakes and meadows are stunning to visit and the first snow falls over the higher peaks. The cool November weather also makes hiking, camping, and fishing comfortable.
Discover the unspoiled natural wonders at Mammoth Lakes on a weekend getaway from Reno or Sacramento. Since November is part of the shoulder season, take advantage of the affordable accommodation and stay at a cabin or a luxury resort. Mammoth Lakes also offers hot springs where you can take a dip and enjoy views of the Eastern Sierra Mountain Range.
TouristSecrets Tip: If you want to catch the fall colors in Mammoth Lakes, plan your visit in early November.
24. Maui, Hawaii
Maui is one of the best places to visit in November in the USA if you're looking for a warm and crowd-less vacation. Around this time, Since it's one of the most popular islands in Hawaii, Maui is usually packed with tourists from June to August. For budget travelers, November is also a good month to visit since hotels, flights, and tours are priced lower than usual.
With fewer people, great water, and affordable rates, spending time at Maui is made even better. Drive through the iconic Road to Hana without the traffic and take in the jaw-dropping coastal views. Have a unique Thanksgiving holiday on the island and join festive luau celebrations, beach picnics, and other events.
TouristSecrets Tip: Parasailing is one of the must-try activities in Maui in November. From December to May, the water activity is put on hold due to the presence of humpback whales.
25. Santa Monica, California
Moderate climate, affordable hotels, and fewer tourists make Santa Monica one of the best places to visit in November in the USA. The weather is warm and comfortable all year round so even in November, you can enjoy the beaches and fun activities at Santa Monica Pier without the bustle of summer crowds.
Spend the day in Santa Monica, enjoying the nice weather. Walk around Third Street Promenade and go shopping or grab a bite at the nearby cafes. Then head to Palisades Park for a picnic or pedal your way through the Marvin Braude Beach Trail for gorgeous beachside views. And of course, don't forget to check out the infamous Santa Monica Pier for old-school arcade games, amusement park rides, and unbeatable views of the sea.
TouristSecrets Tip: For film industry enthusiasts, don't miss the American Film Market. The multi-day event includes film screenings, workshops, and opportunities to network and acquire films.
Discover the Best Places to Visit in November in the USA
The USA offers plenty of sightseeing opportunities in November. Tourists can experience the first days of snowfall or escape to warmer climates depending on their destination. Additionally, November coincides with most of the cities' shoulder season so there are fewer tourists and better deals for hotels and tours. From historical towns, sprawling national parks, and metropolitan cities, your choices of the best places to visit in November are endless!