Top 7 Ski Resorts in and near Tennessee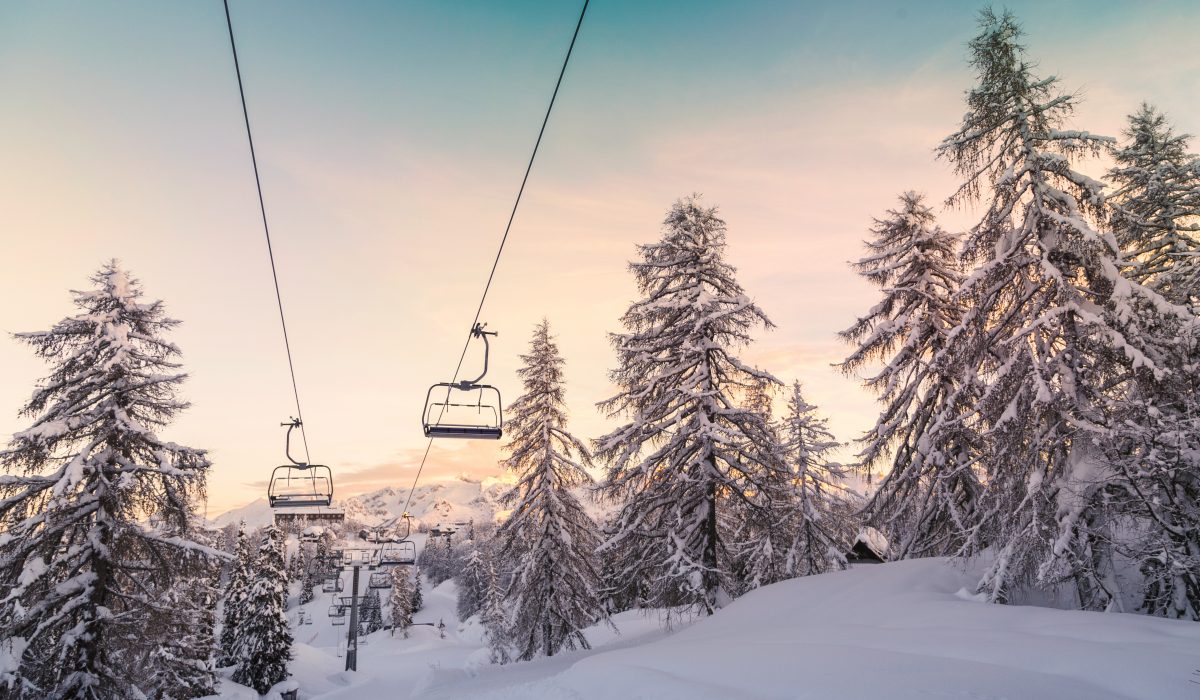 The winter months bring a blanket of snow to the slopes of the Great Smoky Mountains. People flock to ski resorts in Tennessee and the nearby North Carolina during these times to enjoy the winter wonderland the Smokies provide. After all, skiing is definitely among the hottest winter sports out there. Both of these Southern states offer some of the best winter vacations in the US!
If you're looking for the best places for skiing within these two states, you've come to the right place. We've crafted the ultimate guide to skiing in Tennessee and North Carolina. Regardless if you're a first-timer itching to try out this exhilarating sport or an advanced skier who wants to perfect your ski tricks, there is certainly a ski resort for you along the North Carolina and Tennessee mountains.
1. Ober Gatlinburg, Tennessee
Gatlinburg isn't only a getaway to the Great Smoky Mountains National Park. It's also home to Tennessee's one and only ski resort. As such, skiing and snowboarding down the slopes of Ober Gatlinburg should certainly be part of your itinerary of things to do in Gatlinburg. It features 11 ski trails, ranging from beginner-friendly slopes to intense black diamond ski runs. This Tennessee ski resort requires first-time skiers or snowboarders to take either group or private lessons before they can glide down any slopes. Once you're confident in your skills, though, you can conquer the Tennessee mountains like a champ!
Afterward, put your skis away, grab an inflatable snow tube, and enjoy snow tubing down the dedicated Tubing Hill. If you want to continue the winter fun indoors, move across the ice of the facility's indoor ice skating rink. Not particularly poised with balance and coordination while standing on ice? Don't fret, you can always take a seat and enjoy Ober's Ice Bumper Cars! Furthermore, if the weather permits it, you can even slide down the Smokies on the Alpine Slide or ride the Ski Mountain Coaster and marvel at the breathtaking mountainside views.
Meanwhile, for those on the hunt for other things to do besides Ober Gatlinburg skiing in Tennessee, they can head on over to Pigeon Forge. Just 15 minutes away from Gatlinburg attractions, this quaint mountain town is home to popular tourist spots like Dollywood.
2. Cataloochee Ski Area, North Carolina
North Carolina is indisputably among the most beautiful states in the United States with its plethora of natural wonders, ranging from pristine coasts and mountain ranges. Alongside Tennessee, these two neighboring states exude hometown hospitality that entices tourists from across the country. However, one of the top activities that draw visitors each year to the Tar Heel State is cruising down the snowy terrains of the North Carolina mountains.
If you're a beginner who's ready to hit the slopes of this southern state for the first time, hop on over to the Cataloochee Ski Area. Just a stone's throw away from Gatlinburg, in the town of Maggie Valley, it encompasses 50 acres of land with 18 slopes, eight of which cater specifically to novice skiers. The family-friendly ski resort even has a kids' program to introduce skiing and snowboarding to children ages 4 to 12.
Despite its reputation as a beginner-friendly ski resort, Cataloochee does feature more advanced slopes with its two black diamond trails. Expert riders who want to enjoy freeskiing can even do so at Cataloochee. The ski resort features a terrain park with rails that reach up to 22 feet.
3. Ski Sapphire Valley Resort, North Carolina
Another great skiing destination for beginners and intermediate riders alike is the Ski Sapphire Valley Resort. A short drive away from Tennessee, you'll find this quaint ski resort that's immensely popular among local families with kids. Guests young and young-at-heart can cruise down the 300-foot snow tubing run and create wonderful memories with loved ones. Spanning only 30 yards, it's a relatively small ski resort, making it ideal for vacationers who want to avoid crowds and long lines. It offers visitors great value and a more intimate experience than bigger and more packed ski resorts in Tennessee and North Carolina.
Ski Sapphire Valley doesn't offer any on-site lodging. It has, however, partnered with nearby vacation rentals to provide its guests with plenty of lodging options, ranging from cozy cabins to luxury townhouses. You can easily spend an action-packed day slope side and warm yourself up around the fire pit of one of the cabin rentals, or marvel at the picturesque views that lakefront townhouses boast.
4. Sugar Mountain Resort, North Carolina
If you are looking for more advanced ski slopes, head over to the Sugar Mountain Resort. Located two hours away from the Great Smoky Mountains National Park, this ski resort boasts 21 terrains serviced by eight modern lift systems. 13 of these slopes are for advanced and expert skiing, while the rest are for beginners and intermediate skiers.
The fun doesn't have to stop once the sun sets. A number of the ski runs feature floodlights that stay on until ten in the evening. That means you and your friends can ski well into the night! Besides skiing and snowboarding, guests can also glide across the facility's 10,000 square foot outdoor ice skating rink. Note that while there are trails for snowshoeing and snow tubing, there isn't one for cross-country skiing.
5. Wolf Ridge Ski Resort, North Carolina
Another ski resort that offers challenging terrains is Wolf Ridge Ski Resort. Fondly dubbed as the Wolf, this ski resort is a premier destination for skiing, snowboarding, and snow tubing enthusiasts within Western North Carolina. Situated in the majestic Blue Ridge Mountains, guests can explore 54 acres of ski terrain with a peak elevation of 4,700 feet.
Wolf Ridge has 15 slopes, including four beginner-friendly ones, nine intermediate, and two black diamond ski runs. There's also a separate hill for snow tubing that reaches 350 feet. Four lift systems, a quad chairlift, a double chairlift, and two moving carpet lifts operate in these trails. The Wolf also offers lighted skiing and snow tubing slopes to enjoy at night for after-dark adventures!
6. Beech Mountain Ski Resort, North Carolina
A little over an hour away from the Tennessee-North Carolina border, you'll find the highest ski area on the East Coast! With a peak elevation of 5,506 feet, the Beech Mountain Ski Resort offers towering summits and 95 acres of terrain. Don on your best ski goggles and hop on one of the nine lifts to access the ski resort's 16 trails that cater both to beginners and experts. On top of the skiing and snowboarding slopes, it's also home to a terrain park. Here, skiers of all levels can practice and perfect their freestyle skills, without worrying about the general crowd. Regardless of which trail you'll find yourself, though, all of them are lined with LED lights, so that you can enjoy the slopes under the stars.
In addition to exhilarating winter sports, guests can also partake in more relaxing activities such as snow tubing and ice skating. Children below the age of four can even skate for free! Just as long as they have a paying adult accompanying them. After a day of outdoor fun, grab a quick snack and drink at the resort's sky bar and take in the stunning view of the Blue Ridge Mountains. Don't forget to try one of the craft beers from the ski resort's on-site brewery!
7. Appalachian Ski Mountain, North Carolina
If you're looking to practice new moves and challenge yourself without disturbing other visitors, Appalachian Ski Mountain is the ski resort for you. Nestled within the contours of the Appalachian Mountains, adventurous riders can execute soaring tricks on the ski resort's three freestyle terrain parks, featuring massive rail and box setups that reach up to almost 40 feet. All of this, on top of its nine slopes, three of which are black diamond trails.
What's more, if you can't get enough of on-snow fun, you'll be glad to know that Appalachian is one of the few ski resorts in Tennessee and North Carolina that offer late-night skiing up to midnight. Beyond skiing and snowboarding, this ski resort has an ice rink that welcomes both figure and hockey skating.
Furthermore, Appalachian Ski Mountain is home to the French-Swiss Ski College, a ski school with an impressive track record. It has taught over one million people to ski and snowboard, including military personnel and even Secret Service Agents!
Appalachian offers several lodging options, which are just a short scenic walk away from the slopes. There's also a dedicated area for RVs and motorhomes, for families or nomadic individuals partaking in the van life movement.
Traverse the Slopes of the Best Ski Resorts in Tennessee and North Carolina
With the impressive slopes of the Great Smoky Mountains and the Blue Ridge Mountains, it's no wonder skiing in Tennessee and North Carolina is a favorite pastime among locals and vacationers during the winter months. Admittedly, ski resorts in and around Tennessee are far and few between, but they still offer everything you need to enjoy thrilling winter sports. They boast plenty of challenging ski runs to satisfy experienced skiers while also providing the resources every novice needs, like private lessons and easy trails. Enjoy amenities like state-of-the-art lifts, cozy cafes, and comfortable accommodations, along with the unmissable views of the North Carolina and Tennessee mountains. With all of that, you'll surely be enticed to visit North Carolina and Tennessee ski resorts!