10 Ski Boot Bags To Keep Your Ski Gear Organized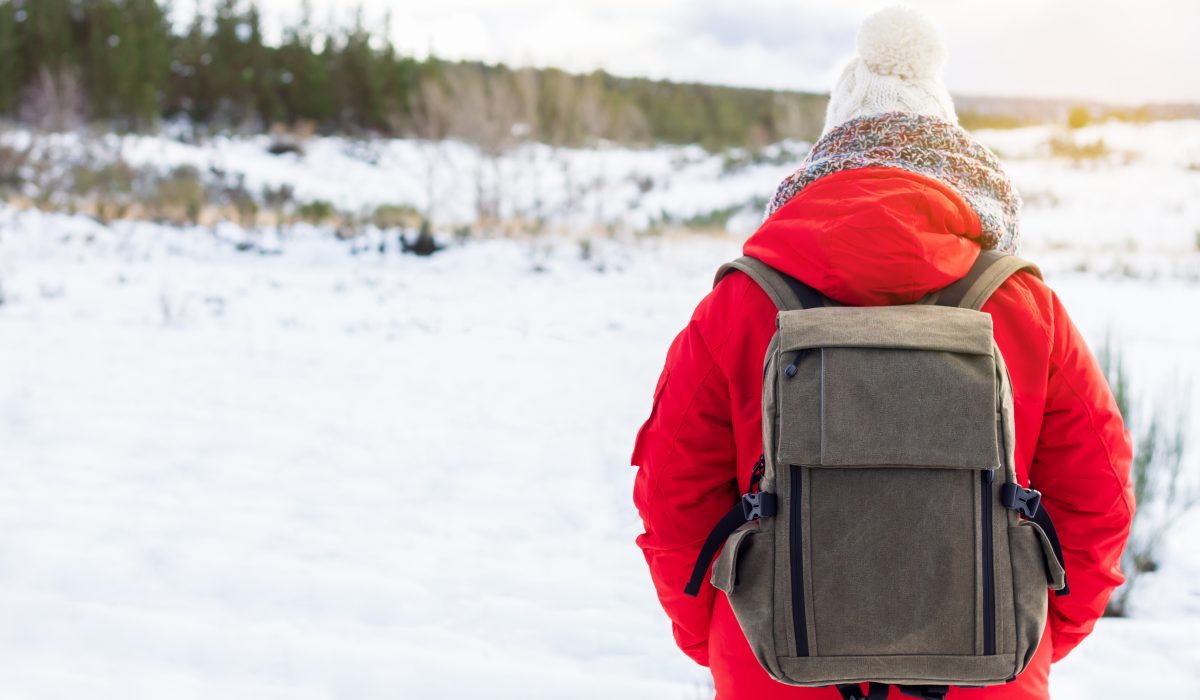 Any avid skier knows the importance of owning a ski boot bag. After all, it will protect and keep your equipment organized. But with so many options available in the market, it can be overwhelming to decide which is the best ski boot bag for you.
In general, a good boot bag should have a main compartment to hold your ski boots and several other compartments and pockets big enough to store other gear. It should have a bit of space for your helmet, gloves, and goggles at the least. Padding is another important factor to consider since padded ski boot bags will protect your equipment against accidental bumps and scratches during ski trips.
Before you head off to a ski resort on your next winter getaway, here are our top picks for the best ski boot bags to store your boots, best ski goggles, and other skiing equipment.
1. Best Overall: Thule RoundTrip Boot
The Thule RoundTrip is a premium ski boot backpack that has a 60-liter capacity. It provides plenty of space for your ski boots, helmet, gloves, and even spare clothing. The main boot compartment is equipped with grommets that allow for airflow while also acting as a drain for water to escape as the snow melts thus keeping your boots dry. It comes with a dedicated compartment that's perfect for storing goggles, sunglasses, and valuables such as your phone and keys. Note that it isn't the most spacious, though. Plus, despite the company dubbing it as the crush-proof SafeZone, the lid itself is rather soft. Nevertheless, the padding still provides a good deal of protection. It also features two side pockets that are roomy enough to fit gloves and other accessories.
What's more, it has a two-way access panel door that lets you access your boots and gear from the top or front. The back panel tarp doubles as a standing mat, as well. As such, you can easily change in and out of boots after a day out on the slopes of the best ski resorts in Tennessee! And thanks to the attachment points, you can readily strap your skis, snowboard, or poles and carry them around.
Pros:
60-liter capacity
Two-way access panel
Back panel tarp doubles as a standing mat
Cons:
Get the Thule RoundTrip Boot on Amazon.
2. Best for Air Travel: Dakine Boot 50L Pack
Looking for a ski boot bag backpack that's great for air travel? Look no further than the Dakine Boot Bag. Even with its 50-liter capacity, you won't have trouble carrying it while walking around crowded airports thanks to the soft padded shoulder straps and back panel. Measuring 19 inches in height and 14 inches in width, it meets most airlines' carry-on luggage requirements and fits in the overhead bin of a plane.
The boot compartment in this ski boot bag from Dakine features a zippered panel at the back for easy packing and access. Its waterproof lining is great for preventing water from seeping through other compartments and getting the rest of your gear wet. With that said, though, it doesn't come with any drainage holes. As such, you will need to let your boots dry off first before storing. Alternatively, you can wrap them in a towel or plastic bag, though this can be a hassle for most. Besides the main compartment, this Dakine boot bag has several spacious pockets, including a dedicated padded area for your helmet and goggles. There's also a separate pocket in the front for storing accessories such as gloves and snow hats.
Pros:
Waterproof lining in the main compartment

Suitable for air travel
Cons:
Get the Dakine Boot 50L Pack on Amazon.
3. Best Backpack: Unigear Ski Boot Bag
The Unigear Ski Boot Bag is the travel backpack you need to transport your ski equipment safely and securely. Made from a blend of 1050D nylon and tarpaulin materials, it's guaranteed to be durable and waterproof. It boasts tons of well-padded storage options, including the main compartment that can fit ski boots up to size 12. There are also three other separate pockets for keeping your other equipment and accessories safe and organized. This includes an internal zipper pocket, which is great for storing valuables. It has a Velcro outer pocket that can be a hit-or-miss for some. While the velcro opening allows for quick access, some people may still prefer the security of zippers. Another downside to consider is its lack of ventilation and drainage systems.
The padded backpack straps and mesh back panel allow for maximum comfort while carrying it around. The back panel can double as a standing mat when flipped down, as well. What's more, this ski boot bag features adjustable webbing straps at the back. This allows you to attach your skis and snowboard, making carrying around your snow equipment a breeze.
Pros:
Durable and waterproof

Back panel flap doubles as a standing mat

Webbing straps for attaching skis and snowboard
Cons:
No ventilation and drainage systems
Get the Unigear Ski Boot Bag on Amazon.
4. Best Waterproof: Athletico Ski Boot Bag
It's likely you will be putting extra clothes inside your ski boot bag. That said, you will want one that is waterproof, in order to keep clothing and other accessories safe and dry when the weather gets ugly. The Athletico Ski Boot Bag makes a great companion when on the slopes of Idaho ski resorts. It's made from premium water-resistant polyester material and has three metal grommets at the bottom, so water doesn't accumulate inside when the snow from your boots melts.
The two extra compartments are great for storing jackets, helmets, and other ski apparel. It also features easy-access pockets on the sides and in the front for goggles and gloves. Want to listen to music while on the go? Then you'll find the headphone port in the front pocket extremely useful! Just take note that the straps and zippers are somewhat fragile, so it's best not to overstuff the bag. Another highlight of this ski boot carrier is the reflective piping on the exterior. This allows for increased visibility when you're caught in unexpected, poor weather conditions.
Pros:
Easy-access pockets

Reflective exterior
Cons:
Flimsy straps and zippers
Get the Athletico Ski Boot Bag on Amazon.
5. Best Women's Ski Boot Bag: Athalon Everything Boot Bag
Athalon's Everything Boot Bag perfectly marries style and function. Boasting a wide selection of vibrant prints and patterns, you'll surely find one that will match your style and personality. However, this range of ski boot bags is not just stylish. Each one comes with features that will suit any icy outdoor adventure. The vented main compartment can fit women's ski boots up to a size 14.5, which you can access through two side-entry zippers. It has an expanding center compartment for your helmet, goggles, and heated jacket. Additionally, you can attach your gloves, keys, and other small items to the bag using the nylon clips. There's even a front pocket to keep your smartphone safe while on the slopes.
Meanwhile, the bottom is lined with a waterproof tarp. Thus, you don't have to worry about water and snow seeping into it when placed on the snowy ground. And since the exterior is made with matte chrome material, it is virtually impervious to scratches. Other notable features of the Athalon ski boot bag include its versatile top and front handles, and padded lumbar back pads and straps. All of which ensure comfort when carrying it around. Although, it may be a bit bulky when worn as a travel backpack when fully loaded. Similar to the Athletico one, this option from Athalon has reflective lining too.
Pros:
Reflective lining for added visibility

Made from durable matte chrome material
Cons:
Bulky when used as a backpack
Get the Athalon Everything Boot Bag on Amazon.
6. Best Ski and Boot Bag Combo: High Sierra Ski and Boot Bag Combo
The ski and boot bag combo from High Sierra is a simple yet efficient option for many snow-bound travelers. The ski bag can accommodate snow gear like skis and trekking poles up to 78 inches. And thanks to the 3/4 length zipper, you won't have trouble packing and accessing them. Using shorter skis? You can still keep them secured since one end of the ski bag folds up.
Meanwhile, the boot bag can accommodate skit boots up to a size 13 and even have enough space for a hat and pair of gloves. Both bags, however, lack padding. As such, you have to be extra wary of any impacts while in transit. Another drawback to take note of is the cinch straps on the ski bag, which can be difficult to tie and undo. For its budget price tag, though, these lapses can be easily overlooked.
Pros:
Affordable

Extremely roomy
Cons:
Inadequate padding

Hard to use cinch straps
Get the High Sierra Ski and Boot Bag Combo on Amazon.
7. Best with Wheels: Sportube Cabin Cruiser
Ski bags with wheels are easier to maneuver, especially in crowded airports and ski resorts. And if you're looking for a ski boot bag with wheels, consider the Sportube Cabin Cruiser. With a capacity of 35 liters, it isn't the largest option out there, but it does meet airline carry-on requirements. What's more, there's still plenty of room for it to hold not only your boots, but also your pants, jacket, goggles, and other apparel. Moreover, you'll find the easy-access external pockets useful for organizing other miscellaneous items. The water bottle holder is a handy feature, too.
The main boot compartment is fully padded and features vents for better air circulation. It comes with a detachable helmet pod that can certainly fit much more than just a helmet. The biggest downside to this wheeled ski boot and helmet bag is the collapsible pull handle, which doesn't feel the most durable.
Pros:
Equipped with wheels

Separate storage for helmets

Easy-access external pockets
Cons:
Smaller storage capacity

The handle isn't the most sturdy
Get the Sportube Cabin Cruiser on Amazon.
8. Most Eco-Friendly: Patagonia Black Hole Pack
Constructed from 100% recycled materials, this Patagonia ski boot bag is a must-have for eco-conscious travelers. Extremely durable, the body is made from recycled polyester with thermoplastic polyurethane (TPU) laminate, which ensures snow and water don't seep into it. Admittedly, it isn't the largest option out there, only holding up to 25 liters. Nevertheless, it can still store quite a few essentials thanks to the number of external pockets. There are even stretch-woven pockets on the side to fit a wide range of water bottle sizes.
This Patagonia ski backpack is comfortable to carry and wear due to its padded shoulder straps. While the air mesh back panel is meant for better air circulation, it isn't the most breathable. So, your back may end up feeling hot when carrying it over an extended period. On a positive note, the sternum strap and webbing belt allow for the backpack to remain securely on your body.
Pros:
Eco-friendly

Weather-resistant
Cons:
Small storage capacity

Back panel lacks ventilation
Get the Patagonia Black Hole Pack on Amazon.
9. Best for Kids: Transpack Edge Jr.
Planning to introduce your little ones to fun winter activities such as skiing? If that's the case, you'll need a boot bag that will keep all their pint-sized snow gear safe and organized. This kid's ski boot bag from Transpack is a small but mighty option that can fit your young one's petite ski boots, helmet, and other snow gear. It utilizes the brand's Isosceles Storage System, which puts the weight and bulk of its contents to the sides and away from the carrier's back. However, you will need to pay careful attention to positioning the ski boots, since they can poke the wearer's back with whatever contents are inside if not arranged accordingly. Moreover, the adjustable padded shoulder straps make it comfortable to wear for kids.
The main boot pockets feature eyelets to facilitate air circulation and water drainage, while the central compartment has a water-resistant lining. There's also an internal zippered pocket in the main storage compartment for personal items. This roomy ski boot backpack boasts double-locking coil zippers, which makes it great for security purposes. However, it is the least suitable ski bag for flying since it can be a hassle during TSA screenings.
Pros:
Ergonomic and comfortable design

Double-locking coil zippers
Cons:
Not suitable for air travel

Can poke wearer's back if boots are not packed properly
Get the Transpack Edge Jr. on Amazon.
10. Best Heated Ski Boot Bag: Kulkea Thermal Trekker Heated Boot Bag
Skiers prone to cold feet need this heated ski boot bag from Kulkea. With three different heat settings with a maximum temperature of 140 Fahrenheit, your ski boots and other snow apparel will be warm and toasty. The warming system is built into the two contoured boot pockets, but your other ski apparel will also warm up since the heat will radiate into the central compartment. It comes with a detachable helmet pouch, so it won't have to take any room inside the central compartment. There's a dedicated scratch-proof pouch for storing goggles or other eyewear too. It can carry up to 62 liters, which is the greatest volume capacity on this list, but it does lean on the heftier options.
Other highlights of this heated boot bag include its ergonomically designed shoulder straps and mesh back pane. The polyurethane wrapped top handle and the extended zipper makes grabbing and opening it a breeze, even when wearing mittens.
Pros:
Warming system

62-liter capacity

Easy to use even with gloved hands
Cons:
Get the Kulkea Thermal Trekker Heated Boot Bag on Amazon.
How To Choose The Best Ski Boot Bag
Ventilation and Drainage
Owning a ski boot bag with proper ventilation and drainage system in its main boot compartments is a must for many skiers. This prevents snow and water from soaking the rest of your gear. While you can find bags with water-resistant lining instead to avoid this, it's still best to pick one with a drainage system to let accumulated water escape.
Portability and Carrying Options
Since you will be traveling with your ski boot bag, it's important to consider how portable it is. Does it pass TSA requirements for air travel? Can it fit in the overhead storage of a plane? How about in-car racks? Moreover, look for ski boot bags with padded straps and handles for easy, comfortable carrying. If you know you will be traveling for an extended period, with plenty of walking to and from the airport or around a ski resort, opt for one with wheels since they add an extra layer of convenience.
External Pockets
If you're planning on using your ski boot bag for more than just your ski boots, one with external pockets is a great option. External pockets offer extra space while keeping small items organized. Some ski boot bags come with zippered side pockets, while others feature front pockets that utilize hook-and-loop fasteners, for quicker access. Just make sure not to stash away valuables in them since most of the time these pockets are not lockable
Size and Weight
Size matters when choosing the best ski boot bag for you. It's important to invest in one that is big enough to hold not just your ski boots, but other items, as well. While they come in varying sizes, the most common sizes range between 50 and 60 liters. Large-capacity bags allow more space for other snow gear such as helmets, gloves, goggles, and even a few extra layers. Keep in mind that the larger your bag is and the more items in it, the heavier it will be. You will want to keep close tabs on the overall weight and size of your ski boot bag, especially if you're traveling by air. After all, you wouldn't want to trigger any excess baggage charges. As such, be sure to double-check out if it's within the luggage size chart of your airline.
Material and Durability
A good ski boot bag is made from heavy-duty materials that can withstand wear and tear. It should be sturdy enough to carry all your gear and withstand extreme travel conditions. Nylon and polyester are the two most common materials used in boot bags, thanks to their durability and high performance. Furthermore, when choosing a ski boot bag, make sure it is weatherproof to help keep your belongings safe and dry when caught in unfavorable weather conditions. A highly padded bag ensures all of its contents are kept protected even when you encounter bumpy roads or turbulence.