17 Most Beautiful States in the United States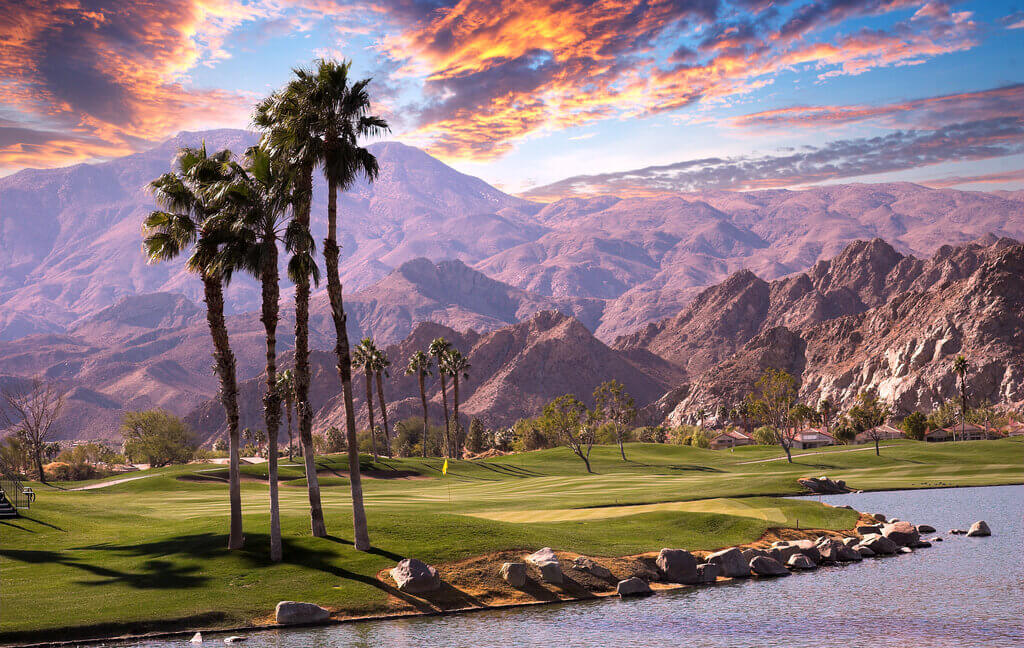 There is nothing short of perfect about the scenic beauty we can find in the US. Be it for a Christmas getaway or a short day trip, each state has its distinct character ideal for any vacation. In this list, we explore the most beautiful states ranked for you to visit and experience the natural wonders that decorate the different lands.
Here are the 15 most beautiful states you should visit in the United States:
1. California
Beautiful begins with California. In this part of the West Coast, you can find some of the most beautiful beaches and stunning sunsets. A state that has it all for any and every visitor, California is visually eclectic and insanely igniting. For one, there are just so many things to do in Santa Cruz. Frolic on the balmy beaches and surf through the crystal clear waters before heading over to the verdant forests at Yosemite National Park. Or hike across the Golden Gate Bridge where the sky meets the sea. Feeling a little too warm? Then skiing through the snow in the Sierra Nevada will cool you off.
For city-dwellers, explore the charmingly coffee-centric San Francisco for that dazzling nightlife, or visit Los Angeles for day trips that you never knew of. Amble through the streets downtown of Santa Barbara and admire the Mediterranean-inspired colonial architecture. These white stucco buildings and red-tiled tops make you feel like you are in another country. Undoubtedly, we now know why California is ranked as one of the most beautiful states to live in.
Must-Visit in California:
Big Sur
Named as one of the top 35 tourist destinations in the world, the Big Sur is one of the most preserved and undeveloped coastlines in the US. This surreal and mythical-like place is home to many notable landmarks such as the McWay Falls. Crowned as the most beautiful place in California by CNN Travel, McWayFalls is one of the two waterfalls in this state that empties directly into the ocean. Take a drive on one of the US's most scenic highways, Highway 1, to admire the unblemished natural beauty of Big Sur.
2. Montana
From its majestic mountains to vast badlands, every natural landscape encapsulated in Montana is a masterpiece. Montana features the captivating canyons and gushing geysers from Yellowstone, and the largest natural lake in the Western US, the Flathead Lake. The still waters of this lake and surrounding sounds of nature are perfect for an afternoon paddle.
For those craving an outdoor adventure, we recommend hiking through the Central Montana Rocky Mountains, the central mountain range that is part of the entire Rocky Mountains. Montana has 1623 named peaks with the tallest peak, Crazy Peak, towering at 11,177 feet. To ski your heart out, visit the Big Sky Resort in the Rocky Mountains where over 5850 acres of snow-covered landscape awaits you.
Must-Visit in Montana:
Glacier National Park
The Glacier National Park is the showpiece of Montana. Within this land of bountiful views, you can find hooded alpine meadows, cedar forests, torrential waterfalls, great lakes, and glacier valleys. From hiking to fishing or backpacking, indulge in all sorts of outdoor activities right here. To capture a glimpse of the park as a whole, hop on the Going-To-The-Sun Road where this 50-mile drive lets you view almost every scenic terrain all through your car.
3. Alaska
Known for its fairytale-like Northern Lights, there is more than meets the lights of Alaska. Part of Alaska is within the Arctic Circle, the 49th state of the United States remains as one of the untouched places in the world. It has a bit of everything icy in its national parks; sculpted glaciers and sea cliffs in the Glacier Bay National Park and Reserve, fjords in the Kenai Fjords National Park, and Mount McKinley in Denali National Park and Preserve.
With an all-year-round scenery of snow-covered landscapes and thriving wildlife of grizzly bears and moose, Alaska is the perfect winter wonderland for a white Christmas. Its rugged terrain, however, is not a walk (or hike) in the park. But to experience the full grandiose of Alaska, it's only but a small sacrifice to make. Alaska is undoubtedly one of the most beautiful states in the US.
Must-Visit in Alaska:
Brooks River Falls
Visiting Brook River Falls at Katmai National Park and Preserve is a must on your agenda because, at any one time, you can be assured to see four to 20 bears. More than 50,000 black bears and 35,000 brown bears trudge through this area, untamed and in their most natural states. Anywhere from fishing at rivers, munching on berries, or just napping under the sun, these Alaskan wilds are sure to tug your heartstrings and make you swoon with their endearing and somewhat comical behaviors. Alaska may be America's last frontier, but it is a frontier not to be missed.
4. Hawaii
Hawaii may be the last and final state of the United States but it ranks first for its enthralling exotic flora and fauna. As the only state made up purely of eight major islands, Hawaii is home to some of the most astounding geographical wonders and natural oddities in the world. On the Big Island, you can come face to face with Earth's largest active volcano, Mauna Loa at Hawaii Volcanoes National Park. On its sister island, some things to do at Maui include having a picnic at Punaluu Black Sand Beach and watching the sunset while frolicking on the reddish-pink sands of Kaihalulu.
Kauai is full of lush forests and canyons, while Oahu is a perfect in-between of that shopaholic scene and buzzing nightlife, and beautiful cliffs and coasts. Everywhere in Hawaii is picturesque with each island exuding its distinct flavor. One can say that Hawaii is almost like Mother Nature's hand-stitched quilt. It is no wonder Hawaii is one of the most popular honeymoon destinations.
Must-Visit in Hawaii:
Turtle Town, Maui
Hawaii is the epitome of living life on the beach. And that is why Turtle Town in Maui island is the place you have to visit when in Hawaii. Snorkel and swim amongst the great Hawaiian turtles in the emerald green ocean. The warm calm winds, crystal clear waters, and comfortable ocean depth assure that even beginners can experience marine life fully. Other common sightings include the butterflyfish, trumpetfish, moray eels, and a myriad of otherworldly ocean creatures. Turtle Town is a place on any bucket list.
5. Arizona
Best known for its great chasm, The Grand Canyon, Arizona is one the most geologically rich places on Earth. With more than 325 days of sunshine a year and endless state and national parks in Arizona, you can indulge in a whole array of sightseeing experiences. Hop on a jeep and go off-road through the vibrant yet warm red landscapes of the Sedona or paddle through the pristine Emerald Cave. Although, we highly suggest waddling through Havasu Falls, which is one of the best waterfalls in the US.
Arizona is also one of the best states for a road trip. Drive past the sandstones at Monument Valley, amble through the flame-orange canyons at Antelope Canyon, or hike through the Horseshoe Bend for an intimate sunset view. Be it a three-day or 10 days road trip, you will be surrounded by the perpetual beauty of this state. Arizona is indeed a psychedelic geological gem, which comes as no surprise that it is one of the most visited states in America.
Must-Visit in Arizona:
Sonoran Desert
Sunset-watching in deserts never ceases to amaze. The way the reddish-orange of hue collides elegantly with the desert landscapes is beyond beautiful. And at the Sonoran Desert, you can watch this jaw-dropping scenery on a hot air balloon! Enjoy a one-hour sunset flight on a hot air balloon that oversees the mammoth Sonoran Desert with some traditional champagne and food. The sunset view from above is simply dazzling. Whether as a family or as a couple, this activity is a memorable one.
6.
Utah
Another kaleidoscope of rock formations and chasms to behold is none other than Utah. Of brimming arching canyons and limitless skies, Utah prides itself in the 'The Mighty Five' national parks where visitors can hike through endless landscapes, see deers grazing in the forested plateaus, and even trot through the red rocks on horseback. For a complete change in scenery, head over to some of the best Utah ski resorts and zipline your way through the snowy breeze. To amuse your little ones, trek along the Dinosaur Diamond Prehistoric Highway where you can see and touch preserved dinosaur fossils and footprints all at once.
Must-Visit in Utah:
Great Salt Lake
A half-hour drive from Salt Lake City lies the largest inland saltwater lake of the Mississippi River, the Great Salt Lake. Just like its Israeli counterpart, the Great Salt Lake is salty enough that you will not sink. At one point in time, the salt content in the Great Salt Lake reached an all-time high of 27 percent, eight times more than the world's oceans. You can kayak, sail, birdwatch, and float in the lake. During sunsets, the lake reflects the glow of the setting sun, painting the landscape an ethereal warm orange that you will never forget.
7. Michigan
Michigan deserves to be called one of the most beautiful US states because all year round, this state has everything scenic, romantic, and eclectic. During summer, take a dip in one of the iconic Great Lakes, Lake Michigan, or explore its neighboring islands such as the Sleeping Bear Dunes National Lakeshore where the impressive dunes along the shorelines are a sight to behold.
Take a trip back in time to Mackinac Island and relish in the quaintness of this historically rich island. Instead of buses and cars, you will find horse carriages as the main mode of transport on this island dotted with colonial architecture. For some recreational fun, get on the kayaks or parasail and appreciate the beautiful straits of Mackinac. Looking for a faster pace of life? Then Detroit, the Motor City is just right for you. Detroit is not only the heart of America's automotive industry but boasts impressive art and culture scene and a zoo for you to revel in.
Must-Visit in Michigan: Detroit Arts Institute
Detroit Arts Institute is nothing like you have ever witnessed. As one of the US's top six museums, the DIA showcases over 100 galleries and 65,000 art collections from around the world. Its prolific art collections date back to ancient Egypt and European works to contemporary art pieces. Some of the museum's most notable collections are those of Picasso, Van Gogh, Matisse, and Rembrandt. The DIA is probably one of the museums in the world where you can witness an encyclopedic art landscape at a glance.
8. Oregon
Also known as the Beaver State, Oregon is next on the list for not only being a beautiful state but for the natural splendor of a national treasure – the blue Crater Lake. Nicknamed "lake majesty", the Crater Lake glows in a brilliant diamond blue and is home to different fish, amphibians, and birds. Deer and squirrels are a common sight but there have been rare encounters of elks and bobcats as well.
Did you know that Oregon is also made up of seven different regions? From temperate deserts that gradually fade into verdant forests and snow-capped peaks to bustling cities and quaint towns, Oregon's landscape polarity is uniquely fascinating. The Beaver State is bursting with outdoor adventures – biking, food trails, scenic hikes, and waterfalls. You name it, Oregon's probably got it. Oregon also has a marvelous blend of history and modern architecture at your pleasure. There are so many things to do in Portland, you will be spoiled for choices.
Must-Visit in Oregon:
Willamette Valley
If California has Napa Valley, then Oregon has Willamette Valley. Covering about two-thirds of wineries and vineyards in Oregon, there are about 600 wineries alone in this valley with Pinot noir as its specialty that you should try. The vineyards are also open for you to pick and choose your grapes for your custom-made wines. Nestled within the valley are various hot springs that you can also bask in and relax after a long day.
9. North Carolina
Of soft sandy beaches and pristine coasts, North Carolina is indisputably one of the most beautiful states full of ecological diversity. This part of the East Coast is bursting with outdoor activities to live your life to the fullest. With more than 10 national parks alone, there is perpetually endless beauty all around to take your breath away.
Other than Arizona, North Carolina is the next best state for a memorable road trip as well. Go on a waterfall road trip and walk under these torrential beauties. Drive through the Blue Ridge Parkway to Pisgah National Park and marvel at the illuminating autumn foliages. Or go off the beaten path and do a haunted road trip starting from the Great Dismal Swamp through to Grove Park Inn.
Must-Visit in North Carolina:
Great Smoky Mountains
The Great Smoky Mountains National Park spans the Southern Appalachians bordering North Carolina and Tennessee, which also means you can enter through either state. A one-of-a-kind landmark, the mountains earned their name from the lingering fog in its air; a mixture of water and hydrocarbons produced by trees in this park. Various hiking trails are available in this national park for you to hike, bike, or go on horseback. Famed for its wildflower diversity, you can find all kinds of blooming flowers gracing the park throughout the year. Besides flowers, expect to spot herds of elk and deer in its lush valleys. If you have a fishing license, this national park welcomes you to fish all through the year.
10. Florida
The allure of Florida lies in its all-year-round summer ambiance. Named as the United State's Sunshine State, Florida captivates with its enticing beaches and deep Caribbean blue waters, exotic Latin-American vibes, and notable art scene. This sunny state is an eye-opener, boasting the largest subtropical wilderness and glorious coral reef islands that stretch almost 350 miles.
Add to that the glamor of Miami city, the thrill from Orlando's Universal Studios, and a touch of American history in the Kennedy Space Center, Florida is a melting pot of beauty and cultures. This intriguingly diverse identity of Florida makes it one of the most beautiful states in the USA. It is no wonder Florida is the second most popular state retirees choose to reside in.
Must-Visit in Florida:
Key West
Although it is a slight hassle to travel, there is an abundance of things to do in Key West that makes the trip worthwhile. Explore Fort Jefferson, Key West's iconic coastal fortress and the US's largest brick masonry. Catch the utopian sunsets. Take a yacht out and watch the dolphins swim by you. Be one with the marine life and snorkel at the National Wildlife Refuge in the transcendental turquoise waters, or kayak through the mangrove creeks. This island has so much to offer. For some family fun time, Key West's shark cruise brings you a few miles off the coast for a one-of-a-kind close encounter with these impressive predators as you watch them munch through the bait in their most natural states.
11. Colorado
When it comes to scenic views, not many can compete with Colorado. The splendid beauty of the Rocky Mountain National Park and the unparalleled ski resorts in Vail crown Colorado as one of the most beautiful states in the US. But what draws most people to Colorado are the Maroon Bells in the Aspen. Maroon Bells get its name from its unique bell-like shape and enthralling wine-colored tops. All year, the peaks and their surrounding glacial valleys create a symphony of colors like no other. Together with the tranquility of the Maroon Lake that sits below, the entire Snowmass Wilderness is utterly surreal.
Hike or horseback through Colorado's national parks where you can stop by for a relaxing fish in the alpine lakes or picnic on the hooded meadows. If you are into mountain biking, visit Dawson's ButteTrail at Castle Rock – one of the best mountain biking trails in the US.
Must-Visit in Colorado:
Great Sand Dunes
The Great Sand Dunes National Park and Preserve in Colorado has the tallest dunes in North America. The 755-feet Star Dune towers in full grandeur that will leave you awestruck. Climb up the dunes and be in awe of the amazing landscape and golden sunset. Then, have some fun and surf down. The Medano Creek just at the base of the dunes is also perfect to freshen up after all that climb. Along the Medano Pass is car camping sites ideal for any family or couple who wishes to experience outdoor living to the fullest.
12. Maine
Just off the Northeastern coast of the United States, Maine is known for its romantic lighthouses and rocky coastlines. Maine does not have epic canyons or sun-kissed beaches. But these scenic absences do not make it any less beautiful. Maine's postcard-worthy attraction, the Marshall Point lighthouse in Portland, gives any other natural attractions a serious run for their money. Also, dusk at the lighthouse is in itself an incredible sight to catch with sunsets that vary from orange hues to pastel pink.
Maine's ski resorts are also another main attraction, with dog-ridden sleds for the ultimate sledding experience. On the mainland, Wiscasset captures attention for its colorful 19th-century homes and quaint little shops. And on the other side, the town of York stirs with brilliant firework shows, horse-wagon rides, and lighthouse lighting ceremonies. Maine truly is the epitome of 'Vacation Land' and one of the most beautiful states.
Must-Visit in Maine:
Acadia National Park
No other place captures fall as spectacularly and romantically as Acadia National Park. During fall, the changing colors of the leaves create an idyllic foliage such that leaf-peeping has become a popular activity in this park. But romance goes beyond these leaves. At Acadia, you can also hike to Bass Harbor Head Lighthouse and witness dolphins and seals up close in secluded intimacy. Be sure to also catch the first rays of sunrise on Cadillac Mountain.
13. Wyoming
Wyoming, albeit slightly underrated and less known than its neighbors, has its fair share of natural beauty. For one, the Devils Tower National Monument, an astounding 867-feet geological gem with fluted sides, is a popular rock climbing spot in North America. While driving towards the monument, you'll pass by the Prairie Dog Town, a large field of adorable prairie dogs roaming freely. However, you can find deers and foxes in this town too.
The Grand Teton National Park in Wyoming is another national treasure. Just recently, TripAdvisor crowned it as the best national park. The staggering peaks of the Teton Range set against boundless wildflowers and black bears are one of the greatest scenic beauty you will ever witness. We recommend climbing the Signal Mountain Summit Road for a panoramic view of the entire Tetons or leisurely canoe through Jenny Lake.
Must-Visit in Wyoming:
Yellowstone National Park
You may not know, the Yellowstone National Park is shared amongst Idaho and Montana as well. But, there are some distinctive landmarks of the park located right in Wyoming. The Grand Prismatic Spring is the largest hot spring in America and the third-largest in the world. With an astounding diameter of 370 feet, this hot spring is visually striking. Its bright bands of yellow, orange green and deep brilliant blue center is simply a work of art. And just a short distance away are two smaller hot springs – Turquoise Pool and Opal Pool. Although not as vibrant as the Grand Prismatic, these two pools are national treasures to appreciate too.
14. Washington
Surprised to see Washington on the list? Believe it or not, Washington state prides itself in having some of the most gorgeous beaches along the Pacific coasts and skylines in Seattle. But, what crowned Washington as one of the most beautiful states are the impressive mountain ranges like the Cascades and Olympics. Spring or winter, the stunning vistas and phenomenal waterfalls and canyons of Columbia River Gorge will make your stay worthwhile. As the beautiful city lights transcend into twinkling stars of the night, Washington state has everything you need to make your trip unforgettable.
Must-Visit in Washington:
San Juan Island
A temperate year-round climate with mellow island vibes, the San Juan County is made up of 172 islands and reefs. San Juan Island is one of the most popular islands that you can get there via a ferry. It is home to humpbacks, orcas, sea lions, and adorable porpoises. Take a yacht out and see these mighty creatures up close. Or snorkel and marvel at the natural beauty of the reefs. On land, you can find an alluring mix of lavender fields, alpaca farms, and wineries as well. This stretch of paradise is ideal for any vacation.
15. Virginia
Some of the most beautiful mountains in the United States are found in Virginia. This state prides itself in having the Appalachian Trail, which is guaranteed to leave you spellbound. Stretching for 544 miles, the Appalachian Trail is befitting for any backpacking and hiking enthusiasts. Within the trail, you can find panoramic views of the Blue Ridge Mountains and shimmering waterfalls. However, nothing can beat the shameful summit of Sharp Top Mountain Trailhead. Once at the top, the view proves why Virginia is one of the most beautiful states in the US.
For some historical immersion, take a trip down memory lane at Williamsburg, Virginia's colonial capital. In Williamsburg, you can find famous colonial architecture which speaks volumes of America's pre-civil war days.
Must-Visit in Virginia:
Shenandoah National Park
The flowering trees and blooming shrubs in the summer in Shenandoah is a show-stopper. Yet, the beauty of Shenandoah National Park is best captured during autumn. The fall foliage here is simply otherworldly. Take the skyline drive and watch how the foliage transforms into a vibrant palette of red, orange, and yellow. As part of the Blue Ridge Mountain bleeds into the park, some of America's most picturesque hiking trails are found in Shenandoah. And sitting at the top of the mountain is a gorgeous bed of wildflowers called the Big Meadows. This hooded area radiates during dawn and glimmers during dusk, making it perfect for a private picnic or serene stargaze.
16. Wisconsin
America's Disneyland may be fun but have you ever visited America's Dairyland? Known as the nation's leading dairy producer, Wisconsin is famous for its wide variety of cheese and gelatos. But this Badger State is also decorated with bountiful crystal clear lakes and cliffs formed during the Last Ice Age. For any nature lover who'd love a good fishing experience or a lovely hike, Devil's Lake State Park at Wisconsin is the place to visit. There are also various things to do in Milwaukee for the best holiday experience.
Must-Visit in Wisconsin:
Apostle Islands
If you ever find yourself in Wisconsin, you have to visit the Apostle Islands. Made up of 21 islands, the Apostle Islands National Lakeshore showcases its beautiful cliff arches and extraordinary sea caves. These are mostly found at the Swallow Point on Sand Island, the north shore of Devil's Island, and many others. You can also hop on a kayak or a cruise and witness these amazing cliffs up close. During winter, you can even see frozen waterfalls and even explore the sea caves! It is a natural architecture that leaves you in awe. Moreover, there is an annual Apostle Islands Sled Dog Race near Lake Superior that you can enjoy.
17. South Dakota
South Dakota is slightly more unknown to the rest of the world. And that is the beauty of this state. Its unblemished quality allows it to retain its natural splendor and be one of the most beautiful states in the US. The Badlands National Park is adorned with impressive rock structures for any adventurous hikers. And in Custer State Park, glistening blue lakes await for anyone craving a relaxing paddle. The free-roaming bison in this park is also a must-see. Catch them grazing in action along the 18-mile Wildlife Loop Road in the southeastern corner of the park. A small tip, we recommend catching these buffalos early in the day or late evening.
Must-Visit in South Dakota:
Spearfish Canyon
With its diverse array of biodiversity and natural beauty, the Spearfish Canyon is probably a paradisiacal playground for nature lovers. Drive through the Spearfish Canyon Scenic Byway and watch porcupines, bobcats, and mountain goats frolic from afar. An iconic landmark in this canyon is the thousand-foot-high limestone palisades which have been around longer than the Grand Canyon. In addition, we recommend rock climbing or hiking to catch the torrential waterfalls and tiered cascades for the utmost experience of the majestic canyon.
Beautiful States Everywhere
While this list shows you some of the most beautiful states in the US, we believe that no matter where you visit, each state has something beautiful to offer. After all, beauty is in the eye of the beholder.