25 Best Luxury Glamping Spots In The U.S. To Pimp Up Your Holiday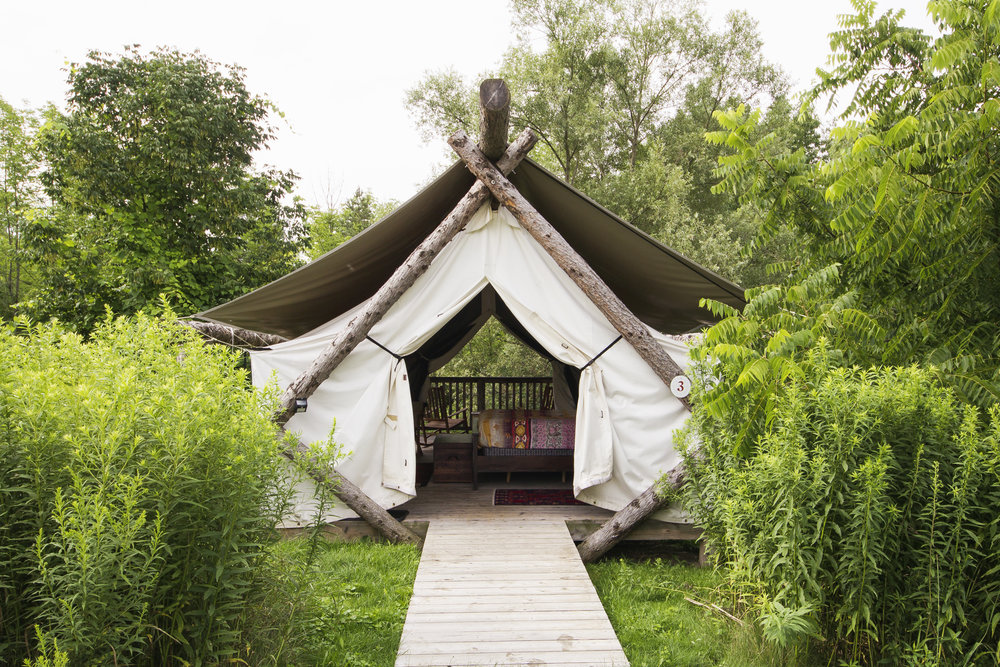 For some people, camping is such a daunting experience. From packing to setting up your campsite, camping takes a lot of effort, and of course, involves a lot of things. Thanks to glamping, now everybody can admire nature without sacrificing the luxury of electricity, soft comfy beds, and to simply stargaze in style.
Since its inception in 2005, glamping, or also known as glamour camping, has revolutionized the outdoor experience. It has transformed outdoor adventures to be significantly more convenient and easier, especially for people who don't want to sleep in traditional tents that do not have proper toilets and kitchens. While many struggle to understand the difference between camping and glamping, here's one for you.
If you still looking for the best glamping hubs in the U.S. for your next family getaway or a romantic honeymoon, you're in for a treat. Here's exactly where you need to be to experience the glam in the wild.
1. Ventana Big Sur Glamping
Ventana Big Sur in California is one of the frontrunners when it comes to luxurious glamping. Located in a 20-acre redwood canyon, Ventana Big Sur has a luxurious line of safari-style tents. It provides guests with electric lamps, a firepit with burning wood, and comfortable mattresses. Before, you only get a simple bottle of water or a fruit juice as welcome kits. With Ventana Big Sur, you'll have rustic mugs, an S'mores kit, tea, and even a collection of wine glasses as an initiation to your glamping experience.
2. Asheville Glamping
If you love stargazing as a hobby, Asheville Glamping in North Carolina has luxurious glamping domes for you and your loved ones. Asheville Glamping also offers safari tents, deluxe tents, and even The Silver Bettie, a converted vintage trailer. Also, they have added a treehouse glamping experience for kids to enjoy. There's absolutely a glamping accommodation for every type of adventurer.
3. Collective Yellowstone
You're in for a luxurious glamping experience at Collective Yellowstone at Big Sky, Montana. With magnificent sunsets, in-house chefs, and beautiful sceneries, you'll definitely have a one-for-the-books glamping retreat experience. For honeymooners, enjoy the private camp with rustic interiors, a private balcony, a wood-burning stove, and an en-suite bathroom all to yourself.
4. Eastwind Hotel & Bar
Are you looking for an Instagram-worthy glamping experience? You'll probably have one at Eastwind's glamping hubs. With Scandinavian-inspired tents, the Eastwind Hotel & Bar in Windham, New York are the closest you can get to a Northern European getaway. Of course, depending on your choice of accommodation, the amenities may be varied. Among the guest rooms, Lushna Cabins stood out specifically for its simple yet daring architecture. While these cabins may not come with the fanciest decor nor it's too spacious, but the full-framed triangular glass opens up a breathtaking panoramic view of the nature. Most of these guest rooms do have a private toilet though some of them were separated from the sleeping area. To add a luxurious experience, the guests are free to access the sauna and fire pit that was installed near the accommodations.
5. Firelight Camps
Tucked away in a beautiful landscape, Firelight Camps in Ithaca, New York offers a luxury safari-themed glamping experience. Built with rustic interiors, spacious mattresses, and lanterns, guests will surely love their private camp experience. If you want a little adventure instead of just sitting around, Buttermilk Falls is nearby to provide a trailing path for you to hike with your friends and loved ones. You can meet new people and share glamping stories in the communal bonfire in Firelight Camps' outdoor lounge.
6. Camp Comfort
If you prefer a more vintage glamping experience, Camp Comfort in Texas is absolutely a must-visit for you. Before becoming a luxurious glamping hub, it was a former bowling alley during the 1800s. Now, it features a unique bed and breakfast overlooking Cypress Creek. It has added a sleek airstream trailer that has a luxurious bed, full kitchen, shower, and free Wi-Fi. Every accommodation at Camp Comfort is on a self-check-in basis. It has a coffee bar and fresh goodies served every day for all glampers. If you love to meet other glampers, you can bask in the courtyard's communal campfire or the social hall.
7. Fireside Resort
Fireside Resort in Jackson Hole, Wyoming provides you with a luxe glamping experience and Teton wilderness adventures all in one place. With a modern fire pit, private balcony, complete kitchen, and a cozy fireplace, you'll definitely feel at home in Fireside Resort's luxury cabin rentals. If you're a fur parent, Fireside Resort offers pet-friendly options for you. It also has an on-site laundry area and Jeep rentals for your outdoor adventures. Fancy adding some adrenaline rush to your glamping? You can go on whitewater rafting and horseback riding during summer. During winter, go snowboarding and skiing. There are activities for you at Fireside Resort all year round.
8. Terra Glamping
Just over 2 hours away from NYC, Terra Glamping in East Hampton is one of the most luxurious glamping sites in the middle of the busy state. If you're feeling overwhelmed with the city's hustle and bustle, you know where to go. Terra Glamping features safari-inspired tents overlooking the magnificent views of Sag Harbor. It has hotel room-inspired furniture and interiors, as well as a queen-sized mattress perfect for a good night's sleep. For your reference, Terra Glamping doesn't provide Wi-Fi on purpose, so you can have a full-on 90s camping experience.
9. Canopy Ridge Safari Tent
Are you new to glamping? The Canopy Ridge Safari Tent offers you an excellent introduction to luxe camping. It's one of the best glamping hubs in Pigeon Forge, Tennessee to have a night of stargazing near the Smoky Mountains. It has a comfortable queen-sized mattress with warm blankets, a private balcony, and a heater. If you love s'mores and a cup of chocolate, you can enjoy the outdoor fire pit. Your booking includes a lounge with a coffee and tea bar and firewood for your campfire essentials.
10. Moose Meadow Lodge
With four luxurious rooms, Moose Meadow Lodge in Waterbury, Vermont provides you with a log home glamping experience. Each room has rustic-chic designs, handcrafted furnishings, and one Teddy bear as part of their trademark. Unique log walls, a private bathroom, a huge mattress, and picturesque views highlight your luxurious glamping experience in the Green Mountains. If you want to try some of Vermont's popular attractions, its central location makes it more accessible to fine dining, fishing, hunting, biking, and even antiquing spots.
11. Dome In The Desert
Enjoy a rare opportunity to go glamping in the desert with Dome in the Desert's Bohemian-themed accommodations. This Airbnb accommodation in Joshua Tree, California has been receiving recognition from popular media publications such as Condé Nast. It is built with unique stone elements, natural wood, and a wood-burning fire pit for cooking. With central airconditioning and heating, you're guaranteed to have a luxurious glamping experience at any time of the year. They also offer board games that are perfect for bonding with family.
12. Conestoga Ranch
Located just outside of Utah's Garden City, Conestoga Ranch is one of the perfect getaways near the magnificent Bear Lake. To pimp up your holiday, Conestoga Ranch features spacious traditional family tents, modern Conestoga wagons, and luxurious glamping accommodations. Each tent is equipped with fresh sheets, comfortable mattresses, and unique interiors. With an en-suite bathroom, Grand Tents is perfect for individuals who prefer a private toilet. With Conestoga Ranch glamping, you are provided with entertainment in the game tent, massage tent, the General Store, and the Main Lodge's private spa-inspired bathrooms.
13. Cedar Ridge Ranch
If you want to have a comprehensive glamping experience with farm animals, then Cedar Ridge Ranch in Carbondale, Colorado is definitely for you. Animal lovers will surely enjoy a one-of-a-kind glamping in a 100-acre horse ranch. During the day, you can visit the nearby farm with chickens, alpacas, pigs, cows, and horses. The host also offers farm tours, Alpaca picnics, yoga for adults, and workshops for kids and the kids at heart. They also have several cool souvenir items for you to keep. For the ultimate glamping experience, Cedar Ridge Ranch features two safari tents and a yurt. You can also rent horses for your getaway, or enjoy hiking in the ranch's nearby trail paths.
14. Cody Wyoming Trout Ranch
Another pet-friendly glamping hub on our list is Cody Wyoming Trout Ranch. You can bring your furry friends along and let them run freely in the ranch's lush space. Colorful teepees definitely complement a unique glamping experience for you and your family and friends. It also features an on-site trout hatchery, bathrooms, and on-site laundry facilities. Enjoy the sounds of the flowing Shoshone river on your private deck, or perhaps cook your own meals in the firepit. Aside from that, Cody Wyoming Trout Ranch also has a playground for kids. It also features a fully-stocked fish pond for everyone's fishing activities.
15. Heaven and Earth Retreats
Heaven and Earth Retreats in Banks, Oregon is one of the ultimate glamping experience that offers you the best of both worlds. It is tucked away in a 5-acre lush park. It has a private tent and a kitchenette. The huge glamping tent is located in a nearby wildlife-rich pond and comes with a private fire pit. For cooler nights, you are provided with a sheepskin comforter and propane heater. They have everything you'll need here, such as board games, earplugs, eye masks, and a private deck. The property also features a meditation tent, a yoga hub, and a garden for some mindfulness activities. Enjoy sitting in the garden overlooking the pond. If you want some outdoor activities, Heaven and Earth Retreats is just nearby a golf site, wine cellars, hiking paths, and beaches.
16. Mendocino Grove
Regardless if you're going for a family vacation or a romantic getaway, Mendocino Grove in California definitely has a tent fit for you. This lush 37-acre glamping hub has received 5-star ratings on popular travel booking platforms, such as Trip Advisor and Airbnb. Indeed, the numbers speak for themselves. All glamping tents at Mendocino Grove are furnished with fresh linens and comfortable beds. You can unwind on your private tent's wooden deck with leather butterfly seating.
17. Mushroom Dome Cabin
One of the unique glamping hubs in Aptos, California is the Mushroom Dome Cabin. If you'd like to stay in a mushroom-inspired accommodation, reserve through Airbnb in advance since this glamping spot is always fully booked. Located in a 10-acre plantation, the rustic-themed glamping venue features a loft with a geodesic-shaped dome. Its interior has a small fridge, comfortable queen-sized mattress, and BBQ place. If you're driving from downtown Santa Cruz, you'll arrive at the dome in less than 30 minutes. It's also a 10-minute drive away from Rio Del Mar State Beach.
18. Westgate River Ranch
If you'd like one of those glamping sites inspired by cowboy-themed designs, then Westgate River Ranch in Lake Wales, Florida is the perfect glamping must-visit for you. Westgate River Ranch Resort & Rodeo offers guests with authentic cowboy-inspired ranch experience and activities, such as horseback riding and rodeos during Saturday evenings. You will never have a dull experience on this 20-unit luxury glamping site. It features semi rustic-themed interiors, comfortable beds, and clean linens, a bathroom, and private decks.
19. Cherry Blossom Yurt
Do you love glamping on top of the mountain? It's definitely possible at Cherry Blossom Yurt in Rising Fawn, Georgia. With a prime location on Lookout Mountain, it's a nature lover's ultimate mountain glamping experience. You'll be surrounded by trees with breath-taking views and wildlife such as owls, turkeys, and deer. The yurts are equipped with their own kitchen with a full-sized fridge and stove. Available all year round, the yurts have centralized cooling and heating systems for a more comfortable stay. With an over-sized deck, you can see the beautiful sunset while having dinner, or perhaps witness the city lights illuminating Chattanooga from afar.
20. Huttopia White Mountains
A product of a Canadian glamping company, Huttopia has already made its way on U.S. lands to provide one of the best glamping experiences. Situated in the middle of breath-taking forest crossed by two bodies of water, the Huttopia White Mountains in Conway, New Hampshire treats you with its refreshing surroundings. Enjoy having a dip in the heated pool area, or swim in the nearby beach and lake. It features a private terrace where you can sip a cup of hot chocolate while taking in the beautiful landscape. This glamping hub also has an Airstream caravan where you can have a slice of home-made pizza.
21. Hideaway Tent
A hidden gem in College Place, Washington, Hideaway Tent offers a one-of-a-kind glamping experience. If you want a little privacy and away from the city's vibe, visit the Hideaway Tent. It has a covered balcony, hot tub, and indoor pool to elevate your glamping getaway. You can share stories with your family or friends on the canopy porch or grab some s'mores while sitting near the fireplace. Hideaway Tent features a coffee maker, refrigerator, TV, and free Wi-Fi for your modern conveniences. If you fancy a little exploration, you can head over to downtown Walla Walla within ten minutes.
22. Under Canvas Mount Rushmore
Under Canvas Mount Rushmore is tucked away in South Dakota's the Black Hills. This luxurious glamping hub provides glampers with a unique spot on a former gold mine. With a diverse range of glamping accommodations, you can choose different designs of glamping tents. One of its popular accommodations includes safari-inspired tents with wood-burning stoves and king-sized mattresses. Under Canvas also offers suite tents that have a separate outdoor lounge and queen-size sofa bed.
23. Capitol Reef Resort
Another Conestoga-themed glamping accommodation on our list is the Capitol Reef Resort in Torrey, Utah. The resort doesn't only provide this type of glamping, but also offers luxury cabins, teepees, and main lodging. While the resort offers a variety of rooms, the Conestoga wagons are a must-try. These wagons are equipped with king-sized mattresses and two sets of twin bunk beds. Despite the wagons being inspired by 19th-century aesthetics, you won't feel as if it's old-school. It has air conditioning as well as private bathrooms within a few steps.
24. Best View Around Luxury Camping
From its name, you already know what to expect at Best View Around in Port Angeles, Washington. The breath-taking views are unparalleled. This 7-acre glamping hub is just less than 30 minutes away from two prominent nearby sites, such as the Olympic National Park and downtown Port Angeles. Mount Baker, Vancouver Island, Dungeness, Sequim Bay, and Strait of Juan de Fuca are just some of the marvelous views you can witness at this Airbnb listing. You'll be provided with a coffee maker, mini-refrigerator, wine glasses, and Bluetooth speakers during your stay.
25. Sinya on Lone Man Creek
Just 45 minutes away from the southwest of Texas Hill Country's Austin is Sinya on Lone Man Creek. This glamping site has received numerous recognitions as an ultra-luxurious glamping site. It features safari tents that have a kitchenette, a bathtub, and a king-sized mattress. It's a remarkably unique glamping experience that doesn't leave behind the modern conveniences you'll get from a hotel, resort, or even your home.
Glam It Up With Glamping!
For adventurers who love to disconnect from the city, glamping is the perfect getaway to connect with the outdoors and nature. It provides you with the same experience as camping, but without leaving the luxuries and comforts you have at home or at a hotel. It's best for family outings, getaways with friends, and romantic honeymoons.
Indeed, glamping is an excellent opportunity to indulge in the secluded yet stunning views of what nature has to offer. And of course, you don't need to leave the luxuries of having electricity, a comfortable mattress, kitchen, toilet, and running water.
Are there any luxury glamping spots that we've missed on our list? Feel free to let us know! You may contact us or leave a comment below.