12 Best ABC Watches for Hiking in 2022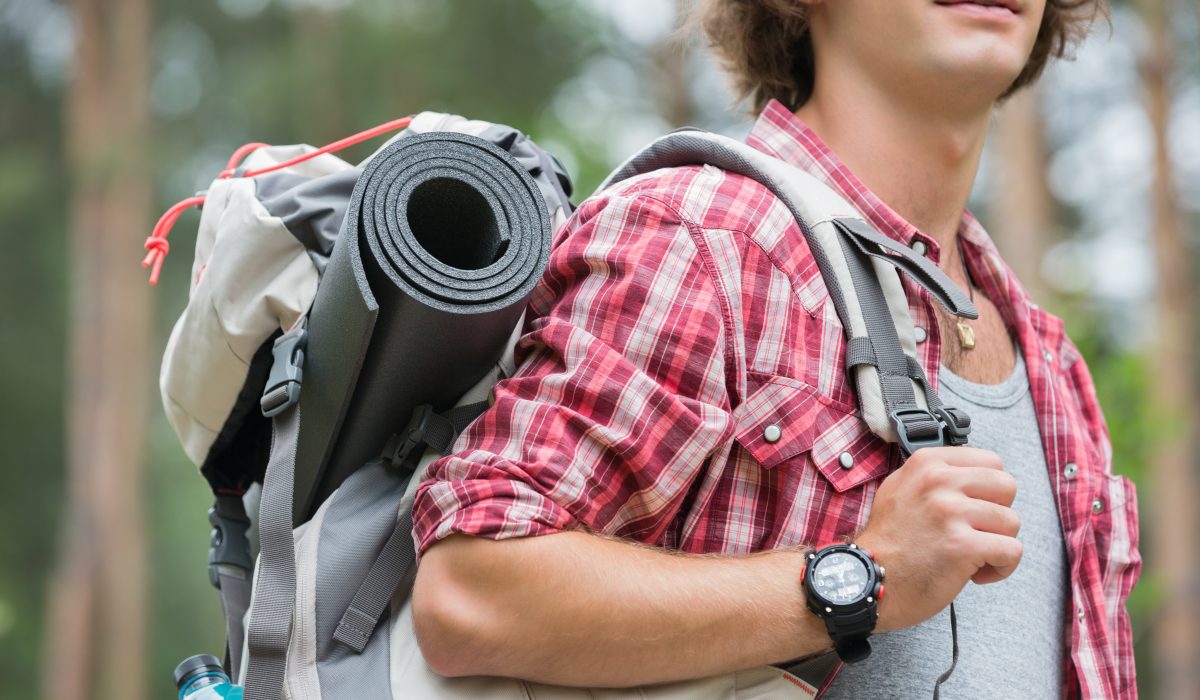 Mother Nature can be unpredictable. And when you're backpacking or hiking through the wilderness, ABC watches can be your best friends. This type of hiking watch provides imperative information needed during outdoor activities and adventures. Equipped with an altimeter, barometer, and compass, hence its name, ABC watches can determine elevation, predict weather conditions by measuring air pressure, and guide your course.
Its most important features aside, the best ABC watches can also withstand extreme wear and tear, including accidental drops. Certainly, an ABC watch is an essential accessory that any serious outdoorsman needs. What's more, they make great gifts for hikers, too! We've rounded up the best ABC watches in the market to help you choose the best one. Here are our top 12 picks!
1. Best Overall: Garmin Instinct Solar
Starting off with the Garmin Instinct Solar which we think is the best ABC watch overall for being packed with impressive features at a fair price point. For one, it is a rugged watch with impressive battery life. It can last up to 54 days when in smartwatch mode and up to 145 hours in GPS mode. Built into the device is a three-axis electronic compass that will help you navigate the Austrian Alps, while the barometric altimeter will prepare you for any changes in weather.
It's also a GPS watch that not only utilizes the American Global Positioning System (GPS) but other global navigation satellite systems as well. This ensures that you won't have trouble mapping and tracking even the most backwoods routes. Moreover, it is one of the best Garmin watches for women and men who are health and fitness enthusiasts. This is thanks to its built-in fitness tracking and sleep monitoring features. It's even equipped with a pulse oximeter, which monitors your blood oxygen saturation levels.
Housed in a fiber-reinforced polymer 45mm case, the watch is extremely durable. It can handle extreme temperature changes and accidental drops. It's also water-resistant up to 100 meters, so you don't have to worry about getting caught in freak summer storms. Admittedly though, the rather small screen display of the Garmin Instinct Solar may not be the friendliest option for those with poor eye-sight. Another downside to this watch is the bulky buttons, which can easily be triggered when moving your wrist.
Pros:
Excellent solar-powered battery life

Utilizes three global navigation satellite systems

All functions are built-in; no need for a separate mobile app
Cons:
Small screen

Bulky buttons
Get the Garmin Instinct Solar on Amazon now.
2. Best Lightweight: Suunto Core All Black
The Suunto Core All Black is an altimeter watch with compass and barometer functionalities housed in a durable yet lightweight case. Measuring around 49mm, it's a large watch but comes with a slim profile. And since it weighs less than 65 grams, it's comfortable to wear on your wrist for an extended period of time.
The elastomer strap could be more comfortable, but the material does mean you don't have to worry about it losing its shape or size over time. Despite the large screen, it isn't the most legible in both bright and low-light conditions due to its negative dial. You may need to use a backlight on most occasions. On a more positive note, this entry-level Suunto watch features sunrise/sunset times. It is water-resistant up to 30 meters, which is considerably more than other timepieces in its price range.
Pros:
Lightweight and comfortable to wear

Water-resistant up to 30 meters
Cons:
Get the Suunto Core All Black on Amazon now.
3. Best Budget-Friendly: Casio Men's SGW1000-1ACR
Looking for the best watch under $100 with ABC sensors? The SGW1000-1ACR from Casio is one of the best budget watches with compass, altimeter, and barometer functions out there. This is especially true if you're just in the market for something simple, without all the unnecessary bells and whistles. What's more, since it is water-resistant up to 100 meters, it's great for watersports.
Additionally, it comes with a world time with 31 time zones and daylight saving options. Other basic timekeeping functions include a stopwatch and five daily alarms. Just note that the alarm's tone and volume aren't the loudest, thus easy to sleep through. All these features are housed in a stainless steel case with scratch-resistant mineral glass.
Pros:
Affordable

Water-resistant up to 100 meters
Cons:
Get the Casio Men's SGW1000-1ACR on Amazon now.
4. Best Value: Casio Men's Pro Trek Triple Sensor
For those on the hunt for no-frills ABC watches, consider the Casio Pro Trek Triple Sensor. It may not be the most attractive wristwatch out there, but it certainly gets the job done. This entry-level ABC watch boasts a triple sensor engine that delivers superior accuracy and energy efficiency for its price tag. Priced at around $200, it offers a digital compass with continuous measurement and reading for as long as 60 seconds. Its altimeter can measure altitude in increments of one meter, as opposed to previous Casio Pro Trek watch models that can track in five-meter increments. What's more, it has an alarm that will alert you about any drastic changes in your environment's air pressure or barometric pressure.
Admittedly, it's not the most high-tech or advanced option out there, especially compared to other Casio GPS watch models. It lacks smart features that modern ABC watches have, such as GPS functionality and fitness tracking. However, it is water-resistant up to 100 meters, which is good news if you're planning on visiting the best snorkeling spots in Bali. Meanwhile, jet setter and frequent travelers will appreciate its 31 time zones with daylight saving options. Furthermore, it runs on solar power and a single charge can last up to nine months.
Pros:
Basic ABC functionalities but with superior accuracy

31 time zones

Decent battery life
Cons:
Lacks smart features

No GPS functionality
Get the Casio Men's Pro Trek Triple Sensor on Amazon now.
5. Best Connectivity: Garmin Fenix 5X Plus
While Garmin may have upped their smart ABC watch game with the Fenix 6, the Fenix 5X Plus is still a very solid option. There are even a few aspects in which the Fenix 5X Plus wins at than the Fenix 6, this includes its connectivity. Unlike the Fenix 6, the Fenix 5X Plus has ANT+, Bluetooth, and Wi-Fi connectivity. These allow for quicker synchronization between the watch and the app. You can even store music on the watch itself, as opposed to other smart ABC watches, wherein you can only use them to control the music on your smartphone.
The biggest drawbacks to the Fenix 5X Plus are its poor battery life and small screen, though it is still easy to read. You also get features such as GPS, GLONASS, Galileo satellite navigation, along with an accelerometer, gyroscope, and thermometer.
Pros:
ANT+, Bluetooth, and Wi-Fi connectivity

Built-in storage for music
Cons:
Poor battery life

Small screen
Get the Garmin Fenix 5X Plus on Amazon now.
6. Best Battery Life: Suunto 9 Baro White
Want an ABC watch with exceptional battery life? Look no further than the Suunto 9 Baro White! A downside to smart ABC watches with GPS is the poor battery life. GPS and other navigation systems, along with other smart functions can quickly drain a watch's battery life. But this sports watch was designed specifically for long athletic training sessions and extended outdoor adventures. Featuring four battery modes — Performance, Endurance, Ultra, and Tour, it can deliver up to 170 hours of use with GPS tracking on. It can even detect and alert you if your battery runs out so you can switch to a different mode. As such, you never have to worry about running low on battery while biking through the best mountain bike trails in the country!
However, take note that enabling either the Ultra and Tour battery mode does have its downsides. Ultra mode disables heart rate tracking, while Tour mode lowers GPS accuracy. Another drawback to this touchscreen watch is its price tag that doesn't make up for its list of features. While it is relatively cheaper as compared to Garmin watches, it lacks several features that other watches have in its price point. This includes the likes of workout downloads, topographic maps, and performance analytics. If you want these functionalities, you will need to use separate applications from Suunto partners. Nevertheless, it's still among the best Suunto watch models to wear while running, hiking, or biking for extended periods of time. Plus, the modern and sleek design of the watch is stylish enough for everyday wear.
Pros:
Extensive battery life

Multiple power saving modes

A stylish design fit for everyday wear
Cons:
Not all features can be used in Ultra and Tour battery modes

Lacks built-in functionalities for its steep price tag
Get the Suunto 9 Baro White on Watchshopping now.
7. Best Easy to Read: Garmin Tactix Delta
If you are searching for ABC watches that are easy to read regardless of light conditions, you certainly can't go wrong with the Garmin Tactix Delta. Just like the Fenix 6X Pro Solar, the Tactix Delta also features a large transflective screen that provides great legibility in bright outdoor settings. However, it wins the best easy-to-read category thanks to its night vision capability. You can easily switch from daytime view to nighttime view while trekking in Nepal at night or camping under the stars.
Marketed as a premium GPS smartwatch that meets military standards, the Garmin Tactix Delta isn't your run-of-the-mill compass watch with an altimeter and barometer. It offers specialized tactical features, such as stealth mode, jumpmaster mode, and even a kill switch. On top of the topographical maps, the Tactix Delta shows federal public land maps, which indicate public land boundaries and borders.
The software of this Garmin watch isn't the only thing that's superb, though. The hardware is equally impressive, with its robust steel bezel and scratch-resistant sapphire glass. Though similar to the Fenix 6X Pro Solar, it is rather bulky with a hefty weight. Nevertheless, it's still a fantastic option for outdoorsmen looking for rugged watches with ABC sensors that they can wear all day or night.
Pros:
Night vision capabilities

Comes with useful tactical features

Robust build
Cons:
Expensive

Bulky design and hefty weight
Get the Garmin Tactix Delta on Amazon now.
8. Best Design: Tissot T-Touch Connect Solar
At first glance, the T-Touch Connect Solar looks like any regular analog watch with a quartz movement. However, Tissot marries form and smart function into a stylish timepiece that will help you navigate the terrains and trails of the mountains in the Philippines. Housed in a robust titanium case, it comes with a rugged design that is sure to appeal to most hikers. When in standard Clock mode, it offers basic timekeeping functions.
Where this Tissot watch stands out, though, is when you access the Connected Mode on the lower portion of the watch's face. Here, you can access an array of functionalities. Besides the basic ABC sensors, it too includes a perpetual calendar, second time zone, alarms, countdown timer, and even a chronograph. Additionally, it also works as a step and calories burned counter, and when connected to your smartphone, can display call and text notifications. But due to the screen's size, you won't actually be able to read full messages and notifications from apps. However, since it runs on solar power, you can utilize all these features for a longer period than other smartwatches.
While all of these sound useful, these features seem basic for the hefty price tag. As opposed to other smartwatches within its price range, you're not getting a GPS navigation system, or a sleep and heart-rate tracker from this watch. Nevertheless, it's hard to beat the quality and reputation that Tissot is famous for. The T-Touch Connect Solar is still a fantastic option for people who prefer the look of traditional timepieces yet with added smart functionality.
Pros:
Attractive, understated design

Impressive battery life
Cons:
Basic smart functions for its price

Small screen size
Get the Tissot T-Touch Connect Solar on Watchshopping now.
9. Best for Navigation: Garmin Fenix 6 Pro
You will need the best GPS watch, especially for hiking and climbing up summits. Similar to the Garmin Instinct Solar, the Fenix 6 Pro features multiple global navigation satellite systems. But the Garmin Fenix 6 Pro beats Instinct Solar in terms of easy navigation thanks to its preloaded topographic maps and over 2,000 ski maps from ski resorts across the globe. Meanwhile, the built-in gyroscope helps determine between ascent or descent. As such, it can distinguish whether you're climbing up mountain trails or skiing down the slopes of the best ski resorts in Tennessee.
Besides being one of the best smart ABC watches for navigation, it comes with Garmin tracking and fitness systems. Not only does it monitor heart rate, sleep data, and workout stats, but it can likewise track your breathing, blood oxygen saturation, and hydration. Serious fitness enthusiasts will also find the preloaded workouts to be useful, along with the body battery level and recovery time features. This way, you don't have to worry about overdoing intense workouts. Indeed, this watch is among the Garmin watches for women. Having said that, there is a learning curve in figuring out every function.
Pros:
Three global navigation satellite systems

Equipped with preloaded trails and maps

Great for fitness and wellness enthusiasts
Cons:
Takes some time to figure out the Garmin ecosystem.
Get the Garmin Fenix 6 Pro on Amazon now.
10. Best Solar-Charged: Garmin Fenix 6X Pro Solar
On the hunt for the best hiking watch that runs on solar power? With the Garmin Fenix 6X Pro Solar, you can leave your charging cable at home and get up to 24 days of battery life. This superb battery life functionality comes in handy when using the plethora of native apps and built-in features in this Garmin Fenix Pro Solar watch. From the triad of satellite navigation systems to the topographical maps, suggested routes, and turn-by-turn directions, it's an excellent hiking companion! In addition to being a fantastic GPS watch for hiking, it also boasts various apps to keep track of vitals and workout stats. And since it is solar-powered, you can stay off the grid for longer!
Furthermore, the Garmin Fenix 6X Pro Solar's 1.4-inch screen is 36% larger than previous models. This makes it considerably bulkier and heavier on the wrist. Another drawback to it is its screen. While it boasts a transflective screen, which proves excellent outdoor visibility in bright conditions, you may have trouble reading data when indoors or under low light conditions. However, you can easily remedy this by turning on its backlight. Similar to other Garmin Fenix watches, the Fenix 6X Pro Solar isn't a touchscreen. As such, you will need to familiarize yourself with the five buttons on its side.
Pros:
Multiple satellite navigation systems

Transflective screen great for bright conditions

Great for off-the-grid outdoor activities
Cons:
Display struggles in low-light environments

Bulky and heavy to wear
Get the Garmin Fenix 6X Pro Solar on Amazon now.
11. Best for Fitness Tracking: Coros APEX
The Coros APEX is an ABC sport and fitness watch designed to track fitness metrics and vitals, while simultaneously helping you navigate through hiking routes and mountain terrains. It has several sports modes, including running, cycling, swimming, and even strength training. It's perfect for endurance athletes who prefer outdoor training with its track and navigation features. Not only does it have a built-in GPS, it also utilizes the GLONASS, Beidou, and QZSS satellite connections. What's more, thanks to its Intelligent Stride Algorithm feature, you don't have to worry about losing tracking accuracy when indoors or traveling through areas with weak GPS signals.
In terms of fitness metrics, it can track heart rate, steps, calories burned, exercise time, and sleep. You can view these data from the watch itself and on the companion smartphone app. The app even offers more in-depth readings that will help you interpret data and get a better insight into your workouts. However, sleep and heart rate tracking may not be the most accurate.
Another standout feature of the Coros APEX is its simple dial and button interface. You can easily change screens and access all features you need while on the go. Meanwhile, the minimalist and sleek appearance can be a hit or miss. It lacks the rugged design of most compass watches with altimeter and barometer functions, yet its simple and streamlined design is great for everyday wear.
Pros:
Multiple sports and training modes

Intelligent Stride Algorithm

Easy to use digital dial and button interface
Cons:
Accuracy of sleep and heart rate metrics needs improvement
Get the Coros APEX on Amazon now.
12. Most Durable: Suunto Ambit3 Peak
When it comes to durable watches with altimeter functions, you certainly can't go wrong with the Suunto Ambit3 Peak. Its ABC sensor accuracy plus GPS functionality makes it one of the top GPS watches for hiking. The case is made from polyamide with a robust steel bezel and scratch-resistant mineral crystal glass, all of which make for an extremely durable timepiece. As such, it's a reliable companion for when you're hiking or backpacking along off-the-beaten-path. However, while its design looks good, its large size doesn't make it suitable for everyday wear. Besides hiking though, it's a great option as well for fitness enthusiasts since it comes with ten customizable sport modes that can track and analyze your workout performances.
Unfortunately, the battery life doesn't live up to the 200 hours Suunto promises. Nonetheless, it's still impressive compared to other smart ABC watches with GPS capabilities. It also has a water resistance bar of ten, or 100 meters, which makes it suitable for swimming and snorkeling in shallow waters.
Pros:
Durable construction

Water-resistant up to 100 meters

Ten sport modes
Cons:
Bulky; not meant for everyday

Battery life needs improvement
Get the Suunto Ambit3 Peak on Amazon now.
Features to Look for in the Best ABC Watches
Accuracy and Precision
The primary purposes of ABC watches are to keep you safe and informed when trekking the wilderness or climbing up the French Alps. With that in mind, you will need to take into consideration how accurate a watch's ABC sensors are.
An altimeter measures the distance of an object above sea level, also known as the altitude. Meanwhile, a barometer measures atmospheric pressure, which is the air pressure at sea level. These features help predict weather conditions. And of course, a compass indicates direction. All of these result in an instrument that any true mountaineer can never go without. These tools make them easily pinpoint locations and avoid severe weather. Just note that not all ABC watches are exactly precise, but most of them are impressively accurate, with just a few little off readings.
Screen and Readability
It's essential you choose an ABC watch with a large screen and excellent readability. You need an outdoor watch that is easy to read at a glance. The dial design and size play important roles in how easy read a watch can be. The larger the screen and simpler the dial design, the easier it is to read. A watch's dial color also contributes to its readability, with watches with negative dials being hard to read from different angles. Moreover, some ABC watches come with special reflective layers that help improve visibility in bright outdoor settings. You can also find dials with backlights for nighttime or other low-light conditions.
Navigation System
ABC watches already come equipped with compasses for navigation. If you want to save time from checking your map every so often, though, you may want to opt for a timepiece with a built-in navigation system. GPS watches are great tools to help you navigate through the hiking trails in the Ohio wilderness or simply track your progress when jogging or cycling.
You can find more advanced ABC watches with a multi-network navigation system. The most common satellites employed by watch companies include the U.S. GPS, Russia's GLONASS, and the European Union's Galileo. Additionally, there are a few outdoor sports watches that use China's BeiDou, Japan's QZSS, and India's NavIC.
Moreover, some ABC watches feature mapping capabilities, which typically are broken down into two categories — topographical maps and your basic physical maps. Topographic maps not only illustrate the physical features of an area but its elevation as well with the use of contour lines. This allows for people to get a foresight of the type of terrains they will encounter when hiking or backpacking.
Heart Rate Monitor and Fitness Tracking
While not all ABC watches are tailored toward athletes and exercise enthusiasts, you can find smart ABC sports and fitness watches that track almost every metric available. Some of the best sports watches for men and women come with a heart rate monitor, step, and sleep tracker, along with other health-tracking features such as calories burned and blood oxygen saturation levels. Some watches with ABC sensors even have sports and activity modes, which can detect whether you're jogging, biking, swimming, skiing, or doing other exercises.
Battery Life
Battery life and power source are crucial factors when choosing the best outdoors and hiking watch. Mountaineering, backpacking, and other outdoor activities require ABC watches that last more than just a day. ABC watches with GPS capabilities, fitness functions, and other smart features come at the price of battery life.
With that said, you need to consider battery life and a power source. More conventional watches use traditional coin cell or lithium-ion batteries which can last up to a year or two. Watches with smart functions take up a lot of power, thus will need to be charged sooner. These rechargeable batteries can be charged with either a USB cable or solar power.
Solar-powered outdoor watches are convenient since all you need is a light source to power them up. Meanwhile, with USB-charged ABC watches, you will need to worry about bringing along cables and portable power sources like power banks. In addition, if you are staying in a hotel or other forms of accommodations, you may need to bring a travel adapter with you.
Comfort and Fit
Assuming you'll be wearing your ABC watch for an extended period during outdoor pursuits, you will want something lightweight and comfortable to wear on your wrist. To gauge this, consider a watch's strap material, weight, and size. Watch bands made from rubber or nylon are the best options since both materials are lightweight, breathable, and durable. You can also find ABC watches with leather or metal straps, though you may want to ditch them because they're not the most comfortable or breathable options, especially if you plan on wearing them all day. What's more, bands with holes in them are great so you can adjust the length to better fit your wrist.
In terms of size and weight, rugged watches with ABC sensors generally are larger, bulkier, and heavier than other wristwatches, such as the Garmin Tactix Delta or Fenix 6X Pro Solar. This doesn't mean you can't find compass watches with altimeter and barometer functions that are lightweight and slim. A great example of a mode like this would be the Suunto Core All Black.
The Best ABC Watches for All Outdoorsmen
Finding the best ABC watch can be challenging, considering the wide variety of options available in the market. It doesn't have to be as long as you know what to look for. From basic features and smart functionalities to comfort and fit, you need the best watch for hiking that will suit you just right. And thanks to the myriad of options out there, you'll surely find the best option for you. This is whether you want a no-frills analog timepiece with ABC sensors or a highly versatile watch with smart features that will accompany you in your next outdoor adventure.