20 Best Mountain Bike Trails in the U.S.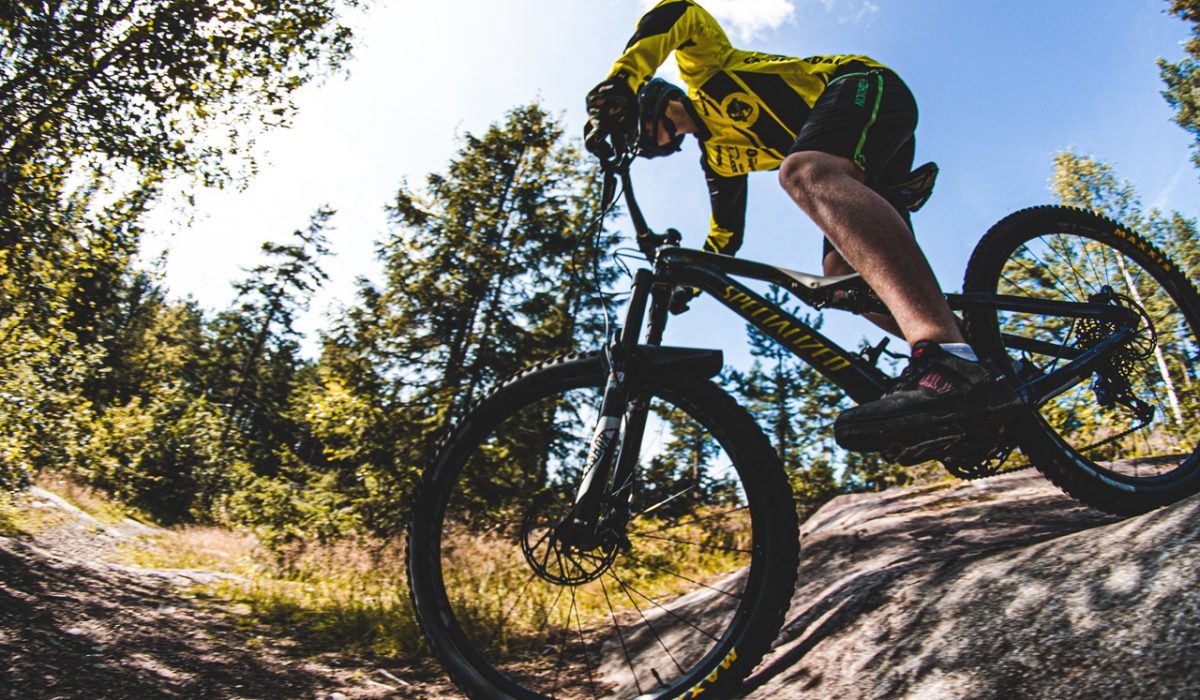 Aside from hiking, mountain biking is another popular activity that lets you see the beauty of Mother Nature. Other than the physical benefits of mountain biking, it is also one of the best ways to de-stress after a tiring week. Contrary to what most people think, it is also an activity ideal for all seasons. For example, some of the ski resorts in Vermont and state parks offer good terrain for mountain biking. And with the number of mountains and national parks in the U.S., there are just so many mountain bike trails available for beginners and enthusiasts alike.
If you want a rundown of the best and most thrilling mountain bike trails in the country, we've gathered a list for you! The list includes beginner-friendly trails to advanced ones, as well as tips for beginner bikers.
Mountain Biking Necessities
Before heading out to the best mountain bike trails in the U.S., make sure that you have everything you need aside from your trusted mountain bike. These include appropriate clothes, repair kit, and more.
Helmet
Aside from your bike, your helmet is a very important necessity. Take note that a mountain bike helmet is different from the normal recreational or road biking helmet. A mountain bike helmet extends to the back and sides of your head to protect you from rocks, trees, and other hazards. It also includes a visor to protect you from the shade of the sun.
Clothes
Although you can go mountain biking in a pair of shorts and a shirt, wearing proper attire is better and more comfortable. Shirts and jerseys for mountain biking come in different sleeve lengths and are made with a fabric that reduces moisture to keep you cool. On the other hand, mountain bike shorts are flexible and made of a sturdy fabric to keep you protected, but still offers a good range of motion.
Gloves
A mountain bike's handlebar grips are often rough, so it's good to invest in a pair of gloves. They also keep your hands from slipping off handlebars when your hands get sweaty. Additionally, they also protect your hands from injuries in case you fall from your bike. You can choose between full-fingered or fingerless gloves, although the former is a safer option.
Shoes
There are different kinds of mountain bike shoes, but they all go a long way if used properly. If you want maximum pedaling efficiency, choose road cycling shoes. They also come with protruding cleats that connect the shoes to clipless pedals. However, they are not ideal for walking. Mountain bike shoes, on the other hand, have grippy soles for better traction on rugged trails. Lastly, casual bike shoes resemble typical sneakers and are good for recreational rides.
Pads
When choosing mountain bike pads, check if the pads stay up when you pedal. They should be easy to pedal in, but sturdy enough to protect you if you fall off. Take note that the more pads you wear, the more heat you accumulate, so some bikers choose to wear less padding. Like mountain bike helmets, the more extreme the style of riding, the more padding you'd want to wear.
Accessories and Other Items
These include spare tubes, tire pumps, patch kits, chain lube, tire levers, and more. It's also important to have a multi-tool in your pack. Aside from basic repair tools, you should also have sunscreen, lip balm, first aid kit, and other personal items needed for biking.
Best Mountain Bike Trails in the U.S.
1. Dawson's Butte Trail (Castle Rock, Colorado)
For beginner mountain bikers, Dawson's Butte Trail is a good place to start. It only has 5 miles with around 300 feet of elevation change, and the trail itself is wide, making it easier to navigate around. Dawson's Butte Trail also takes you through gentle terrain with beautiful meadows speckled with wildflowers. Although the trail is mostly forested, it offers a good mix between sun and shade so it's one of the perfect mountain bike trails for all seasons.
Level of Difficulty: Beginner
Distance: 5 miles
Best Time to Go: All-year round
2. Ridgeline Trail (DuPont State Forest, North Carolina)
North Carolina's DuPont State Recreational Forest is not just famous for being a filming location for the Hunger Games, but also for its mountain bike trails. Offering almost a hundred miles of mountain bike trails, this is a must-visit for every cyclist. The forest's highlight is the Ridgeline Trail, a 7-mile bike trail that takes you through tranquil waterfalls and lush forests. It has a good balance of climbing and downhill areas and ends with a fast 1.5-mile descent that is sure to make you feel as if you're flying. The Ridgeline Trail is also one of the most popular bike trails in DuPont State Forest.
Level of Difficulty: Intermediate
Distance: 7 miles
Best Time to Go: All-year round
3. Mountainside Loop, Kingdom Trails (East Burke, Vermont)
Vermont's Kingdom Trails offers easy-to-follow trails with varying levels of difficulty. Because of the many trails here, you can ride a different trail every day! But the most famous one is the Mountainside Loop, offering exhilarating downhills and sharp turns. It starts at Burke Mountain Campground and takes you through almost 16 miles filled with roots, jumps, and narrow bridges. Finish the trail with its famous downhill and a steep climb returning to the campground. If you're looking for a challenge, Kingdom Trails' Mountainside Loop is waiting for you!
Level of Difficulty: Advanced
Distance: 16 miles
Best Time to Go: May to October
4. Wasatch Crest Trail (Park City, Utah)
Wasatch Crest is one of the popular mountain bike trails in Utah, and a must for any intermediate to advanced cyclist. The trail is part of the Great Western Trail, running more than a thousand miles from Canada to Mexico and highlights the Great Western's middle section. Expect big descents, technical rock portions, and lush aspen and evergreen forests. In the last weeks of summer, the trail is littered with little wildflowers, colorful daisies, and geranium. Its high altitude gives you expansive views of the mountain, and a peek of the Desolation Lake.
Level of Difficulty: Intermediate – Advanced
Distance: 20 miles
Best Time to Go: June to October
5. Deep Step Trail (Clarks Hill, South Carolina)
South Carolina's Deep Step Trail is a straightforward trail, with manageable climbs that are ideal for intermediate riders and beginners. The trail is part of the massive Forks Area Trail System, featuring 37 miles of different trails that are good for beginners to intermediate cyclists. Surrounded by the Savannah River and the Smoky Mountain Range, you'll find challenging trail sections and dips. The five-mile Deep Step Trail also has plenty of climbs, but it's non-technical and allows you to practice stability and control on the following descent.
Level of Difficulty: Beginner – Intermediate
Distance: 5 miles
Best Time to Go: July
6. Broken Arrow Trail (Sedona, Arizona)
The charming desert town of Sedona has some of the best mountain bike trails in the country. Sedona boasts over 200 miles of biking trails with gorgeous views of the sandstone cliffs that made it a popular tourist destination. Despite its short distance, the Broken Arrow Trail in particular is a scenic trail ideal for intermediate to advanced riders. It has a gradual ascent with technical sections, and although there are some rock steps along the way, you can easily dismount and walk. At the end of the trail, arrive at Chicken Point Overlook and marvel at the iconic red rock formations.
Level of Difficulty: Intermediate – Advanced
Distance: 1.5 miles
Best Time to Go: February to May
7. Mills Peak Trail (Downieville, California)
California is home to a number of thrilling mountain bike trails, and Mills Peak Trail shouldn't be missed. The 15-mile trail is relatively new, and most bikers consider it a hidden gem in the state. It also takes you more than 3,000 feet up to the Mills Peak Fire Lookout where you can catch the best views of Gold Lake, Sierra Valley, and Packer Saddle. Trail-wise, Mills Peak Trail offers a good flow, with challenging rock gardens and tight lines. You can either climb from the bottom to take a shuttle from the top. With dense forests and open landscapes, this off-the-beaten-path should be in every cyclist's list.
Level of Difficulty: Intermediate
Distance: 15 miles
Best Time to Go: March to August
8. Mckenzie River Trail (Blue River, Oregon)
Voted as one of the best mountain bike trails by Bike Magazine readers, Mckenzie River Trail is Oregon's pride. Get a chance to see 300-year-old trees, lava fields, pristine lakes, and stunning blue skies in this trail. It starts off challenging for the first 10 miles, and most bikers recommend wearing knee pads and platform pedals during this part. However, cycling conditions will be easier in the next 15 miles. Although it would take about 4 to 5 hours to finish the trail, you can stop for photo ops along the way. You can also shuttle to the top then ride down to the bottom as you pass by waterfalls, hot springs, and green forests.
Level of Difficulty: Beginner – Intermediate
Distance: 25 miles
Best Time to Go: April to October
9. Paradise Royale Trail (Redway, California)
Although most of California's public lands are off-limits due to preservation restrictions, the Paradise Royal Trail is specifically built for mountain biking. This is a must for cyclists traveling through the King Range National Conservation Area. At 14 miles, expect steep side slopes, flowy descents, and optional jumps and drops. Paradise Royale Trail is also popular among advanced riders for its 19 switchbacks, nicknamed as the "Prince of Pain". Take in the breathtaking views of the Pacific Ocean on your way down and enjoy the shade of the trees.
Level of Difficulty: Advanced
Distance: 14 miles
Best Time to Go: March to November
10. Osberg Ridgeline Trail (Sun Valley, Idaho)
Idaho's Sun Valley is a haven for mountain bikers. The city boasts plenty of bike shops, repair services, and mountain bike trails. With over 400 miles of singletracks, 30 miles of paved bike trails, and two bike parks, it's a cyclist's dream come true. If you have to choose the best trail in the area, challenge yourself and take the Osberg Ridgeline Trail. It has 14 miles of spectacular views that flow through the mountainside and an exposed spine that overlooks the surrounding valley. Although it is an ideal trail for intermediate riders, its deep descents are more suitable for advanced riders.
Level of Difficulty: Intermediate – Advanced
Distance: 14 miles
Best Time to Go: July to October
11. Munds Wagon Trail (Sedona, Arizona)
Munds Wagon Trail in Sedona is a well-marked trail ideal for advanced cyclists. It is also one of the more physically and mentally demanding trails due to its challenging uphill climb that requires a hundred percent focus. Setting aside the rocky terrain, Munds Wagon Trail offers the best views of Arizona's trademark canyons and rock formations. The higher you climb up, the better the scenery gets. In fact, most cyclists love it for its amazing scenery, although one has to always focus on the trail in front of you. Take note that you may encounter several hikers on the trail.
Level of Difficulty: Advanced
Distance: 12 miles
Best Time to Go: All-year round
12. South Boundary Trail (Taos, New Mexico)
The South Boundary Trail is among the best mountain bike trails in the state, traversing along the boundary of Carson National Forest. While most of New Mexico is surrounded by cacti and desert vistas, the terrain in Taos is surprisingly diverse. The first few miles are taxing, and you may end up hiking some parts of the area, but the views along the way are impeccable and rewarding. If you decide to go in autumn, get a chance to see the golden aspen and conifer trees in shades of yellow and gold.
Level of Difficulty: Intermediate – Advanced
Distance: 22 miles
Best Time to Go: March to August
13. Rainbow Rim Trail (Grand Canyon National Park, Utah)
Steer away from the crowds at Grand Canyon's South Rim and head to the Rainbow Rim Trail in the North Rim. This 18-mile trail is a perfect combination of stunning views and exhilarating singletrack, good for intermediate cyclists. The Rainbow Rim Trail also links five different viewpoints: Parissawampitts, Locust, Fence, North Timp, and Timp. Each of these points offers varying views and perspectives of the Grand Canyon. Additionally, the trail is also the only singletrack trail on the rim of the Grand Canyon that is open to bikes.
Level of Difficulty: Intermediate
Distance: 18 miles
Best Time to Go: August
14. 401 Trail (Crested Butte, Colorado)
The 401 Trail is one of the most scenic mountain bike trails in the world. It takes you through 15 miles of postcard-perfect landscapes with lush rolling hills. It starts with a long yet easy uphill climb at Gothic Road to Schoenfield Pass. Pedal across the singletrack trail and marvel at the view of Emerald Lake. Along the way, find snow-capped mountaintops, colorful wildflowers, and aspen trees. The downhill trip is generally flowy and you have to watch out for narrow sections. Nevertheless, Crested Butte's 401 Trail is a must if you're visiting Colorado in summer.
Level of Difficulty: Intermediate – Advanced
Distance: 15 miles
Best Time to Go: June to August
15. Torry Ridge Trail (Shenandoah Valley, Virginia)
Torry Ridge Trail is one of Virginia's best-kept secrets. However, it is only ideal for advanced riders because of the challenging five-mile ascent followed by a seven-mile descent along a spine. Additionally, its rock gardens, steep areas, and technical climbing are sure to challenge the most elite rider. While it is one of the more physically demanding trails, it is also one of the most beautiful, especially during the autumn months. If you're looking for strenuous and less crowded mountain bike trails, Torry Ridge Trail is the way to go.
Level of Difficulty: Advanced
Distance: 12 miles
Best Time to Go: September to November
16. Bangtail Divide Trail (Bozeman, Montana)
Built with mountain bikers in mind, Bangtail Divide Trail features smooth singletrack trails and good descents. The trail spans from Brackett Creek Trailhead to Stone Creek through 25 miles of green meadows and wildflower fields. Take note that although the trail is well-marked, it's mostly technical and you may have to squeeze through tight sections, so this is recommended for intermediate cyclists. Although Bangtail Divide Trail is relatively new, the trail is definitely worth checking out.
Level of Difficulty: Intermediate
Distance: 25 miles
Best Time to Go: May to October
17. Tahoe Rim Trail (Lake Tahoe, California/Nevada)
Aside from winter skiing and snowboarding, cycling across the Tahoe Rim Trail is one of the best things to do in Lake Tahoe. The trail crosses six counties and two states and offers jaw-dropping views of America's largest alpine lake. In addition to that, the trail is well-built and marked, perfect for beginners and advanced cyclists. Follow the Big Meadow Trailhead, an easy trail suited for beginners, if you want to see the wildflowers in summer. On the other hand, the Star Lake Loop is a challenging 17-mile trail that gives you the best views of Star Lake and the vistas of Freel Peak.
Level of Difficulty: Beginner – Advanced
Distance: 170 miles
Best Time to Go: June to October
18. Hermosa Creek Trail (Durango, Colorado)
Find steep canyons, rushing rivers, and views of the desert at Hermosa Creek Trail in Colorado! It starts off as a singletrack before expanding as you go further south. You can also find trail junctions along your way, but these are well-marked. Despite the trail being 20 miles long, it takes around 5 hours to traverse it due to the uneven terrain. Although beginner cyclists can use Hermosa Creek Trail, the trail is relatively wet throughout the year. Before going to Hermosa Creek Trail, make sure to check the trail status with the local authorities.
Level of Difficulty: Beginner – Intermediate
Distance: 19 miles
Best Time to Go: March to October
19. Porcupine Rim Trail (Moab, Utah)
As one of the most challenging mountain bike trails in the whole U.S, Utah's Porcupine Rim Trail is a must for advanced cyclists. It offers strenuous climbs with quick descents through rock sections. The trail starts with a 3-mile ascent that leads to a breathtaking view of Castle Valley, and quickly shifts to a thrilling 11-mile downhill. Additionally, some sections may even require dismounting and walking, so you have to be in tip-top shape when conquering this trail. Expect to be out of breath upon finishing the trail, but satisfied and proud that you were able to finish it!
Level of Difficulty: Advanced
Distance: 15 miles
Best Time to Go: All-year round
20. Finger Lakes Trail (Mt. Morris, New York)
The 22-mile Finger Lakes Trail in New York was hailed as one of the best mountain bike trails by Bike Magazine. This singletrack path takes you through stunning pine forests, creek crossings, and thrilling descents. Cycling across the Finger Lakes Trail also gives you breathtaking views of Genesee River Gorge, which is even more beautiful during the autumn months. You can opt to complete the whole trail or cycle through a portion of it through the access points along River Road.
Level of Difficulty: Intermediate
Distance: 22 miles
Best Time to Go: June to October
Mountain Biking Dos and Don'ts for Beginners
DOs
Make sure to be aware of the basic repairs. Because of the nature of the trail, you may encounter unexpected bumps (literally and figuratively) along the way. Beginners should at least know how to fix a flat tire and repair a broken chain. It's also good to know how to switch brake pads, adjust derailleurs, and replace a broken spoke.
Conduct a quick maintenance check on your bike before every ride. Check your tire pressure, brakes, gears, pedals, and make sure that nothing feels off.
When cycling, relax, and make sure your grip on the handlebars isn't too tight. Relaxing your grip reduces upper body soreness and can help increase your control on the technical features. On the other hand, If you hold on to it, you may suffer from sore hands and arms after the ride. Having a "death grip" tenses the muscles and makes it harder for one to move on the bike.
DON'Ts
Don't be too ambitious when choosing mountain bike trails. As a beginner, it's always good to settle for beginner-friendly trails. That way, you'll have a better time adjusting to the other trails. After getting the hang of beginner trails, you can progress to intermediate-level trails then advanced ones over time.
Don't forget to bring cash. Although going cashless and carrying a credit card is convenient since you have no extra baggage, it's always good to bring some cash. Mountain bike rides take a longer time and along the way, you may have to stop by a small store. Additionally, bring more food and water than you think you need.
Don't sit down too much on the saddle when cycling. It may seem like a safer option especially when the terrain is tricky, but this is a common error that most beginners do. Use your legs to lean and shift your weight around, allowing an easier and better transition.
Pedal Your Way Across America!
Mountain biking is an exciting activity that lets you appreciate the U.S. natural wonders. It allows you to go through off-the-beaten-paths and enjoy the tranquil environment. For beginners, you can start off at Dawson's Butte Trail in Colorado or at the Deep Step Trail in South Carolina. On the other hand, intermediate cyclists can challenge themselves and take on the Bangtail Divide Trail and advanced riders the Munds Wagon Trail.
Research has also shown that being out in nature helps reduce stress and improves relaxation. So on your next day off, why not head to the mountains for a thrilling ride?