Top 10 Hiking Trails In The Ohio Wilderness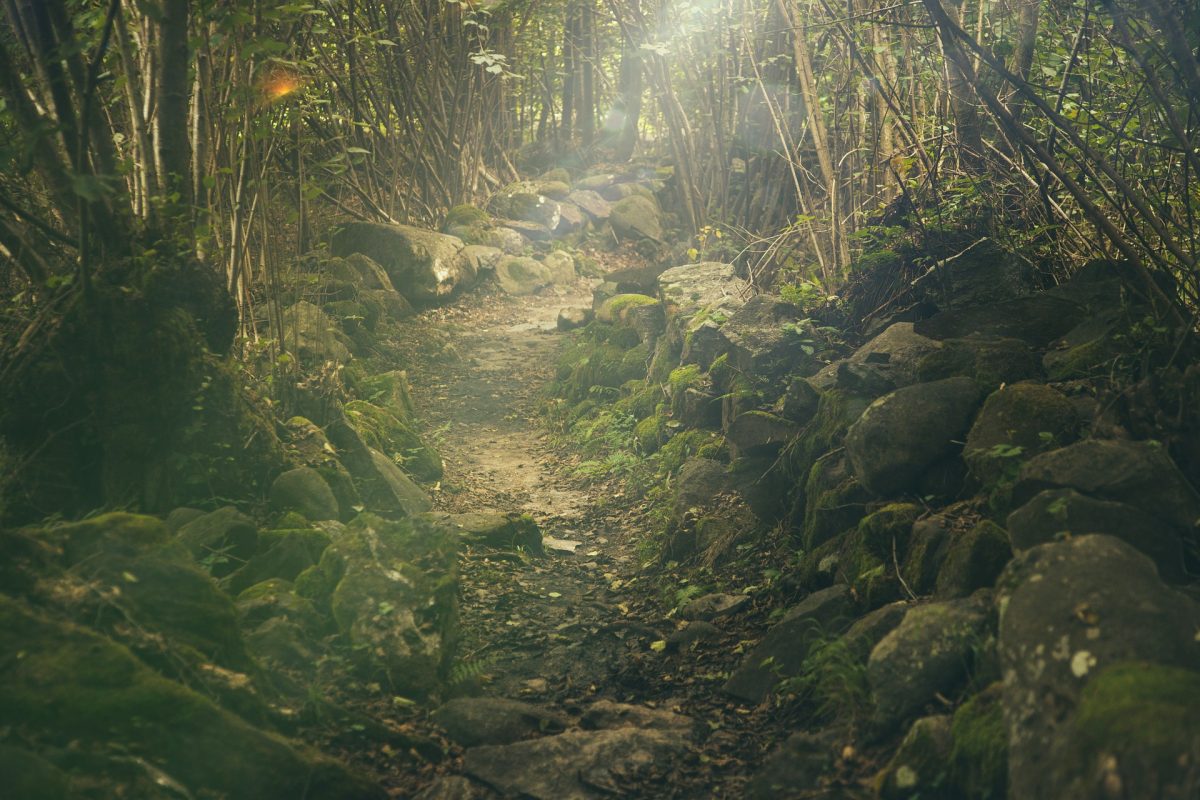 There are many parks and forests in Ohio that hikers love to explore each year. National parks and hiking trails give a marvelous view of Ohio scenery. Ohio has a history with buckeye trees. In the past, they covered Ohio's hills and plains, which later led to Ohio to become known as the "Buckeye State". Each hiking trail is a new adventure no matter how many times a person hikes through it. When hiking through the parks and forests, there are also always new trails to stroll into. Also, Ohio's temperate climate and small rugged hills are best for those who love for being one with nature. Surrounded by the sights and sounds of nature, Ohio's best hiking trails will always bring inspiration and peace to one's life.
There are actually more than 15 hiking trails in Ohio, all of which are worthy of a good hike. For experts, families, and beginners, there are many trails to choose from. However, there are a few favored trails many people take. Hiking through Ohio's natural trails is one of the best ways to gain exercise while having fun outdoors. After traveling through one trail, many have always wanted more. There is always something new to see on every trail. Here are some of Ohio's most popular trails for the best hiking experiences one can ever have.
1.
Ohio and Erie Canal Towpath Trail
Established in 1993, the Ohio and Erie Canal Towpath Trail has been used for multi-purposes through decades. Used as a traveling route from 1827 to 1913, many people have taken this trail to deliver goods to adjoining cities. Currently stretching 85 miles long, the trail runs through Cuyahoga, Summit, Stark, and Tuscarawas counties. An exciting aspect of the Ohio and Erie Canal Towpath Trail is that people are able to travel on the exact route used by past travelers. This is determined by historic maps placed in the vicinity of the park. Though there's the main trail most hikers follow, remnants of other paths leading to different directions can be seen.
There are 48 trailheads (entrances ) to the Ohio and Erie Canal Towpath Trail. Each trailhead provides free parking, making it easy to get to the trail. However, parking spaces vary for each site, ranging from a handful to over a hundred spaces. Along the trail, there are also rest stops and visitor centers. Here, people can refill their water bottles or buy drinks and snacks to continue their venturesome hike. Also, these visitor centers have interesting information about the trail. Hikers can learn about the cultural, historical, and natural resources being preserved along the trail.
2.
Blue Blazes Buckeye Trail
The Buckeye Trail stretches 1,444-miles long and loops around the state of Ohio. Part of it is on the road and part of it is on a wooded trail. However, for the safety of hikers, currently, the road portions of the trail are gradually being relocated to create a separate trail. Buckeye trail passes through many scenic locations such as Cuyahoga Valley National Park and Hocking Hills State Park. Because this trail goes through multiple small towns in Ohio, many can have both an outdoor and history experience. Hikers will never get lost because there's a Hocking Hills State Park map that will help during their hike. Along with the scenic sights of farmlands, sandstone cliffs, and forests, the beautifully famous Lake Erie can be seen from this trail. Over the years, routes in different sections of the trail have changed through exciting events, added amenities, and more.
For inexperienced hikers or hikers with kids, this is a good trail to start with because it goes through a few small towns where help is easily received. Also to help hikers through the trail, there are blue blazes on trees and signposts marking the trail. Divided into 26 sections that have individual names, there are also good places to camp along the trail. However, not every section has a site for camping. Unlike other hiking trails, there are no shelters along Buckeye Trail. This is a good and bad thing when it comes to unpredictable weather. There are many interesting things and sights to observe whilst hiking. For example, there are amazing rock formations and graceful waterfalls that constantly shape the trail. Sights include historic Native American mounds, battlefields, and more. hikers to admire and take in the scenery.
3.
Augusta-Anne Olsen State Nature Preserve
During the Springtime (March-May), many exciting trails for great hikes can be found in this 3.5 miles of nature preserve. Known for its large variety of wildflowers, there are diverse features throughout the land. This includes meadows, forests, high cliffs, and the rocky banks of the Vermillion River Gorge. Birds and wildlife can be observed first hand. Also, the preserve is home to one of the largest sassafras trees in Ohio. While hiking along the riverbank on Ohio hiking trails, hikers may be lucky enough to spot different types of amphibians. However, because of seasons and their weather changes, animals that are in the nature preserve differ during the different times of every year.
To give visitors one of the best hiking experiences, the nature preserve's wooden bridges, pine trees, trail signs, and hills are kept well-maintained. This nature preserve is great for family trips and group hikes. However, for those who like exploring nature with their pets, please note that dogs are not permitted. This is one of the best hiking trails in Ohio.
4.
Conkles Hollow Ridge Trail
A great mix of different rock formations, danger, and beauty, there's always something wonderful to see while out with nature. One of two trails in Ohio's most famous nature preserve, this 2.5-mile trail loops around the periphery of the gorge rim. Conkles Hollow State Nature Preserve in Hocking Hills, Ohio consists of natural cliffs and forest. Unlike the Gorge Trail that runs through the flat valley also in the reserve, the Conkles Hollow Ridge Trail goes around the edge of the cliffs themselves. This then makes this trail more challenging than most other trails in Ohio. However, hiking through the trail and seeing the view from the cliffs is also most rewarding. The cliffs that are 200 feet above an amazing gorge are the highest in the area and provide some of the most outstanding scenery.
Do not worry about being exhausted from the hike with no place to rest, for the trail isn't only around the tips of the cliffs. Take a break to savor the moment and the best part is there are plenty of viewpoints available along the trail. Despite being surrounded only by wilderness, civilization is never far, making it the perfect destination for hikers. Unlike any hiking trails in Ohia, this trail is in fact quite strenuous and the cliffs are dangerous for young children. So, caution should be taken by all in every season.
The North Rim Trail, South Gorge Trail, and John L. Rich Trail cover 752 acres of West Ohio. These three trails are also connected to some of Ohio's important sites. For example, taking the North Rim Trail will lead to the Orton Memorial, while taking the John L. Rich Trail will lead to Clifton Mill; one of Ohio's historic mills that now has a restaurant. For additional scenic views, the park is connected to the Clifton Gorge State Nature Preserve. While hiking on the trails, there are observation decks overlooking narrow sections of the gorge, rapids, and waterfalls. Here, people can take in Ohio's scenery as well as picture-perfect photos for a memento. A great place to hike, it's a relaxing place where everyone can enjoy the outdoors and what nature has to offer.
6.
Old Man's Cave And Cedar Falls Trails
One of the local favorites is the Old Man's Cave Trail that leads to Cedar Falls. Located in Hocking Hills State Park, this three-mile round trip is a family-friendly hiking trail in Ohio that is incredibly gorgeous all year-round. The Grandma Gatewood Trail is where the trail to 'Old Man's Cave' begins and is the most popular route with amazing waterfalls that run along the Upper Falls through the gorge valley past the Lower Falls, and out to Queer Creek. There is a nice boardwalk that allows hikers to pass through a few of the trail's relatively muddy regions. However, it is impossible to hike the trail without stepping into the mud at some point of the hike.
During the hike, there are beautiful waterfalls, slump blocks, and small caves to be admired. However, though the hike will end at Cedar Falls, there are other trails in Hocking Hills State Park. For example, being attached to Ohio's Buckeye Trail allows hikers to leave the Oldman's Trail and join another. But there are no worries about getting lost because there are trail markers to guide people along the trails. Also, along the trails, there are small scenic spots for picnics, and benches for breaks. The trails have awesome views from above the gorge and pass through an assortment of tall trees, flowers, and plants. Getting to the trail is easy, especially with a free parking lot at the entrance of the trail. Also, there are great facilities at the visitors' center. On top of that, Hocking Hills State Park map is available at the beginning of each hiking trail.
Fun Fact: This same trail has been designated as part of Ohio's Buckeye Trail as well as part of two national systems – the North Country Scenic Trail and America's Discovery Trail.
7.
Edge Of Appalachia: Buzzardroost Rock Trail
One of the best hiking trails in the United States is located in Ohio. This trail is part of the 16,000-acre Edge of Appalachia Preserve in Adams County south of Ohio stretching 2.2 miles. The trail leads to a giant limestone monument that stands 900 feet above the waters of Ohio Brush Creek. Here, the rock is called the Buzzardroost Rock; named after vultures (buzzards) that have made it their home. The panoramic scene from this hilltop is known to be Ohio's most spectacular view. The valley seen below it has over 1400 plant species. This includes Muhlenbergia grass, classified as an endangered species in Ohio.
The most popular time to hike on the Buzzardroost Trail is during the Autumn because of the colorful changes in the hickory forest. However, there are many people who also like hiking in the Spring for its brilliant weather and new growth after the freezing white winter. Along the trail, hikers may be lucky enough to encounter white-tailed deer, wild turkeys, squirrels, rabbits, reptiles and more. Also, bobcats and black bears have been seen in the area but are rare. One thing hikers should be aware of, however, is there are poison ivy and stinging nettles in the area. So it is best to stick to the trail.
8.
Monroe Overlook Trail And Wildcat Hollow Trail
There are a few moderate trails in Wayne National Forest ranging from 4.4 to 6.9 miles with awesome views from above. However, the two most popular hiking trails in Ohio are the Monroe Overlook Trail and the Wildcat Hollow Trail. If it's visited at the right time of year, the trails can be peaceful and relaxing.
The Monroe Trail is a moderate trail that has a 3-mile loop of beautiful streams, open meadows, and more. Though the trail is short, the scenery at the peak of the trail is amazing. The highest point at Monroe Township gives a 360-degree view of the surrounding landscape which is a sight to die for. The tall pine forests that surround the trail offer a natural retreat from the bustling city while the meadows are filled with fabulous wildflowers in the Spring and Summer.
The Wildcat Hollow Trail differs from the Monroe Outlook Trail as it is popular more for backpackers and campers. Passing scenic overlooks and filled with rock outcroppings, this 4.9-mile loop trail is an easy hike. Surrounded by much wildlife, but marked with a white diamond shape marker, it's hard to stray away from the scenic trail. Also, this trail is close to private property, so caution should be taken into consideration.
9.
Christmas Rocks State Nature Preserve
With two trails to choose from, many in Lancaster, Ohio love to spend their time outdoors on short nature walks, hiking, biking, and bird watching. Accessible all year round, the 4.75-mile trails of Christmas Rock State Nature Preserve are a moderate hike; one marked with orange markers, while the other in blue. Between the Jacob's Ladder Loop Trail and the Christmas Rock Loop Trail, many prefer the scenic hike of the Jacob's Ladder Trail. Though this trail is a bit more difficult, the sights while hiking and at the top of the trail makes the hike worth every step, time and effort.
No one ever regrets choosing the Jacob's Ladder Loop Trail. However, both trails do connect at different points and both pass many interesting rock formations. Theis formations include a small recess cave. Also, there is an old covered bridge at the beginning of the trek where there's some of Ohio's best flora along the valley.
10.
Quail Hollow Stark Park Trail
Located in Stark County, Ohio a few hours from Cleveland, Quail Hollow Stark Park has beautiful scenery among its four trails. With over 700 acres of land to hike, many people enjoy the nicely paved walkways for their outdoor adventures in the park. This is a 3-mile loop trail that is great for both beginners and experts to hike and explore. There are also many different activities along the trails of the beautiful forest trails and along the open fields that are suitable for family picnics.
One of the best parts of the four trails that connect is the old Stewart Manor House. Here on the weekends, there are tours given around the manor consisting of over forty rooms which can be interestingly exciting.