15 Best Beaches In San Diego You Never Knew Existed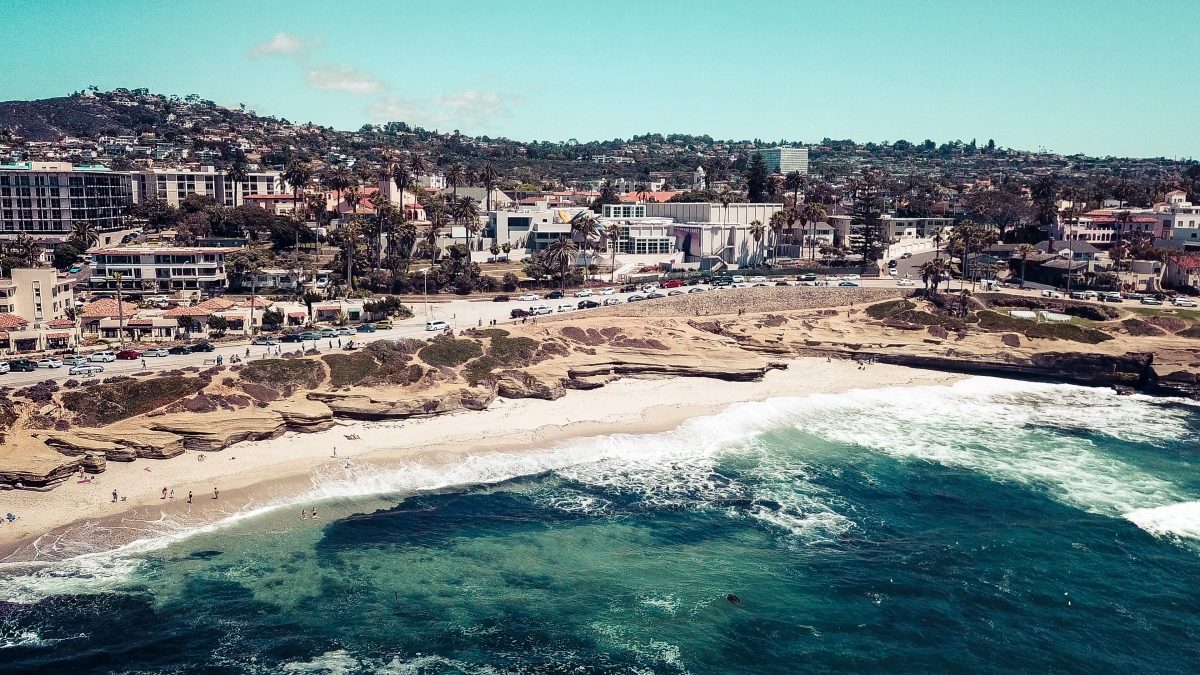 We have a million reasons to love California, and one of them is San Diego's beaches. Home to some of the world's fantastic shores, San Diego is an epitome of the great escapade for people looking for a unique beach vibe. Whether you're visiting in the summer or winter, there's never a bad day to experience San Diego's beach love.
After all, the sunshine here is good all-year-round. Blue waters, crashing waves, sand, sun, and robust beach activities – beaches in San Diego are screaming with adventure and tranquility.
Consistently ranking as one of the best beaches in California, Coronado Beach is everyone's dream beach destination. The whopping Coronado shores are composed of four different beach sections: Coronado City Beach, Glorietta Bay Park, Tidelands Park, and Centennial Park — all emitting a unique beach encounter. However, Coronado City Beach (main), which runs along Ocean Boulevard and in front of the iconic Hotel del Coronado, is a family-favorite and the backdrop of many holiday postcards sent around the world.
Coronado Beach touts beautiful sunsets, clear waters, and a sparkling stretch of sands, thanks to the presence of mineral mica. You can also enjoy loads of activities such as sunbathing, surfing, paddleboarding, and boogie boarding. However, if you prefer a simple stroll along the area, head to Orange Avenue. There are numerous shops and restaurants here that offer great souvenirs and delicious foods.
In the northern part of the beach, your pets are allowed to play on the shore. Likewise, spending a night with bonfires is also permitted. Make s'mores or just tell stories with your friends, either way. You can get here by riding a car across the 200 foot-tall bridge from downtown.
2.
La Jolla Shores Beach Park
La Jolla Shores is arguably the picture-perfect kind beach getaway you should go to. Unlike most of La Jolla Beaches which are tucked in between rocky cliffs, this one is a mile-long of premier sands frequented by dynamic beachgoers seeking water-fun adventures such as surfing, paddleboarding, kayaking, and scuba diving.
If you're a fan of marine life, then you're in luck! Head on to La Jolla Cove, and get a chance to see San Diego's notable underwater life through kayaking or scuba diving. In fact, this is the best area for people who wish to see local natives such as the bright-orange Garibaldi fish. Also, you can see the adored California Grey Seals inside The Children's Pool break wall. However, this area is inaccessible during harbor seal pupping season, which is from December 15 to May 15.
La Jolla Shores is considered a family-friendly beach. Anywhere you go you'll see groups of families happily picnicking, meandering around, and just enjoying the simple pleasures of the beach. The shores can get crowded during sunny days so make sure to arrive early to make the most of your visit.
When you think of lively vicenarians, blazing bonfires, blaring music from beach clubs and bars, you're already visualizing the Pacific Beach. Nicknamed as P.B., this beach is one of the energetic beaches in San Diego with ongoing parties all day, most especially at night.
Aside from the main coastline, you can also drop by at Tourmaline Surfing Park where twenty-something beach lovers surf along the slopey waves. Crystal Pier is a good option for visiting families, too. Lifeguards supervise the area, ensuring the safety of everyone while swimming.
Numerous restaurants that provide fine dining options punctuate the coastline. At night, you can move to the groove at some of the best clubs located nearby the P.B's shores. Do note that alcohol is prohibited in Pacific Beach. If you opt to light up a bonfire, feel free to do so. P.B. is illuminated by portions of bonfires as horizon blends into the velvet dark.
Ocean Beach is home to one of the greatest vintage views in California, including a pet-friendly coastline. It's a small beach town dotted with vintage VW vans that drive past surf shops, taco stands, and antique malls straddled along Newport Avenue and Voltaire Street. While not as widely known as Coronado Beach or La Jolla Shores, this beach is brimming with fun activities as well as a lively nightlife scene.
Considered as one of the best pet-friendly coastlines, Dog Beach rests between the Mission Bay Harbor Channel and the jetty at the north end of Ocean Beach. Pets here experience the utmost freedom running around with their owners or furry friends while enjoying the majestic ambiance of the Ocean Beach. Just remember to have your pet completely vaccinated before bringing him to the groove.
Of course, don't forget to take a stroll along the famous Ocean Pier. It's regarded as the main area for prominent events, such as the annual street fair, chili cook-off, Oktoberfest, and an Independence Day fireworks show.
Another stunning beach in San Diego you should visit is the Imperial Beach. Nestled five miles across the Mexico border, this 4-mile sandy beach has a lot to offer. Being a great spot for surfing, sport fishing, beach volleyball, and horseback riding, you'll never get bored here with your family. As a result, its coastlines are filled with beach lovers almost all year round.
If you prefer a subtle journey, head to the Imperial Beach pier to witness the magnificent views of the Los Coronados Islands. Bring your fishing pole since the area hosts an ideal spot for fishing, too. The pier also lends the best views of sunset so make sure to grab a spot before the sun drops on the horizon.
In addition, Imperial Beach is a gateway to the Tijuana River National Estuary, a top-birding location in San Diego that shelters numerous endangered birds and wildlife. Located nearby is also the Living Coast Discovery Center, an affordable aquarium experience amongst families.
If you're seeking for an all-out adventure with beach and amusement park in the scene, look no further than Mission Beach. A classic boardwalk beach town, this beach has appeared on ABC's famous hit romance reality series called The Bachelor, featuring the Belmont Park, an amusement park close to the coastal.
There are loads of activities in Mission Beach. You can ride the Giant Dipper Roller Coaster, which was originally built in 1925 but restored as of late, visit the Beach House Grill, participate in miniature golfing, as well as play at the arcade. Likewise, the warm waters and sands of the beach are so inviting, you can spend your entire day relaxing on the shore or playing beach volleyball with your friends on the south portion of the coastline.
Mission Beach doesn't stop there. In fact, you can enjoy whale watching and scuba diving in designated areas. Also, a sociable nightlife thrives here in the form of bars and clubs. If you want to explore further water adventures, head to the nearby SeaWorld San Diego and experience many water sports, such as kayaking, sailing, kiteboarding, standup paddle-boarding, and water skiing.
Of all the beaches in San Diego, Cardiff-by-the-sea hosts an incredible spot for camping. It is located north of the county and generally consists of 900 acre Elijo Lagoon and a 2-mile beach. The coastline is adored primarily for the amazing stretches of sandy beaches, including the surrounding cliffs and dynamic waves. Also, camping here is no ordinary. Staying overnight will give you an excellent viewpoint of the oceanfront.
Cardiff Reef, a popular tourist spot, is located on the south portion of the campground. Expert surfers flock the area as tides here provide an astounding battle against the waves. If you aren't inclined to surf, you can always stop along Highway 101 to witness the brilliant surfers overcome high tides.
Don't forget to book in advance to secure your camping spots.
8.
Torrey Pines State Beach
Situated just north of La Jolla, Torrey Pines State Beach is one of the most impressive beaches in San Diego. Take advantage of its beauty by burying your toes on the wide sandy coastline while sipping on your favorite drink. Or allow the sunlight to sink healthily on your skin as you watch hang gliders slice through the sky from cliff tops.
One highlight of Torrey Pines Beach is the nearby Torrey Pines Natural Reserve Park. It sits on a cliff just above the beach. You can access the place by trailing the high road. The reserve renders picturesque greenery contrasting with the robust waves on the shore. What more, you'll see countless pine trees that add up to the place's natural grandeur as you hike through the area. Don't worry, guided nature tours are offered in the park during weekends to give newcomers a detailed encounter of San Diego.
Don't forget to drop by at Windansea Beach if you're in La Jolla. As touristy as it is, this gorgeous coastline hosts spectacular scenery and lively surf breaks that attract a multitude of experienced surfers, including swimmers and sunbathers who are looking for sweet privacy. However, waves are reported to crash strongly on the shoreline so make sure to keep your kids on sight if they opt to play around the waters.
What you'll love about this beach is that it becomes a major spot for whale-watching, especially during their immigration. However, Windansea beach requires its visitors to brave a steep and stony path since it's helmed by rocky cliffs. Trust us, it's definitely worth the climb as you'll be rewarded with extraordinary scenery laced with rocky headlands to boot. That being said, Windansea Beach is definitely different from any other beach on the list.
Love to surf? Check out these 5 Cool Waterproof Surf Watches you can wear as you ride on the waves.
For any curious visitor, Black's Beach comes to mind when they think of clothing-optional beaches. Although nudism isn't encouraged in San Diego, you can still find nudists (or 'nakes' as surfers call them) enjoying the coastline's bountiful natural offerings. This unique beach perches in between Torrey Pines State Beach and La Jolla Shores, combining both of the beaches' active waves and gargantuan rocky cliffs.
Do note that getting here requires an extreme journey. That includes a perilous climb down on shaky cliffs or a two-mile hike south from Torrey Pines. However, once you get here, every ounce of exhaustion is bound to disappear as views from the beach are idyllic from any angle.
Also, you can attend to different beach activities such as surfing, sunbathing, and swimming. However, there are no permanent lifeguards in the area so always swim with caution.
11.
Silver Strand State Beach
Silver Strand Beach is named as it is for a reason. Cradled in between Imperial Beach and Coronado, this endless coastline is a reservoir of exhilarating beach activities including swimming, surfing, kayaking, boating, and water skiing. Of course, the famous activity that lends credence to its name is shell collecting. Feel free to comb the extending beach as silvery oyster shells are scattered across the shores. You'll also see clams buried in the sand by the moving water.
Silver Strand State Beach is highly accessible for day-use, as well as overnight RV camping. Fire rings are also allowed but required to be extinguished by closing time. And since this beach's charm holds its own ground with fine white sand and pristine turquoise waters, you are free to make most of your time enjoying the grandiose serenity of place during sunset.
Tourist Secret's tip: Dogs are not allowed on the main beach site, only on the campground. Likewise, they should be on a leash.
More than just powdery-like sands and temperate waters, Solana Beach is a favorite of many for good reasons. A little difficult to access compared to most beaches in San Diego, this secluded beach has amazing views ready to take you by heart and mind. In fact, it's brimming with hot spots frequented by full-scale beach lovers.
Head to the northern region of Solana and you'll find Seaside – a good surf site with an outer reef called Table Tops. Next is Tide Beach which is greatly admired for its pure white sands, as well as a group of reefs for tide pooling. On the other hand, you can find a recreational park with a playground and grassy field at Fletcher Cove.
Solana Beach is often full during the summer season so make sure to arrive ahead of time to experience a full-day excursion.
We aren't lying when we say Moonlight Beach is a top pick for anyone who's pining for a family-friendly excursion. This popular North County shore simply ticks all the right boxes of an ideal beach destination: playground, picnic tables, snack bar, bathrooms, fire pits, and rentable equipment. While the actual coastline of the beach is relatively small compared amongst its kind, the water is extremely warm and inviting bordered with gentle waves.
Another thing worth lauding is that the beach has year-round lifeguards who watch over swimmers and other adventurers. Since Moonlight Beach is a renowned getaway in San Diego, the place is usually jampacked during sunny days. If this occurs, you can go south to D Street Beach or head north towards Stone Step Beach. These sites are mainly popular for beach volleyball.
Leucadia doesn't come short when it comes to the best beaches in San Diego. In fact, you'll find here the grandest views of the county. Located north of Encinitas, Leucadia has three astonishing beaches – Grandview, Beacon's, and Stone Steps. They are readily accessible via firm stairways along Neptune Avenue.
Before visiting these sites, keep in mind that they are somewhat difficult to find since they are secluded. However, the journey is well-rewarded because of the breathtaking scenery it offers. Leucadia beaches have amazing waves. As a result, all types of surfers swarm the area including experienced and beginners.
Once you're here, don't forget to visit Leucadia Donut Shoppe on Coast Highway 101, a local fave after a morning grind at the beach. Also, The Leucadia Farmers Market, which is open during Sundays from 10 AM to 2 PM, delivers fresh produce and local products worth buying. The main street area is laced with surf shops, boutiques, and tattoo parlors to boot.
San Diego's hidden gem, Carlsbad beach is another must-go amongst all beaches in San Diego. It's popular for its resplendent and unbridled shorelines, as well as thrilling surfing and diving spots. Not only that, but this beach also comes packed with essential facilities such as restrooms and showers. The long stretch of beach is a short trip from the Carlsbad Village and the fine sand shores are a prize for people looking for someplace less crowded in San Diego.
Carlsbad Beach is a combination of small beaches divided by sea walls. Here, you will find lagoons that add up to the area's splendor. Plus, Carlsbad is jampacked with activities in designated areas. Go to Tamarack, Terramar, or the jetty beside the power plant to experience great surfing. Set up your tent and stay overnight at South Carlsbad State Beach, or head to Agua Hedionda for waterskiing, and Carlsbad Lagoon for kayaking.
You can also bring your dog on a leash for a quick walk along the beach's paved path.
How Many Beaches Are In San Diego?
From family-friendly beaches to clothing-optional one, San Diego is brimming with amazing coastlines catered to everyone's growing needs. Whether you're spending a day with your kids, taking your dog for a walk, or looking for a place to mingle with your friends, you can choose from over 31 beaches with ideal features.
What Beaches Have Fire Pits In San Diego?
Gathering around a fire pit while sharing stories with your friends or family after a day of swimming is an activity that appeals to many. Thankfully, there are several beaches in San Diego that allow you to enjoy the said activity:
1. Ocean Beach
2. Moonlight Beach
3. La Jolla Shores
4. Coronado Beach
5. Mission Beach
6. Mission Bay
7. Cardiff State Beach
8. Imperial Beach
9. Solana Beach
What Are Beaches Like In San Diego?
San Diego lends credence to its nickname of "America's Finest City" for loads of reasons. One of which is having good beach weather the entire year! The sun shines in San Diego almost 75% percent of the year, including winter. Hence, beaches in San Diego are always ideal to visit at any season.
However, be wary of the increasing number of visitors during summer. It may be hard for you to grab a sunbathing spot during this time as California beaches, mainly in San Diego, get overly crowded.
Where To Find Glowing Beaches In San Diego?
Almost every year, San Diegans witness their shores illuminate with waves of blue. This marine phenomenon is called red tide and is caused by a large number of dinoflagellates. These organisms glow as a defense mechanism whenever they are disturbed. You can capture the extraordinary glow at night in the following beaches:
1. La Jolla Shores
2. Torrey Pines
3. Carlsbad State Beach
Tourist Secret's tip: Don't worry, this glow is completely safe and non-toxic. You can play with the waves or go on a swim during this phenomenon.
Which Beaches Are Pets-Friendly In San Diego?
Along its vibrant coastlines, San Diego has beaches that accommodate furbabies.
1. Coronado Beach
2. Dog Beach (Ocean Beach)
3. Del Mar City Beach (Some areas are dog-friendly.)
4. Carlsbad
Without further ado, here are the 15 best beaches in San Diego you shouldn't miss!
Get Nothing But Memories, Leave Nothing But Footprints
As you can see, San Diego shelters the best beaches found in California. They are complete with modern amenities, quaint backdrop, and friendly crowds. Whether you're in for the view, camping for a few nights, or aiming to experience a one-of-a-kind beach clash, beaches in San Diego are hard to beat. What are you waiting for? Choose one or two from our list and be prepared to have the best time of your beach life! If you're looking for an affordable place to say, check out some San Diego Airbnbs.