10 Impressive Parks Near NYC You Shouldn't Miss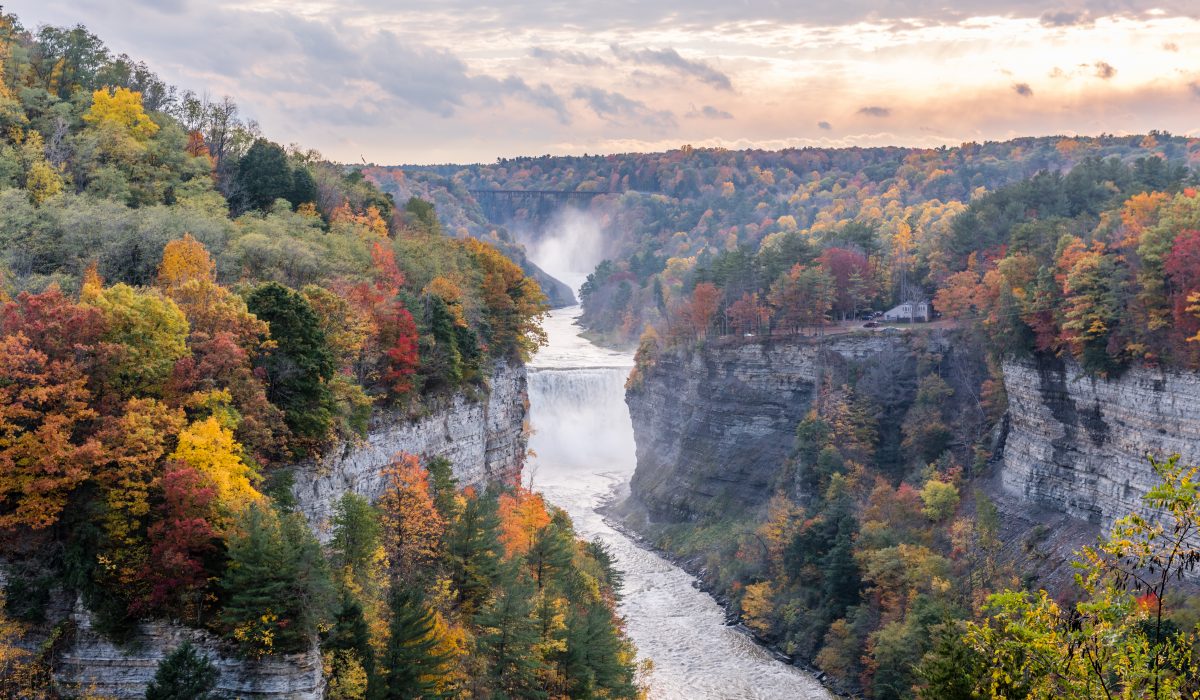 Pandemic or not, we're always on the lookout for the best beach resorts to spend our precious vacations. But if you are on a budget but still like to experience a unique getaway, try visiting some of the nearby parks in New York City. Since most of the parks in NYC are only located in the outskirts, a day or two will be enough to experience everything the park offers. With your must-haves in your travel bag, you will definitely have an unforgettable vacation here!
To fully maximize your budget, you can purchase a U.S. National Park Pass so you can skip the queue in paying the entrance fees. With this pass, you will not ony have the freedom to have unlimited visits to various parks in the U.S., but you will also pay less and avail of everything at full price. Who doesn't want that, right?

National and State Parks in New York State
The state of New York is divided into smaller cities, simply called boroughs, within its vast metropolis. These are the Bronx, Brooklyn, Manhattan, Queens, and Staten Island. Within these boroughs, you'll find the progressive city life of New Yorkers surrounded with skyscrapers, restaurants, and museums. But in its outskirts, not very far away from the center, you will find the national and state parks that exude primitive beauty.
1. Saratoga National Historical Park
Admission fee: Free
Located in Eastern New York, Saratoga National Historical Park is one of the most remarkable parks in NYC. Spanning 3,392 acres, its grounds were witnesses to the victory of Americans against the British army in 1777. This victory renewed patriotism and was promoted until today. So, when you visit this park, most of the activities are about ancient war equipment as well as war practices.
In this park, you will find The Battlefield Grounds that offer an expansive open space studded with lush greeneries and ancient wheeled-canyons. There are various trails that will take you to this, but you can take Wilkinson Trail which is its only marked trail. Also, this trail only spans more than four miles. While you ramble through the other trails, you can also spot the abandoned Nielson's House. When the war broke out, they left their house completely intact. So, when the soldiers manned the area, they decided to occupy his house. With this, you will see war artifacts as well as common house furniture in the 18th century.
Another highlight in this park is the restored Schuyler House. This house was rebuilt after it was burned by the British during their retreat. Also, it will give you a glimpse of what used to be the home of American General Philip Schuyler. Other highlights are the Saratoga Monument that commemorates the place where the British General Burgoyne raised a white flag, as well as the Victory Woods where General Burgoyne last stayed before they surrendered.
2. Rockefeller State Park Preserve
Admission Fee: US$6 per car
Another nearby park in NYC, Rockefeller State Park Preserve was completed after a generous donation of thousands of acres by the Rockefeller Family. Its beginnings can be traced back to the late 1800s when John D. Rockefeller, Sr. bought the land. Over the years, generations of Rockefeller acquired more land and developed them. In the 1950s, there is already a 50-mile carriage road that connects the park to the Pocantico property. Then in the 1980s, more than 1,700 acres of the land were donated to the New York State for the conservation of its historical and archeological importance.
Today, a lot of visitors come to this park to see its centuries-old beauty that seemed to be unfazed by time. You can hike low-impact trails that will lead you to see lush gardens and a placid lake. You can also explore these trails by cycling, skiing, horseback riding, or if you want to be taken back in time, you can also hop in a carriage. Aside from these, you can also set up a picnic while some of your companions can go fishing or kiteflying.
Unlike other nearby parks in NYC, Rockefeller State Park Preserve also has a historic site within its property. What used to be the imposing mansion of the Rockefellers is now an art gallery. Kykuit was also listed as part of the National Trust for Historic Preservation. Although it is centuries-old, it displays well-maintained architecture and interior. And all is left is a hundred years' worth of memories.
3. Point au Roche State Park

Admission Fee: starts at US$6 per car
Located in Plattsburgh, New York, Point au Roche State Park is one of the favorite summer destinations in New York state. It spans over 800 acres of a mix of sand, grassland, forest, and a beach. With this, it is one of the parks in NYC that offers various family-friendly activities. Apart from playing volleyball, fishing, and picnic, you can also hike and bike on various trails. It also offers more than 60 mooring sites where you can anchor your yacht or boats to do fishing. While some schools would also choose this park for school trips wherein they will offer programs that include hiking through the forest and seeing various habitats.
In general, Point au Roche State Park is still in the process of developing its facilities and providing more amenities. But the good thing about this is you will be able to get an unpretentious experience. With fewer distractions from enormous natural wonders and eye-catching facilities, you will be able to take a step back from the progressive city and enjoy a relaxing day.
4. Robert H. Treman State Park
Admission Fee: US$7 per car
Located in the Finger Lakes Region, Robert H. Treman State Park is one of the best parks in NYC. Historically, Robert H. Treman and his wife, Laura Treman, donated their 380 acres of land to be part of the park. Hence, the namesake. Over the years, it spanned 1,110 acres encompassing the towns of Ithaca, Enfield, and Newfield. The park boasts a rugged beauty studded with a dozen of mighty waterfalls. Amidst its enormous gorges, you will find the park's centerpiece, the Lucifer Falls. It mightily stands 115 feet high. And unlike most parks in NYC, it has a stone stairway beside it that will lead you to the peak of the falls.
While most visitors come to see the falls, some stay to do various outdoor activities. In this park, you can hike various trails with interpretive signs and see cascades and stone formations. But if you want to wade in the waters, you can also swim in an area with lifeguards. Alternatively, you can also enjoy fishing, fossil hunting, and picnic. Yes, this is one of the parks in NYC that offers various activities, so a day may not be enough. What's more, you can also book a campsite in Robert H. Treman State Park to stay for few days!
5. Buttermilk Falls State Park
Admission Fee: US$8 per car
In the first half of the 1900s to 1950s, Buttermilk Falls State Park was a private sanctuary of the wealthy industrialist, Fred Mcfeely. It has a large house, horse stables, a three-car garage, outbuildings, and a swimming area. However, just like other old parks in NYC, they also became dilapidated. Today, you will only see the remnants of what used to be Mcfeely's sanctuary.
Although these centuries-old stories entice visitors to see the park, the ruins are not the park's centerpiece. Instead, its highlight is the unique Buttermilk Falls that stands 165 feet high. When the water mightily falls from the 650 feet peak, it mixes and spirals down the rocks, which resembles buttermilk flowing towards Cayuga Lake. Hence, its name.
The falls are divided into two sections — upper and lower, which offer distinct views. The lower section provides a view of the waterfalls and an opportunity to take a relaxing dip in the refreshing water. You can also marvel at the 42-foot spire called Upstream Pinnacle Rock and other bizarre rock formations. Meanwhile, the upper section offers an expansive and verdant grassland. Here, you will see gorgeous sceneries and the rich wildlife that houses the park. When you visit, we recommend joining The Buttermilk Falls Gorge Tour. This tour starts from the Buttermilk Falls to Upstream Pinnacle Rock and it will not only let you see the breathtaking sceneries and habitat, but it will also tell you a story from the perspective of someone who wants to promote the conservation of nature.
6. Letchworth State Park
Admission Fee: US$10 per car
Perched in the northwestern part of the state of New York, you'll find the "Grand Canyon of the East." The Letchworth State Park stretches to 14,427 acres and runs 17 miles long. It is studded with deep gorges surrounded by trees and the cascading Genesee River. You will also see 600-feet high cliffs with three roaring waterfalls popularly known as the Lower, Middle, and Upper Falls. Among these waterfalls, the Middle Falls is the most popular for being the tallest one.

Letchworth State Park is a hiking paradise for beginners. You can choose from any of its 66 miles of hiking trails that fit your preference. There is a total of 20 main trails that are accessible and marked. Some trails can easily be completed in a half-mile hike. But there are also trails that are more challenging and will require you to hike for eight miles. But don't worry, these trails are pretty simple and you can complete them regardless of your fitness level.
Aside from hiking, there are also other activities that you can do. In summer, you can go horseback riding and biking. While in winter, you can do motor sledding and cross-country skiing. But that's not all, you can also do water activities in Genesee River such as swimming, kayaking, and whitewater rafting. Adventure Calls offers rafting activity packages (US$45 per person) that will suit your preference. They will also provide you with helmets and life vests to assure your safety despite the mighty rapids. Alternatively, you can also ride the hot air balloon for a more unforgettable experience.
7. Minnewaska State Park Preserve


Admission Fee: US$10 per car
Another park in NYC, you can find the Minnewaska State Park in Ulster County. This park houses one of the focal points in Shawangunk Mountain Ridges. Together with Lake Awosting, these two lakes make up the clear and turquoise "sky lakes". If you want to get a more picturesque view of Minnewaska State Park Preserve, climb up to Sam's Point Area. This is located in the southern part of the park and is the highest section of the Shawangunk Mountain. So for sure, you will be able to get a bird's eye view of the 23,000 acres of cragged precipices and dense woodland. There are also numerous waterfalls and 35 miles of carriage road.
Aside from hiking up to Sam's Point Area, Minnewaska State Park Preserve also offers other outdoor activities. Some of these are bouldering, scuba diving, and cross-country skiing. To fully exhaust all the activities the park offers, we recommend that you book a campsite in Samuel F. Pryor III Shawangunk Gateway Campground. This is just 10 minutes away from the preserve. It is a tent-only campground but it has complete facilities. Campers will be able to access a pavilion, cooking area, and bathrooms.
8. Bear Mountain State Park
Admission Fee: US$10 per car
In the jagged mountains near the Hudson River, you will find the family-friendly Bear Mountain State Park. The park boasts 5,205 acres of dramatic vistas, verdant forests, and clear rivers. Here, you can enjoy a lot of outdoor activities such as hiking, biking, and cross-country skiing. Meanwhile, if you're coming with your family, you can also enjoy a picnic in one of its groves while others would play in the large playfield and swimming pool. You can also take photos at the Merry-Go-Round with 42 hand-carved seats of native animals like a black bear, wild turkey, skunk, bobcat, and more.
But that's not all, you can also find the Trailside Museums and Zoo and the Perkins Memorial Tower within the park! The Trailside Museums and Zoo offers a self-guided tour to learn about its local flora and fauna as well as some rescued animals. As you stroll and see various animals, you will also appreciate the splendid geology of nature.
The Perkins Memorial Tower is perched atop the Bear Mountain State Park. It is a small yet stone-built observatory that gives you an unparalleled panoramic view of the park, as well as the Hudson Highland and Harriman State Park.
9. Gantry Plaza State Park
Gantry Plaza State Park is perhaps the most modern among the parks in NYC on this list. While the other parks require you to drive to the outskirts to be welcomed by wonders carved by nature. In Gantry Plaza State Park, you will marvel at the state-of-art park with a spectacular view of Manhattan's skyscrapers. Imagine enjoying some fresh air, with a majestic view of the Empire State Building and the United Nations at a distance. Fantastic, right?
Historically, the location of the park was used as an industrial waterfront. Then, when industrialization died down, it became abandoned and dilapidated. In 1998, the park was transformed into a modern 12-acre park. The park features four piers and a bizarre fountain surrounded by manicured gardens. But the main attraction is the restored gantries that will remind you of its industrial linkage. Before, these gantries were used to transport rail cars in loading and unloading goods.
Today, the park offers various activities such as jogging, cycling, or even just taking a breather away from your daily routines. They also have recreational facilities such as basketball courts, handball courts, and playgrounds to entertain its park-goers. If you are not yet sure when to drop by, go during summer or spring to attend concerts or events held in the park.
10. Harriet Tubman National Historical Park


Established in 2017, the Harriet Tubman National Historical Park is a symbol of empathy and bravery. As the name suggests, Harriet Tubman used to live in Canada. But she moved to Auburn, New York, with the hopes of a better life. Fueled by her strong faith and Abolitionist causes, she freed more than 300 enslaved Africans.
Today, visitors commemorate her humanitarian acts by visiting her house, the church she goes to, and even her grave. You can join various house tours that will walk you through her visions, selflessness, and hope. You can also visit the Thompson Memorial African Methodist Episcopal Zion Church where she used to worship. And in just one stone throw away, you can also pay a visit to her grave at Fort Hill Cemetery.
The Harriet Tubman National Historical Park may not be that appealing for families looking for parks in NYC to visit. Being one of the parks that focuses on the fatal Black history, it may be too heavy for children to appreciate. But with the values that Harriet Tubman instills in her visitors, it's definitely a good opportunity to have a figure that your children can also look up to.
Best Time to Visit the Nearby Parks in NYC
New York State experiences four seasons, so there will always be something to look forward to in each season. In fact, any time is the best time to visit its nearby parks. But the best time to visit them is during Spring. From March to June you will experience the chill from Winter but with rays of Summer. Since it is the middle between Winter and Summer, you will be able to see the gardens bloom and enjoy outdoor activities without soaking in sweat. On top of that, you will be able to savor the solitude while these parks are not yet teeming with the crowd.
Final Thoughts
Even though these parks are all situated in the same state, they still have their own distinct charm. While most parks have enormous cliffs and mighty waterfalls, there are also others that have fewer natural wonders but more on historical sites. Some offer a lot of outdoor activities, while others only have stories to tell. Whichever park in NYC you choose to visit, we hope that you will be open-minded and appreciate their distinct beauty. Most of all, plan ahead and follow the rules of each park. Enjoy your trip!