23 Best Places to See Peak Michigan Fall Colors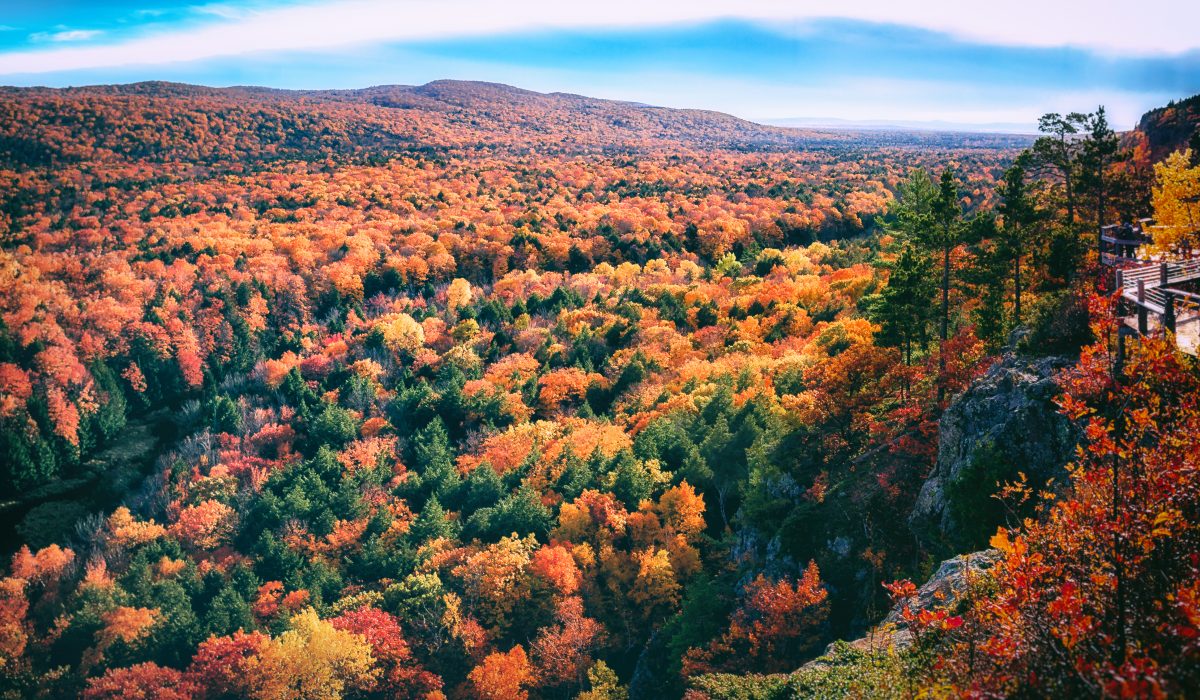 Michigan's fall colors are nothing short of ethereal. Every fall season, sweeping views of orange, red, and yellow sprout throughout the state, making Michigan a dream destination to soak in the autumn harvest.
But, what is the best time to see fall colors in Michigan? Peak fall foliage in Michigan has a generally tight window of three weeks to a month, so knowing where and when to go is essential to ensuring the best fall weekend getaways.

From scenic drives to hiking and camping, Michigan is chock full of fun fall activities that will allow you to savor the crisp autumn air. To help you find the best place for fall colors in Michigan in 2022, check out our guide below.
UPPER PENINSULA
The Upper Peninsula is known for its untamed natural beauty. If you're an outdoor enthusiast or simply enjoy being in nature, this is the perfect fall destination for you. Here are our recommendations.
1. MARQUETTE
What's the best way to see peak Michigan fall colors? By spending time in nature, of course! The city of Marquette is a great destination for outdoor enthusiasts. There are hiking and biking trails that will take you to some of the best fall scenery in the country. Families will also find plenty of activities to enjoy here, including leaf peeping, scenic drives, and a visit to Lake Superior located close to the city.

Popular fall foliage viewpoints in Marquette include Sugarloaf Mountain where you'll find paths paved in a carpet of colorful autumn leaves until you reach the top. Though not as dramatic as other trails, the woodlands make it worth the trip. Another popular spot for viewing the fall colors in Michigan is the Thomas Rock Scenic Overlook. This view spot is wheelchair accessible and also dog-friendly! Furry owners who wish to hike with their furry companion, do ensure that they have suitable dog hiking backpacks
2. PICTURED ROCKS NATIONAL LAKESHORE, MUNISING
Is Michigan pretty in the fall? All it takes is a visit to Pictured Rocks National Lakeshore to answer that. Pictured Rocks are one of the first places where you can get fine views of early Michigan fall colors. Peak fall colors in this area start from the second week of September through early October.
Aside from hiking trails, autumn is also the perfect time to break into those kayaks and canoes. Without the humidity, you can easily paddle through the serene waters of Lake Superior. Couples might prefer to hop aboard one of the local tour cruises, which is the more leisurely and romantic way of viewing the colorful cliffs and the surrounding fall foliage.
3. TAHQUAMENON FALLS STATE PARK
Covering almost 50,000 acres of land is Michigan's Tahquamenon Falls State Park. The centerpiece of this unspoiled woodland is the Tahquamenon Falls. While taking a dip may not be possible in the chilly autumn weather, pack your camping tents and roast some marshmallows instead. Imagine waking up to warm sunlight and a burst of autumn colors from the dense foliage around you. We cannot think of a better way to spend fall!

Aside from boasting some of the most vivid Michigan fall colors, Tahquamenon is also one of the most accessible and inclusive Michigan fall getaways, thanks to its off-road electronic "track chairs" for fellow wheelchair users. These can easily handle the terrain and allow wheelchair users to explore more of the state park and its magical fall scenery.
4. PORCUPINE MOUNTAINS WILDERNESS STATE PARK
Porcupine Mountains Wilderness State Park is home to an old-growth forest that covers 35,000 acres of the park. In the fall, the entire park turns into a colossal blanket of warm autumn colors. Shades of ochre and burgundy spread across the landscape, which in our opinion, is best witnessed along the hiking trails. It will be a rewarding experience as you climb up to the park's scenic vistas.
We also recommended visiting Lake of Clouds Overlook which arguably provides the best "fall photo" in all of Michigan. Though, if you are looking for an adventurous fall getaway, the Porcupine Mountains is also home to ghost towns, copper mines, lighthouses, and waterfalls to get that thrill in.
5. COPPER HARBOR
When it comes to Copper Harbor, the journey is just as magical as the destination. Passing through US-41 will take you through one of Michigan's famed tunnels of trees, where you'll be surrounded by a flourishing woodland of deciduous trees and coniferous species. This unique mix creates some of the most colorful and vibrant fall foliage, making your drive truly magical.
When you do get to Copper Harbor, it wouldn't be too hard to find the best vantage spot for Michigan fall colors. You can view the autumn scenery and go birdwatching at Brockway Mountain. With its unique landscape, it surely is one of the best fall vacations in the US.
6. FAYETTE HISTORIC STATE PARK
Fall can be experienced in many different ways. Some opt for adventure, while others prefer a more romantic getaway. If you're a fan of exploration, though, Fayette Historic State Park is one of the best places to visit in Michigan in the fall. The popular ghost town is located an hour from Escanaba and many locals consider it a great vantage point for autumn foliage.

While you're in the area, make a stop at the town of Snailshell Harbor as well. The muted limestone bluffs in the area create quite a striking contrast against the deep and vibrant hues of the surrounding fall scenery.
7. SAULT STE. MARIE
Sault Ste. Marie is a small town straight out of a vintage postcard. The best way to start your leaf-peeping journey is at Mission Hill/Spectacle Lake Overlook. You'll be treated to a scenic drive up, but the real star here is the view of Spectacle Lake framed by golden Michigan leaves. Hues of brilliant ochre and burnt reds surround its crystalline blue waters and the contrast is simply picture-perfect.

Just a 40-minute drive away is Soo Locks Park in downtown Sault Ste. Marie. If you're only passing by, its tree-lined pathways should give you a taste of what's to come during your trip. With rows of charming houses set against a backdrop of fall foliage, downtown Sault Ste. Marie's romantic atmosphere makes it a prime honeymoon destination too. Make sure you include it in your Michigan color tour 2022!
8. KEWEENAW PENINSULA
Where can you find the best place for fall colors in Michigan's capital region? Look no further than the sprawling autumn woodlands of Keweenaw Peninsula and Keweenaw National Historical Park. Both are popular year-round destinations for outdoor enthusiasts and great leaf-peeping hot spots.
But right here at Keweenaw Peninsula, you can experience another phenomenon – Michigan's famed Northern Lights. We highly suggest camping here, beneath the cover of lush hardwood canopies to get a better glimpse of those magnificent lights. Trust us, it's worth it.
9. KITCH-ITI-KIPI
When it comes to Upper Peninsula Michigan fall colors, we cannot leave out Kitch-iti-kipi or Big Spring. Known by the Ojibwe tribe as the "Mirror of Heaven", the emerald waters of this spring reflect and invert everything around it including the fall scenery. And as the sun sets, it adds another layer of golden shimmer to the surrounding foliage.
To maintain the spring's crystalline waters, no kayaking, paddling, swimming, or fishing is allowed in its waters. That said, you can ride one of the park-operated rafts that come with a viewing window which will allow you to look at all the wonders of the spring below.
NORTHERN LOWER PENINSULA
If Michigan's Upper Peninsula is best known for outdoor activities, the northern lower peninsula will take you back to simpler times and hometown living. From humble apple orchards, corn mazes, and family-friendly trails, here are our recommendations for what to see and do while you explore the locale.
10. MACKINAC ISLAND
Located on Lake Huron, between the upper and lower peninsulas, Mackinac Island is one of Michigan's most-visited summer destinations. As summer fades and the crowds grow thin, you'll be able to enjoy a fall getaway without long queues and crowded viewpoints. Join one of their fall color tours, which will give you a closer look at the lush palette spread throughout the island.
That said, there are many ways to observe this part of Northern Michigan's fall scenery. With less than 12 kilometers of land to cover, you can choose to rent a helicopter, ride a bike, or even take a horse-drawn carriage to see all the sights. Couples on their honeymoon will surely find this picturesque local perfect for a romantic holiday.
11. MIDLAND
What's the best way to see the autumn scenery in the Midlands? Start your journey with a visit to the Dow Gardens where you'll find charming pathways surrounded by autumnal foliage. This is also where the Whiting Forest canopy walk is located. Known to be the longest in the country, this canopy stretches across treetops, giving guests an enchanting bird's eye view of the blaze of fall colors below. There are many viewing spots throughout, so make sure you take your time here!
12. GRAND RAPIDS
The bustling city of Grand Rapids, located east of Lake Michigan, is one of the best places in the state to take a self-guided fall color tour. Some of the best places to visit to view fiery Michigan fall colors while enjoying a picnic include the Blandford Nature Center, the Frederik Meijer Gardens, and the Calvin College Ecosystem Preserve. You can enjoy a walk through their colorful hiking trails or cozy up by the campfire with family and friends.
Around the city of Grand Rapids, there are also plenty of things to do as well. You can pick pumpkins at Ed Dunneback & Girls Farm Market then enjoy the local wine with some apple pie at Robinette's Apple Haus and Winery. There's nothing like enjoying local treats beneath an umbrella of autumn leaves!
13. TRAVERSE CITY
For a small-town culture that's big on fall activities, Traverse City is one of the best destinations to witness the changing fall foliage. Let the city's country roads take you to some of the most scenic landscapes with the best Michigan fall colors. While you can use a fall color map to guide you on where to go, we also suggest exploring the nearby small villages such as Suttons Bay, Glen Arbor, and Mayfield.
Traverse City is one of the best places for fall road trips, with miles of scenic coastlines and camping grounds scattered throughout. Home to over 40 wineries and 20 breweries and 18, 000 acres of cherry orchards, you can definitely make the most out of a weekend getaway here. You'll also find old-fashioned corn mazes and caramel apples and hot cider in apple orchards – the perfect accompaniments to the chilly fall weather.
14. SLEEPING BEAR DUNES NATIONAL LAKESHORE
From Traverse City, you can make your way to Sleeping Bear Dunes National Lakeshore. Sleeping Bear boasts serene coastal landscapes and panoramic autumnal foliage. The scenic drive-throughs, numerous hiking trails, open dunes, and ample lake views prove why this place is recognized as a front-row seat to the real beauty of Michigan's fall palette. If you have a National Park Pass or a National Parks Senior Pass, you can enjoy free admission to the area.


15. CHARLEVOIX
The best fall color in Michigan, as some might argue, can be found in the resort town of Charlevoix. Whether you go on a scenic drive, tour the city on your bike, or take a boat across Lake Charlevoix, the fall scenery here is always within arm's reach. Just a short drive away you'll find the Boyne Highlands Resort, Harbor Springs, and the famed Torch Lake scenic drive.
You can also keep your exploration within the town itself, where you'll find a multitude of family-owned orchards, offering their own homemade treats such as apple pies and cider. If you're up for it, why not go apple-picking and bring along the freshest local produce to your next adventure?
16. LUDINGTON
Of vibrant fall colors, gorgeous sunsets, and the best outdoor activities, that's Ludington for you. It is home to Ludington School forest and Ludington State Park, where you'll find miles of paddling, biking trails, and hiking trails. The diversity of its landscape means you could be walking past muted sand dunes one minute and then find a woodland bursting with autumnal colors the next.
Visiting Ludington means slowing down and tuning out the noise of the big city. Instead, immerse yourself in local pastimes such as visiting orchards, hayrides, and cozying up by the campfire. You can also do your own Michigan fall color tour and choose any of the routes that will take you to Lake Winds Energy Park, Buttersville Peninsula, and the Historic White Pine Village.
17. OCQUEOC FALLS
In the Ocqueoc Township lies a hidden gem that many outdoor enthusiasts will surely love, the Ocqueoc Falls. Not only is it the biggest waterfall in the lower peninsula but it is also one of the best places to view Michigan's fall colors. Surrounding the area are towering hardwoods that are a sea of green during spring and summer, but turn into a spread of deep reds and vibrant yellows during autumn. It's' the perfect fall escape before winter turns everything a frosty white.
For a scenic route to the location, we suggest taking the Ocqueoc Falls Bicentennial Pathway. There are four loops to choose from, ranging from 3 to 6 miles on a bike or hike. Whichever you choose, Ocqueoc Falls is a slice of this autumn paradise you'll not want to miss.
SOUTHERN LOWER PENINSULA
Michigan's southern lower peninsula may be more quaint, but it prides itself in autumn scenery like no other. Its vintage charm is undeniable, especially if you stray from the beaten path and explore more of what it has to offer. If you want to break away from crowds and tourist traps, check out our list of the best spots to see Michigan's fall colors.
18. ANN ARBOR
If you've ever wondered what Hogwarts must be like in the fall, the University of Michigan comes close to how picturesque you might imagine it to be. The campus is carpeted in multicolored leaves in autumn, each one crunching beneath your feet as you stroll along its paths. If you want to see more of the famed Michigan fall colors here, make sure you stop by the Nichols Arboretum, Matthaei Botanical Gardens, and the Law Quad. Each one promises a magical fall experience.
Aside from a visit to U-M, fall attractions are aplenty in Ann Arbor too. Cider mills and apple orchards are ready to greet guests with their seasonal treats of donuts, apple bread, and warm cider while you view the peak fall scenery at Lake Huron. Boredom won't even be a fleeting thought even in a small city such as Ann Arbor.
19. FRANKENMUTH
Known as Michigan's Little Bavaria, Frankenmuth boasts of vibrant September colors and activities specifically catered for couples. The city's Bavarian-style architecture, which was seemingly taken from the pages of a storybook, makes for a dreamy sight against the city's autumnal palette.
Start with a romantic cruise through the Cass River that will allow you to soak in all the sunset hues of Michigan's fall colors. And at land, let the horse-drawn carriages guide you through popular local landmarks such as the Glockenspiel Tower of the Bavarian Inn Restaurant. Of course, Little Bavaria wouldn't be true to its name if it didn't host the best Oktoberfest in the state. In fact, it is the only one outside of Munich to be officially recognized by the German Parliament!
20. LANSING
For a taste of Europe in autumn without traveling all the way there, head over to the Michigan State University in Lansing. During this time of year, the trees surrounding the campus take on all the hues of fall; from brilliant golds to deep reds. A visit here will certainly make for a memorable autumn in Michigan. You can even picnic under the tree canopies and spend a romantic "Parisian" afternoon with your loved one.
Follow this up with a visit to The Grand River and Lansing River Trail, where you can take in the fall scenery from both the Grand and Red Cedar Rivers. Cap off your visit with some wine and a delicious meal aboard the Michigan Princess Riverboat where a sunset cruise will definitely make a memorable finale to your trip.
21. SAUGATUCK
Locals say Saugatuck is heaven on earth. With its idyllic country roads and hometown feel, this certainly rings true. Live like a local and visit Crane Orchards, where you'll be treated to stunning autumnal vistas and homemade treats. As the sun sets, have a glass or two of local wine at the Fenn Valley Vineyards or stroll through the relaxing trails at Virtue Cider. For the adventurous folks, Mt. Baldhead awaits. From this scenic overlook, you'll get an uninterrupted view of the Michigan fall foliage that embraces the expanse of the Kalamazoo River.
22. HOLLAND STATE PARK
Fall tours in Michigan will not be complete without a visit to Holland State Park. Set against a background of yellows, oranges, and reds– it is akin to viewing a real-life impressionist masterpiece. To get the best view of its stunning vistas, climb up Mt. Pisgah, a towering dune located 157 feet above Lake Michigan. It is the perfect viewpoint for the Big Red Lighthouse, which is quite the sight to behold in autumn.
The state park also has available campgrounds and hiking trails for people who want to spend more time in the area. Since Holland State Park is equipped with wheelchair-accessible walkways, everyone can enjoy their visit here.
23. PORT AUSTIN
Port Austin may be one of the smaller towns on our list, but it certainly delivers some of the best Northern Michigan fall colors. The town also has expansive beaches, water trails, sea caves, and paddling destinations, equally vantage points to immerse in nature's seasonal beauty. For easy trails that will bring you closer to the fall scenery, head over to Bird Creek Park and Port Crescent State Park.
End an adventurous day by heading over to Veteran's Waterfront Park, where you can see scenic walkways. It is the best vantage point for watching the sunrise or sunset over Lake Huron, which easily competes with the fall colors in Michigan in terms of beauty.
WHERE ARE THE BEST FALL COLORS IN MICHIGAN RIGHT NOW?
This depends on where you're headed. Leaves begin to change colors from the last week of September all through the first two weeks of October in the Upper Peninsula. This is when Michigan leaves are at their most vibrant but do expect the wave of crowds during this period.
As the foliage changes in the Upper Peninsula, so do some places in the northern Lower Peninsula. You can expect early Leelanau County and the fall colors in Traverse City to start showing as well. In the Midlands, including Frankenmuth, color changes are predicted to start around the second and third week of October.
Do note that this fall color report in Michigan is just an estimate and not completely accurate. It is best practice to plan your visit ahead of when the predicted peak Michigan fall colors might begin to get the most from your trip. As a precaution, we also suggest checking an online Michigan fall color calendar or contacting local Visitor Centers and keeping tabs on weather conditions in the places you want to visit.
PLAN YOUR TRIP RIGHT AND EXPERIENCE THE MAGIC OF PEAK MICHIGAN FALL COLORS
The allure of Michigan fall colors never fails to entrance visitors from far and wide. From homey small villages to stunning state parks, and views of the Great Lakes, there are plenty of things to see and do. We hope you can make the most of your trip with our guide!

For more fall destinations, here are some of the best places to visit in October in the USA.