14 Best Waterfalls In The US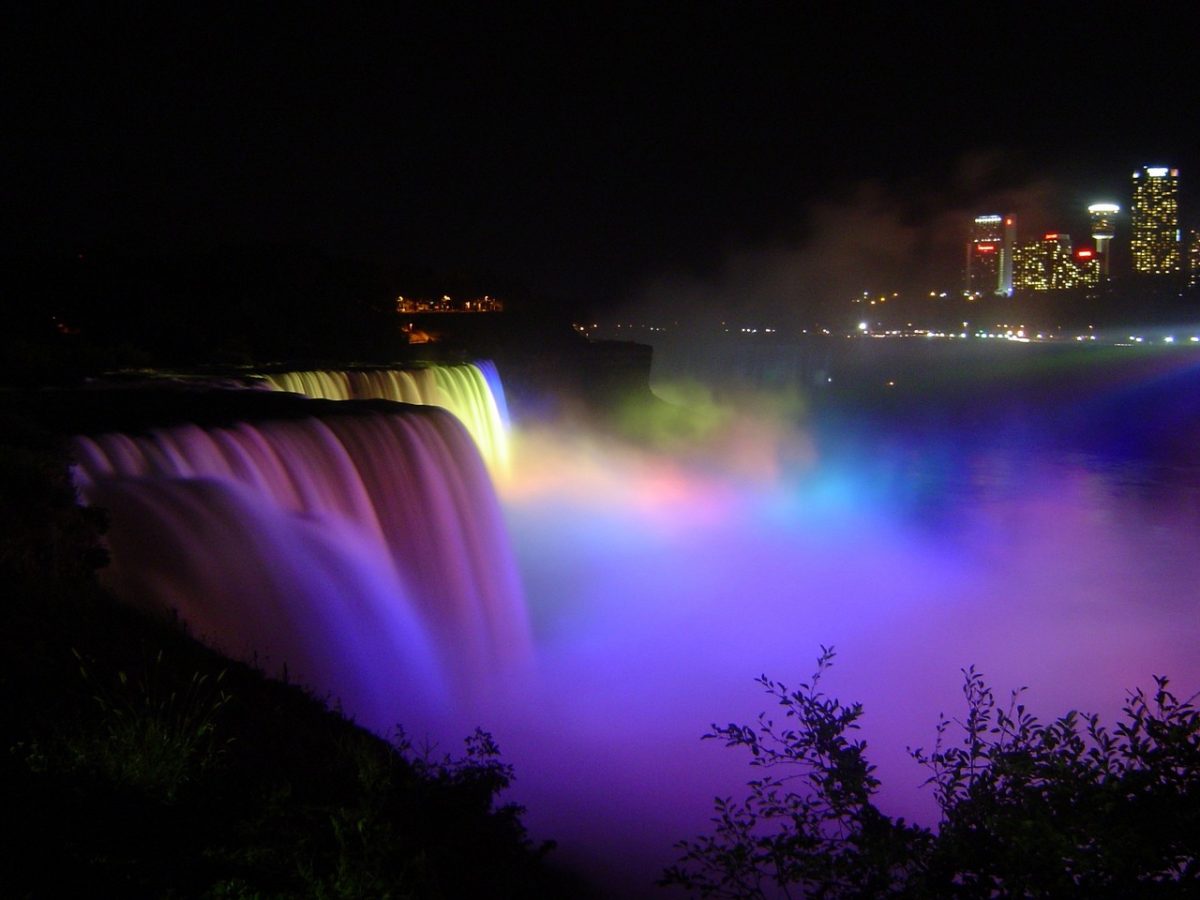 There is something to be said about huge volumes of water falling from a height that is very sensational to all of us. It is truly an amazing experience wherever you see it.
The US has hundreds of waterfalls. Some named, others not. Because of some, many places have been turned into national parks for a full out-in-nature experience.
Among these waterfalls are the ones that attract the most visitors and tourists. At the end of this article we'll give you a few tips we have found to be useful for every location.
Havasu Falls has been shaped by nature and it is a stunning view from every direction. It is even better up-close! Feel free to strip down to your swimsuit and take a dip. You can even enter the small rock shelter behind Havasu Falls if you feel like exploring all that it has to offer.
Access to Havasu Falls is done mostly through hiking and backpacking on the trails that have been created in the surrounding area. So don't fail to enjoy every step it will take to get to these falls.
Located around the Havasupai Indian Reservation, Havasu Falls has the best view you'll get among all the others in the area. This reservation, which encourages hiking (whether you like it or not) was set up and is now occupied to provide visitors and tourists with the basics they need.
2.
Niagara Falls, New York
The Niagara Falls, one of the most famous waterfalls in the world lies on the international border between the US and Canada. So, to truly enjoy the full range of the experience this falls has to give, take your passport with you.

The Niagara Falls, located in the Niagara River, drains Lake Erie into Lake Ontario. It is also a valuable source of hydroelectricity. It's a combination of three waterfalls: the American Falls, Horseshoe Falls, and the Bridalveil Falls.

On the American side of the waterfall has the American Falls and the aforementioned Bridalveil Falls. Which feature the Cave of The Wind and the Maid of The Mist. It's a truly unique experience that you definitely want to check out while you're there.

The Horseshoe Falls lie directly on the border between the US and Canada. The Canadian side is actually said to have a more striking view of the Niagara Falls. We'll leave it up to you to decide which one you prefer more!

Floodlights are dotted all around the Niagara Falls, illuminating the area after dusk until midnight, giving you an even more extraordinary view.
3.
Multnomah Falls, Oregon
Multnomah Falls is one of the most stunning and famous waterfalls in North America. It has a gorgeous surrounding landscape, described by many as being magnificent and memorable.
According to Native American lore, it is said that this waterfall was created to win the heart of a young princess who desired a hidden bath place. Who said romance was dead?
What makes Multnomah Falls special is that it doesn't dry up in the summer as it is continually fed by rainfall, snowmelt, and underground springs in the Larch mountains. This 620-foot waterfall is open all through the year, meaning you can enjoy Multnomah Falls regardless of the season.
It is also spanned by a very attractive bridge that adds to the beauty of the waterfall. This also allows for a closer look at the Multnomah Falls. That is, of course, among the many other trails that are there to offer different perspectives of this amazing waterfall.
4.
Bridalveil Falls, California
Bridalveil Falls originate from Lake Ostrander, and boast one of the most remarkable views that you will see in Yosemite National Park. All year round, it gives different dazzling views for each season. Our favourite would have to be its vibrant yellow glow in the winter months.
Bridalveil Falls are the first thing you see when you when entering the Yosemite Valley. Bridalveil Falls is often wind spent, which means that because of the wind force, the falling water is often moved from its base. This creates a stunning visual effect. We say get your cameras ready!
It's the most consistent of all the waterfalls in Yosemite National Park. Falling from a height of 620 feet, Bridalveil Falls flow all year long. The Native Americans call it Po-ho-no.
5.
Tahquamenon Falls, Michigan
Tahquamenon Falls is wider than it is tall. While it stands at an impressive 50 feet tall, it is a magnificent 200 feet wide. Tahquamenon Falls are truly a sight for sore eyes. It is Michigan's most famous and powerful waterfall.
Spanning 48,000 acres in land area, Tahquamenon Falls is also known for being Michigan's largest waterfall. The trails around Tahquamenon Falls allow you to walk almost right up to the base of the falls.
Another feature of Tahquamenon Falls worth mentioning, is its colour. While it is predominantly brown other than its white, frothy foam base. The river that leads to Tahquamenon Falls passes through a cedar swamp, which drain it of its natural tannins.
This is what gives Tahquamenon Falls it's brown colour. Adorably enough, this has also given the Tahquamenon Falls the nickname "Root Beer Falls" among the locals.
You will be pleased to learn that Tahquamenon Falls also flows all year round and that Michigan's Tahquamenon Falls State Park is open all 365 days! Tahquamenon Falls is extra spectacular during the winter months.
6.
Silver Falls State Park, Oregon
The Silver Falls State Park are one of the few places that have been nationally declared as being spectacular. So you can guess that Silver Falls State Park is definitely worth paying a visit to. Within Silver Falls State Park, there are 10 named waterfalls that are known for their own unique beauty.
Keep your eyes peeled for everything from Winter Falls to Drake falls, all of which are located within Silver Falls State Park. If we had to pick, we'd say that South Falls would be our favourite.
South Falls of the Silver Falls State Park also happens to be the most famous among the ten, therefore it receives the most visitors. However, at 177 feet it is not the tallest, and that title goes to Double Falls. We recommend you take the time to explore Silver Falls State Park, don't rush your trip!
Located in Kauai, this 85-foot fall is a symbol of Hawaii's lush beauty. Wailua Falls is a double-tiered waterfall that sets a high bar for all other multi-tiered waterfalls.
Wailua Falls drop into an impressive 30-foot deep pool. Depending on the amount of rainfall from the various seasons, you can expect a very different view of Wailua Falls. It is even known to have a three-tiered flow during periods of high rainfall. However, we have to say that we found it to be more beautiful during moderate flow periods.
Wailua Falls is easily accessible. The parking lot overlooks the fall so there is no need for hiking, which is great if you're planning visit Wailua Falls with smaller children. You can also expect to see a spectacular rainbow when the sun hits the mist at the right angle.
8.
Palouse Falls, Washington
Palouse Falls is actually a combination of two waterfalls, the upper falls and the lower falls. The upper falls of Palouse Falls are 20 feet tall, and the focus and main attraction of the waterfall is the lower falls which are an impressive 198 feet tall.
Due to its spectacular beauty, Palouse Falls was appointed Washington's state's state waterfall on the 18th of March, 2014. What makes Palouse Falls particularly striking is the fact that it is surrounded by a basalt canyon.
Palouse Falls is also extremely easily accessible as the parking lot is very close. It does, however, require a little hiking to get a view of the falls. You can also take an 8-mile hike along the Palouse River Canyon although it has been said not to be for the faint-hearted.
9.
Yosemite Falls, California
Yosemite Falls, California is the 6th among the world's highest waterfalls and definitely deserves a spot on our list of the best waterfalls in the US. We can definitely see why as Yosemite Falls stands proud at a staggering 2425 feet!
Yosemite Falls is comprised of three parts, the upper falls which is 1,430 feet, the middle cascades at 675 feet and the lower falls at the 320 feet.
It is definitely a beauty, especially so in the autumn and spring months with a myriad of lively colours.
The melting snow of the spring fills the streams making it the best month to view Yosemite Falls. Sadly, it doesn't flow as fully the whole year since only the wettest areas flow during late summers or fall.
The Yosemite falls also features both a rainbow and a moonbow. The rainbow becoming visible when the sun hits the mist of the falls right. The moonbow, is exactly what you think it is, a rainbow but with the moon instead of the sun!
You should be so lucky to catch the moonbow which usually occurs towards the end of the month and during very specific hours of the night.
You also have a great view from the Glacier Point from Yosemite Falls. This is a point overlooking a glacier-carved valley and it gives an impressive view of the falls.
10.
Lower Falls (Of The Yellowstone River), Wyoming
With a 308-foot drop, Lower Falls is located at the Grand Canyon of the Yellowstone River, atop which the Yellowstone National Park. You can expect to take in some pretty remarkable views when you visit Lower Falls!
Lower Falls of the Yellowstone River is one waterfall that definitely provides a source of inspiration. It provides a number of different perspectives which hold a unique beauty.
Of these different perspectives, you can view Lower Falls from Uncle Tom's trail, the brink of the lower falls, red rock point, lookout point, just to name a few! It's also a consistent waterfall, giving you a dazzling selection of colours for each season. It roars through the park at all times.
11.
Cumberland Falls, Kentucky
Cumberland Falls of Kentucky is so beautiful and iconic that it earned itself some impressive nicknames. For example, The Great Falls, Little Niagara, the Niagara of the South! As you can see, Cumberland Falls has won a special place in the hearts' of many.
Cumberland Falls' wide canyon and very steep walls reduce the dissipation of the fall's mist. This helps create the waterfall's main attraction, the Moonbow.
The Moonbow formed through this amazing flow is so spectacular that most of Cumberland Falls' visitors come just to see it! Cumberland Falls also happen to be the main feature of the Cumberland Falls State Resort Park, also known as Hiker's paradise. This is due to the 17 miles of trail that winds around it through an amazing landscape.
12.
Bushkill Falls, Pennsylvania
Bushkill Falls, also known as the Niagara of Pennsylvania, is the state's most famous attraction. So you can understand why it is on our list of the best waterfalls in the US.
Although Bushkill Falls is privately owned, you'll be glad to hear that it is open to the public. Bushkill Falls is in fact a series of 8 waterfalls that reside deep in the Pocono Mountains. Among these 8 waterfalls are Bridesmaid Falls, Laurel Glen Falls and Pennel Falls.
Connecting most of the waterfalls within Bushkill Falls is a network of bridges and hiking trails. This, of course, makes it popular for hikers of all kinds. Bushkill Falls has also been known to attract birdwatchers as there's a great selection of the colourful creatures. The birds, the greenery, the scenic routes all offer an amazing experience for visitors.
13.
Lower Calf Creek Falls, Utah
Lower Calf Creek Falls run off a river located at the Grand Staircase Escalante National Monument. It has a 130-foot drop and a lot of beauty to go around. It's covered in greenery all round essentially making it paradise!
Lower Calf Creek Falls also has a swimming hole below it, offering a chance to get under its showers and cool off. An experience that will definitely put you in touch with nature. Lower Calf Creek Falls is easily accessible as it can be hiked to in almost no time at all.
It's shaded on all sides by its mineral stained sandstone walls, providing a cool environment even in very hot weather. There's also the Upper Calf Creek Falls if you prefer somewhere quieter. It has an 88 feet drop that feeds the swimming hole beneath it.
14.
DeSoto Falls, Alabama
DeSoto Falls in Alabama were named after Spanish explorer, Hernando de Soto. DeSoto Falls is the state's highest fall and the most famous of the DeSoto State Park.
You can find DeSoto falls a short 6 miles from the park, with routes that feature a lot of natural beauty. You can get there by following the paved pathway and the staircase leading from the parking lot down to an overlook that has been railed to provide a safe view of the canyon.
What awaits you is a breathtaking view of the falling water that is DeSoto Falls. Take note that DeSoto Falls has three parts which were respectively named the Lower DeSoto Falls, the Middle DeSoto Falls, and the Upper DeSoto Falls.
The Lower Falls gush down a drop of 20 feet and the Middle Falls, an 80-foot drop. The Upper Falls height is not counted as it cascades down an incline of granite rock that is up to 200 feet!
The flow of DeSoto Falls depends heavily on rainfall, so it is higher in the winter and early spring, and lower in the summer and early fall. However, one cannot dispute the fact that DeSoto Falls remains a stunning scene all year long.
Our Tips For Visiting The Best Waterfalls In The US
Pack a jacket! If you are going to be seeing the night views, most of which are spectacular, then you have to prepare for the cold; even in the hottest spots.
Register for tours! This will aid the problem of looking for directions, transportation, and anything elsew that might crop up.
Heed safety warnings! Most warnings were put after an accident had happened. So pay attention and be careful.