15 Hawaii Honeymoon Resorts For The Most Romantic Couple Getaway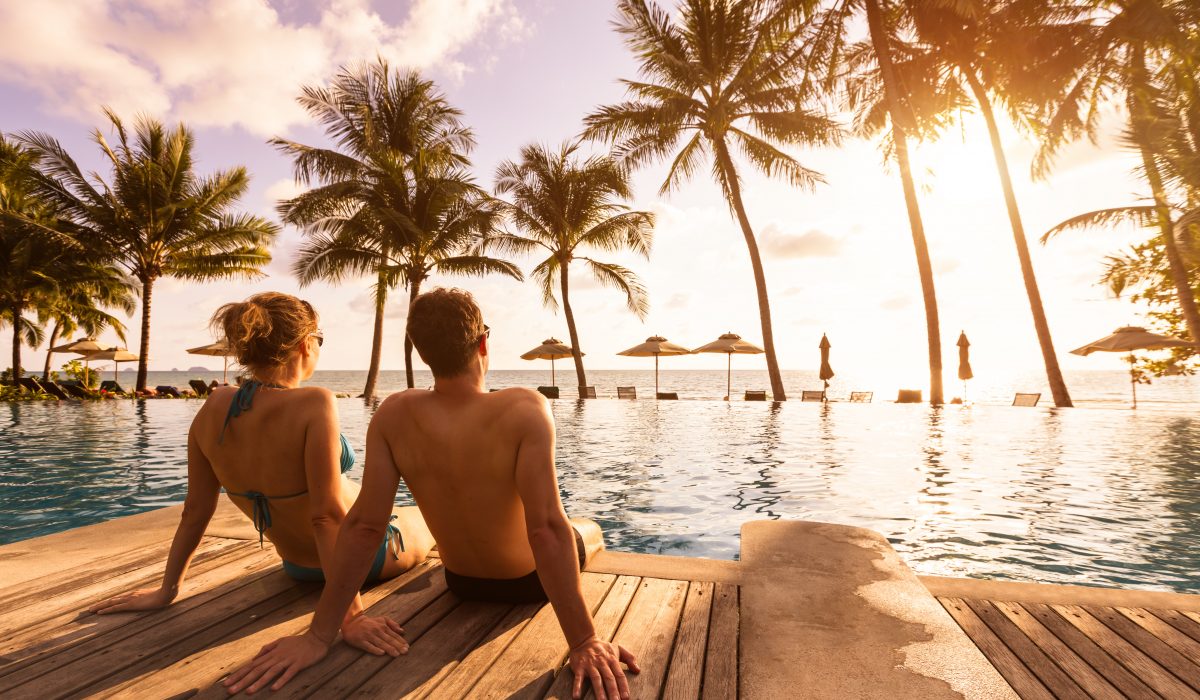 A Hawaii honeymoon is probably the most desired once-in-a-lifetime experience next to an unforgettable wedding. With Hawaii's scenic views, white sand beaches, and romantic sunsets, it's no surprise that this island paradise became a dream destination to mark a union. Even for couples who have been married for a long time, it's a great vacation destination to reignite the romance once again. The noteworthy resorts in the area offer the utmost relaxation and luxury fit for a romantic getaway. This guide lists down the best resorts in Aloha State for an all-out adventure, or to simply relax with your spouse.
(Take note that prices per night depend on the season and are subject to change without prior notice.)
1. Koa Kea Hotel and Resort
Address: 2251 Poipu Road, Poipu, Koloa, HI 96756, United States of America
Price: Starts at US$495 per night
Situated right along the beautiful Poipu Beach, Koa Kea Hotel and Resort is the perfect place to enjoy the fresh air and romantic views. When it comes to providing premier accommodation, Koa Kea is first in line taking pride in its lavish tropical-themed rooms and suites complete with marble showers. Have a superbly relaxing honeymoon at the resort's spa with massages and body treatments using local ingredients. You can also partake in different activities together, from learning yoga to taking hula lessons.
Planning a romantic dinner date on your first night at the resort? Have a wholesome meal of fresh locally-sourced seafood and enjoy a sophisticated dining atmosphere at Koa Kea's award-winning Red Salt Restaurant. Requesting a table by the window where you can see the beautiful palm trees lined up in front of the beautiful ocean view just makes the night even more romantic.
2. Four Seasons Resort Maui at Wailea
Address: 3900 Wailea Alanui Drive, Wailea, HI 96753, United States of America
Price: Starts at US$795 per night
Four Seasons Resort Maui at Wailea is one of the best Hawaii resorts for couples' post-wedding plans. From the exclusive club amenities to its first-rate site services, you'll be impressed by the resort's overall feel. If you and your partner love taking a stroll by the sea, the nearby Wailea Beach will surely take your breath away. The beachfront resort boasts three swimming pools with one infinity pool that can only be accessed by adults. Here, couples can relax and enjoy a private area arranged just for them. For one, you can reserve the Serenity Pool for an intimate dinner or swimming party. Otherwise, rent out a secluded cabana for even more privacy.
Four Seasons Maui is especially proud of its spacious contemporary-style suites and luxurious amenities. Aside from its five on-site restaurants, you and your partner can even dine in the pool. Take your honeymoon in Hawaii to the next level with the world-class resort's exclusive private jet travel program. This lavish air travel experience can take you to Wailea with a seamless check-in service right from the plane to your own suite. You'll travel in style with your personalized schedule, private jet, and efficient plane-to-car service.
3. The Kahala Hotel and Resort
Address: 5000 Kahala Avenue, Honolulu, HI 96816, United States of America
Price: Starts at US$535 per night
One of the best resorts in Honolulu, The Kahala Hotel and Resort will definitely give you first-rate accommodations and services. Their rooms bring utmost comfort, with custom-embroidered pillowcases and deep soaking bathtubs. Take a dip by the pool or try out kayaking and snorkeling together. To make your Hawaii honeymoon extra special, head to their natural lagoon and interact with playful dolphins. Then, relax together and indulge in their amazing spa and sauna treatments. The five on-site restaurants provide a wide array of cuisines, from fancy French and Italian to hearty seaside grill.
While in the area, make the most out of your stay by trying out the most fun things in Honolulu such as snorkeling and scuba diving. Also, make sure to visit attractions such as the Diamond Head and Pearl Harbor Museum. Then, try authentic local dishes at different Honolulu restaurants and dining spots. Of course, the nearby Kahala Beach is a must-visit location due to its clear and tranquil waters.
4. Hana-Maui Resort by Hyatt Residence
Address: 5031 Hana Hwy, Hana, HI 96713, United States of America
Price: Starts at US$555 per night
Formerly known as Travaasa Hana, Hana-Maui Resort by Hyatt Residence is a long journey along the Hana Highway. But once you arrive, you will be welcomed by pristine ocean scenery and a luxury resort with 75 bright and breezy suites, surrounded by lush greenery. At night, couples can enjoy a sip of one of the specialty cocktails from the Hana Maui Restaurant, in their very own private lanai.
Spending downtime with your partner here will be worthwhile with the resort's first-rate facilities, like an outdoor pool and on-site bar. The spa has nine treatment rooms that provide you with luxurious traditional Hawaiian massages and facials. You might be tempted to lounge in all day, but don't miss out on other amazing things to do in Maui! Go swimming under waterfalls or try your hand at shucking an exotic pearl from an oyster for your beloved.
5. The Westin Princeville Ocean Resort Villas
Address: 3838 Wyllie Road, Princeville, HI 96722, United States of America
Price: Starts at US$338 per night
The Westin Princeville Ocean Resort Villas is among the best Kauai resorts for the ultimate Hawaii honeymoon. This family-friendly resort is perched on a cliff where guests can take in panoramic views of beautiful mountains and waterfalls in the Kauai Island and the North Shore. Princeville Kauai offers unmatchable luxury in its elegant tropical-themed rooms and spacious villas.
Start your day as a couple with a hearty island-inspired meal at the on-site restaurant. Next, take a dip in one or all of the three swimming pools and drink cocktails at the bar. When evening arrives, have a romantic time strolling hand in hand at the 1,000 acre garden in the resort. Thrill-seekers may opt to go horseback riding or golfing together. Highlighting its serene ambiance, the Princeville Resort Kauai offers the most relaxing poolside massages.
6. Turtle Bay Resort Hawaii
Address: 57-091 Kamehameha Highway, Kahuku, Oahu, HI 96731, United States of America
Price: Starts at US$655 per night
Immerse in the awe-inspiring beauty of the Aloha State at Turtle Bay Resort Hawaii. Located on the North Shore of Oahu, this property features splendid ocean views and lavish amenities. The blue bay in Oahu serves as the home and sanctuary of sea turtles—thus, its name. If you and your spouse are avid animal lovers, you'll enjoy this location where you can surf with a dog or have close shark encounters. You can also visit various snorkeling spots in Oahu and swim with different sea creatures.
Turtle Bay Resort Hawaii provides exceptionally cozy accommodations where newlyweds can rest together, as well. Choose from ocean-view suites to relaxing rooms equipped with aromatherapy in showers. With many on-site restaurants, swimming pools, and wellness services, your honeymoon vacation will surely be filled with fun and wonder.
7. Royal Sonesta Kauai Resort Lihue
Address: 3610 Rice Street, Lihue, HI 96766, United States of America
Price: Starts at US$365 per night
Treat yourself and your spouse to a vacation of a lifetime at Royal Sonesta Kauai Resort Lihue. Their rooms are sleek and modern, with a touch of tropical. Food connoisseurs will particularly love this place for its dining experience. Enjoy oceanside dining at beach restaurants, or go for international dining at its sushi bar or Italian restaurant. Notably, Royal Sonesta Kauai takes pride in housing the biggest one-level pool in all of Hawaii. You can't miss out on the spa, salon, and fitness amenities of the property. Don't just spend all the time in the resort though! There are many interesting things to do in Kauai that you must experience firsthand.
Planning a destination wedding? Book Royal Sonesta Kauai's wedding services and pristine location for an oceanside wedding. They also have various event spaces that you can turn into a banquet room for a reception. You can truly save time and money by having an all-in-one wedding and beach honeymoon location here.
8. The Royal Hawaiian, A Luxury Collection Resort
Address: 2259 Kalakaua Avenue, Waikiki, Honolulu, HI 96815, United States of America
Price: Starts at US$375 per night
The perfect Hawaii honeymoon won't be complete without a luxurious resort to stay in. The Royal Hawaiian in Waikiki delivers on the fronts of aesthetics with its variety of gorgeous rooms. Go old-school romantic and pick a Victorian-style room, or stay in modern comfort in their vibrant chic suites. As a honeymoon hotspot, Waikiki beach can be a great location for your wedding. Conveniently, The Royal Hawaiian has venue spots and event planning services—promising the ultimate Hawaii wedding you've always wanted.
Newlyweds can book a couple's massages in the spa facilities. Get your tan either in one of the sun loungers beside the two swimming pools or lay on the beach. Couples interested in cultural immersion will enjoy their traditional Luau or Hawaiian celebration held every Monday and Thursday. Here, you and your partner can enjoy live entertainment while having a hearty Hawaiian feast.
9. Koloa Landing Resort at Poipu, Autograph Collection
Address: 2641 Poipu Road, Poipu, Koloa, HI 96756, United States of America
Price: Starts at US$535 per night
The Koloa Landing Resort at Poipu will surely serve as an oasis of fun and adventure. Located at Poipu Beach, you'll love the ocean views and fresh sea breeze in this spot. There are three swimming pools on the property that feature cascading waterfalls and come in unique pool layouts. Landscaped with gorgeous torches and plants, Koloa Landing Resort certainly feels like a tropical paradise fit for a dreamy honeymoon getaway. The property's cozy suites and villas are perfect for intimate moments, as well.
Not fond of planning travel itineraries? No problem. The Koloa Landing Concierge and Activity Hut can assist you in planning an itinerary for your whole stay ensuring a hassle-free experience. You may take part in various ocean activities or even book a helicopter ride. For a more restful trip, indulge in top-notch spa services and body treatments.
10. Andaz Maui at Wailea Resort: A Concept by Hyatt
Address: 3550 Wailea Alanui Drive, Wailea, HI 96753, United States of America
Price: Starts at US$695 per night
Andaz Maui at Wailea Resort offers refined luxury and quality accommodation fit for a fairytale Hawaii honeymoon. This lavish place is perfect for couples who wish to live out their tropical island dreams. Andaz Maui at Wailea has a 15-acre property interspersed with palm trees and beach scenery, from which each spacious modern suite overlooks. There are also four infinity pools where newlyweds can take a dip or take adorable honeymoon pictures.
If you and your partner are fond of golf, you may play at Wailea Golf Course that boasts first-rate amenities along with majestic sea views as a bonus. Couples can certainly satiate their food cravings with the on-site restaurants that serve fresh meals daily. If you're looking to explore the island, get a different perspective by going on a helicopter tour or traversing on a horseback ride.
11. Grand Hyatt Kauai Resort and Spa
Address: 1571 Poipu Road, Poipu, Koloa, HI 96756, United States of America
Price: Starts at US$795 per night
Spectacularly landscaped among botanical gardens and scenic mountain views, Grand Hyatt Kauai Resort and Spa will give you the honeymoon experience of a lifetime. All suites fuse comfort and quality together with great space and relaxing ambiance. Couples won't run out of things to do with the championship golf course, spa facilities, and top-notch restaurants in the area. There are also multi-level pools, a lazy river, and a saltwater lagoon. Even the pristine beach park views are enough to captivate guests' attention and hearts.
Grand Hyatt Kauai hosts special celebrations such as birthdays and weddings. As such, this luxury spot can be a two-in-one location for your wedding and honeymoon plans. You may opt for a beachfront venue or a garden space that equally exudes a majestic vibe. Without a doubt, you and your partner will have a romantic and enjoyable stay here.
12. Four Seasons Resort Lanai
Address: One Manele Bay Road, P.O. Box 631380, Lanai City, HI 96763, United States of America
Price: Starts at US$1192 per night
Four Seasons Resort Lanai is the perfect location for couples who wish to have some downtime in a secluded and quiet area. A panoramic view of the Pacific Ocean and the relaxing sounds of the waves set a tranquil hideaway. Swimming or lounging by the outdoor pools will be a great way to relax both mind and body. Tennis courts and golf courses are available for sporty couples who want to break a sweat. After a long day in the sun, couples can book a massage at the resort spa for the ultimate relaxation.
Aside from the amenities, Four Seasons Resort Lanai's suites are also noteworthy. Featuring beach and tropical views, the rooms are furnished in dark wood and have a soothing warm interior. This five-diamond property is also replete with lush gardens and gorgeous lagoon pools. With these and more, the Lanai Hawaii experience will surely be one for the books.
13. Royal Lahaina Resort
Address: 2780 KeKaa Drive, Lahaina, HI 96761, United States of America
Price: Starts at US$295 per night
At Royal Lahaina Resort, the possibilities for pleasure and relaxation are endless. A dreamy Hawaii honeymoon location, this property exudes a calming ambiance and flaunts gorgeous beach views. Newlyweds will enjoy the cool sea breeze and swaying palm trees in the area, as well. It has three swimming pools and a hot tub that couples and other guests can enjoy. If you and your partner aim to kickstart your fitness journey during vacation, there's a gym for your workout needs.
Each suite at this oceanfront accommodation features air-conditioning, flat-screen TV, and a Hawaii-inspired interior—offering both comfort and visual appeal. Couples can dine together at the full-service restaurant after taking lessons on making lei (a traditional Hawaiian garland or wreath). For the complete Hawaiian experience, enjoy boisterous live music and traditional dance performances at the resort's luau party by the ocean.
14. Montage Kapalua Bay
Address: One Bay Drive, Kapalua, HI 96761, United States of America
Price: Starts at US$770 per night
Make your honeymoon dreams come true at Montage Kapalua Bay. Delight in Hawaii beach views and rest in beautiful light and airy rooms. Montage Maui provides a wide variety of activities that you and your partner can enjoy. You can learn new things together with the resort's art and culture, hula dancing, and ukulele lessons. In for some adventure? Set out on a hiking trip, zipline over tall trees, or snorkel in the ocean. A helicopter ride over Hawaii will certainly make your honeymoon even more memorable and fun.
The spa and wellness center will rejuvenate your body and revitalize your mind. The dining scene in Montage Kapalua Bay is second to none. Couples can have a romantic dinner date in their rooms as a private chef prepares their dishes, or taste some of the best food at the various fine dining spots in the resort. From recreational activities to a Hawaii honeymoon-worthy location, Montage Kapalua Bay truly has it all.
15. Hotel Wailea
Address: 555 Kaukahi Street, Wailea, Maui, HI 96753, United States of America
Price: Starts at US$890 per night
A memorable and authentic Hawaii honeymoon experience awaits you at Hotel Wailea. Deemed one of the most romantic resorts in the world, starry-eyed newlyweds can enjoy a landscape consisting of cascading waterfalls, abundant greenery, and a panoramic sea view. As an adults-only resort perched on top of a cliff, Hotel Wailea offers privacy and quiet away from the city. The roomy suites all come with a deep soaking tub, providing comfort and luxury that couples will enjoy.
Hotel Wailea caters to different travel personalities, promising couples the best vacation tailor-fit to their preferences. For wellness enthusiasts, Hotel Wailea offers aerial silk and yoga sessions. Looking to relax? Enjoy massages together, sail through the sunset, or enjoy cocktails in a cabana. If adventure is your cup of tea, learn to surf, go canoeing, or take a spin on a vintage sports car. Foodie couples will certainly love the tropical mixology 101 classes offered here. Surprise your partner with a romantic dinner date and enjoy a 7-course meal in a dreamy treehouse ambiance.
A Hawaii Honeymoon to Remember and Cherish
From romantic views to lavish amenities, the best Hawaii resorts promise an island honeymoon experience to remember. As you try out new things and spend time in the Aloha State, you'll also get to bond and feel closer to your partner than ever. The romantic setting of the island and the luxurious amenities of the resorts will help you make honeymoon memories that will last through the years.