25 Fun Things to Do in Santa Cruz, California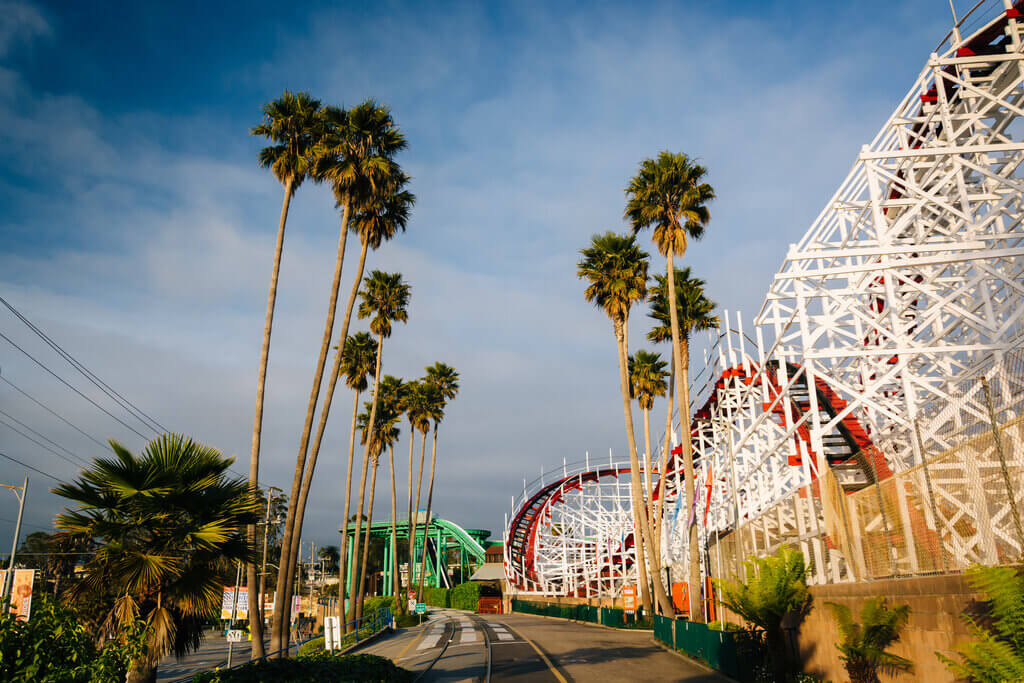 Thinking of taking a break from all of Hollywood's high life? Well, one of the small cities in California awaits you for your desired downtime. Surely it won't disappoint your traveler's heart. Santa Cruz is home to sandy California beaches and high waves that are perfect for a surfing getaway. If you are looking for a relaxing nature hike, then it is time to explore the magical trees at the redwood forests.
Are you curious to see what this calm city has to offer? Here's a list of fun things to do in Santa Cruz, California!
Best Things to do in Santa Cruz, CA
1. Go Surfing
Santa Cruz has been called the "Surf City" a few times now. So if you're looking for a ride with the waves, you can swing by these best Santa Cruz surfing spots:
Cowell beach

(109 Beach St, Santa Cruz): The perfect place for beginners because of its long and gentle waves.

Pleasure Point (East Cliff Drive & 36th Ave Santa Cruz): With a diverse range of waves in the area, it is a great place for both newbies and experts to surf, especially on less crowded days.
Capitola Jetty

(San Jose Ave & Esplanade Capitola): Another place for beginner to advanced surfers but make sure to be extra careful since the waters are filled with kelp which might entangle around your legs.

Steamer Lane

(West Cliff, Santa Cruz): You have to be an expert surfer to go through the waves of this beach. It has the most dangerous and rough waves in the city.
2. Frolic at the Santa Cruz Beach Boardwalk
Where: 400 Beach Street, Santa Cruz, CA 95060
Website: https://beachboardwalk.com/
The Santa Cruz beach boardwalk is known for not only its sunset-kissed beach but also its fun theme park. There are a variety of rides and games that you should try out. Bring out your inner child by riding on the famed wooden roller coaster, the Giant Dipper Roller Coaster, and the colorful Looff Carousel. Have a good game of laser tag and air hockey with your friends and family at the Casino Arcade. The boardwalk would not be complete without its carnival-inspired food like the tater twists and corndog. Make sure to grab and take a bit of the deep-fried artichokes at Surf City Grill, and finish off with soft-serve ice cream, chocolate-covered bacon, sweet crepes, or boba tea for dessert. When the night falls, the whimsical pastel colors and bright twinkling lights will help enhance your photo to make it social media-worthy.
3. Feel Small at Big Basin Redwoods State Park
Where: 21600 Big Basin Way, Boulder Creek, CA 95006, United States
The Big Basin Redwoods State Park is the oldest state park in California, and filled with even older gigantic trees over thousands of years old. The Sequoioideae, or simply known as the redwood trees, are the tallest trees in the world. They can only be seen in California and Oregon. And the Big Basin Redwoods State Park in Santa Cruz is the perfect place to look at these majestic ancient trees up close. With over 18,000 acres of redwood trees spanning the park and 80 miles of trails, the park is ideal for hikers of all expertise to explore the space at their own pace. One of the best trails is the 10.5 mile Berry Creek Loop with stunning waterfall views like the Berry Creek Falls.
4. View the Sunset at Natural Bridges State Beach
Where: 1543 Pacific Ave., Suite 206, Santa Cruz CA 95060
If Santa Cruz is the home of sandy beaches and clear blue waters, it is also where you watch the sunset at the end of a long trip around the beach town. You can drive to one of the best beaches in Santa Cruz, the Natural Bridges State Beach which is famous for natural rock formations shaped like bridges. It is perfect for sitting or standing to get the perfect view of the sunset. It is also a viewpoint for bird and marine animal watching. During tides the rocks go on the deep parts of the ocean but when it is low tide the people can have easy access to them. It's best to go on a day trip where the skies are clear to get a better view of the sun.
5. Feel The Ocean Breeze from West Cliff Drive
Where: Between Bay Street and Natural Bridges State Park, Santa Cruz, CA 95060
You wouldn't want to miss out on an elevated ocean view. The West Cliff Drive is the perfect place to witness a panoramic view of Monterey Bay. Besides being a great place for hiking, and strolling, it is also home to one of the best surfing spots in Santa Cruz, the Steamer Lane. You can also drop by the Surfing Museum and Mark Abbott Memorial Lighthouse to learn about 100 years of surfing history. At the peak of the drive, you can see whales and dolphins swimming around. During the low tide, more creatures are yet to be discovered like sea anemones, crabs, and starfish. When you visit in winter, hibernating monarch butterflies will come to the area. Make sure that it is sunny during your day trip so that you can feel the ocean breeze with calmness.
6. Explore Henry Cowell Redwoods State Park
Where: 101 North Big Trees Park Road Felton, CA 95018
At just 40-acres, the Henry Cowells Redwood State Park may pale in comparison in terms of size to Big Basin Redwood State Park. But it more than makes up for it with its many fun pit stops like museums, picnic areas, and souvenir shops. You can also enjoy a totally different perspective of the redwood trees in authentic 1880's steam trains from the Roaring Camp Railroad located next to the state park. The park also has a total of 107 camping sites. With so many activities to try within this state park, it is no surprise that it's ranked amongst the best things to do in Santa Cruz.
7. Ride the Roaring Camp Railroads
Where: 5401 Graham Hill Road Felton, CA, US 95018
Website: https://www.roaringcamp.com/
Set in the recreated 19th-century logging town of Roaring Camp, the nostalgic steam train at Roaring Camp Railroads lets you step back in time. There are two different train rides you can hop on. The daily one runs around the Redwoods State Park while the other, which only departs during weekends, head towards the Santa Cruz Beach Boardwalk. Whichever one you choose, you'll get to marvel at the towering redwoods from the train. Aside from the railroad experience, make sure to explore the town which is basically an open-air museum.
8. Stroll Along Santa Cruz Main Beach
Where: 399 Beach Street, Santa Cruz
The calm shore waters at the Santa Cruz Main Beach are perfect for a simple walk and sightseeing. This place is an extension of the Beach Boardwalk so it's the perfect place to rest after having fun at the amusement park. Other water activities you can engage in are fishing, kayaking, paddling, and swimming. The whole beach is family-friendly but unfortunately, you have to leave your pets behind. Don't forget to stay around long enough to watch the sunset!
9. Sea Lion Watching at the Santa Cruz Wharf
Where: 21 Municipal Wharf, Santa Cruz, CA 95060
The Santa Cruz Wharf is the longest timber pier in the United States and is an extension of the city further into the Monterey Bay. Santa Cruz pier is home to the famous barking sea lions. So it is also the place for sea lion watching which is one of the perfect things to do with kids in Santa Cruz. They can also take a slightly closer look at the whales and dolphins inhabiting the bay. There are also nine restaurants that serve a variety of seafood and sandwiches. Do not miss out on the recreational activities in store like kayaking or going on boat tours and fishing tours. It would be nice to bring something home from the fishing pier, so make sure to drop by the boutiques and souvenir shops.
10. Go Horseback Riding at the Wilder Ranch State Park
Where: 1401 Coast Road Santa Cruz, California, 95060
Website: www.parks.ca.gov
The 7,000 acre Wilder Ranch State Park is a place to discover California's ranching history dated back to the 1800s. This historical dairy ranch is filled with nostalgia. Easily experience the 19th century by going to the 1897 Victorian home to walk around the barns and the rodeo arena. The highlight of the activities in the state park is that guests are free to go horseback riding through the trails. This equestrian-centric park even has six equestrian-only campsites which are available all year round on a first come, first served basis.
11. See the Impossible in the Mystery Spot
Where: 465 Mystery Spot Road, Santa Cruz, CA 95065 USA
Website: https://www.mysteryspot.com/
For one of the coolest and most fun things to do in Santa Cruz, you simply can't miss the Mystery Spot. Discovered in 1939, the Mystery Spot is renowned for its gravitational anomaly which causes an illusion of being tilted. Everyone and everything will appear oddly slanted just within that area, and balls will even roll uphill. Nobody knows the real reason for this gravity hill, but everyone knows it's a fun place to take fun and silly pictures! The box where guests take on a real-life illusion because of its oddly tilted area. It is located outside the Henry Cowells Redwood forest and coupled with a hike in the woods, it is the perfect spot to go on an adventure with friends and family.
12. Whale Watching at Monterey Coast
Sea lions are not the only famous marine creatures in Santa Cruz. You will be able to spot different kinds of whales all year round at Monterey Bay. Humpback whales and blue whales are commonly seen, and you can also see dolphins and porpoises. But for the most heart-stopping experience, visit Santa Cruz in April or May, and you might just catch sight of an orca chasing after the migrating grey whales!
13. Explore Downtown Santa Cruz
Website: https://downtownsantacruz.com
Downtown Santa Cruz is the best place to take a break from all the hiking and beach strolling. The Pacific Avenue is the place's main street which is the place to shop and dine for the whole day. You can find anything you're looking for here, from clothing to jewelry, to surf goods and even furniture. This is also a great place to dine with all the best restaurants in Santa Cruz lined up. You can enjoy food from all across the world here, from Mediterranean to Italian to Asian. If you're very much into the arts, you can join the handicrafts workshop, take a dance class, or watch live theater performances.
14. Indulge in Ice Cream at Penny Ice Creamery
Where: Pleasure Point and Downtown Santa Cruz
The Penny Ice Creamery is the only ice cream shop in the whole of North California with ice cream entirely made from scratch using locally sourced organic ingredients. It is a favorite amongst the locals, and with just one lick you'll know why. The store prides on their constant innovation, so their flavors are not only unique, but also ever-changing. You'll be able to try a different ice cream flavor after every few days!
15. Wine Tasting in the Santa Cruz Mountains
With Santa Cruz Mountains being one of the top 10 wine-producing regions in the world, it is not surprising that the city is home to the best vineyards and wines in California. Besides producing quality wine, some of the wineries have stunning sceneries too. Looking for romantic things to do in Santa Cruz? Then you can take a lovely stroll through the long vineyards at the Lester Family Vineyards surrounded by redwood trees, see the Monterey bay view from the Soquel Vineyards, and frolic with fluffy ewes at the Storrs Winery & Vineyards. All wineries offer a wine tasting session in the tasting rooms where you can indulge in an array of quality Santa Cruz county wines.
16. Take Unique Pictures at the Walton Lighthouse
Where: E Cliff Dr Santa Cruz, CA 95062
At Seabright beach, you will be able to see Walton Lighthouse designed by Mark Mesiti-Miller in 2002. Its purpose was to protect the entrance of the Santa Cruz Harbor but eventually became one of the go-to places to visit in Santa Cruz at dusk for taking amazing photos. The skyline coupled with splendid ocean views is particularly picturesque every time the sun goes down. In order to locate the lighthouse from Seabright Ave, you must turn left at Atlantic Avenue, then the trail to the peak starts at Aldo's Harbor Restaurant. You can also take a side trip to the Santa Cruz Museum of Natural History where you can see what the region was like a hundred years ago.
17. Visit UC Santa Cruz Arboretum and Botanical Garden
Where: 1 Arboretum Road, Santa Cruz, CA 95064
Website: www.arboretum.ucsc.edu
Located just a mile away from the University of California, the UCSC Arboretum and Botanic Garden allows tourists to look at some of California's unique wildlife and see the exotic plant collection imported from New Zealand, Australia, and South Africa. A tour, lectures, and educational programs are also given if you're interested to learn more. There is even a botanical library filled with books that educate people on plants and gardening. After checking out the plants, you might be inspired to drop by the garden shop and nursery to purchase some flowers and plants to keep.
18. Enjoy the Swing at Davenport
Where: 11 miles North of Santa Cruz
One of the most calming things to do in Santa Cruz is hiking at the Davenport beach. It was built by Captain John Davenport in 1868 as a timber dock. Since the shutdown of the facility, it has left a beautiful place for people to visit and witness the deep blue ocean and crashing waves. Hikers and beach lovers can also enjoy the featured giant swing standing on the shore to view both sand and sea. Remember to be extra careful because the beach hiking trails are extremely rocky and steep, make sure to have the right equipment and gear. The end of the trail is the open beach and ocean view which is for sure worth the hike.
19. Discover Marine Life at Seymour Marine Discovery Center
Where: 100 McAllister Way, Santa Cruz
Website: https://seymourcenter.ucsc.edu
This marine discovery center is perfect for you to go deep into knowledge about marine life in California. Right at the very front of the premises is the iconic 87-foot blue whale skeleton that spreads across the museum's grounds. Within the center itself, there is also a large aquarium filled with all sorts of tropical fish and deep sea creatures. The center also has a variety of exhibit halls that teaches you all about the scientific research on marine life. Indeed, visiting this center is one of the best things to do with kids in Santa Cruz with its educational focus.
20. Go Hiking at the Pogonip Open Space
Where: 333 Golf Club Dr, Santa Cruz, CA 95060-2124
Any fan of the 80's movie "Lost Boys" will be excited to come to the Pogonip Open Space. This place was known as a golf course but is now a cool tourist spot for those looking for an easy hike that is close to downtown Santa Cruz. There are several hiking trails to choose from, it starts uphill then down to either the redwood forest or a river. If you're looking for a rustic and countryside feel to your hiking or biking trip then this is the perfect place for you. You also don't have to worry about crowding because it is a very laidback area. The perfect time to go here is during the spring because that's where all the wildflowers bloom. Take note, however, that making fires and camping are prohibited in the area.
21. Find Out More About Bigfoot
Where: 5497 Highway 9 Felton San Lorenzo Valley, Santa Cruz
Website: https://www.bigfootdiscoverymuseum.com/
Are you still curious and puzzled about the famous Bigfoot? It is time to finally get some answers at the Bigfoot Discovery Museum that opened to the public in 2004. Like Mystery Spot, it is one of the more unique hiking stops at Henry Cowell Redwoods State Park. Inside you can see an eclectic exhibit of local Bigfoot sightings and pop culture. The infamous 1967 Patterson–Gimlin film video footage of Bigfoot is also featured in the museum.
22. Strawberry Picking at Swanton Berry Farm
Where: 25 Swanton Rd, Davenport, California 95017
Website: https://www.swantonberryfarm.com/
Looking for healthy and fun things to do in Santa Cruz? Go strawberry picking! It's no secret that strawberries are good for us and picking them is incredible fun. Swanton Berry Farm lets you pick as much strawberries as you wish, with the payment made according to the total weight of the strawberries. You can also enjoy other fresh goods at its farm stand like pastries and freshly made berry jams.
23. Visit Santa Cruz Mission State Historic Park
Where: 144 School St Santa Cruz, CA 95060
The Santa Cruz Mission State Park is the home of the only building left standing from the 12th Californian Mission dated back in 1792. The adobe dwelling was also once home to the Californian Native Americans. This is the place to learn about the experiences of the Native Americans, the Yokuts, and the Ohlone people. The building has a total of seven rooms that shows exhibits of Native Americans' lives before contact with Europeans, their lives at the mission, and other archaeological excavations.
24. Buy from the Local Farmers' Markets
The Farmers' markets in Santa Cruz that are available all-year-round offer a variety of locally-grown flowers, fruits and vegetables, fresh meat and poultry, seafood, and bread. They have everything you need to make hearty meals at home. Visitors have the opportunity to pick out what they want and get the opportunity to interact with the local farmers. The markets are available all around Aptos, Scotts Valley, or Westside Santa Cruz every Sunday. Trying out these goods is a fun way to learn more about local produce, cuisine, and the farming industry itself.
25. Enter the Bookshop Santa Cruz
Where: Downtown Santa Cruz
The Bookshop Santa Cruz in the city is home to the best-selling books ranging from children's storybooks to fiction novels. Built in 1966, the Bookshop Santa Cruz is the perfect place for book lovers or when you just want to grab a book to read. If you want to look through different genres of books and read throughout history, you would not want to miss out on visiting this place. Take a seat and maybe grab a coffee to complete your relaxing day under the sun.
Where To Stay in Santa Cruz
Where is Santa Cruz?
Located at the northern part of Monterey Bay. Santa Cruz is 32 miles south of San Jose and 72 miles south of San Francisco. Its surrounding cities and towns include Mount Hermon, Brookdale, Scotts Valley, Campbell, and Watsonville.
How Far is Santa Cruz from San Francisco?
Driving from San Francisco to Santa Cruz can take approximately one hour and 30 minutes. You can also take a plane ride which will last only about 20 minutes.
How Far is Santa Cruz from Los Angeles?
A road trip from Los Angeles to Santa Cruz will take five hours and 30 minutes so be prepared for a long drive while a plane ride will take just an hour.
Tips when visiting Santa Cruz
If you are traveling with kids, you should be aware that it is mandatory in California to put kids under 60 pounds in a booster seat when in the car.

If you are traveling with your pet, remember to check the local laws pertaining to the parks and attractions before you bring your pet there.

The whole state of California has approved the use of cannabis to people above 21 years old so if you can actually buy cannabis in Santa Cruz. Note that ingesting cannabis is forbidden in many public spaces as well as in hotels though.

There are homeless citizens living in Santa Cruz. While some are quiet and harmless, there are also a couple of law violators so it is important to be cautious about who you approach during your trip.
With so many things to do in Santa Cruz, you will never be bored.
Santa Cruz may be a small and underrated city but every single place open to the public is breathtaking. With this list, you'll never be at loss on what to do in Santa Cruz. From hiking the redwoods to chasing the elusive Bigfoot, you will never be bored in this charming California beach town. So get ready to pack your bags now and go on a fun-filled trip to Santa Cruz, California.