15 Best Clothing Optional Resorts Around the World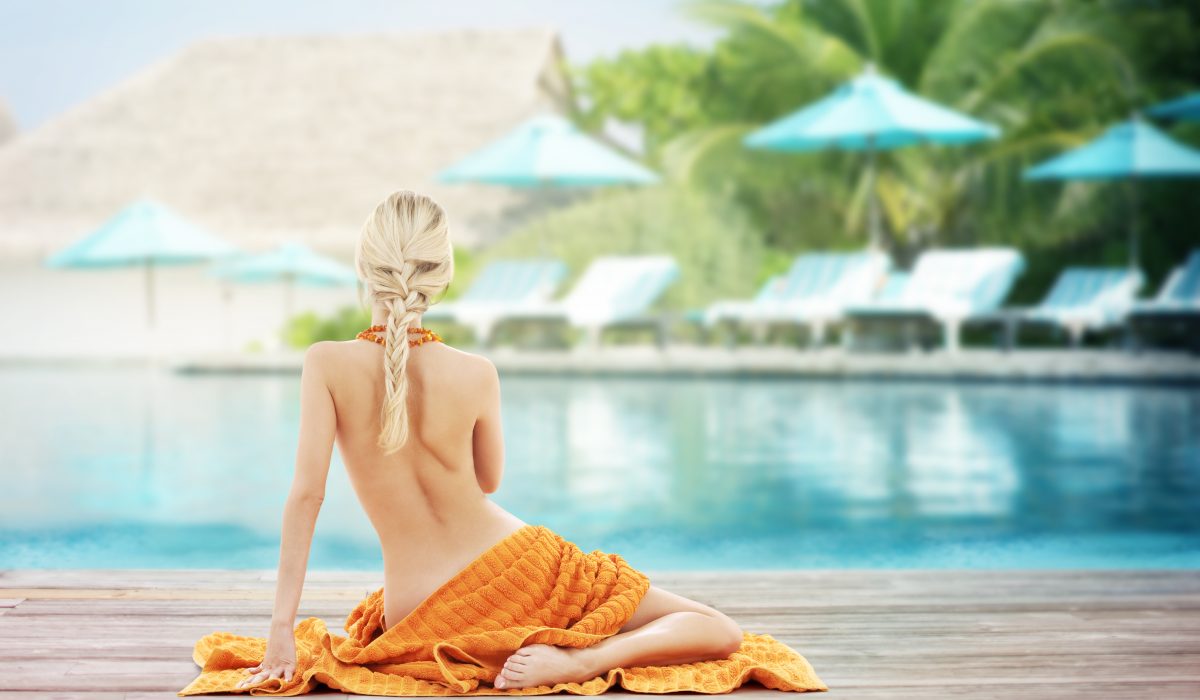 Clothing optional resorts offer a safe place and welcoming community where guests can enjoy their vacation au naturel. While nudist resorts encourage total nudity, clothing optional resorts merely give guests the option to undress. If you're not comfortable with the idea of being butt naked or you simply wish to go topless for an even summer tan, a clothes-optional resort will best suit your preferences. These resorts come in various forms, with some only admitting adults or couples, and others welcoming families who value naturism. There are certainly lots of options worldwide where you can have a carefree and clothes-free vacation.
(Take note that prices per night depend on the season and are subject to change without prior notice.)
1. Temptation Cancun Resort
Address: Boulevard Kukulcan K.M. 3.5, 77500 Cancun, Mexico
Price: Starts at US$530 per night
Let's top off (pun intended) this list with Mexico's very own Temptation Cancun Resort. This topless-optional resort is perfect for people who wish to strip off bathing suit tops and indulge in a sensual ambiance. For instance, guests can delight in various table games and even a private beachside dining experience. The resort is also located on Cancun's white sand beach that makes the whole place all the more amazing. The fun continues through the night with evening shows that are thrilling as well as erotic. Even the on-site aphrodisiac restaurant certainly serves as a must-visit spot in this adults-only resort.
2. Desire Riviera Maya Pearl Resort
Address: Costera Norte Lote 1 S.M. 10 Mz. 26, 77580 Puerto Morelos, Mexico
Price: Starts at US$800 per night
Give in to your deepest desires at the Desire Riviera Maya Pearl Resort. This luxury resort welcomes nudist couples and partners who wish to add a sexual flair to their getaway. Desire Riviera Maya ignites sensual pleasures with its erotic playroom where guests can mingle and flaunt their sexy selves. You can also try their fantasy menu and adult entertainment which would cater to your sexual desires. These include food play, an erotic massage, or a romantic poolside dinner date. Although not billed as such, the resort is deemed as a hot spot for people who take part in the swing lifestyle.
3. Grand Palladium Lady Hamilton Resort and Spa
Address: The Point, Lucea (Hanover), Lucea, Jamaica
Price: Starts at US$380 per night
Nude beaches in Jamaica are enticing tourist spots that exude a liberating and distinct getaway experience. Aside from remarkable adult beaches, the country is home to world-class nude resorts where naturists can certainly luxuriate in staying undressed while on vacation. The Grand Palladium Lady Hamilton Resort and Spa is also one of the family nude resorts in Jamaica that appeal to couples and families alike. Guests can go topless at the adults-only swimming pool. On the other hand. there's a private beach area for guests who wish to go au naturel. Most importantly, this family-friendly resort highlights the natural atmosphere and freeing experience that comes with stripping off your clothes.
4. Copacabana Hotel and Suites
Address: Jaco, Jaco District, Costa Rica
Price: Starts at US$107 per night
Clothes optional hotels are a great alternative if you're not exactly thrilled about nude hotels. Let your imagination run wild in Copacabana Hotel and Suites. Located in Costa Rica, you are sure to enjoy the clothes optional pool and beautiful beach in the area. Its adults-only atmosphere entices many swingers to visit, as well. The on-site Naked Iguana sports bar is a poolside attraction that serves meals, drinks, and night entertainment. Relax in the spa wellness center and jacuzzi amenities. After that, you can also visit the nearby establishments to get a taste of Jaco's nightclub scene.
5. Hedonism II
Address: Negril, Jamaica
Price: Starts at US$390 per night
Hedonism II Resort is one of the best clothing optional resorts in Negril, Jamaica. This nudist resort takes pride in its sensual amenities and activities for an erotic getaway. They provide nightly entertainment with sensual themes and even a Kama Sutra Palace where guests can learn the art from experts. The Hedonism II Jamaica resort has clothing optional and nude beach areas catering to all comfort levels. They also have hot tubs with prude and nude sides, offering more choices for guests. If you've grown a certain fondness for Jamaica's nude beaches, you can also stay in Couples Sans Souci or give nearby nude spas a try.
6. Sandals Royal Caribbean Beach Resort
Address: P.O Box 167, Mahoe Bay, Montego Bay, Jamaica
Price: Starts at US$260 per night
Let loose and bare it all at Sandals Royal Caribbean Beach Resort. The resort has a clothing optional beach area found on a secluded island, reachable via a two-minute boat ride. On this offshore island, you can swim topless at the crystalline beach, or sunbathe fully naked by the sea. If that's not exciting enough, Sandals Montego Bay throws private beach parties that are both wild and thrilling.
7. Desert Sun Resort
Address: 1533 N. Chaparral Rd., Palm Springs, California 92262, United States
Price: Starts at US$160 per night
Explore your fun, sensual side in Desert Sun Resort. This nude hotel lets you strip down your clothes as you sunbathe or swim. It encourages an undiscriminating environment where you can enjoy and flaunt your natural self. While undressed, you'll enjoy the dry weather in the area—leaving you comfortable and warm. If you're fond of water sports, you'll be pleased to know that the swimming pool has a net meant for water volleyball. There's even a spa and a saltwater pool where you can relax. Indeed, your topless vacation here will make you feel frisky, liberated, and fulfilled.
8. Breathless Riviera Cancun Resort and Spa
Address: Bahia Petempich S/N, 77580 Puerto Morelos, Mexico
Price: Starts at US$552 per night
Breathless Riviera Cancun Resort and Spa is well-known for its lavish amenities and lively atmosphere. Charged with lots of energy and partying, the adult-only resort serves as a great place for you to get wild and loosen up. Breathless Cancun also features a topless-optional swimming pool. Here, you won't have to worry about bad tan lines even when you stay sun-drenched for hours. On another note, you can also try various activities in Mexico to maximize your stay in the area.
9. Sunland Holiday Village
Address: 1149 Bog Lane, Robe, South Australia 5276 Australia
Price: Starts at US$90 per night
Experience naturism at its finest through the clothing optional beaches and resorts in Australia. The Sunland Holiday Village is among the best spots in the country where you can relax without being confined to your clothes. This luxury spot offers a plethora of activities, like camping out and even interacting with kangaroos or emus that frequent the area. The nearby clothes optional beach is perfect for nudist beach couples who wish to lay naked as they tan or ditch their swimwear in the sea.
10. Cypress Cove Nudist Resort and Spa
Address: 4425 Pleasant Hill Road, Kissimmee, Florida 34746, United States
Price: Starts at US$110 per night
Cypress Cove Nudist Resort and Spa caters to families that live a nudist lifestyle. It is a great place to fully unwind and reinvent yourself, while also learning about individuality and confidence. As one of the nudist resorts in Florida, it aims to foster wholesome naturism and deliver utmost relaxation to valuable guests. Camp in RVs or sleep in the tents, or stay undressed as you take a dip in the hot tub, sunbathe, play tennis, and more.
11. Grand Lido Negril Au Naturel Resort
Address: Norman Manley Blvd A1 Negril Westmoreland Jamaica, Negril, Jamaica
Price: Starts at US$433 per night
If you love elegant beachside accommodations, Grand Lido Negril Au Naturel Resort is the place for you. With its ocean views and luxurious amenities like private jacuzzis and butler services, there's no doubt that Grand Lido Negril is one of the best clothing optional resorts out there. If you highly value privacy, the resort serves as a protected and secluded area where you can comfortably strip off your clothes. Moreover, it features a clothes optional pool where you can go skinny dipping to your heart's content.
12. Sea Mountain Nude Resort and Spa
Address: 66540 San Marcus Road, Desert Hot Springs, California 92240, United States
Price: Starts at US$599 per night
Feel like the star of your vacation at Sea Mountain Nude Resort and Spa. Located in Desert Hot Springs, this world-class resort and nude spa boasts remarkable amenities that's been recognized by tourists, locals, and even celebrities alike. Sea Mountain Resort also takes pride in its nude outdoor pools and tanning gardens where you can soak in the sun as you're naked. The couples-only resort is also a perfect place for you and your partner to experience first-rate spa and wellness services. Indulge au naturel in healing mineral water pools and even a nude sauna to revitalize your entire being.
13. Laguna del Sol
Address: 8683 Rawhide Lane, Wilton, California 95693, United States
Price: Starts at US$68 per night
Laguna del Sol is a remarkable clothing optional resort in California that offers the luxury of staying undressed while you're on vacation. The resort houses spa and pool amenities where guests must fully strip down. Laguna del Sol is also set in a breathtaking area with nature-centered beauty. Lake Archie certainly serves as the highlight of the place where guests can stroll or go kayaking au naturel. The Moonshadow Lounge is also a great spot to mingle with other guests or indulge in a drink or two. Above all, you can try playing tennis, volleyball, and archery while enjoying the resort's amazing outdoor views.
14. La Dolce Vita Resort and Spa
Address: 1491 Via Soledad, Palm Springs, Greater Palm Springs, California 92264-8460, United States
Price: Starts at US$175 per night
La Dolce Vita in Palm Springs, California is undoubtedly one of the best clothing optional resorts for gay men. For one, they welcome and exclusively cater to gay men. The resort also offers a safe environment where guests can ditch their swimsuits, delight in scenic mountain views, and make new friends. An on-site steam room and spa services can be enjoyed by all guests. If you happen to book a reservation here, we highly recommend that you visit the top-notch California spas in the area, as well.
15. Tuscany Manor Clothing Optional Resort
Address: 350 W. Chino Canyon Rd, Palm Springs, Greater Palm Springs, CA 92262-2902, United States
Price: Starts at US$150 per night
Tuscany Manor Clothing Optional Resort is a wonderful spot that perfectly fuses privacy with a naturist's freedom. This clothing optional Palm Springs resort is open for solo travelers or couples that are 21 years old and up. Additionally, the property is enhanced with private screens that keep outsiders and gawkers out. With Tuscany Manor's heated pool, jacuzzi, and welcoming community—you will certainly experience a freeing and calming vacation.
Feel Frisky and Free at Clothing Optional Resorts
The equality that comes with being undressed promotes self-confidence and freedom. Clothing optional resorts continue to entice people around the world due to their liberating flair and inviting community. They offer a unique experience that lets you break from the norm. Above all, these resorts serve as a safe place where you can be your true and all-natural self.