Best Time to Visit Zion National Park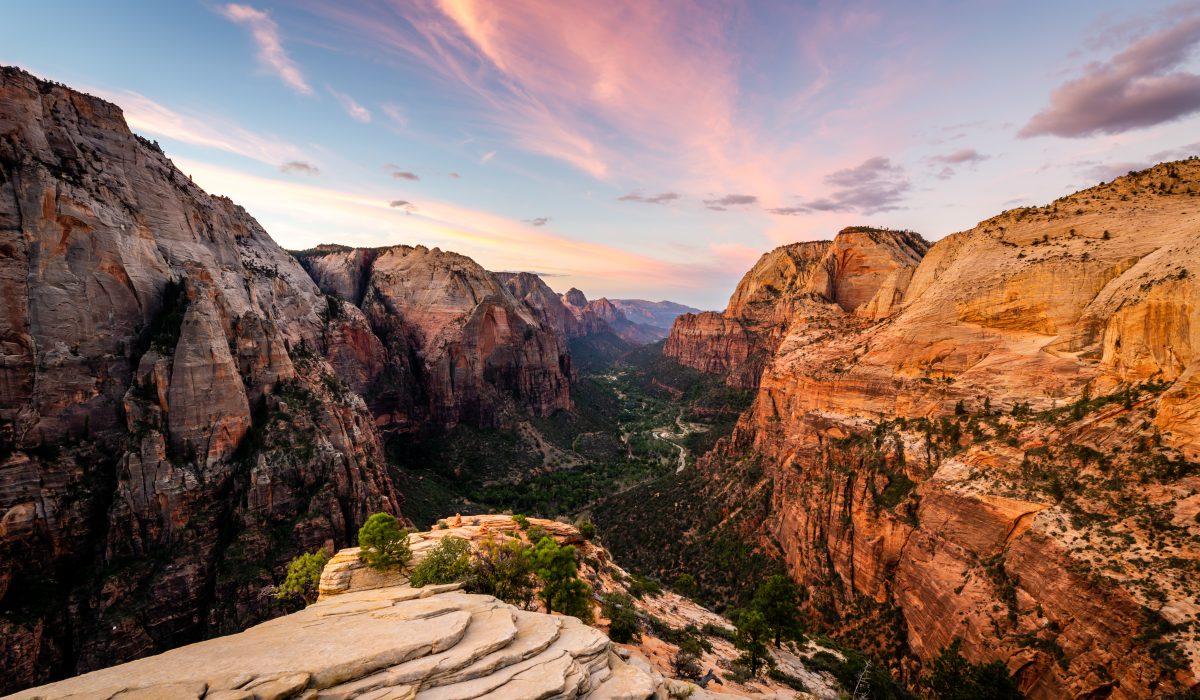 Zion National Park sees the most crowd during the summer. But is it truly the best time to visit? Situated in southwestern Utah, this park draws millions of sightseeing and outdoor adventures alike. It prides itself with dramatic landscapes and natural wonders, including soaring cliffs, deep canyons, and amazing hiking trails. Because it is open all year round, picking the best time to visit Zion National Park can be difficult, especially for first-time goers. Luckily, we've got you covered.
Read on to find out when is the best time to visit and the weather in Zion National Park you can expect per season. We've also listed all the essential things you need to know, such as the best things to do and essential items to pack.
Best Time Of Year To Visit Zion National Park
You can visit Zion National Park year-round, but each season has its own advantages and disadvantages. The best time of the year to visit will depend on what you want to do and see. Want to avoid crowds and have trails all to yourself? Wintertime is the ideal time to visit — if you don't mind the cold, that is. The summer months may bring crowds and stifling heat, but it's around this time that all attractions are accessible. Meanwhile, schedule your trip during spring or fall if you want fewer crowds and pleasant weather.
Best Time to Visit Zion National Park for Hiking and Sightseeing
Zion National Park is home to some of the best hiking trails in the United States! You'll surely find a trail according to your preferred difficulty, ranging from easy, short walks to mile-long advanced routes.
Spring and fall are the best time of year to visit Zion National Park if you are interested in hiking. Daytime conditions in spring are balmy and comfortable. During this season you'll also see wildflowers in full bloom. However, note that some trails may still be closed in early spring because of flooding caused by snowmelt. Meanwhile, the park's conditions are far cooler in the fall than in the summer months, making hiking more pleasant. Plus, the changing colors of the foliage against the red rock formations create stunning sights.
Best Time of Year to Hike the Narrows
Spring and fall may be considered the best time to hike in Zion National Park in general, but there is a perfect place for you to hike and cool off in the hottest of summers, The Narrows. Undoubtedly among the most popular hikes in Zion, the narrowest section of Zion Canyon with the Virgin River flowing through its grand sandstone walls. With that said, be prepared to get wet since there is basically no trail. You will need to wade through the waters to proceed. Don't forget to wear your best waterproof boots and bring a hiking pole.
Many consider late May to early August to be the best times to hike in The Narrows since this is when the water temperatures are warm and water levels are low. It's a fantastic way to help you cool down from the scorching temperatures of the summer months. However, be cautious of late-summer thunderstorms, which can cause flash floods in the area.
Best Time to Hike Angels Landing
Another popular hiking trail in Zion National Park is Angels Landing. While it is typically open all year round, early spring and mid-fall offer pleasant temperatures and fewer crowds. Some more advanced hikers also opt for an early-winter hike through Angels Landing, but snow and rain can make it extremely slippery and dangerous. It's important to know that this trail is strenuous and can be dangerous due to its steep incline and long drop-offs, with the top reaching 1,488 feet in elevation. You even need to secure a permit if you wish to hike it due to its popularity and demanding nature. Nevertheless, the stunning views of the vistas of the canyons are worthwhile for those who dare to conquer it.
When to Visit Zion for Camping
Looking to go camping in Zion National Park? Before packing up all your camping gear, it's important to know a few things first. The park has three designated campgrounds: Watchman, Lava Point, and South Campground. The South Campground is typically open from mid-March to October, while Lava Point is open from May to September. On the other hand, the Watchman campsite is open all year round.
If you want to steer clear of crowds, Lava Point is your best bet. Located about an hour away from Zion Canyon, along Kolob Terrace Road, it is far more remote than the two other sites. Meanwhile, for RV camping, Watchman is the only site with electric hookups. At South Campground, while there are no hook-ups available, generators are permitted.
March through November are the most popular months for camping. However, April to May or September to October offer the best camping weather. You may also want to skip a summer camping trip to the park since you may find it difficult to grab a camping spot due to an increase of visitors during the summer months.
Best Time to Visit Zion National Park for a Scenic Drive
Taking a scenic drive is one of the best things to do in Zion National Park. Among the routes that you can take include the Zion Canyon and Kolob Canyon. Zion Canyon is only accessible by shuttle bus from March through late November. If you want to take in the panoramic viewpoints from the comforts of your own vehicle, you may want to visit during the winter months of January to mid-February. This is when they allow private vehicles to enter since the shuttle system is not in operation.
Meanwhile, you can drive through the Kolob Canyons in your personal vehicle year-round. It's advisable to check with the park's visitor centers beforehand to check the conditions of these roads during wintertime.
Best Time to Visit to Zion Avoid Crowds
Want to avoid swarms of tourists during your visit? Opt to visit Zion National Park around the winter months, which sees a thin number of visitors. As such, it offers a more laid-back and relatively relaxed atmosphere. The slim crowds also mean you can enjoy one of the best winter vacations in the US all to yourself! Note that some popular hiking trails and campgrounds are closed during this time of the year. Nevertheless, the snow-covered landscape of the park is a sight you wouldn't want to miss!
Best Time of the Year to Visit for Pleasant Weather
The best time to visit Utah and its national parks — including Zion — is around March and April and October and November. During spring, the weather in Zion National Park is pleasantly warm, with average temperatures swinging between lows of 30s°F to highs of 70s°F. Moreover, the spring months see longer days with plenty of sunshine and occasional bouts of rain. However, temperatures during these months can still be relatively cold at nighttime.
Around the fall months, you can expect calmer weather and cooler temperatures. However, Zion National Park weather and temperatures can still vary depending on elevation changes. Bringing extra layers with you may be necessary. If you're susceptible to the cold, you may even want to bring heated jackets with you.
Best Time to Visit Utah National Parks
Besides Zion, Utah is home to four other national parks. Dubbed the Mighty 5, this includes Arches National Park, Bryce Canyon National Park, Canyonlands National Park, Capitol Reef National Park, and of course, Zion National Park. Similar to Zion, summer is a popular time of the year to visit these parks. However, this means hotter temperatures and bigger crowds. Spring and fall are fantastic times to check out the state's other national parks if you're looking for milder temperatures and fewer swarms of people. Winter is also a great time to visit, though the cooler months mean closure of some facilities, trails, and even lodging options.
Weather in Zion National Park at a Glance
The weather in Utah year round is dry and semi-arid, with occasional downpours. And Zion is certainly no exception. Plenty of the park's outdoor activities and facilities will depend on weather conditions. With that in mind, deciding the best time to visit Zion National Park firstly depends on the weather and season.
Late March can still be relatively chilly with regular cold fronts, but by mid-April through May, temperatures begin to rise, and sunshine dominates. Starting June, daytime temperatures soar over 100°F but be prepared for afternoon thunderstorms in July, August, and September. These months typically fall under the monsoon season.
Late September is when temperatures cool, monsoons let up, and leaves change color. December, January, and February are the wet and cold months, with temperatures dipping below freezing at nighttime. Areas at higher elevations experience snow, but this melts before reaching the valley floor. Additionally, the winter months mean shorter daylight hours.
Zion National Park Weather by Month
January
January is one of the coldest months in Zion, with average temperatures fluctuating between 30s°F to mid-50s°F. It's also the month with the most snowfall, with daily snowfall averaging 12 inches.
February
February is the last month of winter and is slightly warmer than January, with average highs reaching almost 60°F.
March
March is when conditions start to warm up. Expect mild temperatures, ranging between high-30s°F and mid-60s°F, with plenty of rainfall. Precipitation around this month typically averages above seven inches.
April
As spring starts, temperatures continue to rise in April, varying between pleasant mid-40s°F to mid-70s°F. Snow starts to dwindle in April in the area, but mild rain showers are frequent.
May
Temperatures in May go from pleasantly warm to noticeably hot, with average highs peaking at 86°F. Scattered rainfall is expected throughout the month. It doesn't usually snow during this month, though there have been freak snowstorms reported in the past.
June
June kicks off the summer season with very warm yet still enjoyable weather. Visitors to Zion are treated to temperatures fluctuating between lows 60s°F of and highs of mid-90s°F. In addition, tourists can expect an abundance of sunlight around this month, with an average of 15 hours of daylight around the summer solstice.
July
The weather in Zion National Park, Utah, can be sweltering around July. As the warmest and driest month in the area, temperatures can reach a scorching 100°F. Don't forget to fill plenty of drinking water in your collapsible water bottle.
August
As the last month of the summer in Zion National Park, August exhibits similar warm temperatures to July, with average highs peaking at 99°F. However, there is an increase in thunderstorms, lightning, and heavy rain around this month. Be cautious of areas prone to flash floods and mudslides, such as the Virgin River Narrows.
September
Early September can still be relatively hot, but as the month progresses, temperatures start to drop. During this month, the average highs dwindle to 91°F, while the average low is at 61°F. Rainfall and daylight hours begin to decrease, as well. Furthermore, September is the month when leaves start to change color.
October
October is when fall is in full swing in Zion National Park. Temperatures continue to cool, varying between high-40s°F and high-70s°F. Plus, fall colors take over the park, with tree leaves continuing to change in color.
November
Temperatures continue to decrease by November, with average lows reaching mid-30s°F. November is likewise the month when the snow starts to accumulate in the park's higher elevations, while lower areas turn icy. Rain is a regular feature around this time of the year.
December
Zion National Park experiences more frequent snowfall, cooler temperatures, and shorter daylight hours by December. Alongside January, December is the coldest months, with the average low reaching freezing temperatures. Rainfall is still a common occurrence. Moreover, December is the month with the shortest days, with an average of fewer than 10 hours of daylight.
Frequently Asked Questions About Best Time To Visit Zion National Park
What is the Best Month to go to Zion National Park?
March, April, October, and November are the best months to visit Zion National Park because of the moderate weather and cooler temperatures. These months see fewer crowds, but all park facilities are still open and accessible.
When Should You Not Go to Zion National Park?
Skip visiting Zion around June or July if you want to avoid crowds since both months see an average of over 500,000 tourists. Weekend holidays such as the Fourth of July and Father's Day are particularly crowded. These months, alongside August, are also the warmest. You may want to avoid booking your trip during these months to save you from the sweltering temperatures. On the other hand, the winter months are the least popular time of the year to visit due to below-freezing temperatures and limited access to trails and facilities.
How Many Days Do You Need for Zion National Park?
There's quite a lot of ground to cover when exploring Zion, which stretches about 232 square miles. If you want to take in the stunning valleys and scenic overlooks, you will need more than just a day. Ideally, you will need two or three days to go on various hikes and visit other facilities. Canyoneers and rock climbers may even want to stay for longer since the towering rock formations make the park one of the best places in the world for canyoneering and rock climbing.
In terms of accommodations, you can stay on one of its campgrounds inside the park, or at one of the lodge, hotel, and bed-and-breakfast options near Zion. The nearby cities of Springdale, St. George, and Cedar are home to numerous lodging options.
Best Things to Do at Zion National Park During Each Season
Another thing to consider when planning the best time to visit Zion National Park is the activities you can take part in. There is no shortage of things to do in the park for visitors, but each season features its own highlights.
Park Highlights in Spring
Spring is the best time to visit Zion National Park for sightseeing as wildflowers begin to bloom and rivers and waterfalls come back to life. The balmy conditions make for comfortable temperatures when exploring the park's many vistas. The park is home to numerous hiking trails, and since summer crowds have yet to arrive, you can enjoy them at your own pace. Even popular spots such as the Pa'rus Trail and the Emerald Pools trail see less number of visitors. Visiting in early spring means you have higher chances of spotting wildlife emerging from their winter slumber during your hike.
Want to spend the night? South Campground is open for reservation by mid-March, while the Lava Point Campground typically opens in May. Spring is when the park's shuttle system resumes operations after its winter hiatus. Thus, making it easy to get around the area. Want to learn about the people who once resided in the plateaus of the park? Be sure to stop by the Human History Museum, which resumes operations in March.
Another spring activity you shouldn't miss out on is whitewater kayaking or tubing along the Virgin River and The Narrows. Wading through the park's waters is only allowed when its flow rate exceeds 150 cubic feet per second, which typically happens around this time.
Park Highlights in Summer
Zion National Park's outdoor activities and facilities are fully open and accessible during the summer months. Although, long lines, crowds, and scorching temperatures accompany them. If you want to escape swarms of visitors and sweltering heat, head to less popular, thus less crowded destinations. Areas at a higher elevation, such as East Zion, Kolob Terrace, and Kolob Canyons, provide a peaceful ambiance even during the day.
Besides climbing to higher elevations, another refreshing activity you can take part in is hiking through the Narrows. The water of the Virgin River tends to be at its warmest around this time. Moreover, with water levels dropping, many consider this season to be the best time to hike through the narrowest section of Zion Canyon. If you prefer to keep your feet dry, you can still experience the beauty of the Virgin River from the Riverside Walk.
Park Highlights in Fall
Not only is fall the best time to visit Zion National Park for milder temperatures, but it's also among the most beautiful. The fall months bring stunning foliage to the valley and canyons. It's the perfect time to capture stunning photographs of the changing fall colors contrasting with the red rock formations of the area. With fewer crowds, it's the best time to head to popular spots such as Angels Landing, Observation Point, and the Canyon Overlook trail. A scenic drive through the Zion-Mount Carmel tunnel is likewise a popular activity. While the shuttle system remains operational, they run a little less frequently.
Park Highlights in Winter
Zion National Park in winter is a sight to behold. While it won't necessarily be a winter wonderland, the park's towering cliffs covered in blankets of snow make for a breathtaking scenery. Snow barely reaches the valley floor before it melts quickly. Snowshoeing and cross-country skiing are popular winter activities. In fact, it's the only time of the year people can ski in Zion.
Make sure to keep an eye out for wildlife, including the elusive mule deer, which typically resides at upper elevations. Come wintertime, they often make their way down to lower areas to avoid the freezing temperatures. You can spot a wide variety of songbirds and mammals in the park during the course of the season, as well. Furthermore, since the shuttle system is closed for the winter holidays, private vehicles are allowed to drive through the canyon.
Where is Zion National Park?
Zion National Park is located in the southwest corner of Utah. It sits outside the quaint town of Springdale, with neighboring communities, including St. George, Cedar, and Salt Lake City. Over an hour from Zion, you'll find another one of Utah's national parks — Bryce Canyon. Zion is also among the national parks near Las Vegas, just a three-hour driving distance away.
How to Get to Zion National Park?
Traveling from the nearby cities mentioned above? Here are the best ways to get to Zion National Park by car. Note that if you're bringing your private vehicle, it's best to arrive in the early morning. According to the National Park Service, the Zion Visitor Center parking slots are typically filled by 9:00 am.
By Car
If you're coming from St. George (40 miles away from Zion National Park) or Las Vegas (163 miles away), drive north of Interstate 15. Take Exit 16 on State Route 9, stay on the right onto La Verkin, and continue driving for about 33 miles until you reach the park's entrance. Meanwhile, those coming from Cedar City (57 miles away) and Salt Lake City (307 miles away) will need to take Interstate 15 south. Take Exit 27 and then left onto State Route 17 South for 26 miles. Take another left onto La Verkin and continue driving for 20 miles. The park's entrance should be to your right. Once there, you'll find the Zion Visitor Center to your right.
By Plane
Flying in? The closest airport to Zion National Park is the St. George Regional Airport, which is less than an hour away from the park. Another regional airport is the one in Cedar City, just over a one-hour drive apart. Meanwhile, McCarran International Airport and Salt Lake City International Airport are the two major airports near Zion National Park. They are a three-hour and four-hour drive from the park, respectively.
Things to Bring When You Visit Zion National Park
Hiking backpack and backpacking gear. A good quality hiking backpack for your hiking and backpacking gear is crucial on a trip to Zion National Park. It should be large enough to store all of your things while still light enough to carry around without weighing you down.

Extra layers of clothing for spring, fall, and particularly winter.

Rain gear for winter as winter months see more rain. Dry bags can be extremely useful in protecting your gear during wet seasons.

Light clothing during summer. Summer temperatures can be extremely hot, so light clothing is a must, but still, pack extra layers such as a sweater or windbreaker. Sunglasses and sun hats will likewise come in handy.

Bring sufficient food and water enough to last you through the day. If you run out of water, you can find several water refilling stations scattered throughout the main canyon. So, don't forget to pack a reusable water bottle.

First aid kit. Regardless of the season, every outdoor enthusiast should always have a first aid kit in their arsenal.
There is a Best Time to Visit Zion National Park For Every Traveler
When is the best time to visit Zion National Park? Truthfully, there's no bad time to visit this national park. It just depends on what kind of experience you're after. After all, there is a wide range of things to do in Zion National Park year-round.
Given the park's unique and often-unpredictable climate, however, it's still best to know what to expect per season. This way, you can maximize your visit since not all facilities and attractions are open and accessible during each season. We hope that this comprehensive guide helps you in planning your next trip to Zion National Park!