Hawaii Packing List: What to Bring and What to Skip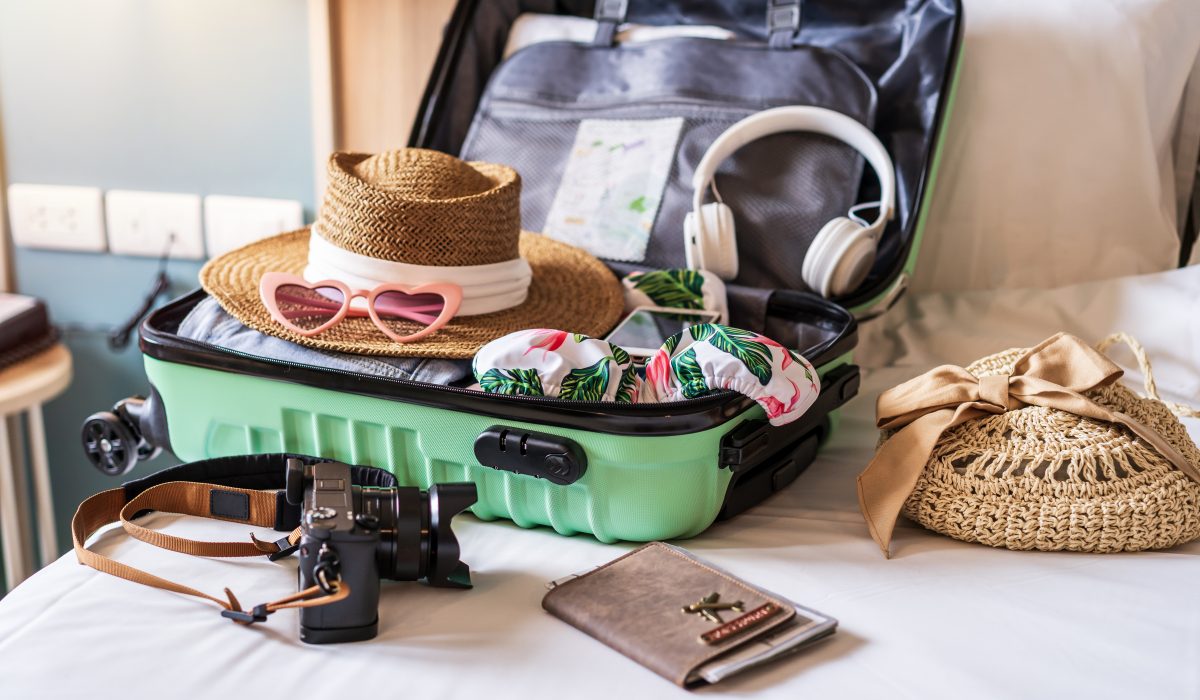 The Aloha State is a top destination for many tourists who want a tropical island getaway within the country. Pristine beaches, volcanoes, rainforests, wetlands, and rich, unique culture make it a dream paradise. But besides crafting your itinerary of activities to do and sights to see when visiting the best Hawaiian islands, it's also important to know what to bring to Hawaii. But what exactly should you and should not include in your Hawaii packing list?
From what to bring to the beach to the must-wear Hawaii outfits, we've curated the ultimate vacation packing checklist to make sure you don't leave anything behind. Moreover, we have also included items you should skip when packing for Hawaii to maximize the space in your luggage for essentials and souvenirs.
The Ultimate Hawaii Packing List
Here's a free printable packing list for Hawaii. You can use this to make sure you have everything you need for your next island getaway.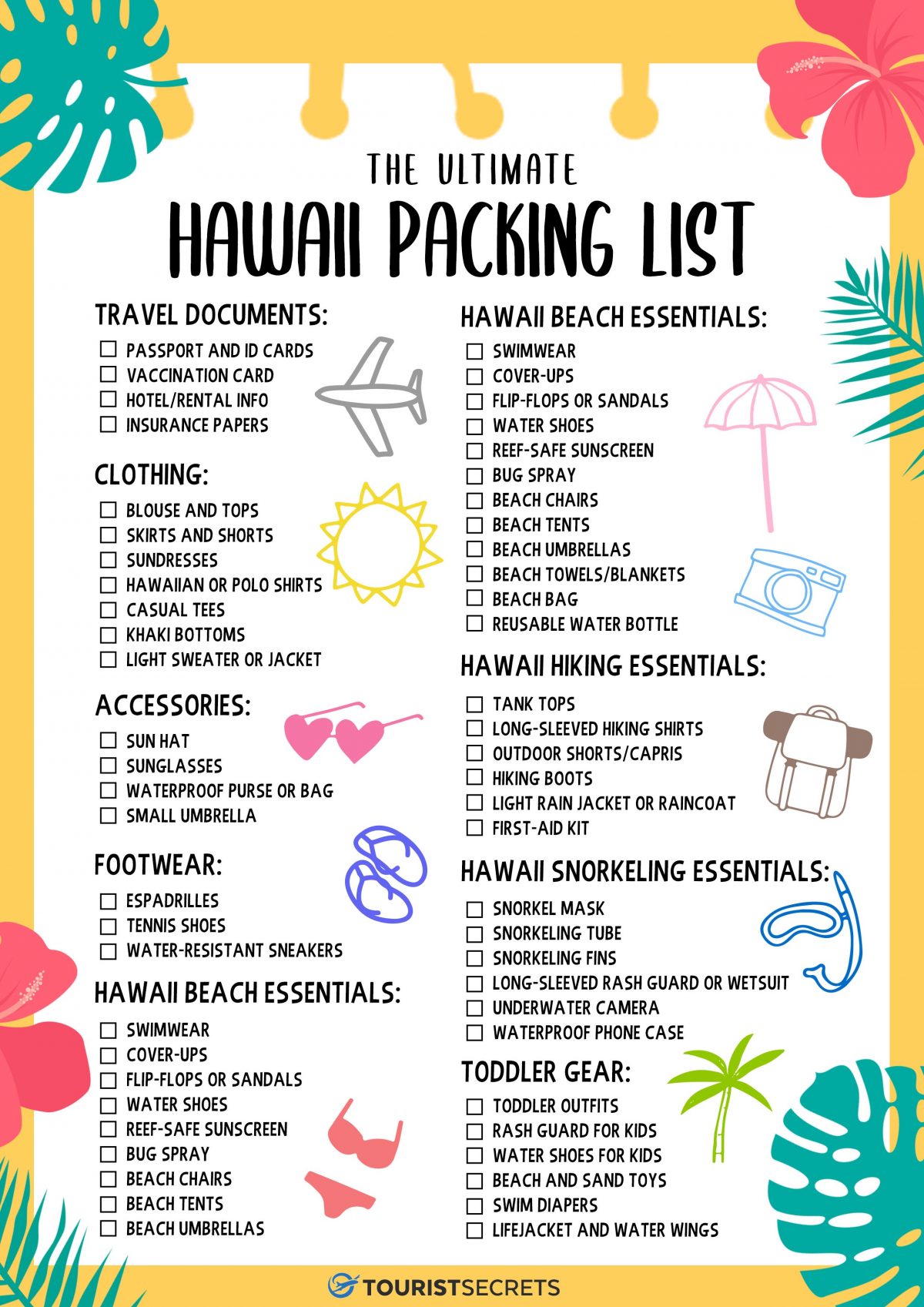 What to Pack for Hawaii: Personal and Travel Documents
Whether you're spending 10 days or a full two weeks in Hawaii, you need to bring with you all the necessary personal documents. Identification cards and travel itinerary details, such as flight information, and hotel reservation confirmation, are all important documents you need to have.
Depending on where you're coming from, you may need your travel visa documents and your passport, which you can safely keep in a passport cover. Non-United States citizens coming from outside the country are also required to present their proof of COVID-19 vaccination to enter the state. Meanwhile, documents for health, auto, and travel insurance policies are highly recommended as well. It's important to keep all these papers in a waterproof pouch or dry bag to keep them safe. Have digital copies at the ready too.
Product Recommendations:
What to Pack for the Beach in Hawaii
Planning to unleash your inner beach bum on Hawaii's beaches? Similar to a beach packing list, sun protection, beach gear, and reusable water bottles are items you need in your beach bag. Wearing a sun hat, sunglasses, swimsuit with a cover-up, flip-flops or sandals, and water shoes are all essential when spending a day on the sandy shores. And of course, we can't talk about a beach day without mentioning the importance of reef-safe sunscreen to protect both your skin and the ocean's coral reefs.
Depending on your accommodation, you can skip beach chairs, beach tents, and beach umbrellas on your packing list for vacation. Additionally, plenty of hotels and resorts already provide beach towels. But in case you have to carry your own, having the best beach blanket that doubles as a towel can help you save space in your luggage.
Product Recommendations:
What to Pack for Hiking in Hawaii
Planning on conquering the hiking trails of Iao Valley in Maui or Volcanoes National Park on the Big Island of Hawaii? If that's the case, you will need to prepare the appropriate gear and wear the right attire for hiking. Wear lightweight, breathable, and comfortable materials. Tank tops are great for hiking in hot weather, but hiking shirts with long sleeves provide more protection from the sun, as well as from any possible scrapes or abrasions. For bottoms, opt for any outdoor shorts or capris that don't restrict your movement.
In terms of footwear, a good pair of hiking boots should be comfortable to wear for long periods, but durable enough to handle both paved and unpaved trails. And if you wish to marvel at the island's stunning waterfalls, invest in hiking shoes that are slip-resistant and waterproof to stay safe on waterfall trails.
Furthermore, opt for hiking socks made from merino wool or polyester. Don't forget to pack a light rain jacket or raincoat too, in case of unexpected rain showers. Keep yourself hydrated while on the hike by bringing a reusable water bottle. Finally, any outdoor enthusiast knows the importance of having a first-aid kit in their arsenal in case of emergencies.
Product Recommendations:
What to Pack for Snorkeling in Hawaii
Want to visit the best snorkeling spot in Maui? Save yourself the trip and hassle of lining up at gear rental facilities by including your own set of snorkeling gear in your Hawaii packing list. Not only is it convenient but hygienic too. While you can easily go snorkeling in your regular swimwear, a long-sleeved rash guard or wetsuit can help prevent sunburns. They can likewise provide protection against jellyfish stings and other abrasions when snorkeling.
And since Hawaii is just as beautiful below as it is above, don't forget to bring your best underwater camera to capture the majestic sea creatures and stunning coral reefs. Not ready to invest in expensive photography gear? You can always use your smartphone as an alternative. Just make sure it's in a waterproof phone case.
Product Recommendations:
What to Pack for Hawaii for Families
A family vacation to Hawaii is a dream for many. But, traveling with kids without the right gear and accessories can be difficult. Besides toddler outfits for Hawaii, water shoes for kids, and the other items mentioned above, you'll also need several more essentials in your family Hawaii packing list. Beach and sand toys are a must for keeping toddlers entertained. Save space in your suitcase by investing in a beach toy set with a collapsible pale on top of various tools and sand molds. Toddlers that have yet to be potty trained will also need swim diapers.
In addition, flotation devices or water wings are also crucial to have on your Hawaii checklist if you're planning on spending a day in the water. Make sure to include a waterproof child tracker to keep track of your little ones' whereabouts at all times.
Product Recommendations:
What to Wear in Hawaii During Each Season
The Aloha state is a year-round destination. The best time to visit Hawaii truly depends on what you want to do during your stay. Nevertheless, it's imperative to familiarize yourself with the possible Hawaii weather conditions and temperatures in order to plan accordingly. By doing so, not only can you plan on what to do in Hawaii but make sure your vacation packing list is in order too. It likewise can help figure out what to wear in Hawaii.
The state only has two seasons — summer and winter. The summer months run from May to October, while winter is from November to April. Weather and temperatures throughout the year are very consistent with only minor changes.
What to Wear in Hawaii in Summer
Hawaii's climate and temperatures can vary depending on your location. Generally, though, the islands experience warm weather year round. Summer means sunny and humid conditions, with little difference between daytime and nighttime temperatures. Particularly, Hawaii in June, July, and August are among the driest and warmest months of the year.
With that in mind, summer outfits for Hawaii should consist of loose-fitting tops and blouses with flowy skirts or casual shorts. Sundresses are also popular attire to wear on a Hawaii trip. Sandals and flip-flops are ideal footwear for walking around the beaches, while espadrilles and tennis shoes are suitable for casually exploring other parts of the islands.
Meanwhile, gents certainly can't go wrong with Aloha or Hawaiian shirts paired with khaki shorts or pants. Polo shirts and casual tees are great options too, and pair them with loose-fitting bottoms made from linen or cotton. In terms of footwear, flip-flops and sneakers for men will suit most dry land activities. Furthermore, accessories such as sun hats and sunglasses can help prevent overheating while touring the islands.
Product Recommendations:
What to Wear in Hawaii in Winter
Similar to the summer season, winter in Hawaii is still warm, with an average daytime temperature of 78°F. Since winter is Hawaii's rainy season, you can expect that November till March is the wettest period. Most rain showers are localized, however, so you can easily find other locations with blue and sunny skies. Although, it can still get hot and humid even during downpours. Winter nights see a slight drop in temperature to around 60°F, particularly, in Hawaii during the months of December, January, and February.
Clothes for Hawaii to pack during this season aren't too different from the ones during summer. But do make sure to choose pieces made from lightweight and quick-drying materials. For example, nylon, polyester, and merino wool tend to dry quicker than cotton or denim. Adding a light jacket with a hood, water-resistant shoes, waterproof purses or bags, and a small umbrella to your Hawaii packing list may come in handy when you will be spending more time in the water.
Product Recommendations:
Items to Skip in Your Hawaii Packing List
Now that you know what not to forget for your Hawaii vacation, here are a few things you can and should leave at home. Excluding these items from your Hawaii packing list will leave you more space for the essentials and souvenirs.
Leave behind clothing items made from heavy fabric like denim, leather, and canvas.

Skip the three-piece suit and tie, and floor-length gowns. Even the dress codes at Hawaii's fine-dining establishments are a bit more casual and laid-back.

Avoid packing formal footwear such as dress shoes and high heels. Skip the heavy boots too.

While a light jacket is recommended for

Hawaii attire

, you don't have to bring heavy sweaters, coats, or jackets.

Avoid bringing expensive or priceless valuables, such as watches and jewelry.

Leave behind basic toiletries since nearly all hotels and vacation rentals already provide shampoo, conditioner, soap, and toothpaste.
Your Ultimate Guide on What to Pack for Hawaii
Whether you're staying for a week or just a quick weekend getaway, knowing the things to pack for a trip to Hawaii can ensure that your vacation runs smoothly. Avoid mishaps by following this Hawaii packing list and focus on having a great time. Now you know what to bring, here's a definitive guide on how to pack a travel bag like a pro!